by
posted on May 16, 2020
Support NRA American Rifleman
DONATE
Girsan Gun Industry (Girsan) was founded in 1993 in Giresun, Turkey. The company's initial pistol was the Yavuz 16, which is based on the Beretta 92. It passed Turkish military trials and won several contracts with law enforcement and military organizations in country.

Since then, Girsan has continued to upgrade its production standards while expanding its lineup of affordably priced pistols inspired by popular designs. This manufacturer has a knack for adding its own touches and upgrades to these platforms while maintaining a high standard of quality and reliability.

Girsan continued to expand its Beretta-inspired pistol line with the release of the Compact MC and Regard MC in 2004. In 2010 the MC1911 series of semi-autos was launched, which is based on the classic Browning platform.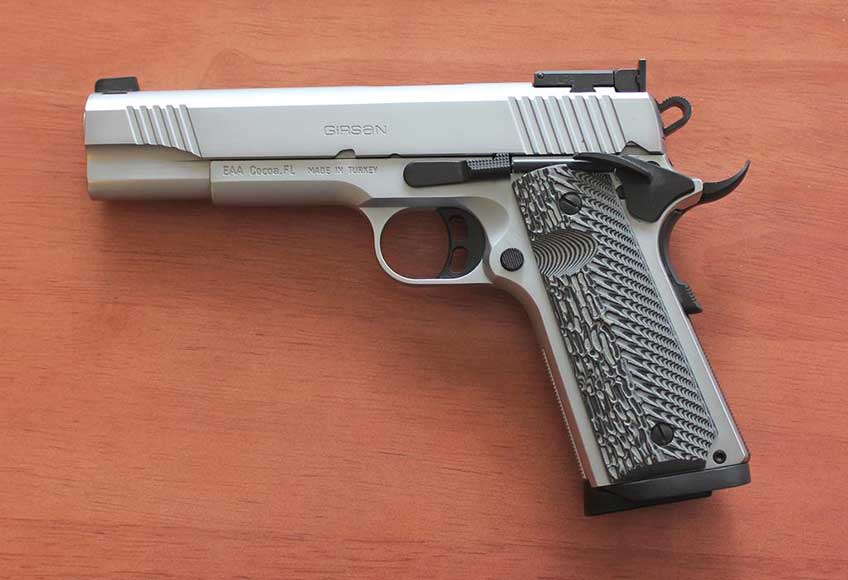 This year, Girsan has teamed up with European American Armory (EAA) to introduce two new competition-grade 1911s and a series of striker-fired polymer guns that ship with red-dot optics. Here, we'll take a closer look at the MC1911 Match Elite chambered in .45 ACP.

I can remember when building a tricked-out, competition-grade 1911 pistol was an arduous and expensive process that could cost thousands of dollars. Although the more pricey custom models are still available, Girsan's MC1911 Match Elite provides the whistles and bells competitors are looking for at a suggested retail price of $873.

The MC1911 Match Elite is a full-size .45 ACP semi-automatic patterned after the much-beloved Government models. The slide and frame both feature a matte hard-chrome finish applied over carbon steel for a combination of strength and corrosion resistance. All of the pistol's appointments, including the sights, trigger, grip safety and magazine well, are treated with a matte-black finish that contrasts nicely with the matte chrome.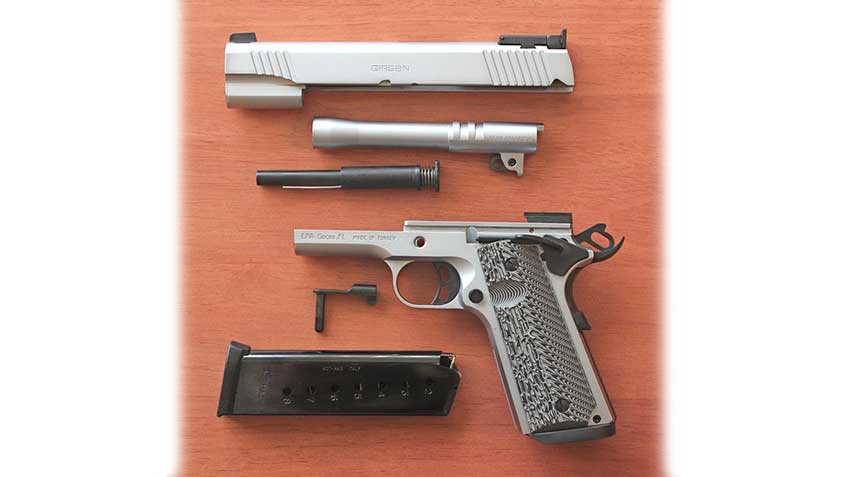 The top of the slide, the dust cover and trigger guard are all rounded in the classic style, just as Mr. Browning intended them to be. The slide has deeply cut front and rear canted cocking separations and the ejection port has been beveled for improved function. The metallic sight system is dovetailed into the slide. The front sight blade is serrated to reduced glare. The square notch competition style rear sight is click adjustable for height and windage.

There is no barrel bushing on this model. Instead, the muzzle end of the 5" long competition barrel features a conical lock-up at the muzzle end. It appears to have the same matte-chrome finish as the slide and frame. The traditional stubby recoil spring guide has been replaced with a full-length steel guide rod that's outfitted with a single, round-wire recoil spring. The recoil spring plug has been replaced with a guide that allows this rod to pass through it as the action cycles.

The slide catch and round button magazine release are found on the left side of the frame in typical 1911 fashion. Both of these controls have textured touch points for improved purchase. The exposed hammer is of the long-loop, skeletonized variety. It's paired with an extended beaver tail grip safety that has a grooved memory bump. The thumb safety is ambidextrous with extensions that are a just right size. They are long and wide enough for ease of operation without being so large as to hinder quick holstering.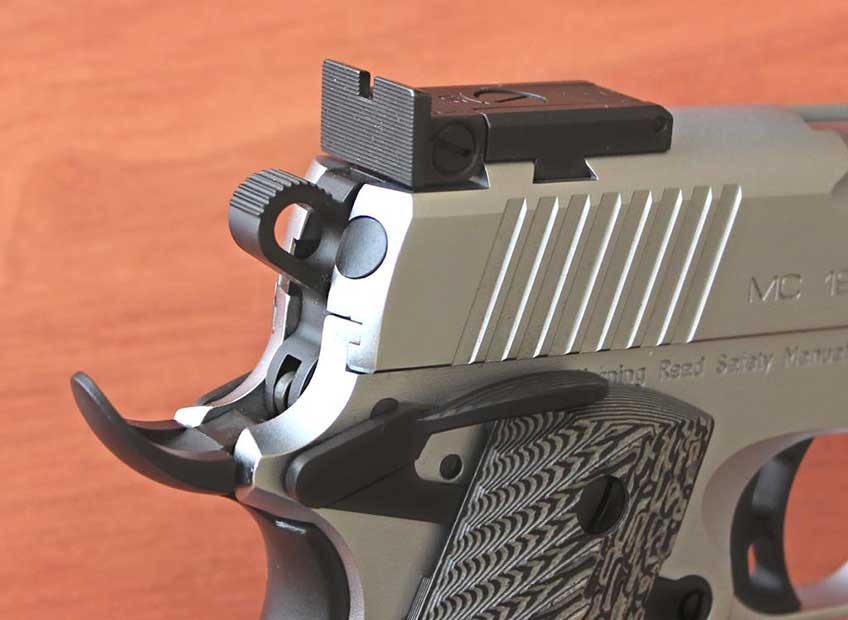 The skeletonized aluminum competition trigger has a grooved face but does not have an exposed over travel adjustment screw like some models do. The trigger exhibited just a hint of take up before a crisp, clean break. According to my handy Lyman digital trigger gauge, the trigger pull for this particular gun measured at 5-lbs. 8-oz. But the trigger was smooth enough that it felt lighter.

Because of their relatively large size, .45-caliber 1911 grip frames benefit from checkering paired with grip panels that provide improved purchase. This version of the MC1911 has a narrow strip of checkering along the front strap that engages the ring and little finger while leaving the edges of the strap smooth for a less abrasive feel. The straight mainspring housing is fully checkered from top to bottom, which is a plus.

The two-tone G10 grip panels are secured to the frame using standard grip screws. The texturing of the panels is both good looking and effective without being overly abrasive. The front half of each panel has irregularly shaped divots to engage the finger tips with canted straight cuts that grab on to the palms of the shooting and support hand. The result is a grip that feels comfortable and stable for quick draws from the holster and extended practice sessions.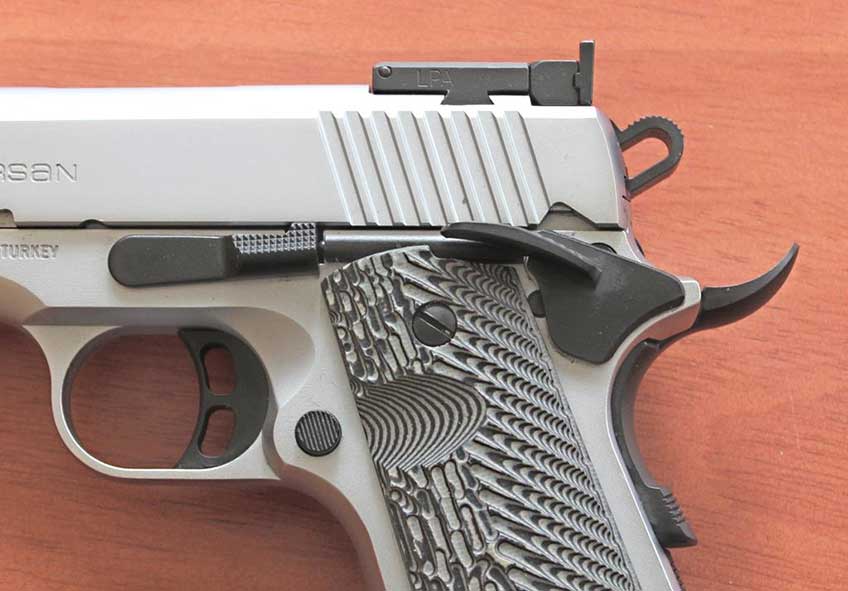 The magazine well is fitted with a beveled aluminum extension which aids quick reloads. Some competition extensions are rather large and blocky. This one is compact and neatly rounded to fit the dimensions of the grip frame. Like the thumb safety, it's a handy upgrade for competition but it won't get in the way should this pistol be staged for home defense or carried for personal protection.

As is often the case, this upgraded 1911 ships with just one 8-round, blued steel magazine manufactured by ACT-MAG in Italy. Luckily, this fairly universal type of magazine is easy to find. I opted to include a new for 2020 Mec-Gar 8-round Match 1911 magazine for the time at the range. Both magazines operated flawlessly and dropped free from the grip when the magazine release was depressed.

Although there are plenty of good reasons to build modern concealed carry guns with polymer frames, pistols intended for competition benefit from all-steel construction. The added weight helps to tame the .45 ACPs felt recoil and gives Government size 1911s a good sense of balance. The fit and finish of this gun was top notch throughout. All of the controls worked smoothly and properly.

Sometimes all-steel guns require a break in period of anywhere from 50 to 200-rounds in order to smooth things out so that the pistol runs reliably. That was not the case with this MC1911. Other than a single stove pipe during the first 20-rounds fired, the pistol ticked along like a metronome with all of the ammunition fired including practice grade loads to premium hollow points.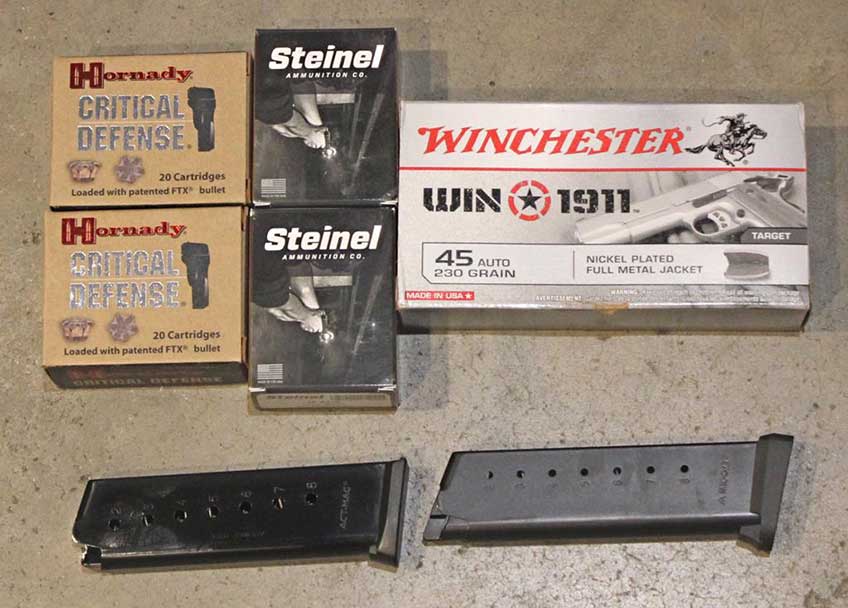 Formal bench rested accuracy testing was conducted by firing five 5-shot groups for each load into targets set at a distance of 25-yards. Hornady's Critical Defense 185-gr. FTX produced a best single group of 3.09" with a five group average of 3.22". Steinel Ammunition's 185-gr. solid copper hollow points tapped out a best group of 3.05" with an average of 3.27". Winchester's 1911 230-gr. nickel plated full-metal jacket load yielded a best group of 3.39" with an average of 3.53".

When I was offered the opportunity to work with these Girsan pistols, I accepted not knowing exactly what to expect from them. I haven't worked with Girsan branded products before now and budget friendly imports can be something of a mixed lot. Some of them offer real value at a reduced price while others fit into the 'you-get-what-you-pay-for' category. However, EAA has a reputation for importing solid, reliable products intended to be put to work by their owners instead of dwelling in a display case.

The MC1911 Match Elite looks and handles like an all-steel, competition-grade semi-auto should. There's nothing about its appearance or handling to indicate that it cost less. In fact, the features are on par with other factory 1911s that typically retail for around $300 to $400 more.

Specifications:
Importer: European American Armory
Manufacturer: Girsan (Turkey)
Model: MC1911 Match Elite (SKU: 390095)
Action: Single-Action Semi-Auto 1911 Government
Caliber: .45 ACP
Slide: Carbon Steel, Matte Hard Chrome Finish
Slide Features: Round Top, Front and Rear Cocking Serrations
Frame: Carbon Steel, Matte Hard Chrome Finish with Matte Black Appointments
Front Strap: Partial Checkering
Mainspring Housing: Flat with Checkering
Grip Panels: Textured G10, Standard Grip Screws
Front Sight: Dovetailed Serrated Target
Rear Sight: Fully Adjustable Competition
Barrel: Linked Competition Barrel with Muzzle Cone Lock-Up
Barrel Bushing: None
Guide Rod: Full Length Steel
Recoil Spring: Single, Round Wire
Hammer: Long Loop Skeletonized
Thumb Safety: Extended Ambidextrous
Grip Safety: Extended Beavertail with Memory Bump
Magazine Release: Round Button
Trigger: Skeletonized Aluminum
Trigger Pull: 5-lbs. 8-oz. (As Tested)
Magazine Well Extension: Aluminum, Black Finish
Barrel Length: 5.00"
Overall Length: 8.75"
Height: 5.9"
Slide Width: 0.92"
Grip Width: 1.30"
Weight: 42.9 oz. with Empty Magazine
Capacity: 8+1 Rounds
Twist: 1:16" RH
Rifle Grooves: 6
Accessories: Hard Sided Carry Case, One 8-Round Magazine, Bronze Bore Brush, Cable Lock, Owner's manual.
MSRP: $873