by
posted on October 31, 2016
Support NRA American Rifleman
DONATE
For those of us who live in a country with a Constitution that guarantees its citizens so many rights and privileges, it's easy to forget what a rare and precious gift the protection affirmed by the Second Amendment really is. Today, we are hounded by anti-gun leaders and special interest groups who are determined to curtail our freedom. They want to impose so-called "reasonable" or "common-sense" regulations in harmony with those of Australia and Europe. So what exactly do such onerous restrictions look like?
I recently met with Alex Zimmermann, an IDPA champion, gun designer and founder of Guncrafter Industries. In light of the current political climate, I found his personal experiences with European gun regulations to be most enlightening.
Born in Denmark in 1962, Zimmermann fell in love with shooting at a young age. By the age of 14 he was shooting rifles and when he turned 18 he was shooting handguns. As he reached his early 20s, he found out how unreasonable his county's regulations were. Handguns chambered for calibers larger than 9 mm or .38/.357 were illegal. A grand total of 450 citizens in the country were allowed to be in possession of a 9 mm pistol at any given time. Therefore, it was necessary to get on a list and wait until one of those people passed away, gave up or lost their permit in order to obtain a 9 mm. It could take years to move up to the top of the list. 
It was easier to own a .22 rimfire pistol, but not much. In order to obtain a .22 handgun permit it was necessary to be an active participant in the only sport in town, Olympic style bullseye competition. Shooting was only allowed at state-sanctioned shooting clubs. Absolutely nowhere else. The gun owners' level of participation in competition was closely monitored. If they stopped competing, their permits were revoked and they would have to give up their guns. 
These restrictions were onerous but they didn't quell Zimmermann's enthusiasm for the shooting sports. As he pursued a mechanical engineering degree in his hometown, he started his own firearms and gunsmithing business on the side. He began a decade-long pilgrimage back and forth across the Atlantic to the United States to participate in the shooting competitions held here.
He developed a deep appreciation for John Browning's timeless 1911 design. Associating with competitors like Brian Enos, Rob Leatham and Ross Seyfried inspired him to practice and improve. "Much like the small handful of gunsmiths/shooters that came to the U.S. from South Africa, not having access to all kinds of neat gun parts and accessories in Denmark forced me to make the most out of what I had. I contribute a lot of my designing and metal-working skill to this fact: necessity is the mother of all invention."
Later, while visiting the United States to compete in Richard Davis' Second Chance Bowling Pin Shoot, he saw a small ad in Front Sight magazine announcing that Wilson Combat was hiring. A phone call resulted in an invitation from Bill Wilson to visit Berryville, Ark., for an interview. "I ended up with a job offer," said Zimmermann. "I went back to Denmark, tied up all loose ends and sold all my earthly possessions. Four months later I arrived at the Springfield Airport, suitcase in hand and a stomach full of butterflies." Over the next eight years Zimmermann worked as director of research and development for Wilson Combat.
Zimmermann left Wilson Combat in 2002 on amicable terms in order to pursue his long-held ambition of building his idea of the ultimate defensive pistol: a 1911 semi-automatic chambered for a .50-caliber cartridge. Guncrafter Industries was founded expressly for this purpose. The pistol he envisioned was originally conceived during his college years. However, the caliber restrictions in Denmark prevented him from doing anything more than producing non-functional prototypes of the cartridge and barrel.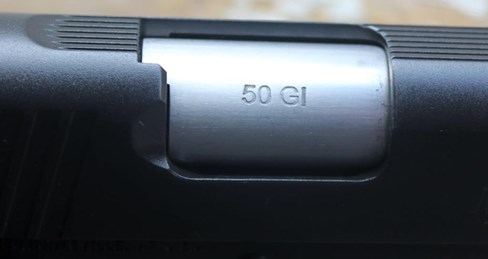 "It's important to understand that I did not set out to create a super magnum blaster pistol (like the Desert Eagle), but rather a controllable and practical defensive pistol, a pistol with a lot of knock down power but of same size and weight as a standard 1911 and suitable for concealed carry." he said. This led to the development of a new pistol cartridge which was dubbed the 50 GI. Designed to operate at low to medium pressure levels compatible with 1911 frames, this cartridge has an overbuilt case with a .45 ACP size base and an opening sized to accept .500" diameter bullets (the largest allowed in the United States without BAFTA paperwork). The 50 GI launches 185-gr. to 300-gr. bullets at nominal velocities of 1,200 to 700-fps. from 5" barrels.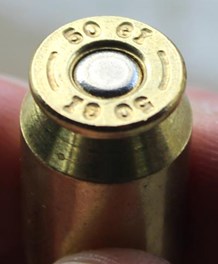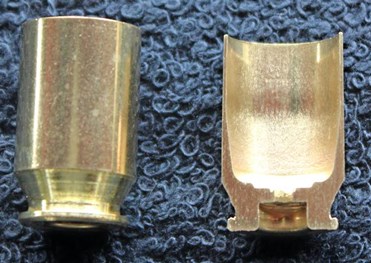 The Model No. 1 1911 pistol chambered in the 50 GI cartridge was released at the 2004 SHOT Show, two years after starting his company. In the 12 years since its initial launch, the Guncrafter Industries custom Model No. 1 has been joined by the tactical rail Model No. 2 , the concealed-carry compact Model No. 3 and the 6"-barrel long-slide Model No. 4 designed for handgun hunting. It was the Model No. 4 that piqued my interest because the extended barrel boosts ammunition performance, making it an even better performer for taking medium game such as whitetail deer and feral hogs. I placed a request for one to test along with four different 50 GI loads.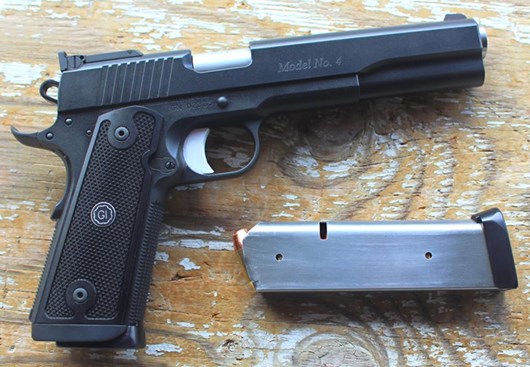 Guncrafter Industries hand builds each of its custom pistols to order. This means its 1911s are not what one would call inexpensive but the quality and workmanship is some of the very best I've seen in my career. The Guncrafter Model No. 4 (referred to here after as the No. 4) is a full-size, Government-style 1911 semi-automatic pistol that employs the classic Browning short-recoil-operated action and a linked barrel.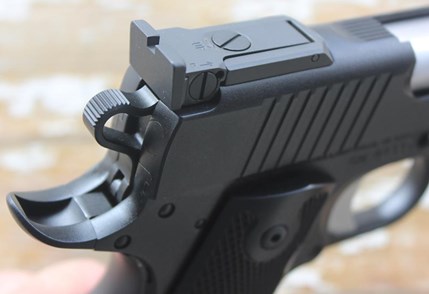 You won't find any MIM components in this pistol. The frame and slide are machined from 4140 chrome-moly steel forgings, which Zimmermann says is still the best foundation for a custom pistol. On the model tested, the top of the extended, rounded slide was flattened and grooved to reduce glare. The sight system included a serrated Trijicon night sight in front paired with a fully adjustable Wilson Combat target sight at the rear. The ejection port is flared next to an oversized extractor claw.



The match-grade, bushingless bull barrel has a 0.75" diameter at the chamber and muzzle. Milled from forged rifle quality 416R stainless steel, the barrel has eight lans and grooves (instead of six) with a 1:18" right-hand twist designed to stabilize .50-caliber bullets for increased accuracy. The full-length steel guide rod is fitted with a single round wire recoil spring.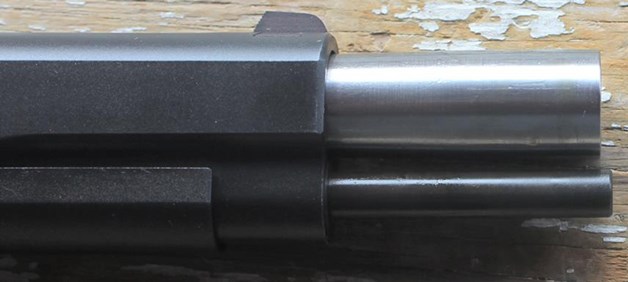 The traditional frame sports a rounded dust cover and trigger guard. The solid aluminum match trigger has a grooved face and an over travel screw. The smooth, single-action trigger broke cleanly with 4 lbs. 5 oz. of trigger pull, which is a good weight for a pistol intended for field use. The skeletonized hammer and sear are machined from tool steel with the slide stop machined from bar-stock. The round magazine release and thumb safety are both located on the left side of the frame in typical 1911 fashion. The extended beavertail grip safety has a memory bump for positive function.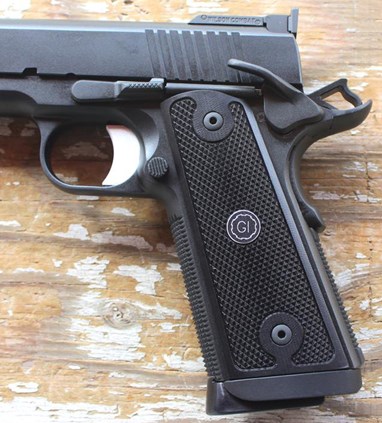 In order to provide a more aggressive gripping surface that is still comfortable to work with due to the company's hand finishing process, the frame's frontstrap and straight mainspring housing have been cut with 15 LPI x 90 degree checkering instead of the more common 30 LPI checkering. The slim, diamond-checkered matte black aluminum grip panels are secured to the frame with hex head screws and feature the 50 GI logo.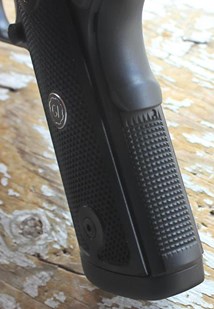 A beveled magazine well aids in quickly loading the heavy-gauge stainless steel seven-round magazines which are fitted with black polymer followers and tough machined aluminum bases. This No. 4 pistol was treated with a durable matte black Melonite finish. The No .4 exhibited the buttery smooth, glass-on-glass action that seems to be available only with high-end 1911s. Although the Melonite finish is anything but flashy, the whole pistol exudes an aura quality that is impossible to ignore. The massive maw of the muzzle definitely leaves a lasting impression. After passing a series of bench checks with ease, I was ready to take it to the range.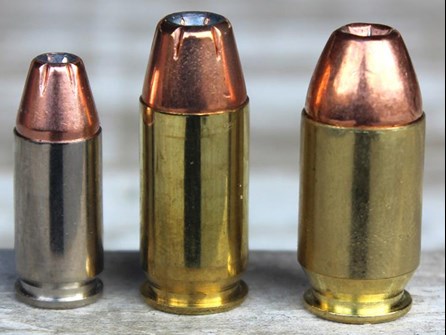 When lined up side-by-side with a 9 mm and .45 ACP cartridge, it's easy to see just how big the 50 GI cartridge is. But the cartridge lives up to its reputation of producing more manageable levels of felt recoil. This in turn contributes to improved accuracy for follow-up shots. Those 1911 fans that are used to firing .45 ACP +P loads will have no problems mastering the 50 GI.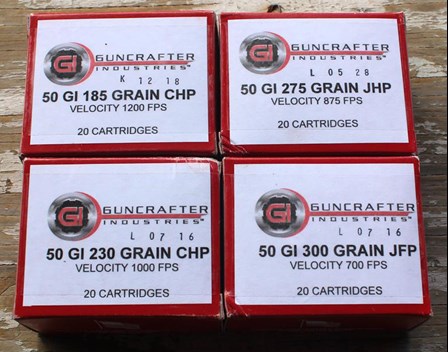 All of the 50 GI ammunition tested with the No. 4 was manufactured by Guncrafter Industries. These rounds, like the pistol, are not inexpensive. However, for those shooting enthusiasts who may feel some trepidation about investing in a custom pistol chambered for a single-source proprietary caliber, Zimmermann shared the following points. Because the ammunition components are produced in-house, 50 GI fans have yet to run out of factory rounds or brass for reloading even when other calibers have been in short supply. Guncrafter offers .45 ACP conversions and reloading components for those who wish to reduce ammunition costs.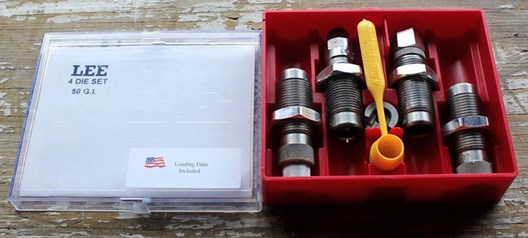 The company offers two hollow points turned from solid copper. Available in 185-gr. and 230-gr. bullet weights, these hollow points are cut so as to form four petals that expand rapidly in soft targets. This makes them an ideal option for both hunting and self-defense. Other options include a 300-gr. full-metal jacket round and a 275-gr. jacketed hollow point, which turned out to be the most accurate round of the test during formal five-shot, benchrested accuracy testing. The No. 4's 6" barrel increased bullet velocity anywhere from 64 to 94 fps. faster than the listed velocities, which in turn boosted muzzle energy by 67 to 97-ft.-lbs.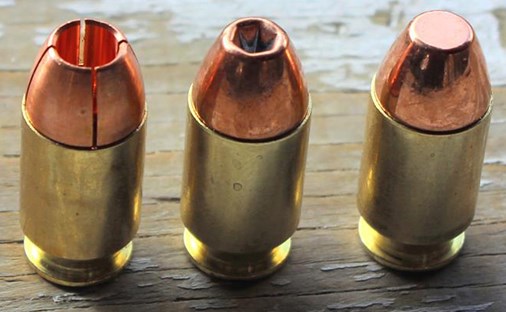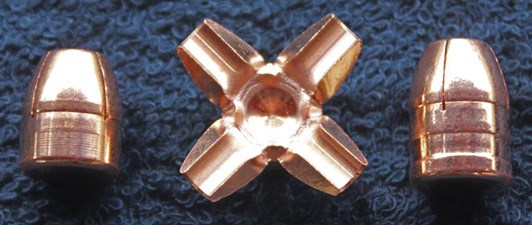 The pistol's accuracy was excellent at 25 yards using the factory iron sights. When I can keep a 1911's groups hovering somewhere around 3.25" on average, then I know I'm doing my job. The No. 4 produced five-shot groups ranging from 2.18" to 2.90" with five-group averages right around the 2.50" mark. It was definitely the quality of the pistol doing the talking.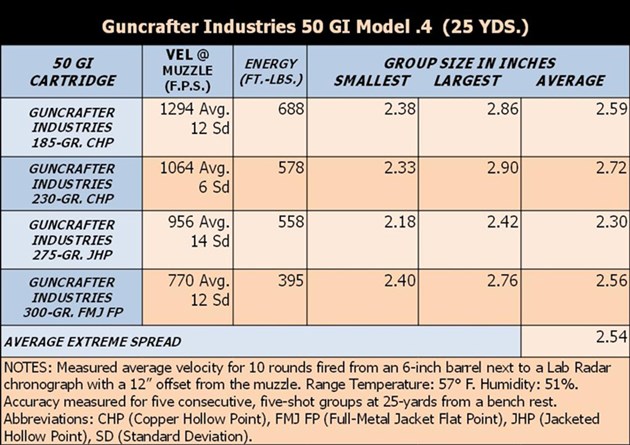 Alex Zimmermann was not alone in his desire to come to America so that his shooting dreams could come true. There are more like him, including Paul Liebenberg, Angus Hobdell, Iain Harrison, Henning Walgreen, Arnt Mag Myhre and Robbie Barkman to name just a few.
Folks in the shooting community are dedicated to hashing out the merits of various platforms, including the custom 1911s chambered in 50 GI from Guncrafter Industries. However, the real point of this write up is to remind American gun owners that the reason the 50 GI pistols exist, along with dozens of other platforms, is because of the freedom the Second Amendment protects and the creativity it fosters. The diversity of platforms we enjoy today could dwindle or even disappear all together if we're not careful.
Take the time to participate in the political process and invest in our future by participating in gun rights organizations like the National Rifle Association. Zimmermann came here to escape European gun restrictions. If our shooting heritage slips away, then where will we go?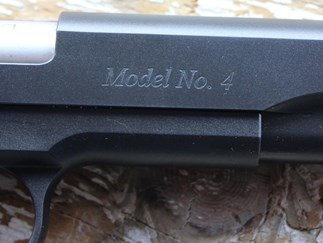 Specifications
Manufacturer: Guncrafter Industries
Model: No. 4, Full-Size Government with Extended Slide
Action: Single-Action Semi-Automatic 1911
Caliber: .50 GI
Finish: Matte Black Melonite
Grip Panels: Diamond Checkered Aluma-Grips, Black
Front Sight: Dovetail Trijicon Night Sight
Rear Sight: Wilson Combat Adjustable Target
Barrel: Bushingless Bull Barrel
Guide Rod: Full Length
Trigger: Solid Match with Over Travel Screw
Trigger Pull: 4 lbs. 5 oz. (As Tested)
Barrel Length: 6.00"
Overall Length: 9.60"
Height: 5.50"
Slide Width: 0.94"
Grip Width: 1.28"
Weight: 44 oz. with Empty Magazine
Capacity: 7+1 Rounds
Twist: 1:18" RH
Rifle Grooves: 8
Accessories: Soft Pistol Case, Two Magazines, Owner's Manual
MSRP: Starting at $4,125