by
posted on August 20, 2020
Support NRA American Rifleman
DONATE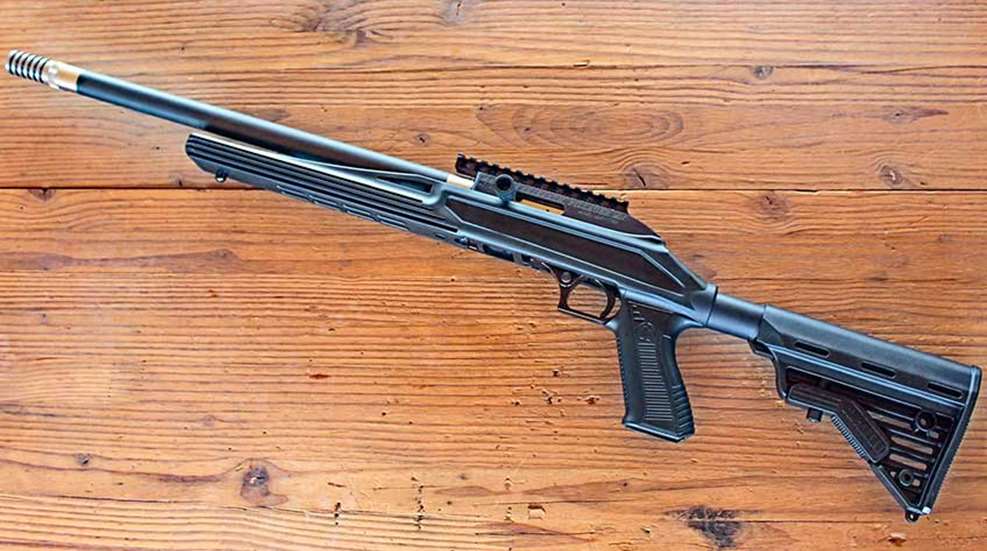 During the last two years, Magnum Research, Inc. (MRI) launched three websites that allow customers to design and order customized configurations of the company's Desert Eagle pistol, BFR Revolver and SwitchBolt rimfire rifle. This year, all three sites were combined into one comprehensive online custom shop at MagnumResearchCustoms.com.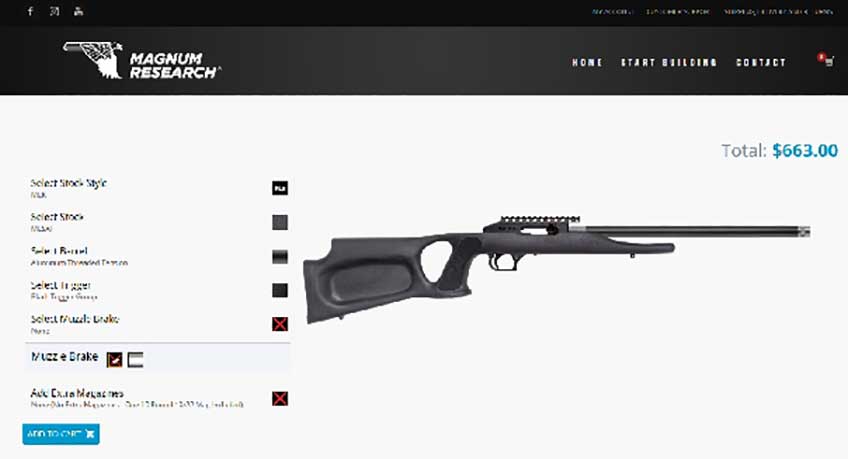 This combined site makes it easy to see all of the options available for a given model and see it built out virtually before you buy. As features and upgrades are selected, an image of the finished gun and pricing are provided. The firearm you've built can then be purchased online and shipped to your preferred licensed firearms dealer.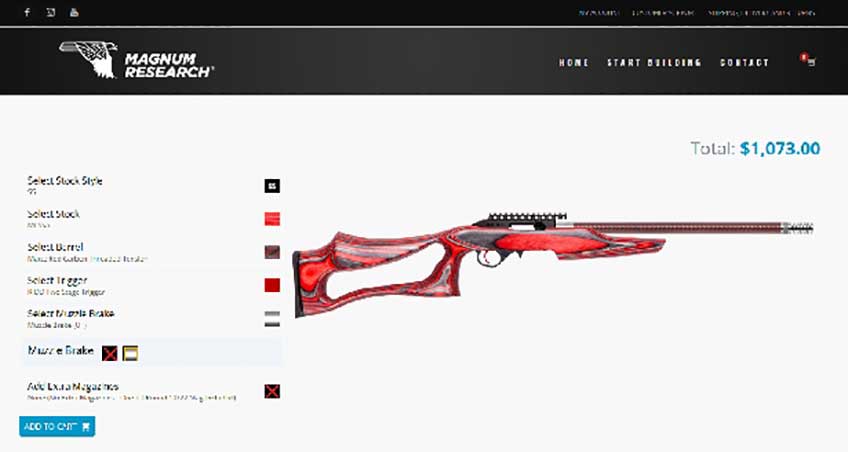 I enjoyed working with the MRI Magnum Lite rimfire a few years ago, so I jumped at the chance to build a custom SwitchBolt using the new website. When the SwitchBolt section of the website opens, it defaults to a 'basic' rifle configuration, which in truth is not a basic rifle at all. Going with this configuration will put quite a nice rifle in your hands.

But variety is the spice of life, so Magnum Research offers a selection of barrel, stock, trigger group and accessory options to choose from. This allows the rifle to be dressed up as much as you like.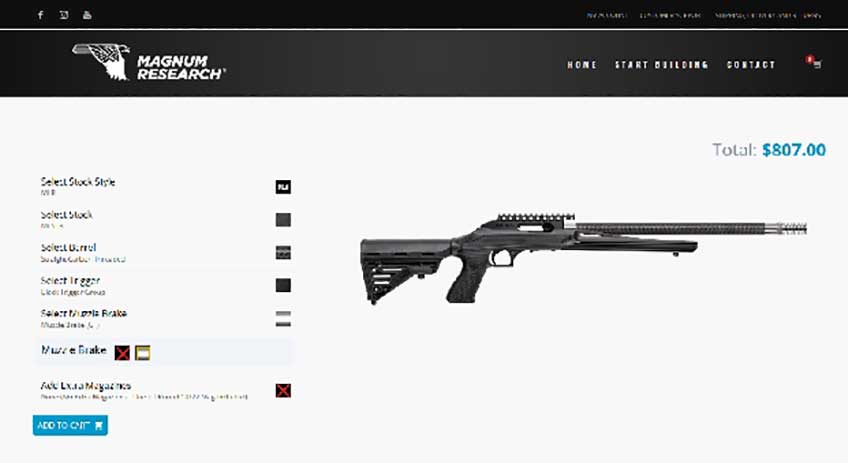 Here's the rifle I built. My goal was to keep it light and handy for traipsing about in the wilderness with the precision shooting features that come in handy when punching paper from a bench rest. I found a just-right balance of features that fit my needs at a price that split the difference between the basic and high end configurations.

The SwitchBolt is a gas-assisted, blowback operated semi-auto which takes its design cues from Ruger's 10/22. It's compatible with a variety of aftermarket 10/22 parts and uses Ruger's BX series of rotary 10-round and extended magazines. The bolt is machined from heat-treated and through-hardened 4140 steel.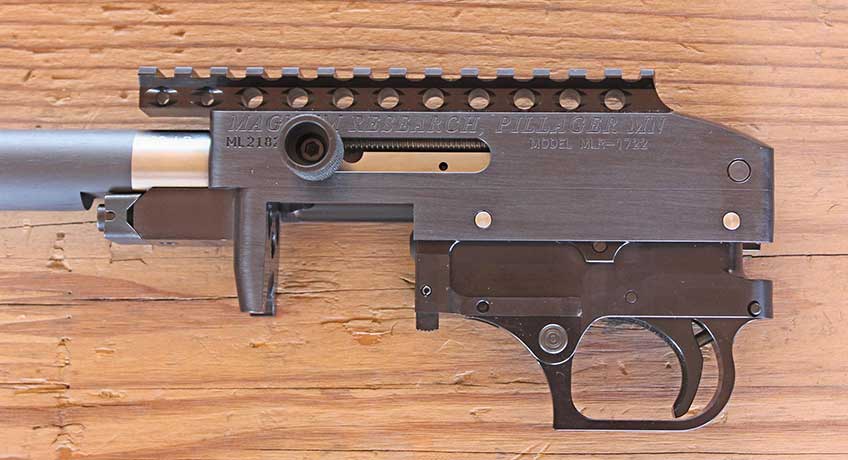 The proprietary SwitchBolt receiver is forged then machined from 6061 aluminum and treated with a hard coat anodized finish, just like many AR-15 receivers. The forging process makes it stronger than milled billet or cast receivers.

The most noticeable difference between the SwitchBolt and other 10/22 pattern receivers is the knurled reciprocating charging handle which can be mounted on the left or right side of the receiver. This allows magazine exchanges and manual operation of the bolt to be conducted with the support hand only so as to avoid breaking the shooting grip when reloading the rifle. This translates into quicker reload speeds for competitors looking to tighten up their times while accommodating both left- and right-handed shooting enthusiasts.

The bolt handle is positioned so as to be compatible with most (but not all) 10/22 type stocks. The top of the receiver sports a vented integral 5.75" Picatinny sight rail for magnified or red-dot optics. At the back end of the receiver is a port that allows for cleaning brushes to be pulled or press through the bore from chamber to muzzle.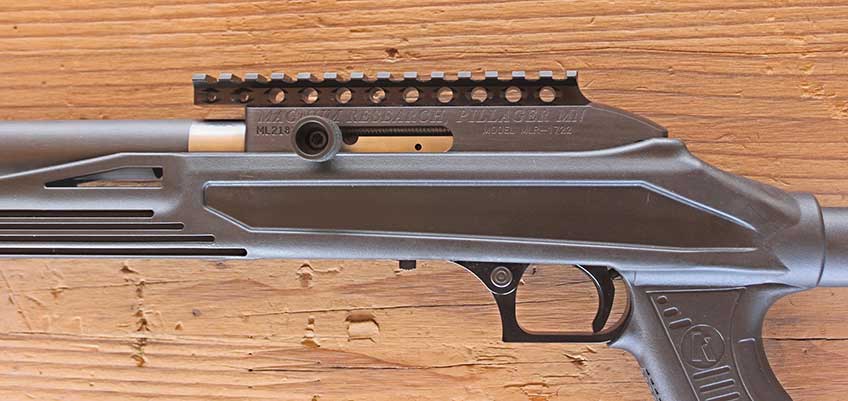 Customers can choose from light weight MRI .920" diameter barrels including aluminum sleeve tension barrels or a variety of carbon fiber (graphite) wrapped options. Back in 2003, the company perfected the process of wrapping unidirectional carbon fibers parallel to the bore axis of a steel barrel insert. The result was a 13- to 16-oz. barrel, depending on the length, with six-times the rigidity of steel, and a 43 percent faster heat dissipation rate. All of those features added up to greater accuracy potential.

I've shot the MRI carbon barrels before, so I went with the 17" long Straight Weave Solid Carbon model with stainless steel fixtures and a target grade Bentz chamber. The muzzle is threaded at 1/2x28 TPI for accessories including muzzle brakes, compensators and sound suppressors. In this case, the rifle was outfitted with the MRI milled stainless steel Competition Compensator which is 2.15" long and weighs in at 2.4-oz.

The trigger groups currently available for the SwitchBolt include competition-grade models from Timney Triggers, Volquartsen Firearms and Kidd. But MRI has a terrific in-house trigger that can easily compete with the other options offered without increasing the base price of the rifle.


You won't find any polymer in this trigger group. The housing and trigger are milled aluminum available in a black, blue or red hard coat anodized finish. The single-stage trigger exhibits just a whisper of take up before breaking cleanly with 2-lbs. 14-oz. of trigger pull.

The rifle was completed with a weight reduced polymer Blackhawk Axiom R/F Ruger 10/22 Rifle Stock. This stock's black fiberglass-reinforced polymer construction gives it a feathery weight of just 1-lb. 2- oz. along with a comfortable pistol grip and a free floated barrel.

The flattened underside of the fore-end is ideal for sand bag rests or the front sling swivel stud can be used to attach a bipod. Like the rifle's action, this stock is configured to comfortably fit right or left handed shooters with an adjustable 6-position AR style shoulder stock that provides a length of pull (LOP) ranging from 9.75" to 13.50".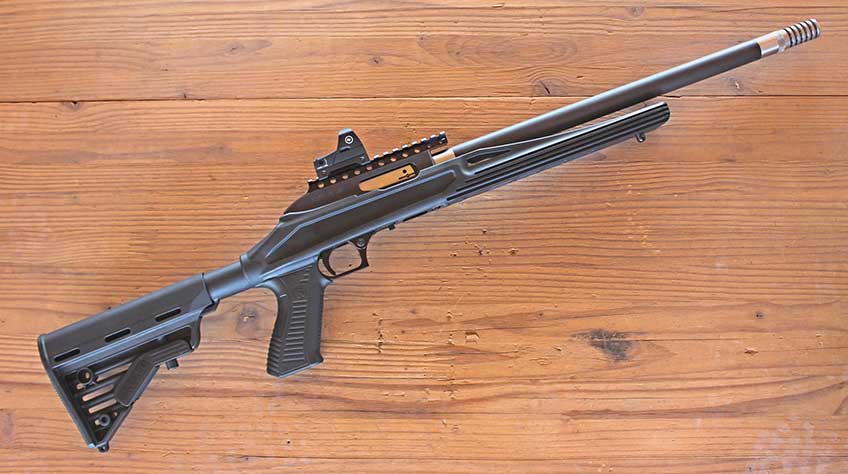 The SwitchBolt arrived fully assembled with a 10-round BX-10 magazine and a set of accessories that include a foam-lined carry case, a protective storage sleeve and a set of 1" scope rings. The high quality craftsmanship and proper fitting were evident throughout. The rifle weighs in at 3-lbs. 11.8-oz. with the empty 10-round magazine and compensator installed. The bolt cycled cleanly right out of the box and only got better when oiled.  This rifle is so light and well balanced that it feels more like handling an air gun than a .22.

In keeping with this rifle's handy field gun theme, it was topped off with a 2.8-oz. Crimson Trace CTS-1400 open reflex sight. This optic, with its 3.25 MOA red dot, is designed for rifles and shotguns. Small game can be nimble, so the 1.4" wide lens provides a clear view for quick target acquisition. I've enjoyed working with this sight on other guns and it proved to be a great fit for this rifle as well.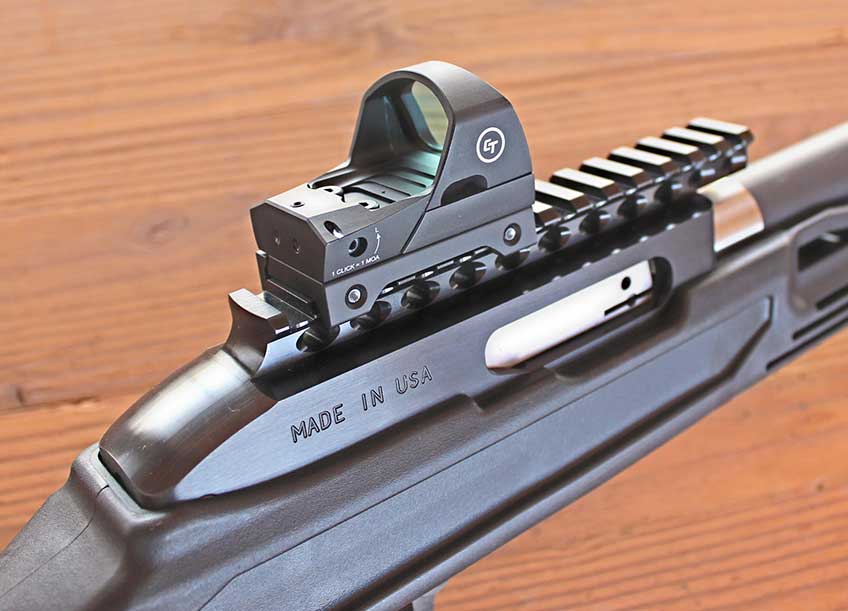 In order to squeeze the best performance possible from a high end precision rimfire like the SwitchBolt, it needs to be kept clean and fed with high quality ammunition. The good folks at Magnum Research recommend giving the rifle a good scrubbing about every 500-rounds but it may need to be cleaned more often depending on the ammunition used.

A build-up of residue in the compensator can form ridges that will bump the bullets off course resulting in poor range accuracy. MRI's factory testing has shown that the barrel's Bentz chamber gets along swimmingly with CCI's Velocitors and Standard Velocity loads. However, the faster, lighter CCI Stingers shoot poorly.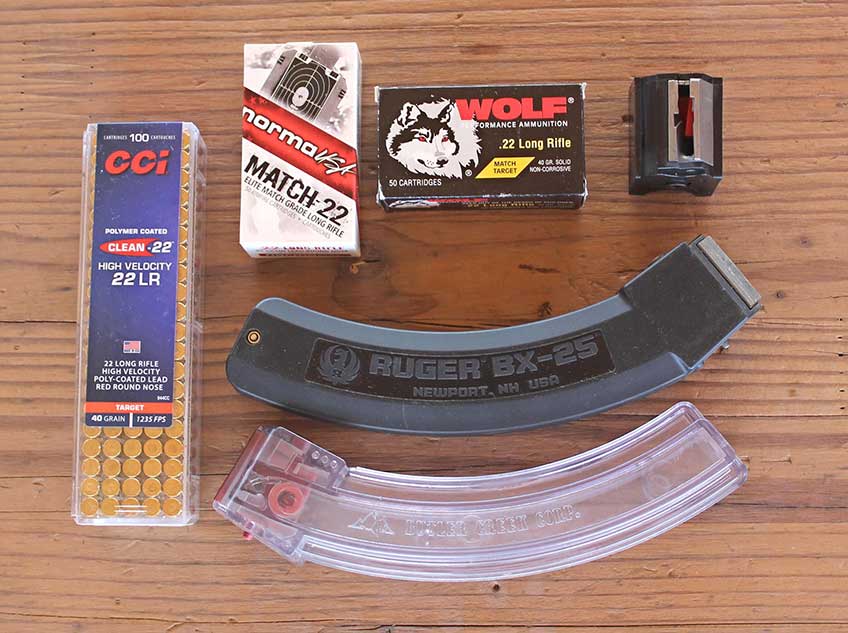 Formal bench rested accuracy testing was conducted at 50-yds. Norma's Match 40-gr. wax coated lead round nose is a long time favorite target round of mine with a listed velocity of 1,100 f.p.s. This load printed a best single group of 0.99" with a five group average of 1.11".

I've also had good luck with Wolf Ammunition's Match Target 40-gr. wax coated lead round nose which is listed at 1,050 f.p.s. It tapped out a best group of 0.94" with an average of 1.05". One of CCI's latest offerings is the Clean-22 high velocity 40-gr. polymer coated lead round nose with a listed velocity of 1,235 f.p.s. Designed specifically to reduce barrel fouling, this round yielded a best group of 0.95" with an average group size of 1.03".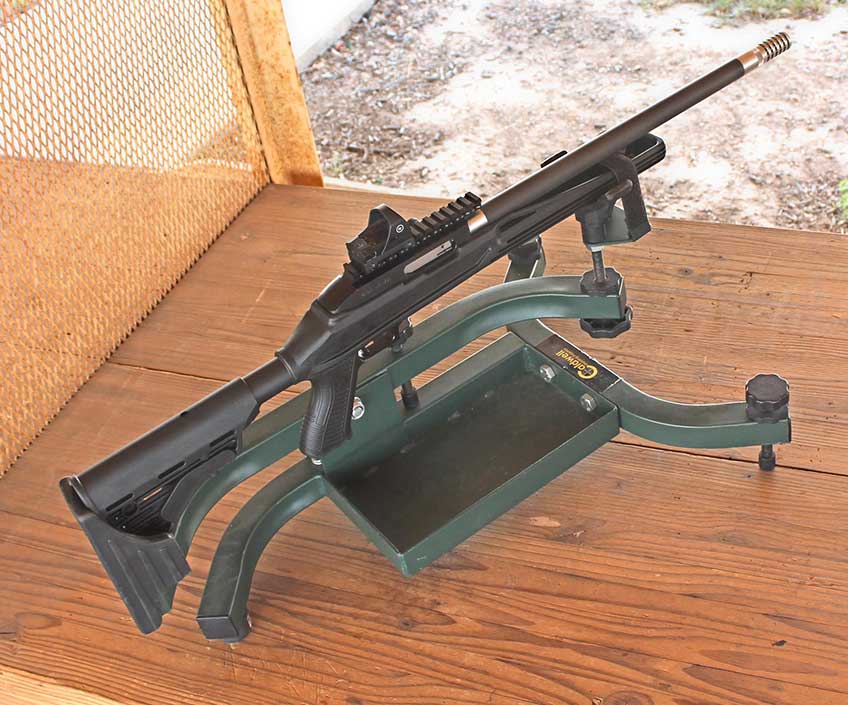 The Magnum Research SwitchBolt is a high-quality ambidextrous target .22 that offers reduced weight and tighter accuracy at more palatable prices than the competition. I was able out layout and order the exact custom rifle I wanted online for over $500 less than similar tricked out rimfires from other manufacturers. The SwitchBolt proved to be utterly reliable and exceptionally enjoyable to work with. For more information, visit MagnumResearchCustoms.com.
Specifications:
Manufacturer: Magnum Research, Inc. (MRI)
Model: MLR-1722 SwitchBolt, Custom Build 
Action: Gas-Assisted Blowback Semi-Automatic
Caliber: .22 Long Rifle
Receiver: MRI SwitchBolt, Forged 6061 Aluminum, Hard Coat Anodized Finish
Optics Rail: Integral 5.75" Long 14-Slot Picatinny, 1" Scope Rings Provided
Barrel: MRI 17" Straight Weave Solid Carbon, Stainless Steel Hardware
Chamber: 22 Bentz
Muzzle: Threaded at ½ x 28 TPI
Muzzle Device: MRI 2.15" Stainless Steel Competition Rimfire Compensator, 2.4-oz.
Trigger Group: MRI Single-Stage, Black Aluminum Housing
Trigger Pull: 2-lbs. 14-oz. (As Tested)
Bolt Assembly: MRI Through-Hardened 4140 Steel
Bolt Handle: Knurled Barrel, Reversable
Stock: BlackHawk! Axiom R/F Ruger 10/22 Rifle Stock
Stock Finish: Matte Black Reinforced Polymer, 1-lb. 2-oz.
Shoulder Stock: 6-Position Adjustable
Length of Pull (LOP): 9.75" to 13.50", 0.75" Increments
Overall Length, Stock Collapsed: 32.25" (With Muzzle Brake)
Overall Length, Stock Fully Extended: 36.50" (With Muzzle Brake) 
Weight: 3-lbs. 11.8 with Empty 10-Round Magazine and Muzzle Brake
Magazine: Ruger 10/22 BX-10 Rotary
Capacity:  10+1 Rounds
Twist: 1:16 RH
Rifle Grooves: 6 
Accessories: Foam Lined Hard Case, 1" Scope Rings, Knurled Muzzle Thread Protector, Protective Storage Sleeve, Owner's Manual, Cable Lock
Suggested Retail: $807 As Configured (Excluding Shipping and Taxes)
Optic: Crimson Trace CTS-1400 Open Reflex Sight, 3.25 MOA Red Dot, 2.8-oz. $499.99