by
posted on January 24, 2020
Support NRA American Rifleman
DONATE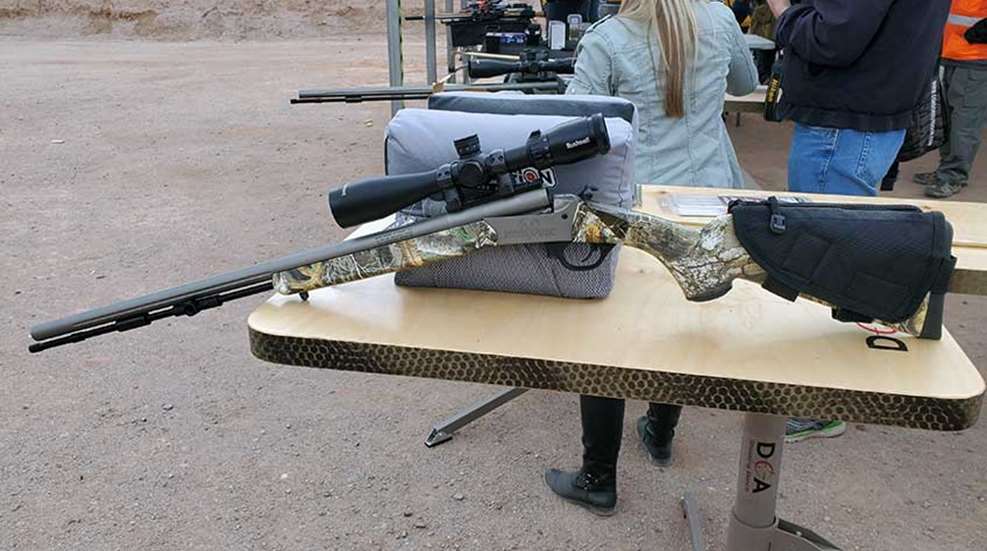 Traditions Performance Firearms has teamed up with Hodgdon and Federal Premium Ammunition to take inline muzzle loader hunting rifles to a whole new level of convenient and reliable operation with the new Nitrofire series.

The genius of this new system is the weather proof design of the polymer Firestick powder charge, which is manufactured by Federal. It is completely sealed in order to keep the Hodgdon Triple Eight powder perfectly dry. A black polymer wad keeps the water out at the business end of the stick while a thin polymer membrane protects the flash hole in the primer pocket. A Firestick has been soaked in water for 5-hours and then fired with no ill effects.

The easiest way to appreciate how this rifle works is a quick walkthrough of the loading process. It begins by driving a saboted bullet into the barrel with a ram rod on to an empty chamber. A ledge atop the chamber prevents the bullet from being seated too deeply.

With the cross bolt safety in the SAFE position, open the action. Insert the polymer Firestick powder charge into the chamber and then place a 209 shotgun shell primer into the primer pocket of the Firestick. Close the action and the muzzle loader is ready to fire.

That's all there is to it! It's only two steps away from being a simple to operate as a break-action, single-shot rifle or shotgun. Because the primer pocket is incorporated into the disposable Firesticks there's no small parts to remove or clean. Just run a bore brush through the wide open breech and the rifle is ready to go.  

Tradition's Nitrofire rifle collection includes no less than 10 new .50-caliber models with suggested retail prices ranging from $549 to $1,220. For more information, please visit traditionsfirearms.com.