by
John Zent, Editor Emeritus
posted on October 11, 2020
Support NRA American Rifleman
DONATE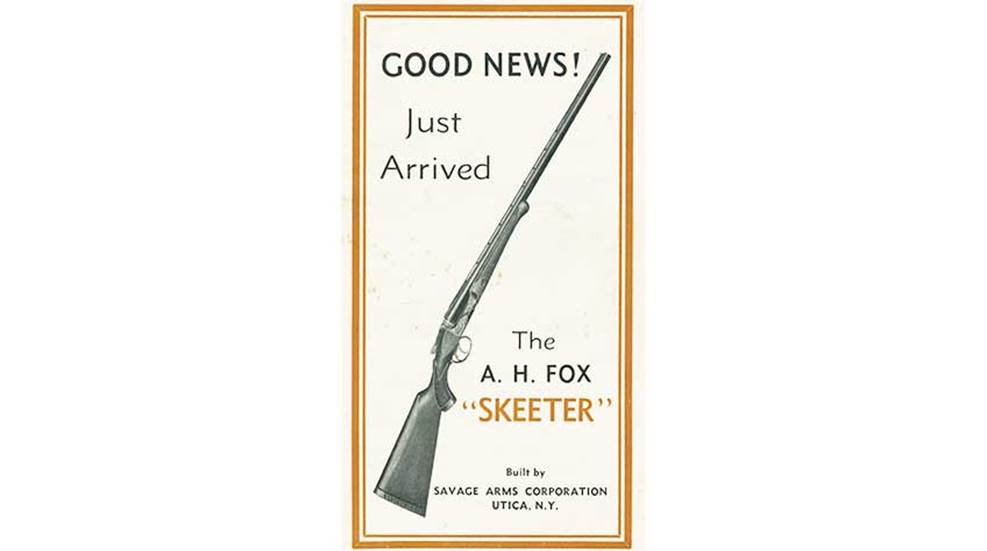 Shortly after entering the shotgun trade in 1920, Savage Arms acquired two other legacy American firearm companies, Stevens (in 1920) and Fox (1929), thus embarking on a multi-brand strategy that, by turns, has been successful and useful, but also convoluted and unremarkable. Nonetheless, smoothbores remain a supplemental revenue source to the company's bread-and-butter rifle business.
Early on, several shotgun types wore Savage's famed (and now discontinued) war-bonnet marquee. While the first pump and double-barrels didn't last long, the single-shot Model 220 proved to be a keeper, and autoloaders bearing 700-something model designations, patterned on Browning's long-recoil principle, remained reliable options for budget-minded hunters and clays shooters for nearly 40 years.


In the gun-rich environment following World War II, Savage focused on two tracks with the modernized Model 30 slide-action (1958-75) joining the Models 750/755/775 autoloaders. Frequently, Savage and Stevens smoothbores were private-labeled for hometown chains such as Western Auto and J.C. Penney.

Simultaneously, the company diversified by putting its name on imports from Italy, Japan, Finland and, most recently, well-received repeaters and over-unders from Turkey and Italy, respectively, under the Stevens badge.
When the 1960s brought conflict to southeast Asia, the Department of Defense contracted with Savage to supply short-barreled Stevens Model 77E pump-actions, with production taking place at the parent company's new plant in Westfield, Mass. Thousands of them ended up with U.S. Army and Marine Corps combat and MP units, as well as South Vietnamese allies, and American Rifleman Field Editor Bruce Canfield has written, "… the Stevens M77E was the most widely used shotgun of the Vietnam War" (March 2002).
While the takeover of Fox shotgun production will forever be associated with the downscale Model B, in the decade after the acquisition, deluxe grades and innovations—among them the Skeeter, the Wildfowler and the Trap Double—came from Savage's Utica factory. However, the B was the only Fox to make it past World War II until a brief early-'80s run of the Japanese-made, co-branded Savage/Fox FA-1s and FP-1s.
Thankfully, the Fox franchise made a classy comeback via a 1993 collaboration with Connecticut Shotgun Manufacturing (CSM), which has since produced limited runs of pricey, best-quality replicas decked out in Circassian walnut stocks, scroll engraving and numerous special-order options.

Then, three years ago, a resurrected A-Grade co-developed by Savage and CSM grabbed headlines in the firearm press. It features an updated Anson & Deeley boxlock in both 12- and 20-ga. examples built through a combination of contemporary CNC machining with old-school hand-fitting. The result is a welcome echo from America's shotgun golden age.
At the opposite end of the spectrum, but no less noteworthy, is the half-smoothbore Savage Model 24 combination gun that inspired generations of young Americans and others who valued economical versatility. The break-open over/under paired rifled and shotgun barrels, the majority being .22 Long Rifle over .410 bore, but there have been many tandems since its 1945 introduction.

It was one of the first long guns chambered in .22 WMR, and by the 1960s teamed center-fire varmint or big-game calibers with bigger smoothbore gauges. A popular choice was .30-30 Win. over 20 gauge. In 2013 a new edition dubbed the Model 42 filled this spot on the Savage bench and was offered with 20" barrels and black synthetic stocks in standard and youth variants.
Nowadays, the brand is also a haven for serious slug hunters with its big bolt-action Models 212 and 220, plus a smoothbore turkey variant. The rifled-bore turnbolts are essentially a jumbo version of the flagship Model 110 rifles and machined on the same tooling. Fitted with the award-winning AccuTrigger and AccuFit stocks, these Savages challenge even custom sluggers for precision.

In 2020, 100 years after Savage Arms entered the shotgun market, the company entered a new era with its semi-automatic Renegauge platform. This unique shotgun employs the DRIV gas-regulated operating system, a new innovation in the shotgun world. You can read our review of the Savage Arms Renegauge here, but suffice it to say, the release of the Renegauge and the strong sales of Savage's other shotguns means the company's lineup has a bright future.