by
John Zent, Editor Emeritus
posted on January 16, 2015
Support NRA American Rifleman
DONATE
If you have even a mild interest in general-purpose shotguns, here's some breaking news—Remington has a new autoloader. And no, astute observers, you're not hearing an echo.
It's true that the 105 CTi (2005) and Versamax (2010) may seem like recent headlines in terms of firearm longevity. But we're not talking about them. Decidedly not them is the new V3, though it does carry forward certain design and mechanical elements that made those predecessor models notable entries in a category full of technologically advanced European, Japanese and U.S. models.
While the autoloading shotgun category is still brimming with great choices, the V3 presents so many design and performance innovations that it deserves to be singled out.
The category's big trend, especially in field guns, is toward lighter weight, but to make resulting slim-line guns practical to shoot, manufacturers have come up with various clever means for reducing their felt recoil. One such approach is the VersaPort gas system introduced by Remington in the Versamax. It employs several ports spread out over a long axis, which correspondingly extends the recoil event over a longer time frame, thus making the pushback more gradual. At the same time, VersaPort proved highly reliable in cycling and shooting everything from pee-wee 1-ounce pest loads to rib-rockin' 3-inch magnums.
For the 7¼-lb. V3, Remington significantly modified the VersaPort mechanism, making it shorter and less bulky. Perhaps to compensate, an additional (eighth) gas port was added. At least as important as the weight savings, the downsizing allowed the designers to move the VersaPort so that it now sits adjacent to the front of the receiver. That moves the weight rearward, between the shooter's hands, thus following conventional wisdom about how shotguns perform best.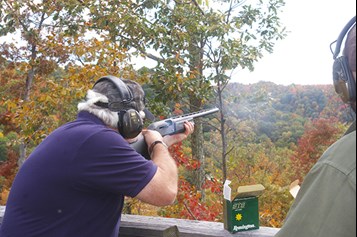 And that's not the V3's only weight-centering feature. The biggest surprise is the lack of the traditional semi-auto recoil spring extending into the buttstock. It's gone, and replaced with smaller, tandem springs located along the lower inside receiver walls. Remington product managers say this arrangement will result in more efficient cycling, fewer maintenance and repair issues, easier bolt operation and, of course, better balance. A further intriguing possibility is that, unlike most other semi-autos, the V3 can be fitted with a folding stock. Potentially that could be huge in the realm of tactical, LE and home defense smoothbores. No such stock is being offered in the initial wave, but we expect to see it soon.       
In theory, at least, Remington product developers have cracked the code in creating a lightweight semi-auto that's durable, reliable, recoil-friendly, and which centers weight between the hands for superior balance and handling. Seemingly it's a gun that should help many of us hit more targets.   
Fortunately we don't have to take all that purely on faith, since NRA Publications editors Sarah Smith Barnum, Justin McDaniel and I were afforded opportunities to shoot pre-production V3s at clays and bird-hunting venues. 
Here's what Sarah had to say:
As a shooter who is unfamiliar with 12-gauge shotguns, and the historic predecessors of the Remington V3, my first foray into the world of auto-loaders was a joyous one. Before shooting the new V3, I was nervous about felt recoil. Having shot plenty of 20-gauge shotguns, and having heard about the aches and pains following a day of shooting a 12-gauge, I figured the V3 was going to rock me right off my feet—and not in a good way. I can happily say my experience was to the contrary. I believe I uttered the words, "Wow, that's it?" after shooting the V3 using 3-inch loads for the first time. Granted, I was wearing a light jacket, but the felt recoil was nonexistent. Once I got over the shock, and picked up on the timing of the fast-paced clays, I successfully shattered more clays than ever before. An added bonus was the ability to lock the loading port, keeping the skin on my thumb intact. The Remington V3 was easy to point and aim, light enough that I shot at least 30 rounds without complaining about aching arms (I'm weak, what can I say?) and an overall joy to shoot.
Justin's observations can be found AmericanHunter.org/RemingtonV3
My own V3 session consisted of about 40 rounds fired at sporting clays on a hillside range at the Summit Bechtel Reserve The targets launched below our feet, angling and dropping sharply into thick foliage. Shooters had to track and shoot fast, though doing so didn't involve much swinging. After struggling through the first half-dozen, I got the timing and went a run where it seemed easy to shoulder the gun, rotate to the flight path and intercept the bird in the narrow window of opportunity. The shots there were all about intuitive reflex—point-shoot, break it or miss it. The other shooters were hitting at least as many as me (probably more), and so, to the extent possible in a limited test, I was convinced the V3's handling characteristics maximize the promise of its weight-centered design.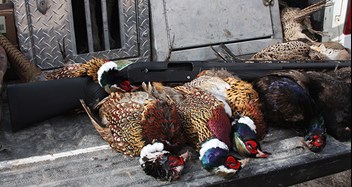 Because our shooting stations were stocked with both very light and very stout loads, it was also easy to note felt recoil. Of course the magnums kicked harder, and while I'm not especially recoil shy, the fact that I could hit report doubles with my second and third shots indicated I was recovering form pretty fast. In that fast-point-and-shoot scenario, I'm not sure I could have done so when subjected to full-on recoil. Of note too, I experienced and observed zero misfires or malfunctions, even when shooting mixed loads.          
Clearly we need to shoot actual production V3s more extensively and in a wider span of circumstances before arriving at a substantive conclusion, but so far, so good. The new model sure appears to perform just as the designers intended.
Beyond that, it's an attractive number, the sleekest Remington autoloader since the treasured M1100. It has a shallower receiver than its forebears, and the fore-end is notably short and slim. The examples we used sported a double-line scroll mark along the lower receiver, but were otherwise unadorned. Naturally the walnut-stocked entry looks best to me, but V3s will also be offered in black synthetic and camo (Mossy Oak and Realtree).

Though Remington proudly builds its guns in the USA, V3 ad spots will advise shooters not to purchase it for that reason, but rather for its superior performance. And at less than $1,000 MSRP (more likely $800 to $900 actual retail), we expect all of these reasons to factor heavily into shotgun purchase decisions in 2015. 
Gallery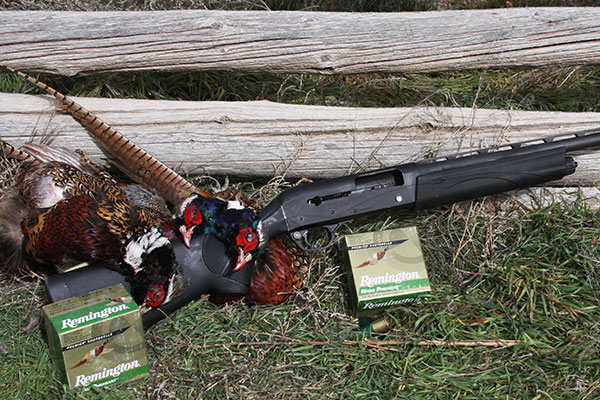 Remington V3 Shotgun: First Look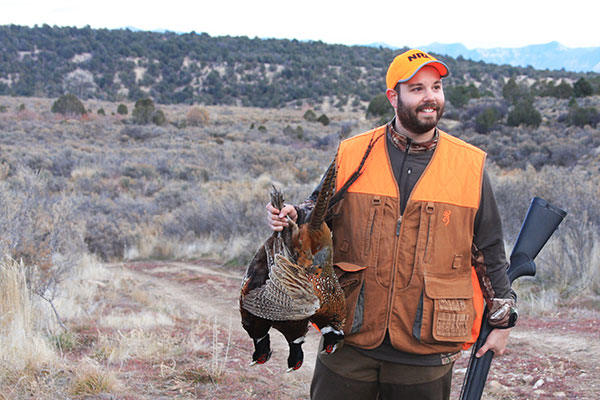 Remington V3 Shotgun: First Look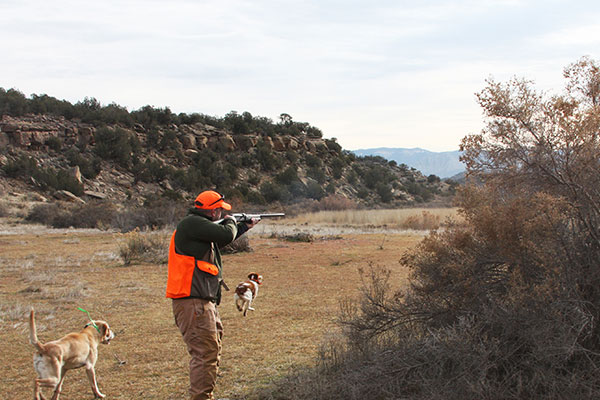 Remington V3 Shotgun: First Look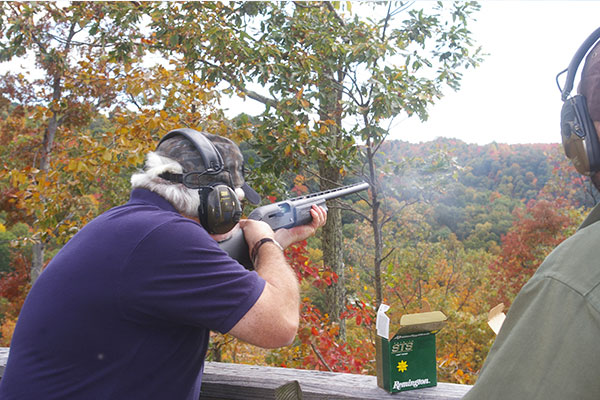 Remington V3 Shotgun: First Look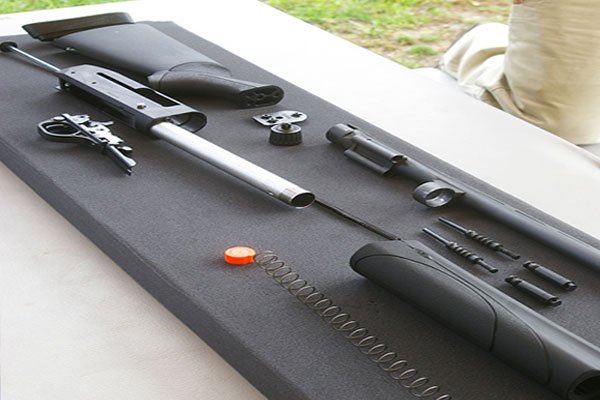 Remington V3 Shotgun: First Look