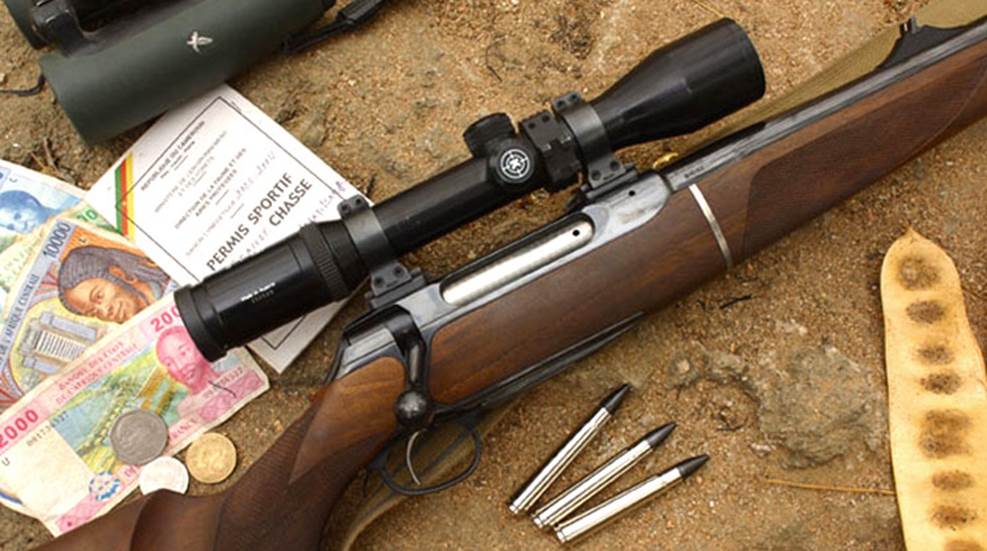 African rifles are more than just wood and steel. The genre is rich in romance, tradition and history. From the article
Gallery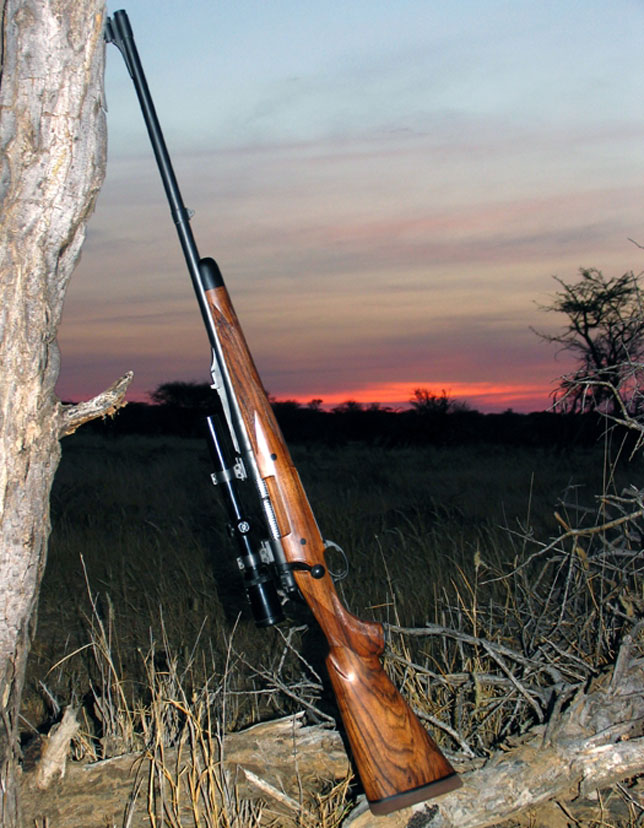 Cameron Hopkins
Davenport .375 H&H Magnum
Cameron Hopkins
If you could only hunt with one rifle in Africa for everything from dik dik to elephant, it would be a .375 H&H Magnum. I don't have very many duplicate calibers in my collection, but I have three .375s. This is one of them, a Winchester Model 70 worked over by master gunsmith Sterling Davenport.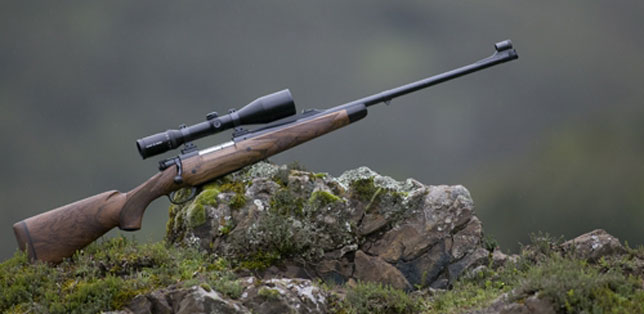 Cameron Hopkins
Davenport .300 H&H Magnum
Cameron Hopkins
In the mountains of Ethiopia looking for Menelik's bushbuck and mountain nyala, I took my favorite plains-game rifle, a .300 H&H Magnum on a Winchester Model 70. The scope is a 2.5-10x56 mm Schmidt & Bender.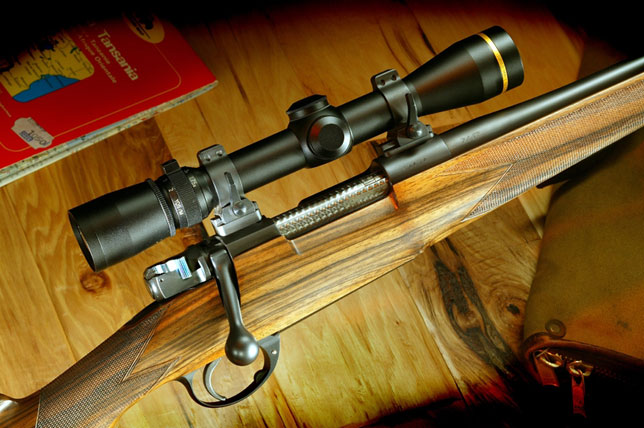 Cameron Hopkins
The 7x57
Cameron Hopkins
Karamojo Bell used a 7x57 Mauser to shoot his 1,011 elephants (although it was called the .275 Rigby, it's the same cartridge). I love the 7x57 for the smaller stuff in Africa—gazelles, impala, warthog—but I shot a big old croc with this gun as well. A brain-shot is a brain-shot, so the caliber doesn't make much difference. This rifle was built by Sterling Davenport in a small-ring Argentine Mauser.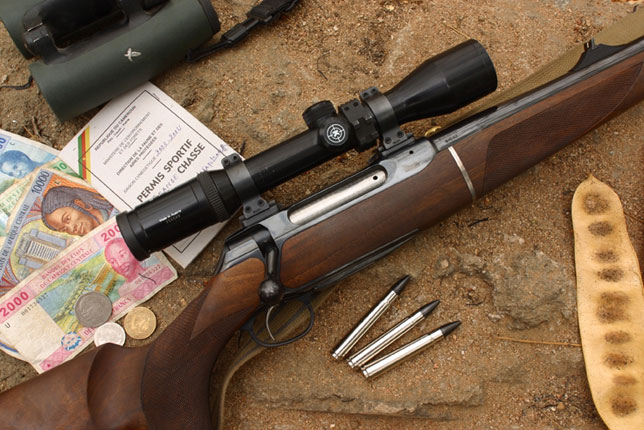 Cameron Hopkins
Sauer Take-Down Rifle
Cameron Hopkins
I'm not a fan of take-down rifles because, as an eternal pessimist, I never trust them to go back to zero after changing barrels and scopes. That said, I took a Sauer 202 in .375 H&H and .300 Win. Mag. to Cameroon for Lord Derby eland and other plains game. Truth be told, I never switched to the .300 barrel.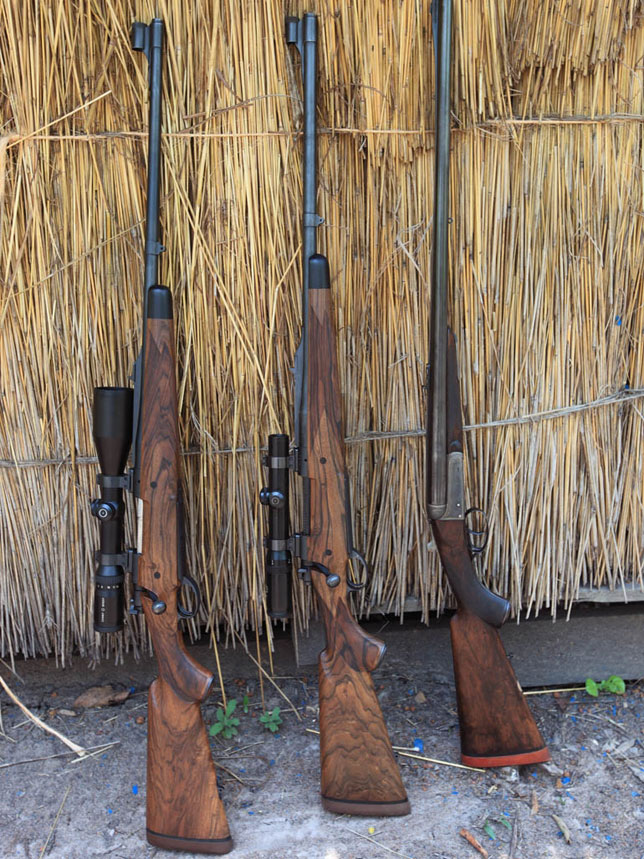 Cameron Hopkins
Three Rifle Battery
Cameron Hopkins
Teddy Roosevelt took a three-rifle battery to Africa because you really do need a "small" bore as well as a big "stopping rifle," plus you need a nice "medium" to tidy up everything in between impala and elephant. Today's airlines have strict baggage allowances but I was able to fit three rifles in a TuffPak case for my 31-day Tanzanian safari last year: (left to right) .300 H&H Magnum on a Winchester Model 70, .416 Rigby on another Winchester Model 70 and a William Evans .500 Nitro Express built in 1919. Both of the bolt-actions were custom made by Sterling Davenport of Tucson, Ariz.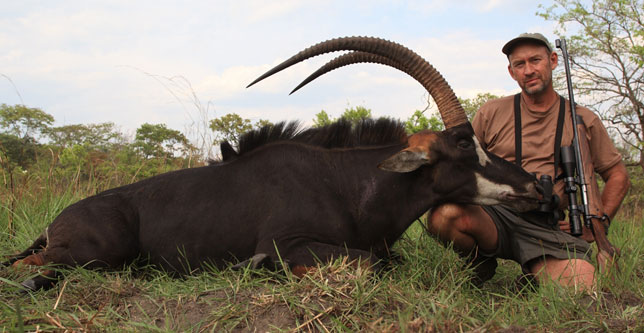 Cameron Hopkins
.300 H&H Magnum
Cameron Hopkins
We all have our favorite cartridges, and I'm no different. For plains game, mine is the .300 H&H Magnum because the .30 caliber is so well-suited to African game and Holland's .300 "Super Express" (as it was originally called in 1925) is steeped in nostalgia. All things being equal, the older the cartridge the better—if you relish the romance of Africa's safari heritage like I do.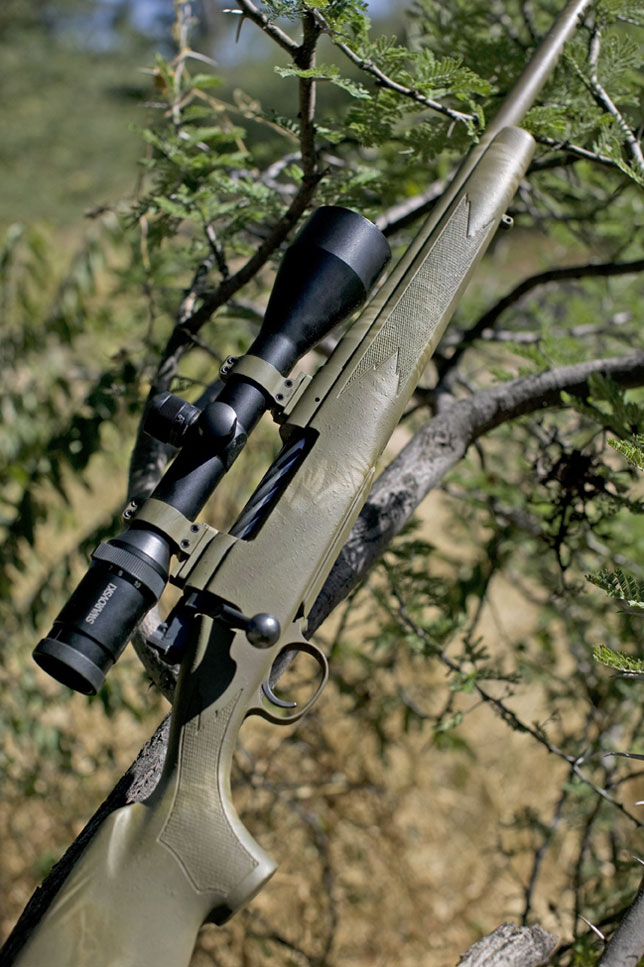 Cameron Hopkins
Going with Camouflage
Cameron Hopkins
Even though wood-stocked rifles are more in keeping with African safari traditions, a "modern" synthetic stock can be painted with a camo pattern in colors to match the bushveld. I applied "Krylon camo" to this Ed Brown "Denali" .388 Win. Mag. If it scratches, no big deal—another squirt and it's good as new! The .388 Win. Mag. is an excellent plains game caliber.