Support NRA American Rifleman
DONATE
Remington is probably best known for its Model 700 rifle actions, 870 shotguns and 1911 style handguns, but it has also worked towards getting more involved in the polymer-framed duty pistol category as well. Remington released the striker-fired RP9, chambered in 9 mm, in 2016 as its entry into this category. Remington continues the trend with a new .45 ACP chambered version of its polymer-framed design, the RP45.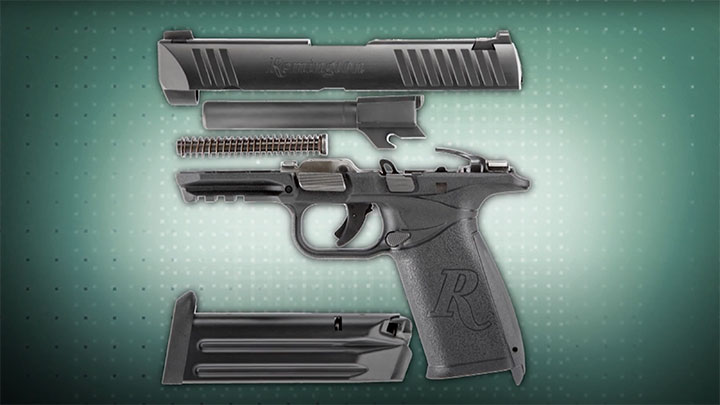 The Remington RP45 is a large duty-sized striker-fired handgun with a 4.5" barrel. The overall length of the RP45 is 7.9" with a height of 5.5". Despite the size, the RP45 has a weight of just 26.4 ozs. unloaded. The standard magazine capacity is 15 rounds fed from a double-stack magazine which also features an enlarged polymer base plate that also acts as a grip retainer.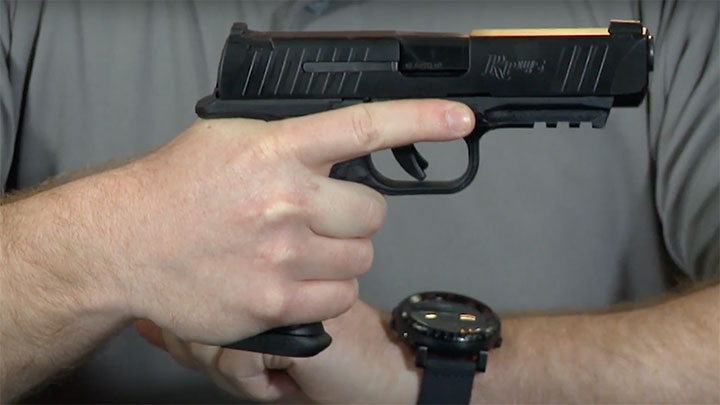 The grip frame features a subdued texturing that is not rough on bare hands and a slight undercut is designed into the bottom of the trigger guard to allow comfortable purchase of a high grip without crowding. There is also a slight beavertail at the rear of the frame to prevent the possibility of slide bite. To fit a variety of hand sizes, the back straps are interchangeable with three different sizes that come in the box.



The RP45 features standard controls found on other polymer-framed striker-fired handguns, including an ambidextrous slide catch and a reversible magazine release button. A takedown lever is located above the trigger on the left side of the frame. The RP45 has cocking serrations machined into the front and rear of the slide to aid in manipulation. There is also a cut-out chamber indicator at the rear of the chamber to allow the user to see if the chamber is loaded.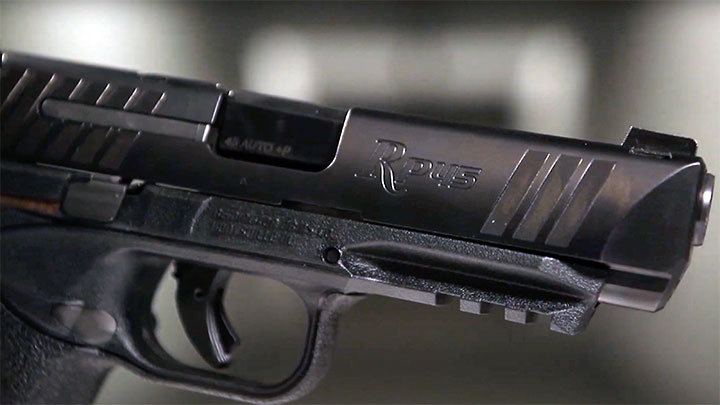 Sights on the RP45 are a standard white three-dot pattern, with both the front and the rear sights dovetailed into the slide and interchangeable with aftermarket choices. On the dust cover of the frame, there is a three-slot Picatinny rail segment for the attachment of accessories. The striker-fired trigger is single stage with a pull weight of 5 lbs. 8 ozs. The trigger shoe features a safety tab that must be depressed in order to fire.         

For more information on the Remington RP45 visit remington.com.     
To watch complete segments of past episodes of American Rifleman TV, go to
americanrifleman.org/artv
. For all-new episodes of ARTV, tune in Wednesday nights to
Outdoor Channel
 8:30 p.m. and 11:30 p.m. EST.