by
posted on August 16, 2018
Support NRA American Rifleman
DONATE
Early in the AR-15 testing and building portion of my gun-writing career I was introduced to the good folks at Mission First Tactical (MFT), a company that specializes in American-made polymer furniture and components for the AR-15 rifle. I've written about various MFT products over the years because, simply stated, I like what they make. The magazines feed reliably, the grips and handguards are comfortable to hold and the shoulder stocks are easy to work with.
This year I learned that MFT has teamed up with Connecticut-based Stag Arms to offer the Stag-15 Minimalist series of carbines and build kits. The MFT team was kind enough to introduce me to the folks at Stag Arms, a company which has a reputation for innovation, high-quality products and top notch customer service.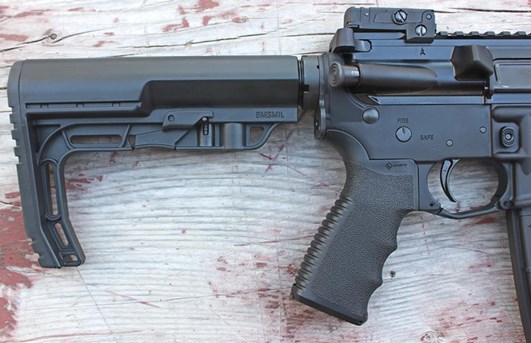 The Stag-15 Minimalist takes its name from the sleek 5.8 oz BATTLELINK Minimalist 6-position shoulder stock, which was the first MFT product I worked with. This stock's ice axe shape exemplifies the company's intelligent product designs. It successfully strips away the bulk and weight of some AR shoulder stocks while remaining comfortable and intuitive to use. The combination of the stock's fixed rubber pad and the kicked out toe make it easy to roll up into place while staying put once it gets to where you want it.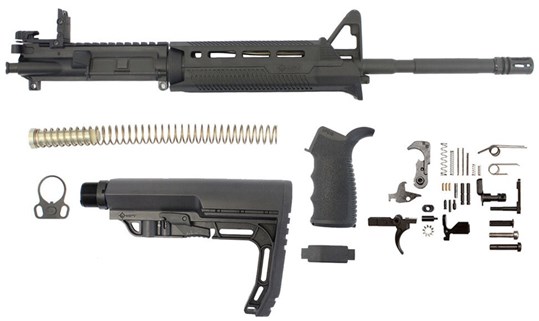 When placing the request for one of these new carbines to review, I had the option of working with a factory complete model or the builder's kit. One of the best ways to get to know a company's products is to build the gun yourself, so I opted for the kit. The company does offer their in-house Stag-15 multi-cal lower receivers as a standalone, stripped component. They offered to send me one so that the finished rifle would be physically identical to the factory finished carbine.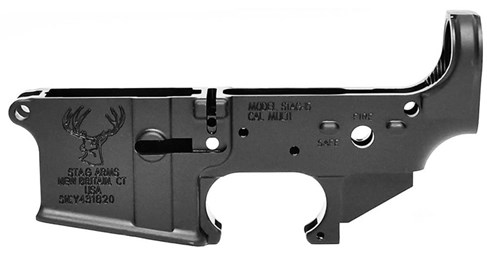 The kit arrived comfortably tucked into a foam-lined carry case which just happens to be the right size to store and protect an M4 type AR-15 carbine with a bit of room left over for an optic and a few magazines. This kit is what I call an "easy build" because the complete upper is fully built at the factory. Just the lower half of the carbine needs to be assembled. This can be accomplished with a much simpler tool set than a full AR build. While the kit can be shipped directly to your home or business, the lower receiver much be transferred through a licensed FFL dealer.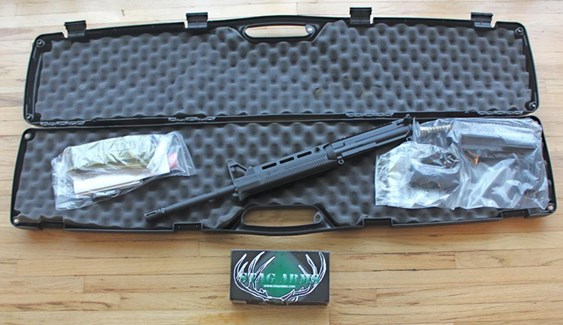 Both the upper and lower Mil-Spec receivers are forged 7075 aluminum with a matte black Type 3 hard coat anodized finish. The flat top upper is outfitted with a forward assist and dust cover. Chambered to safely fire either 5.56 NATO or .223 Rem. ammunition, this carbine's 16" long Government profile 4150 steel barrel is chrome lined, has a 1:7 rifling twist rate and a durable manganese phosphate coating. The carbine-length gas tube is paired with an A2 front-sight gas block featuring an adjustable front sight post and bayonet lug.  The muzzle is threaded at 5/8"-24 TPI and fitted with an A2 type flash hider.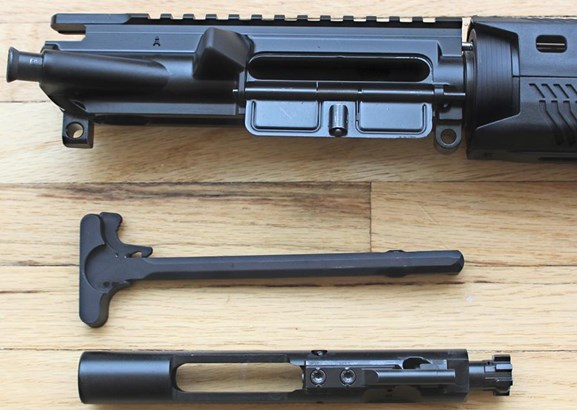 MFT's TEKKO textured handguard has four M-Lok accessory slots at the 6 o'clock position with three slots at the 12, 3 and 9 o'clock positions along with a left-side QD sling port. A lip at the front of the handguard has the dual benefits of accommodating the bayonet lug and providing an index point for the support hand. The rear sight is MFT's BUPSWR removable polymer flip-up aperture sight which is adjustable for windage.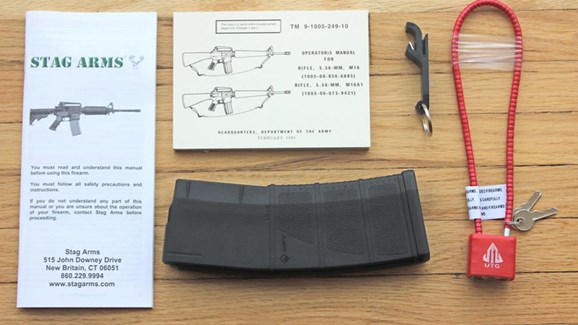 The complete M16-style bolt carrier group (BCG) sports a phosphate finish and is cycled by a Mil-Spec charging handle. The standard carbine buffer and spring are housed in a 6-position Mil-Spec buffer tube. I appreciate the upgraded end plate with dual single-point sling hook loops. It saves us the trouble of figuring out how to attach a sling.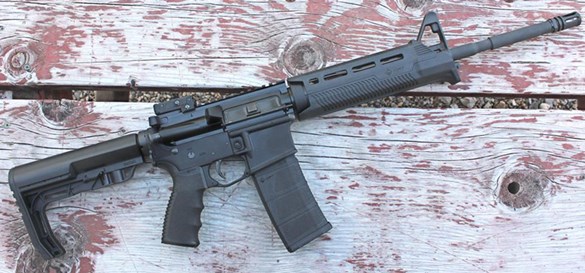 The Stag Lower Parts kit is mostly Mil-Spec with a few key improvements. The typical A2 pistol grip has been replaced with MFT's nicely textured and contoured Engage (EPG16) model. This grip's storage compartment is fitted with a hinged rubber cover and a removable rubber insert that supports either two CR123 or three AAA batteries. The MFT E-VolV enhanced polymer trigger guard provides an over sized opening for gloved fingers.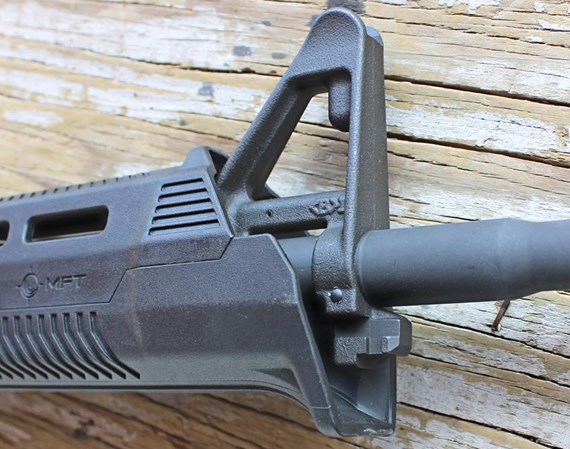 The single-stage trigger group is listed as Mil-Spec but it deserves to be called 'better-than-Mil-Spec." I have no qualms about pointing out that even though the typical factory triggers of this kind are reliable, they often feel gritty, mushy and overly heavy. The Stag trigger is still weighty at 7 lbs. 3 oz. (as tested) but it's fairly smooth and firm making it a workable option.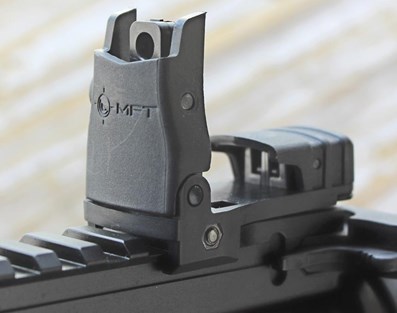 The accessories in the kit I received included one MFT standard capacity magazine (30 rounds), an owner's manual, cable lock and a bottle opener key ring. A nice added touch is the inclusion of a pocket sized edition U.S. Army's operator's manual for M16 rifles (TM 9-1005-249-10).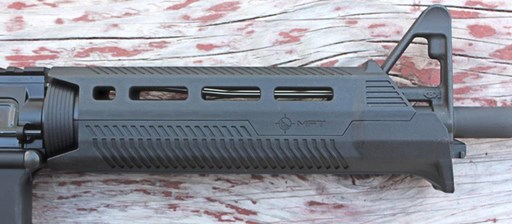 The process of assembling, lubricating and bench checking the Stag-15 went smoothly without any problems. All of the parts fit together properly in a short period of time with the completed rifle exhibiting a top notch level of fit and finish throughout. This carbine's tendency towards proper operation followed it out to the shooting range where the rifle ran flawlessly throughout the informal and formal testing processes.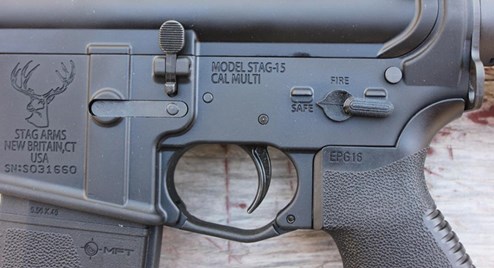 A great way to stock up on extra AR magazines is MFT's affordable Standard Magazine 10-Pack. I've been using these polymer magazines for some time and have yet to run into any problems with them. Buy a pack and do all of your loading for the range the night before or pull out just what you need for now and save the rest for a rainy day. 
Working off the bench with the iron sights, this version of the Stag-15 felt light, handy and especially comfortable to work with thanks to the MFT furniture. For formal bench-rested accuracy testing at 100 yards, the carbine was topped off with a Bushnell SMRS Elite Tactical 1-6.5x24 mm scope with a BTR-2 Reticle using a Weaver Tactical SPR Optics tactical rail mount. Test rounds included one 5.56 NATO load and two .223 Rem. options.

Federal Ammunition's American Eagle 5.56 NATO 55-gr. full-metal jacket yielded a best single 5-round group of 1.78" with a five group average of 1.91". Gorilla Ammunition's 69-gr. Sierra Match King open-tip match tapped out a best group of 1.27" with an average of 1.40".  The best groups of the day were produced using Doubletap's Colt Defense 64-gr. bonded soft point with a best group of 1.03" and an average of 1.15".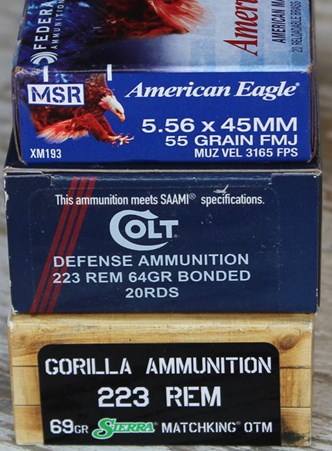 In the past, I haven't minded taking the time to swap out various bits of AR-15 furniture for Mission First Tactical accessories. However, the new Stag-15 Minimalist saves the trouble of needing to swap out parts by arriving fully outfitted with MFT upgrades throughout. I liked what I learned about Stag Arms during this first outing with one of their platforms so I'm looking forward to shooting more of them in the future. The fit, finish and performance of this Stag-15 builder's kit provides a clearly discernible step up from the bargain basement basic models while maintaining a reasonable price point that won't break the bank.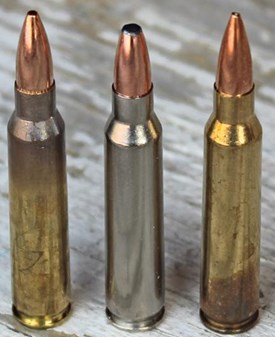 The Minimalist kit has a suggested retail of $624.99 with the stripped Stag-15 lower priced at $84.99. If you prefer your carbines in a ready-to-use, no-assembly-required condition, the factory finished Minimalist carbine (right handed) is listed at $874.99 with a left-handed version available for $919.99.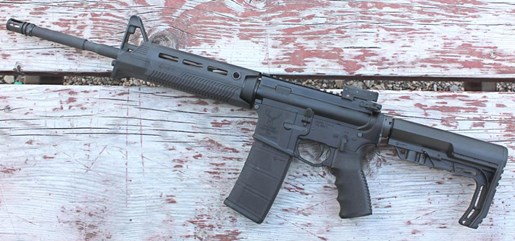 Specifications:
Manufacturer: Stag Arms
Model: Stag 15 Minimalist Carbine Kit (STAG570014K) $624.99
Kit Contents: Complete Stag-15 Upper with Bolt Carrier Group and Charging Handle, Complete Telestock Kit, Lower Parts Kit, One 30-Round Magazine, Hard-Side Rifle Case
Lower Receiver: Stag 15 Multi-Cal Stripped Lower (SA110001-QS) $84.99
Action: Gas-Impingement Semi-Automatic
Caliber: 5.56 NATO/.223 Rem.
Upper Receiver: Flat Top Forged 7075-T6 Aluminum, Mil-Spec, Type 3 Hard-Coat Anodized
Ejection Port Cover: Yes
Forward Assist: Yes
Charging Handle: Mil-Spec
Bolt Carrier Group (BCG): Mil-Spec M16, Manganese Phosphate Coated
Barrel: 16" Government Profile, Chrome Lined Bore and Chamber, Manganese Phosphate Coated
Barrel Material: 4150 Steel
Rifling: 1:7" RH, Button Rifled
Grooves: 6
Muzzle Threading: 5/8"-24 TPI
Muzzle Device: A2 Flash Hider
Gas Block: A2 Front Sight with Bayonet Lug, Sling Mount Removed
Gas Tube: Carbine Length
Trigger: MIL-Spec Single Stage
Handguard: Mission First Tactical (MFT) Tekko Polymer AR15 Carbine M-LOK Rail
Trigger Guard: MFT E-VolV Enhanced
Pistol Grip: MFT Engage AR15/M16 Pistol Grip
Rear Sight: MFT Removable Polymer Flip-Up (BUPSWR)
Magazine:  MFT Standard Capacity (#SCPM556)
Shoulder Stock: MFT Battlelink Minimalist Stock, Mil-Spec
Buffer Tube: 6-Position, Mil-Spec
Buffer: Standard Carbine Buffer and Spring
End Plate: Dual Sling Loops
Trigger Pull: 7 lbs. 3 oz. (As Tested)
Length of Pull (LOP): 10.50" to 14.25"
Capacity: 30 + 1 Rounds
Length: 32.25" collapsed, 35.5" extended
Weight: 6 lbs, Unloaded, No Magazine
Accessories: Operator's Manual, Owner's Manual, Cable Lock
Optic: Bushnell SMRS Elite Tactical 1-6.5x24 mm with BTR-2 Reticle (ET1624J) $1,822.45
Scope Mount: Weaver Tactical SPR Optics Tactical Rail Mount, 1"/30 mm (48377) $90.45
Mission First Tactical Magazine 10-Pack (SCPM556BAG10PK-BL) $149.99