by
posted on September 28, 2015
Support NRA American Rifleman
DONATE
Tresna Defense, a division of the U.S. based TAC-GRIP, LLC, is a new firearms manufacturing company that decided this is the year to jump feet first into the American AR-15 market. However, instead of offering yet another gas-impingement operated 5.56/.223 platform, the Tresna lineup is starting off with a blowback-operated carbine chambered in 9 mm and configured to accept Glock Gen4 magazines. This evaluation takes a closer look at the JAG9G semi-auto model designed for the civilian market. 



This brand new rifle caught my eye for several reasons. First, I'm a fan of pistol-caliber carbines. They fill an important gap that exists between handguns and rifle caliber carbines. They are usually less expensive to shoot, produce modest levels of felt recoil, and they allow the user to feed their pistol and rifle from the same boxes of ammunition. The JAG9G has the advantage of being configured to accept popular and readily available Glock magazines instead of using a proprietary model. The magazine well is designed to accept all 9 mm magazine lengths including the 10-round sub-compact magazines all the way up to the extended 33-round versions. It makes this carbine a natural choice for those who already own Glocks chambered in 9 mm. I also liked the fact that the platform is true to the AR-15 design instead of just having a few AR components fitted to it.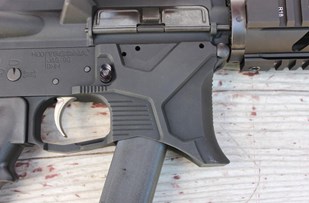 At the heart of the JAG9G is a proprietary Tresna lower receiver which is milled from 7075-T6 aluminum and hard anodized with a matte black finish. The exterior lines and design of the lower receiver are both good looking and functional. The front of the magazine well is extended and flared to provide a secure gripping surface and to protect the Glock magazines from getting bumped.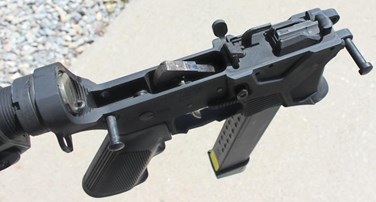 The lower controls, including the bolt catch, safety selector, magazine release and trigger, are all located and operated in typical AR-15 fashion. The magazine release arm is longer and wider than usual to allow it to reach forward far enough to engage the narrower Glock magazines along the left side magazine cut out. Gen 3 and earlier magazines do not have a left side cut out like those made for the Gen 4 pistols with reversible magazine releases. The Gen 3 magazines will fit but they will not lock into place.
The trigger and hammer have been given a nickel boron finish for increased lubricity and durability. The trigger function of this particular gun was definitely a step up from most mil-spec models with a smoother feel than usual and a trigger pull of 5-lbs. 9-oz. The trigger can be swapped for an aftermarket upgrade if you want a lighter trigger pull but there is no other practical reason to do so. The pistol grip is of the generic removable A2 variety.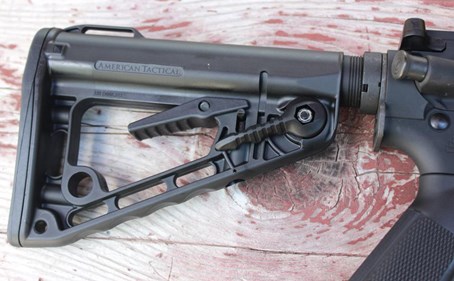 Separating the receivers revealed important modifications to the lower including a feed ramp block placed in front of the magazine well, to give the 9 mm cartridges a boost up into the chamber, and a fixed ejector behind it. Along the left side is a small hook shaped catch that detects when the magazine is empty so as to hold the bolt open on the last shot. The pivot pin, takedown pin, mil-spec buffer tube and buffer assembly are all standard AR components. An ambidextrous single-point sling mount is located between the receiver and buffer tube. The 6-postion Rogers Super-Stoc has a cam-lock system that is designed to stabilize the shoulder stock once it is set to the preferred position. The length of pull adjusts from 11" to 14.25".

Because this rifle uses a blowback-operated action instead of a gas-impingement or piston driven system, the bolt carrier group shows some interesting changes. The overall shape and size of the bolt assembly is similar to that of an AR chambered for 5.56/.223 ammunition. However, there is no separate rotating lugged bolt or bolt cam. Instead, the carrier is a single piece with a flat face that rests directly against the mouth of the chamber. The firing pin is still held in place by a left-side retainer pin. The gas key has been abbreviated to just an extension whose sole purpose is to engage the charging handle. As a 9 mm cartridge is fired, the bolt is pushed back directly by the force of the expanding gases to then be cycled back into battery by the recoil buffer assembly. It's a simplified setup that works reliably while preserving much of the traditional AR-15 layout.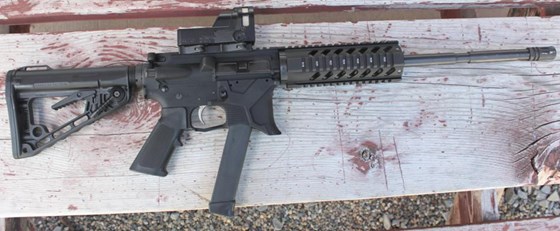 The flattop upper receiver is forged aluminum with a familiar set of features including a standard size top-mounted charging handle, right-side forward assist, brass deflector and dust cover. This receiver is paired with a 16" long Melonite finished barrel with 1:10" right-hand six groove rifling and a threaded muzzle that arrives with a removable A2 type flash hider installed. The 7" vented aluminum handguard features four integral full-length accessory rails at the 12, 3, 6, and 9 o'clock positions for lights, lasers, and vertical grips. The carbine ships without iron sights but it does include one 33-round Glock factory magazine (when permitted by local regulations).
Taking the Tresna to the shooting range turned out to be a real treat. It exhibited the best features of AR-15s and pistol caliber carbines all rolled into one. The overall fit and finish of the JAG9G was excellent. The felt recoil was modest and comfortable to work with. All of the controls worked smoothly and properly, free of any hitches or hang ups. The rifle exhibited a healthy appetite for every kind of ammunition I had on hand to feed it. From the dirty to shoot bulk box loads to some of the best production +P hollow points on the market, the rifle digested them all without any malfunctions in the entire course of testing.
Even after it was good and dirty it kept humming right along with the same level of reliability as the Glock magazines used to feed the ammunition. The pistol magazines slide into the rifle at a bit of an angle instead of straight up like a .223 magazine, which did not take long to get used to. The only issue I ran into was the initially very tight fit of the magazines. They were tight going into the magazine well and had to be tugged out when they were empty early on. But over the course of testing, the magazine swaps became easier until they were locking into place easily and dropping free when released. Most likely there was a bit of roughness to the finish inside the magazine well that just needed to be smoothed out.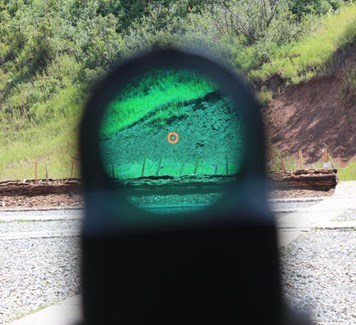 The optic used for the formal and informal courses of the evaluation was the Meprolight Mepro M21, which is a standard issue sight for the Israeli Defense Forces (IDF). Distributed by The Mako Group in the United States, the Mepro M21 is a 1X self-illuminated reflex sight that does not require any batteries. A combination of fiber optics and Tritium provides a clearly visible reticle in both day and night time light conditions. The unit I received arrived with a rugged, combat ready housing, a bullseye pattern reticle, a built in quick detach rail mount, a protective neoprene cover and a non-reflective see through cap for the lens. The optic snapped into place easily and sighted in quickly. It was an ideal fit for this rifle at up-close and personal defensive distances as well as the 100-yard shots. This was my first opportunity to work with this sight system and I hope it won't be the last.
Although rifles like this one have been generally accepted as useful, accurate and affordable to shoot options for plinking, small game hunting, and competitions that allow pistol caliber rifles, there are those who question the efficacy of 9mm carbines for home defense. Will that oh-so little pistol cartridge generate enough energy from a 16" barrel to effectively stop a threat? To find out, the JAG9G was used to check the velocity of several different 9mm loads with a Lab Radar chronograph. The following table shows the ammunition manufacturers' listed 9mm pistol velocity and energy levels next to the results of this particular carbine: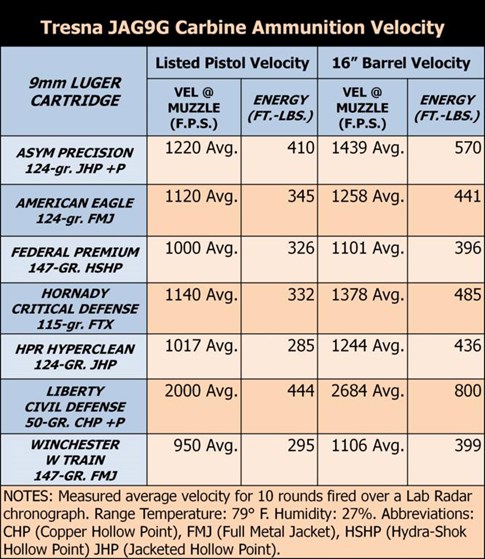 As is often the case, the performance results varied measurably depending on the ammunition used. Some loads only gained a small boost from the longer barrel while others experienced a significant increase in velocity and energy levels. Based on the results shown here, I wouldn't feel under armed in a home defense situation holding this rifle with 33 rounds of +P hollow points loaded and ready to go. 
It was after all of the function and velocity testing were complete that this carbine was tucked, hot and dirty, into a bench rest to check accuracy at 100 yards using five 5-shot groups for three loads of ammunition. It would have been a kind gesture on my part to clean the gun and let it cool down a bit before this part of the test but I wanted to know what it could do down range in less-than-perfect operating conditions. The best single group of 0.96" was produced using Hornady Critical Defense 115-gr. FTX rounds which also yielded the best average of 1.11". Federal's American Eagle 124-gr. full metal jacket turned in an average of 1.52" followed by HPR HyperClean 124-gr. jacketed hollow points at 1.65". 
The Tresna Defense JAG9G AR-15 pattern carbine is a handy and accurate little rifle that proved to be utterly reliable with a wide variety of 9 mm pistol ammunition and Glock Gen 4 factory magazines. Thanks to the use of AR standard parts wherever possible, this blowback-operated rifle provides much of the same modularity as its gas-impingement operated compatriots. The JAG9G is an ideal lightweight option that can successfully fill a variety of roles, including home-defense applications. Whether you are a fan of AR-15 rifles or Glock pistols (or both), this new carbine deserves your consideration. If Tresna keeps making guns like this one, then this new company has a bright future.
Specifications
Manufacturer: Tresna Defense
Model: JAG9G BU Tactical Rifle
Action: Blow Back Operated Semi-Auto
Caliber: 9 mm Luger
Upper Receiver: Flat Top 7075-T6 Aluminum Forging, Hard Anodized Finish
Lower Receiver: 7075-T6 Milled Billet Aluminum, Hard Anodized Finish
Barrel: 16.00", Melonite Finish
Muzzle Device: Removable A2 Flash Hider
Trigger: AR-15 Standard
Front Sight: None
Rear Sight: None
Hand Guard: M4-Style Aluminum, 4 Integral 6.75" Picatinny Rails
Pistol Grip: A2 Black Polymer
Buffer Tube: Mil-Spec
Shoulder Stock: American Tactical 6-position adjustable
Overall Length: 36.25" (Stock Extended)
Length of Pull: 11.00"- 14.25"
Weight: 6 lbs. 6 ozs.
Capacity: Accepts Gen4 9 mm Glock Magazines, 10 to 33 rounds
Twist: 1:10" RH
Rifle Grooves: 6
Accessories: Hard Case, 1 Glock 33-Round Magazine, Owner's Manual, Lock
MSRP: $1099.95