by
posted on October 21, 2021
Support NRA American Rifleman
DONATE
Online sales have proven to be something of a two-edged sword for collectors of military surplus and LE trade-in firearms. On the one hand, enthusiasts have enjoyed almost immediate access to these interesting used guns at fair prices as they've made their way back into the market place. Virtual storefronts like AIM Surplus make it a quick and easy process to see what's available, to compare prices and to make arrangements for the guns to be shipped to a local FFL dealer for processing and paper work.
However, this level of access for a broad range of consumers has also contributed to gun lots selling out more quickly than in the past. Great deals seem to be here today and gone tomorrow. This popular demand, combined with a recent record-high sales of all types of firearms, has made the pursuit of historically interesting handguns much less fruitful than in past years. But AIM Surplus has kept this year from being a mil-surp bust with a shipment of Curio & Relic eligible Norinco Type 54 pistols.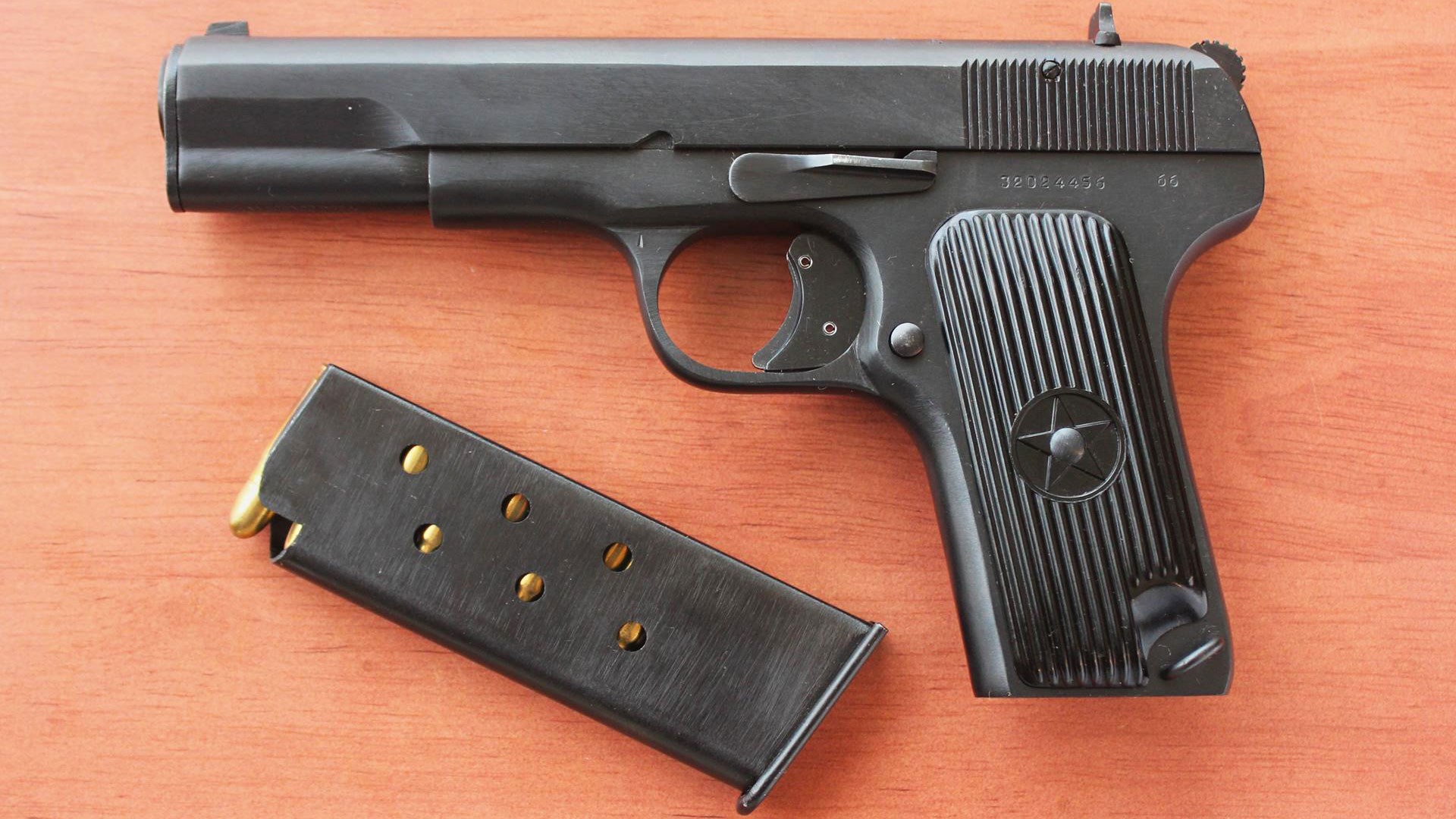 A left-side view of the Norinco Type 54 with loaded eight-round magazine.
The Type 54 is a 1950s era North China Industries (Norinco) clone of the Russian TT pistol. The TT was developed by Fedor Tokarev for the U.S.S.R.'s armed forces as a replacement for the Nagant Model 1895 revolver. The TT-33, adopted for use in 1933, remained in service with the Soviet Union until it was replaced by the Makarov pistol in 1952. TT-pattern pistols were produced by several Soviet-controlled countries including Hungary, Romania and Yugoslavia.
In 1950, the U.S.S.R. and China signed a mutual aid treaty. Machinery was shipped along with technical advisors to facilitate China's manufacture of a variety of borrowed Soviet small arms, including semi-automatic pistols based on the reliable and relatively simple to produce TT-33. The earliest Chinese version was dubbed the Type 51. It would be replaced by the mechanically identical Type 54. The primary difference between these two models are the markings, including the three Chinese characters on top of the slide which mean 'Type 54.' 
Chinese characters which translate to "Type 54" along with the serial number on top of the slide.
The Type 54 pistol evaluated here was listed by AIM Surplus as being in refinished condition. The quality of various TT clones varied significantly from surprisingly good to rough and ugly, depending on where it was manufactured. This particular Type 54 is cleanly constructed and properly fitted. The lack of grip wear, holster rub and the typical dings and scratches service guns tend to accumulate suggest that this gun may not have been issued or may have only seen limited use.
The original factory markings are crisp and clear. These include the three Chinese characters on top of the slide, the matching pair of serial numbers located atop the slide and on the left side of the frame, and the number 66 stamped to the right of the frame's serial number. The 66 is believed to be a factory designation, although sources disagree as to which Chinese factory it may represent.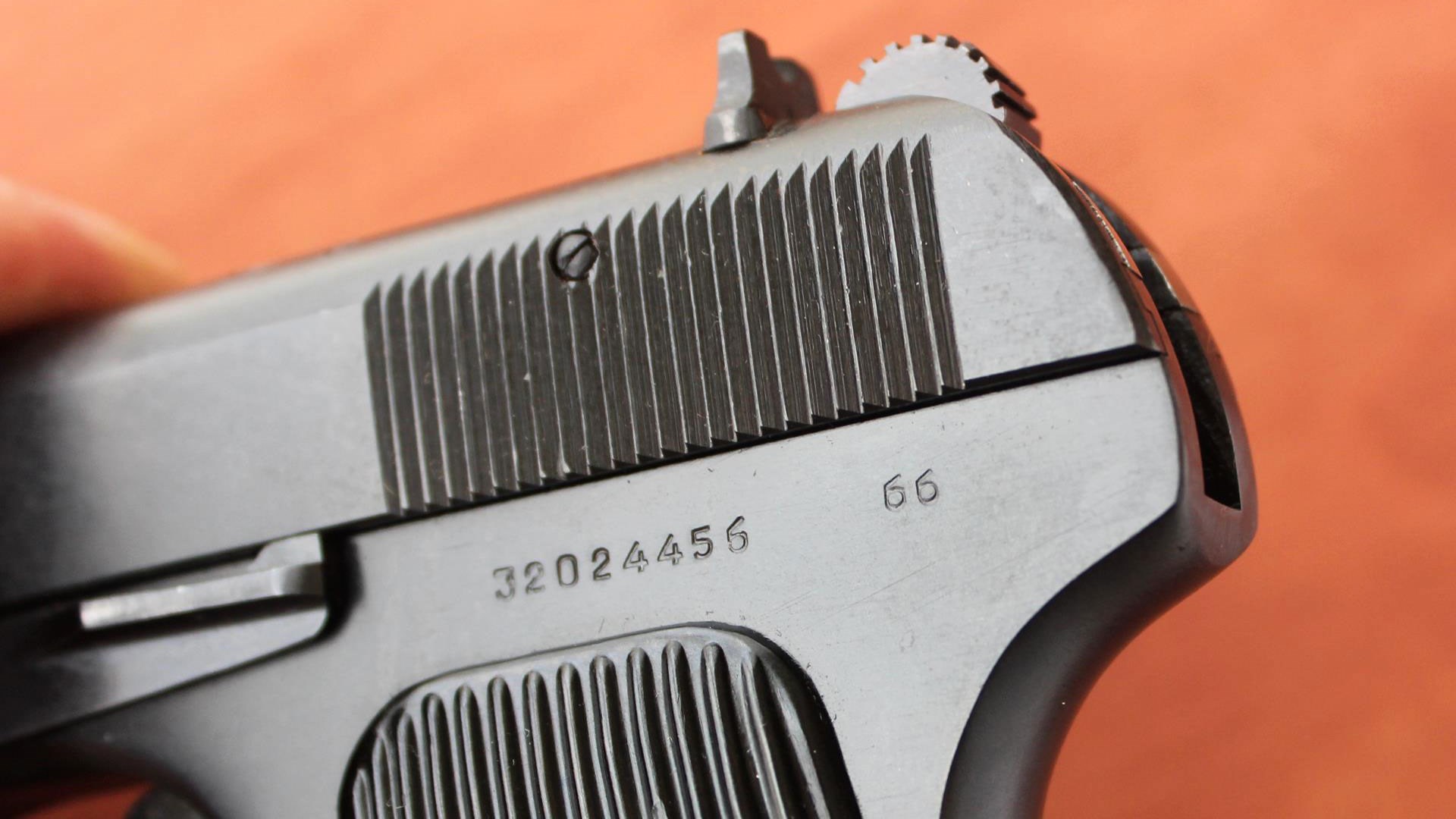 A closer look at the serial number on the back-left side of the Type 54.
The underside of the slide's rounded recoil assembly housing is engraved with importation markings in fine print. They read, "China Norinco Type 54 7.62x25 mm R Guns Carpentersville, Ill." I would like to tip my hat to R Guns for adding these markings so neatly and discreetly to this historical collectible. All too often, U.S. importers of military surplus firearms use an electric scribing tool to hammer out graceless, billboard-sized text along the sides of receivers spoiling the aesthetics of the gun. In this case, you have to look for the Type 54's importation marks in order to find them.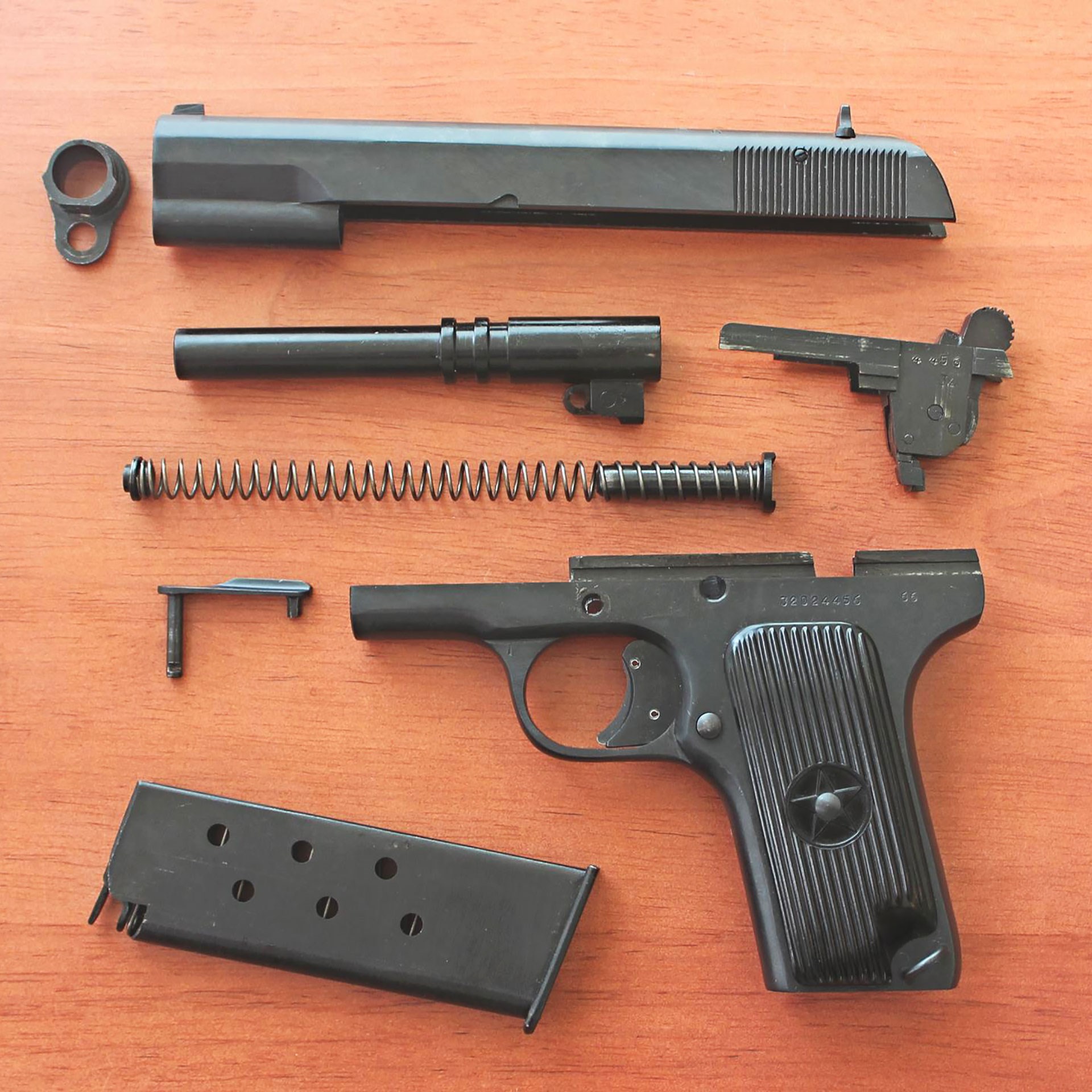 A view of the Type 54 disassembled, revealing its inspiration from John Moses Browning designs.
When looking over TT-type pistols, it's easy to see that Fedor Tokarev was influenced by the work of John Moses Browning. Externally the Type 54 bears a close resemblance to the FN Model 1903. Internally, this short-recoil operated, single-action semi-automatic employs the same barrel dropping, short-recoil system found in Mr. Browning's 1911 pistol design.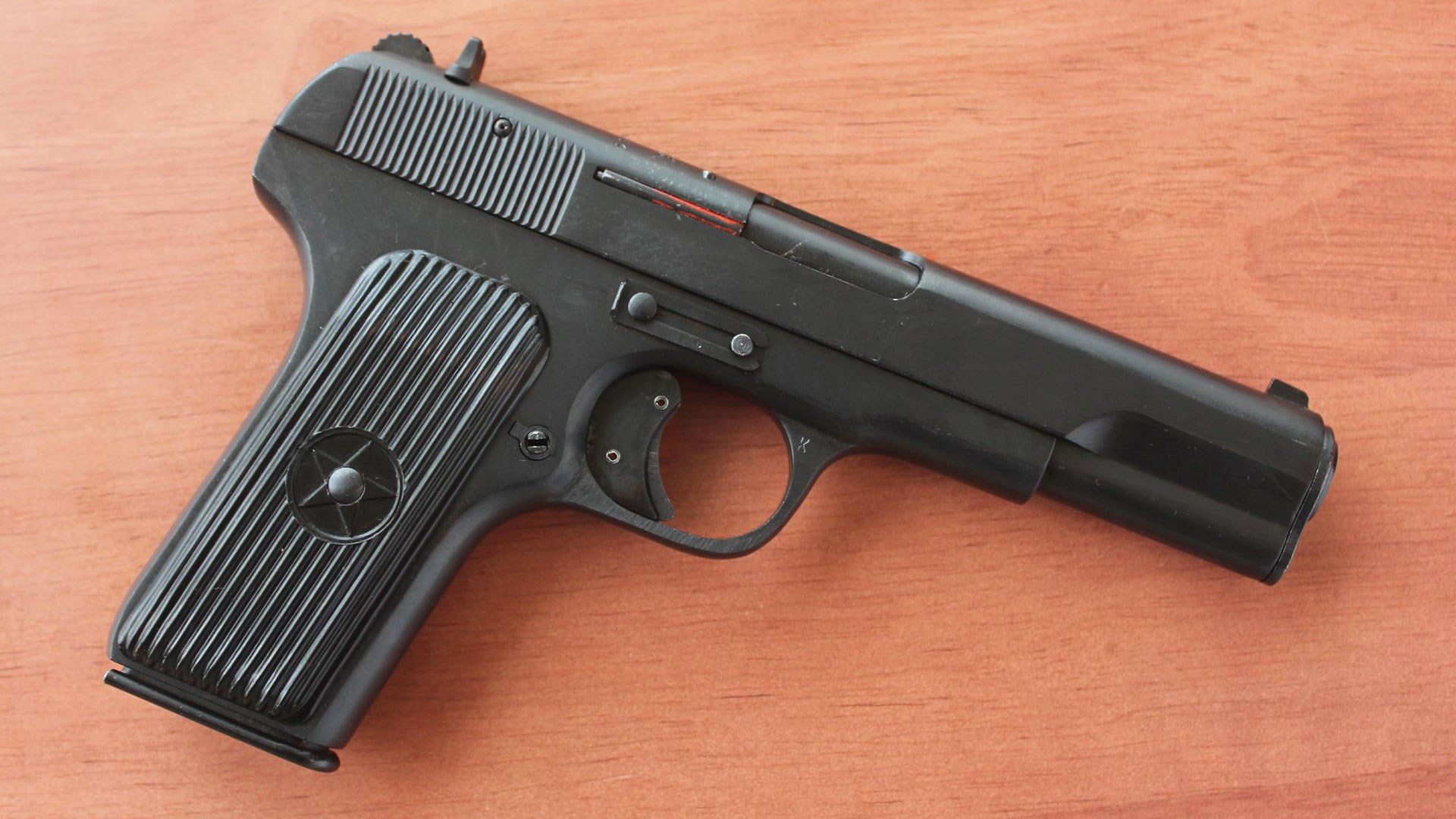 A right-side view of the Type 54.
Weighing in at 30-ozs. unloaded, this pistol is wholly constructed of blued carbon steel. The round-top slide is a slim 0.85" wide with vertical rear cocking serrations. The sighting system consists of a small fixed front blade paired with a drift adjustable u-notch rear sight which is dovetailed into the slide. The 4.5" long linked barrel features 4-groove rifling. The recoil assembly consists of a short guide rod, a single round wire spring and a round plug which fits into the barrel bushing. The hammer mechanism is contained in a housing which lifts up and out of the frame for cleaning.
The frame sports a rounded trigger guard and two left-side controls including a round-button magazine release and a slide stop lever. The rounded exposed hammer is serrated for manual cocking. The slide stop, which also serves as the takedown pin, is secured into the frame with a retainer clip located on the right side of the frame.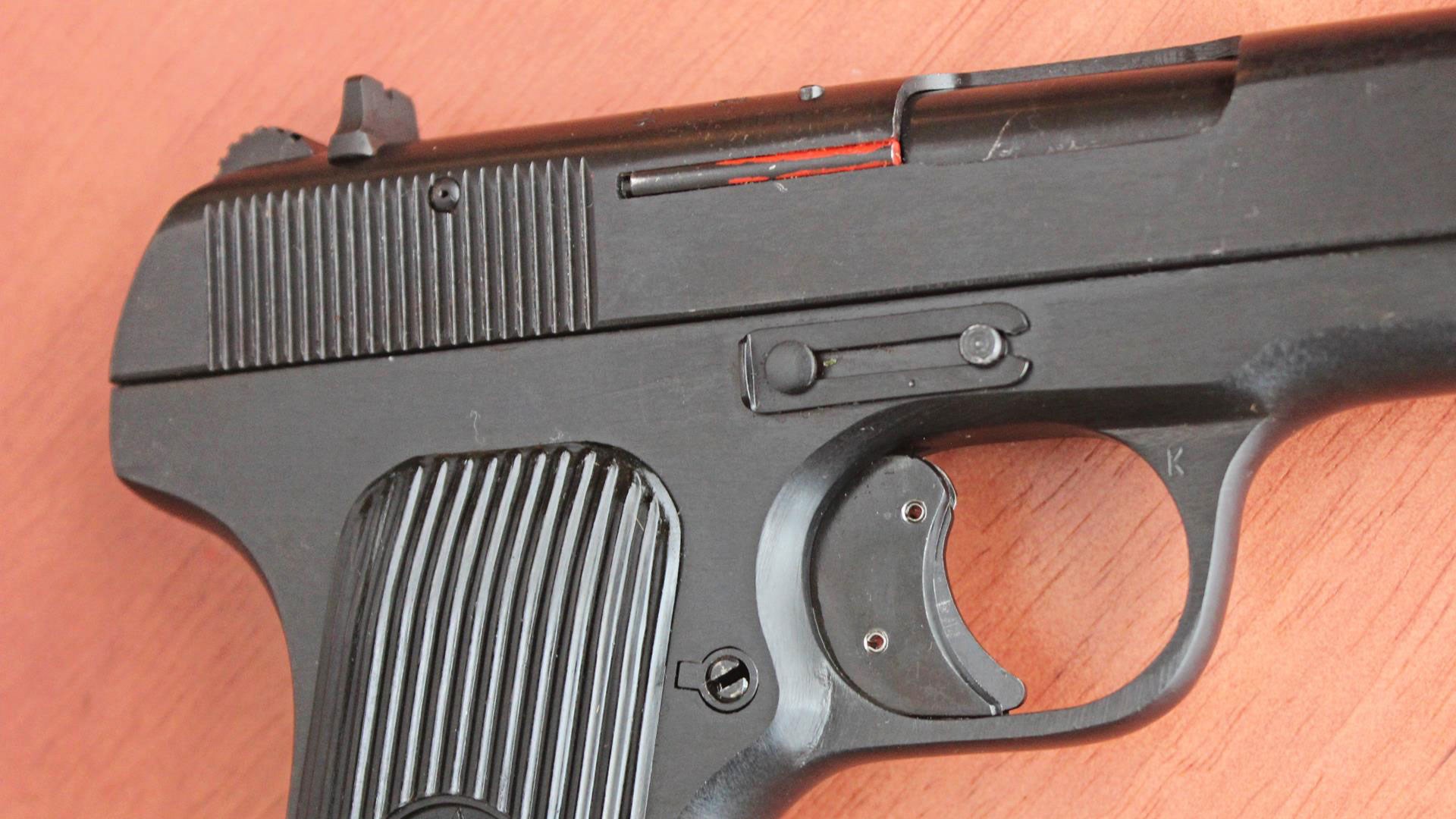 A closer look at the right side, showing the slide catch retaining clip and the two-piece trigger shoe.
Norinco would add left-side thumb safety levers for its commercial-grade pistols in later years. But the military-grade Type 54 has no external safety. In order to meet American importation guidelines, R Guns replaced the factory trigger with one that has an integral blade safety, much like those found in popular striker fired pistols. The metallic blade safety is thin and has a light spring that allows it to be depressed easily but it does not swing all the way back into the trigger. As a result, it presses into the pad of the finger which makes the less than pleasant 9-lbs. 4-oz. trigger pull just bit more uncomfortable to work with.
The slim grip frame is nearly vertical with smooth, un-textured front and back straps and a left side lanyard loop. The black ribbed grip panels are made of a Bakelite-like material with a circled 5-point star in the center of each. The left panel is secured to the frame via a lever which swings clockwise when pressed with the tip of a rifle bullet or small screwdriver. The right panel can them be released through the opening in the grip frame. The pistol arrived with one factory eight-round magazine.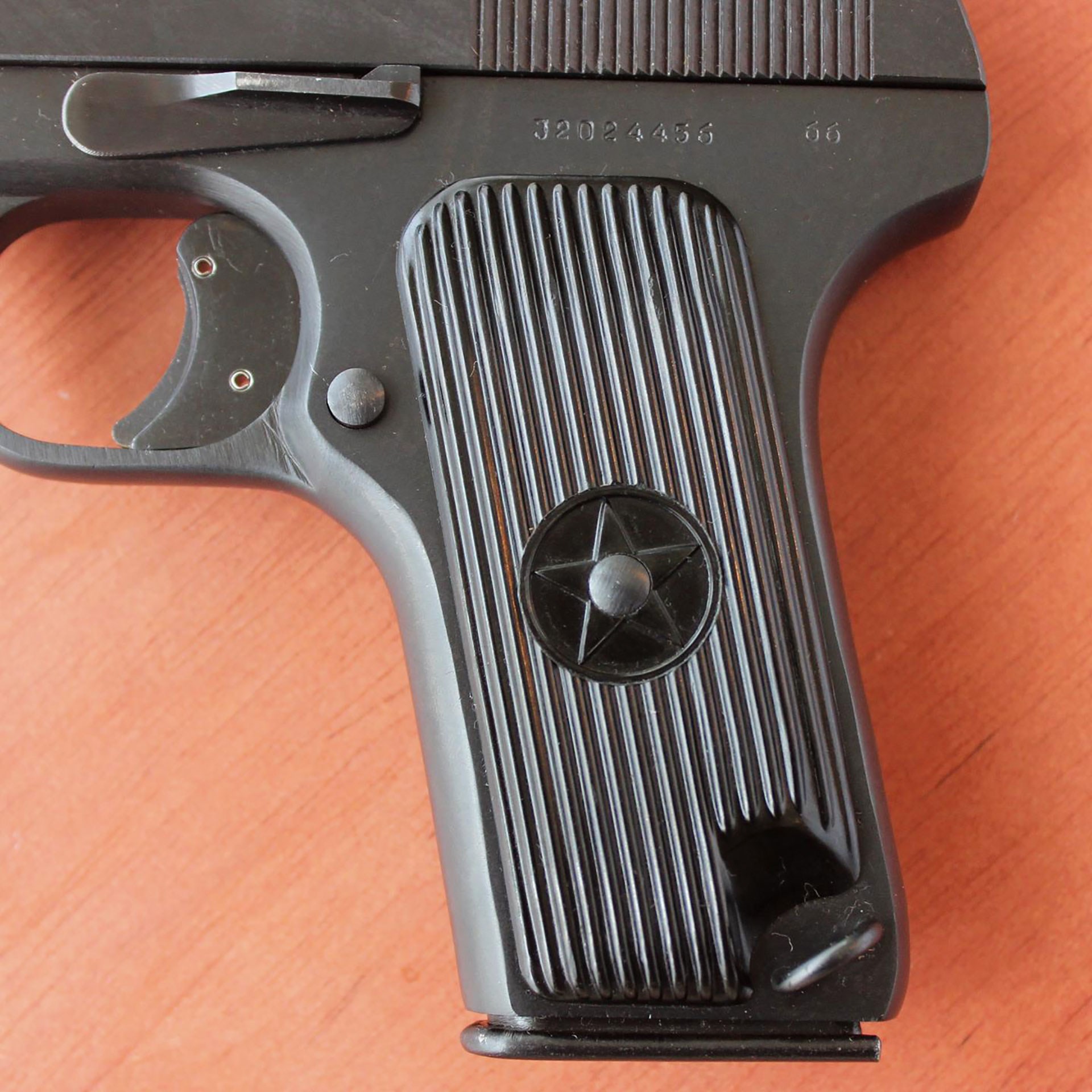 A closer look at the black ribbed grip panels, with a star in the center, along with the left side lanyard loop.
The Type 54 was given a thorough bench check before it was test fired. The pistol arrived lightly coated with oil and free of any indications of rust. It was wiped down, cleaned and lubricated. All of the controls, especially the hammer, felt stiff to start but broke in nicely with lubrication and manual manipulation. The slide to frame fit was nice and tight and all of the controls worked properly. The magazine did drop free of the grip frame but I had to really lean into the release to make it do so.  All of the springs were in good condition with a heavy hammer spring that calls for intentional levels of pressure when cocking the gun.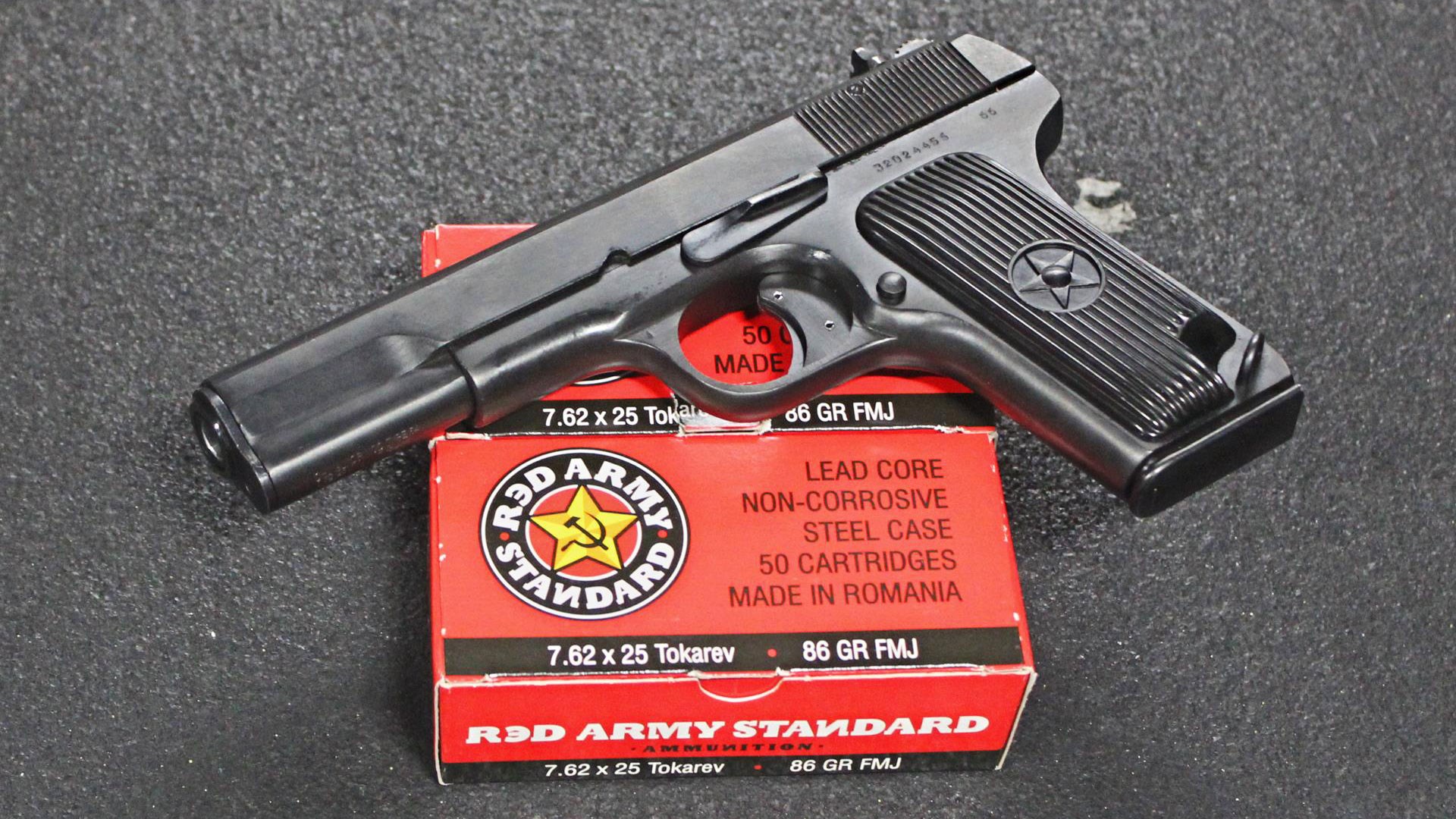 The Type 54 with Century Arms Red Army Standard 7.62x25 mm Tokarev ammunition used in testing.
The range test was limited due to ammunition constraints. I was able to rustle up a couple of boxes of steel-cased Century Arms Red Army Standard 7.62x25 mm Tokarev ammunition topped off with 86-gr. full-metal jacket bullets. Firing 10-rounds next to a Lab Radar chronograph generated a muzzle velocity average of 1,355 f.p.s. for 351 ft-lbs. of muzzle energy. This ammunition produced a bright muzzle flash and felt recoil was a bit on the snappy side but the pistol's all-steel construction keeps it manageable.
Accuracy potential with mil-surp pistols can be unpredictable. Some pistols knock out tight groups while others are only marginal performers. The Type 54 pistol tapped out a five, 5-shot group average of 3.10" at 15 yards. With targets set at 25 yards, the groups opened up too much for practical accuracy.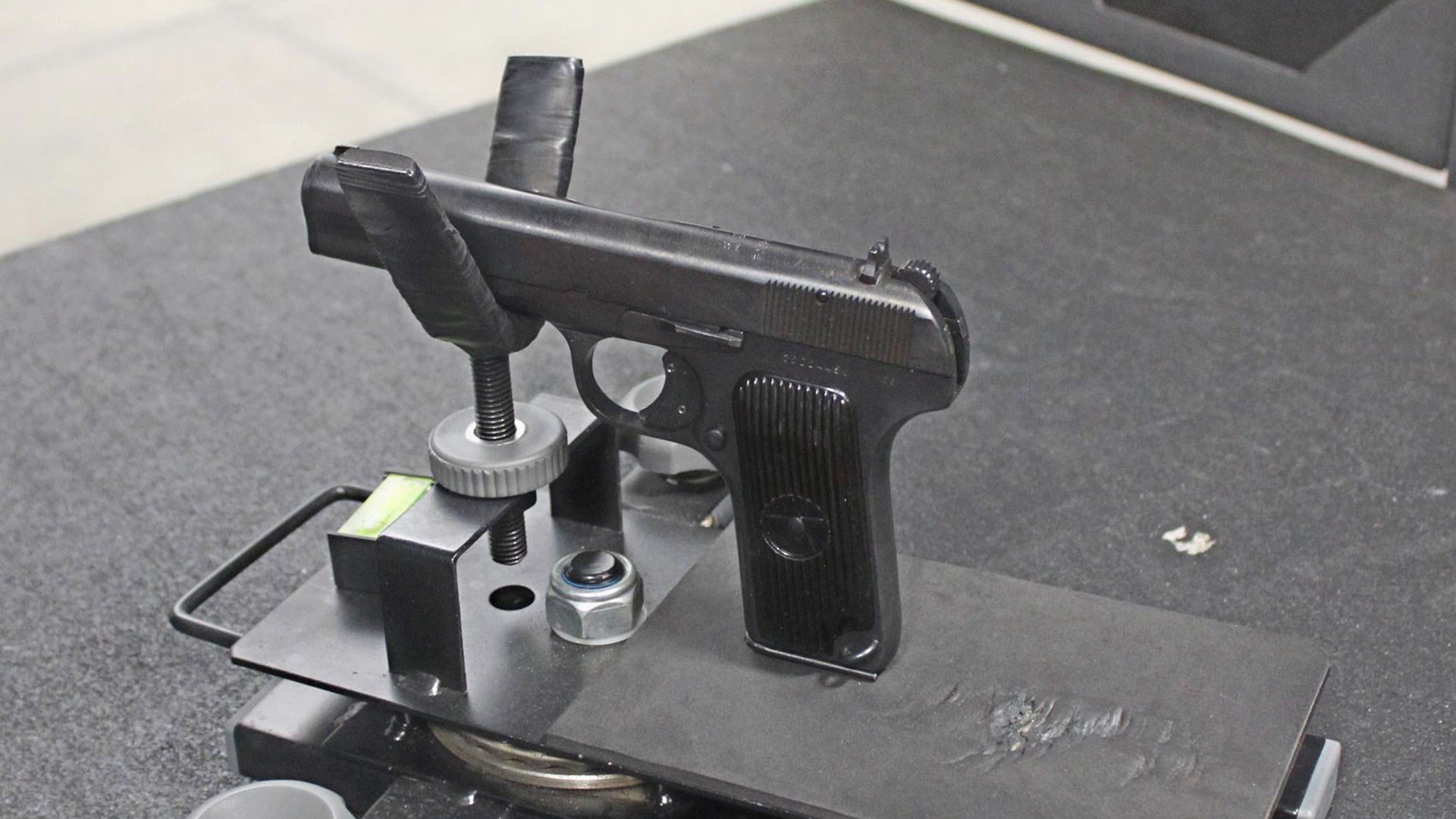 Testing out the Type 54 on the range.
Writing up historical collectables like the Type 54 can be a bit tricky at times because of the ever shifting political climates. At one point, there were folks who gave a cold shoulder to Cold War era Eastern Bloc leftovers, like the Mosin-Nagant M44 rifle. But those same surplus rifles and 440-round ammunition tins were eagerly gobbled up when they could be purchased together at local gun shows for $155.  Today, collector-grade examples of those same rifles are selling online for $500 or more and the budget friendly bulk ammunition is just a fading memory.
Even though a Chinese surplus gun may not be your cup of tea these days, the Type 54 pistol remains a desirable collectible and an interesting slice of gun manufacturing history. If this gun is of interest to you, don't take too long to check it out. Examples in great condition, like this one, won't be available forever.  
Specifications:
Model: Type 54 (AIM Item #F3CTOK)
Manufacturer: Norinco, China
Importer: R Guns
Distributor: AIM Surplus
Curio & Relic Eligible: Yes
Action: Short Recoil Actuated Locked Breech Single-Action
Caliber: 7.62x25 mm Tok.
Finish: Matte Blued Steel
Grip Panels: Textured Black Plastic with Star Logo
Front Sight: Fixed Blade
Rear Sight: Drift Adjustable Round Notch
Trigger: Integral Blade Safety Lever (Installed by R Guns)
Trigger Pull: 9-lbs. 4-oz. (As Tested)
Barrel Length: 4.50"
Overall Length: 7.75"
Height: 5.10"
Weight: 30 oz. with Empty Magazine
Capacity: 8+1 Rounds
Twist: 1:10" RH
Rifle Grooves:  4
Accessories: One Magazine
MSRP: $350