by
posted on November 19, 2020
Support NRA American Rifleman
DONATE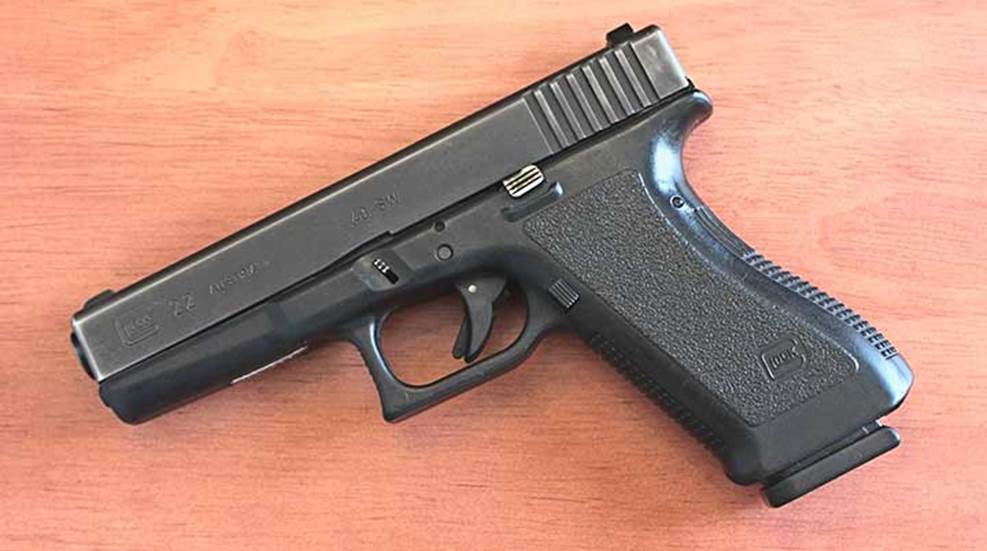 At times the forces of shooting market trends collide. And when they do, much like the pressing together of tectonic plates in the earth's crust, they cause resources to surface that might otherwise go unnoticed. As I'm writing this, the market has once again swung from a lull in sales to a record high level of demand. Among the most sought after firearms this year include factory fresh polymer-framed 9 mm pistols.

They are being snapped up at a pace that is literally leaving dealers' shelves bare. At the same time, various law enforcement agencies have been in the process of decommissioning and selling off their inventory of duty pistols chambered in .40 S&W, including the Glock G22. Department heads are clamoring to switch to 9 mm too because of lower ammunition costs, reduced pistol wear and the softer shooting characteristics this caliber has to offer.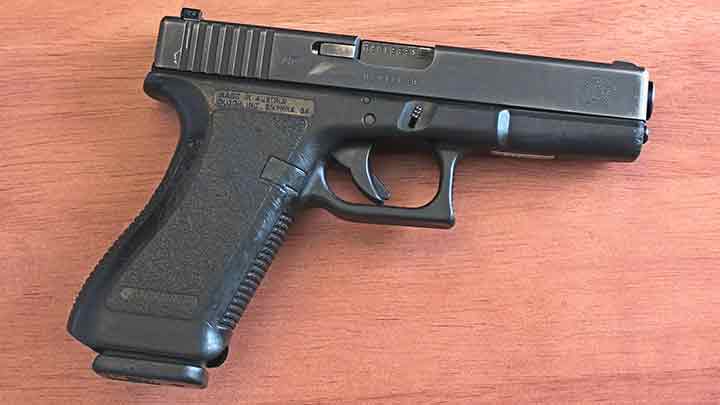 So how exactly does this situation translate into an opportunity for those who are searching for practical, reliable 9 mm pistols for home defense? The answer is drop-in caliber conversion barrels. They provide an easy and affordable means of converting a used .40 S&W Glock into a 9 mm pistol. I recently checked in with the good folks over at AIM Surplus.

The company's supply of law enforcement trade-ins is in constant flux, especially when demand is high like it is right now. But I was able to grab a G22 priced at $349 just before they were completely gone. This company also offers Glock compatible in-house caliber conversion barrels, sights, magazines and replacement parts for convenient one-stop shopping.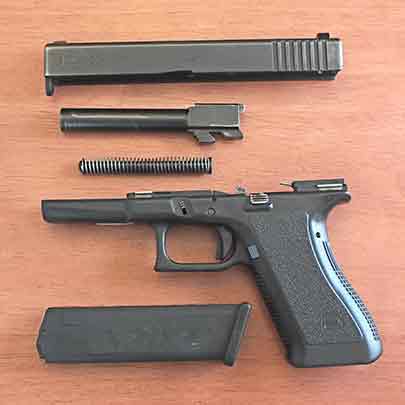 The Glock G22 I ordered turned out to be a cool little piece of shooting history, a Gen 2 model made in Nov. 1995. That was just five years after the platform was first launched in the United States and one year into President Clinton's 10-year Federal Assault Weapons Ban. It has a tiny five-point star stamped into the right side with the inscription "Marion County Sheriff, Indiana" and a scratched grip that comes with days of riding in a duty holster.

The magazine shipped with this gun is definitely of the same era because it's marked "RESTRICTED LE/GOVT ONLY" as required for handgun magazines that held more than 10 rounds made between 1994 and 2004. I gave the G22 a thorough inspection and bench check. Like other LE trade-ins I've handled, it showed wear on the outside but was mechanically sound on the inside. The trigger pull weighed in at 6-pounds even with a typical Glock Safe Action trigger stroke.



The recoil spring was most likely safe to use but it felt a little too light from wear for my taste. AIM had compatible Gen 3 G17/G22 recoil assemblies in stock for $8, so I ordered one and swapped it out. The pistol arrived with what looked to be a 1990s era set of Trijicon night sights, without white outlines around the tritium lamps, that probably winked out somewhere around 2007.

For all intents and purposes, dim or dead night sights are perfectly usable as ordinary iron sights. They don't have to be replaced if money is an issue. But I prefer to shoot with white outline night sights when I can, so the old Trijicon set was replaced with a set of TruGlo Brite Sites I found online for a sale price of $53, delivered. The only other concern that cropped up with the G22 was the excessively slick feel of the grip.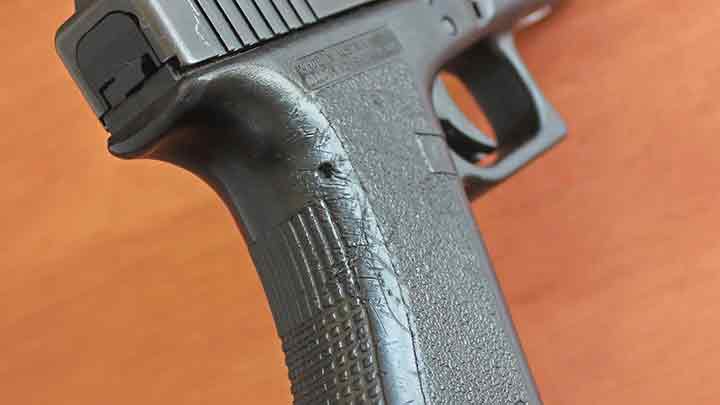 At first I thought it was due to holster wear and handling. Accessories like stick-on grip tape or slip-on rubber grip sleeves were considered. But before I tried those options, I stripped the frame and cleaned the grip surface with an ordinary household degreasing detergent spray using a rag and an old tooth brush to work the gaps in the grip texturing. The grip was then wiped down with a damp rag to remove the detergent.

The whole process took about five minutes, and it worked! The grip's greasy feel was due to a buildup of gun oil. Once the oil was removed, the grip felt just like it should without any modifications required. AIM Surplus offers in-house Glock G22 9 mm conversion barrels for $90. Made from 416R heat treated stainless steel, they are outfitted with SAAMI spec 9 mm chambers and 1:10" RH traditional lan and groove rifling which is compatible with unjacketed bullets.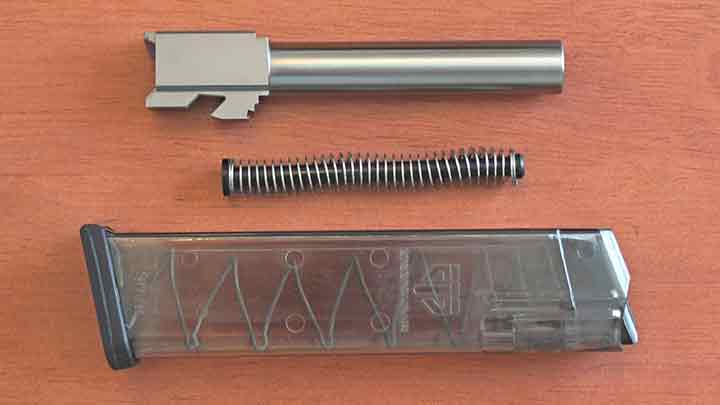 Customers have the choice of a black nitride or natural stainless finish. I opted for the natural stainless version to ensure that it would not look the same in the pistol as the original black finished .40-caliber barrel. It helps to avoid mix ups when swamping out parts. The G22's recoil assembly is compatible with either the factory installed .40 S&W or the 9 mm conversion barrel, so no recoil spring swap was required when changing out the barrels. 

The only other component needed for the caliber conversion was a G17-type magazine to feed the 9 mm cartridges. The AIM barrel operates reliably with Glock factory 9 mm magazines or after market options like the 22-round Elite Tactical Systems magazine shown here. Typical Glock 9 mm magazines (not the drums or 33-rounders) will run somewhere between $13 to $25 a piece, depending on the brand and capacity.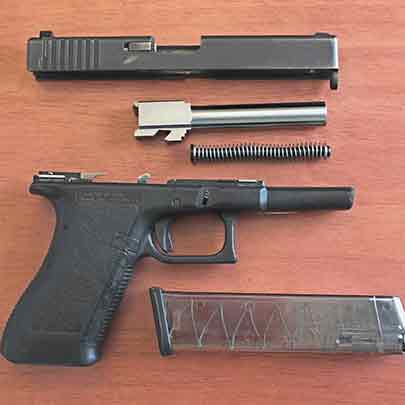 By the time I got to the range, I had managed to wrangle up a Clinton-Era G17 magazine, which seemed a better fit for this semi-vintage pistol. The conversion process is about as simple as it gets. Verify the pistol is completely unloaded and then break down the pistol in typical Glock fashion. Swap out the barrels, reassemble the pistol and insert the correct magazine in the grip.

It takes less than a minute to make the change. The Gen 2 G22 was test fired in both the .40 S&W and 9 mm configurations. In typical Glock fashion, the pistol operated flawlessly with all of the ammunition tested in both calibers. Down range accuracy was also Glock like with groups hovering comfortably around the 3" mark. Shooting these two pistol cartridges side-by-side out of the same gun was a good reminder of one reason why the 9 mm is more popular.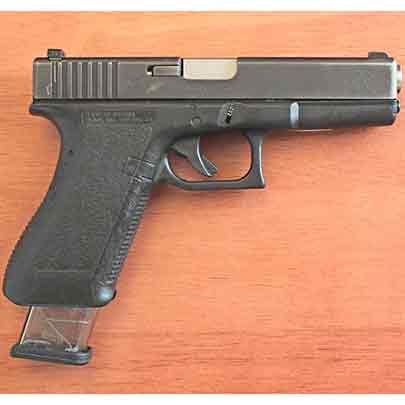 The .40 S&W produces snappy felt recoil that wears you out more quickly. But on the other hand, the .40 S&W load tested here generated about 80-ft/lbs. more bullet energy at the muzzle than the 9 mm. Formal bench rested 5-shot group accuracy testing was conducted at 25 yds. using a Lab Radar chronograph to measure bullet muzzle velocity using 10-shot strings.

Hornady's .40 S&W Critical Defense 165-gr. FTX launched at an average of 1,095 f.p.s. for 439-ft/lbs. of energy. It tapped out a best single group of 3.05" with a five group average of 3.15". Sig Sauer's Elite Performance V-Crown 124-gr. jacketed hollow points traveled at 1,142 f.p.s. for 359-ft/lbs. of muzzle energy. This load printed a best group of 2.88" with an average of 3.04".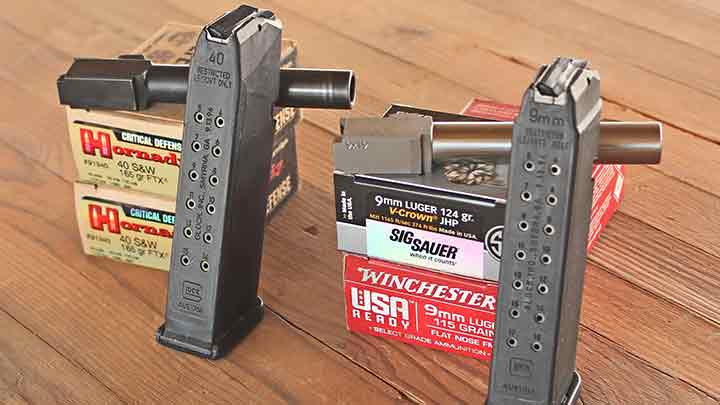 Winchester's USA Ready practice and competition 115-gr. full-metal jacket flat nose load flew at 1,153 f.p.s. for 340-ft/lbs. of muzzle energy. It knocked out a best group of 2.96" with an average of 3.08". In the end, I would dub the G22 to 9 mm conversion project a success. Right now brand new Glock G17 pistols are selling for around $600 to $700, depending on the features selected (if they are available at all).

The LE trade-in G22 with the caliber conversion barrel, recoil assembly replacement and a 9 mm magazine was $465 before I upgraded the sights. Not bad for a tough, reliable Glock that also has an interesting story behind it. Some folks will be wondering what to do with the left over .40 S&W barrel and magazine if they plan to shoot 9 mm exclusively.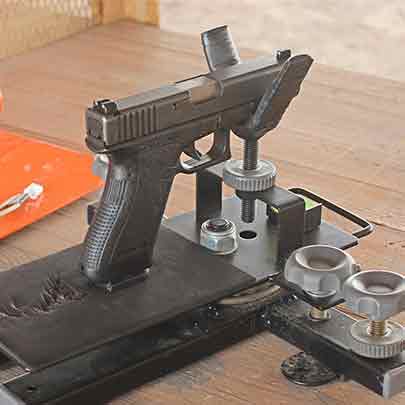 I highly recommend you hold on to them. As time wears on, G22s like this one may gain value as collectors' items if they still have the original factory installed barrel and magazine. But owning a dual-caliber pistol has other advantages. During recent visits to local gun shops there was not a single round of 9 mm ammunition to be had for love nor money. The ammunition will make a comeback when things settle down again. But in the mean time, those same shops still had a few boxes of .40 S&W on hand. And I think we can all agree that a loaded .40 S&W trumps an empty 9 mm any day of the week.