Support NRA American Rifleman
DONATE
Although I have the utmost respect for those who choose to own firearms because they're historically relevant, artistically engraved or valuable collector's items, I prefer to invest in guns that are ready and able to be put to work at the range or in the field. This makes the exploration of the curio/relic and military surplus gun market an enjoyable hobby. It's easy to find inexpensive older guns with interesting backgrounds that are also fun to shoot.
However, if I may purloin a phrase from Forrest Gump, surplus guns … "are like a box of chocolates. You never know what you're gonna get." On the one hand, war surplus items often reflect the best quality and technology available at the time. The workers building the guns were striving to win a war after all. On the other hand, what may have been a best effort then might not be all that good today. Inconsistent metal quality, weak components, shoddy workmanship and less-than-ideal storage conditions that would prevent a factory-fresh gun from passing inspection today not only could, but did make it off the factory floors and out to the front lines in the past. That being said, plenty of folks have ended up with surplus pistols that they consider some of the best guns they've ever owned.
The safest way to verify a surplus gun's shootablility is to take it through a vetting process.
In this case, I'll walk through the steps using a 1953 Romanian Tokarev TTC ordered online from J&G Sales.
1. Get Started with Online Research
Whether you already have the surplus pistol in hand or you're still looking for one to buy, conducting some online research is a good idea. Research should focus on three primary types of information:
1. Verify the gun's value and status as a collector's item.
2. Look for known issues or problems associated with the model.
3. Learn more about its design and history.
The first point is especially important for those who already have a gun that they inherited or picked up somewhere along the way. The last thing I want to happen is for some priceless family heirloom or museum-quality relic to go bouncing around in the bottom of a tackle box. Look for serial number and manufacturing histories. I knew the Tokarev TTC was a late production clone when I ordered it, so there were no concerns about diminishing its value by shooting it.
Some surplus guns have known issues or tendencies that enthusiasts have documented in the online forums or have revealed in the course of posted gun reviews. Mosin-Nagant M44s are tough and reliable, but not terribly accurate. The CZ-52's sheet metal firing pins can be brittle, so it's a good idea to upgrade to a machined pin. And so on. The Romanian Tokarevs have a reputation for being well made with clean finishes and tight tolerances, so it looked like a good choice.
The third point is part of the fun of collecting. When researching the Tokarev TTC it was interesting to find out that even though it does not look like a 1911 on the outside, much of its internal design was borrowed from John Browning. The pistol did not originally have the external thumb safety located on the left side of the frame. It was installed to satisfy U.S. importation restrictions.
2. Check for Ammunition & Accessory Availability
Any pistol, new or used, is of little use as a shooting implement if you can't find or afford magazines, ammunition or support gear for it.
The Tokarev TTC arrived with two magazines, which in my book is the absolute bare minimum for any semi-automatic. If I was buying this pistol as a bug-out or back-up gun for emergencies, I would want at least a total of four magazines. If it was going to be staged as a home-defense gun, I would buy at least six magazines with three kept in a loaded condition and three resting.  At the time this pistol shipped, J&G Sales had additional magazines in stock for just $19.95.

7.62x25 Tok. ammunition is not as cheap or readily available as it was a decade or so ago. However, surplus and factory fresh cartridges are available at around $0.35 per round, which makes it just a smidge more expensive than quality .45 ACP practice loads. Not the least expensive but certainly doable. Don't make the mistake of buying ammunition in bulk until after you've tested a box or two of that brand to ensure it is compatible.
In regard to holster and carry systems, should I need one, an online search for "Tokarev Holsters" turned up a variety of useful options.

3. Find an Owner's Manual
Don't assume a surplus pistol will arrive with a useful owner's manual to walk you through maintenance procedures and ammunition selection. Once again, the online community can be a big help. With a few minutes of searching I found a printable PDF and a photographic walkthrough for field stripping this pistol.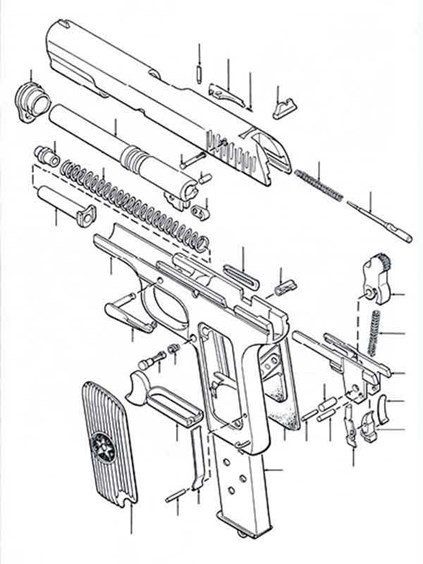 4. Perform a Detailed Inspection & Cleaning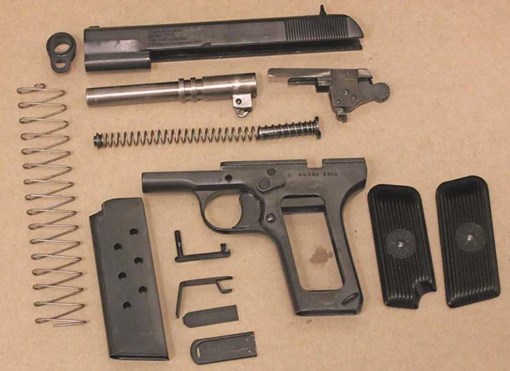 It's not uncommon for surplus guns to arrive dirty or dripping in thick, greasy Cosmoline. For this reason, a close inspection of the individual components and a careful cleaning typically go hand in hand. It's much better to identify a problem while taking a closer look from the comfort of your workbench than to discover it at the shooting range:
Field strip the pistol just as you would for regular cleaning and maintenance according to the instructions in the owner's manual.
Remove any other parts that can be safely taken out without special tools or possible damage to the gun, such as the grip panels and firing pin.
Dismantle the magazines by removing the base plate and taking out the springs and followers.
Scrub every component until it is completely clean of dirt, debris, grease and Cosmoline. If you have an ultrasonic cleaning system, now's the time to use it. If not, employ rags, brushes and swabs in conjunction with a quality gun cleaning solvent.
Once the components are completely clean, inspect each part carefully for flaws, cracks, damage and corrosion. Use a flash light to inspect those hard-to-see nooks and crannies.
Inspect the bore to verify the rifling is intact.
If the parts pass inspection, follow the lubrication and assembly instructions outlined in the owner's manual.
5. Run a Set of Bench Checks
With the gun reassembled and properly lubricated, it's time to run a series of bench checks. This means checking all of the gun's operations while it's completely unloaded. It's not possible to write a comprehensive check list here because each model of gun has its own set of controls and features. However, a walkthrough of the Tokarev TTC's bench check does provide a good overview:
Front and rear sight are fitted tightly in place
Slide cycles smoothly and shows a proper fit to the frame
Slide catch is easy to release with the shooting hand thumb
Slide catch holds the slide open when an empty magazine is inserted
Thumb safety swings down into the Fire position easily using the shooting hand thumb
Thumb safety is stiff and needs more pressure to swing up into the Safe position
Thumb safety functions properly and blocks the trigger from cycling
Trigger cycles smoothly without any catches or rough spots
Trigger exhibited a slight take-up before breaking cleanly with 5 lbs. 13 oz. of trigger pull
With the hammer fully forward (touching the firing pin) the trigger and slide will cycle
With the hammer half-cocked, the trigger, slide and hammer will not cycle until the hammer is fully cocked manually
Magazine release button is resilient and allows the magazines to drop free when pressed.
Magazines (2) are sound, free of damage and operate correctly
The black plastic grip panels are fitted tightly to the frame and have no visible cracks or chips
Completing a full set of bench checks should verify the status of every gun function possible without the use of ammunition. Wait to load the gun and magazines until you're at the shooting range and ready to fire.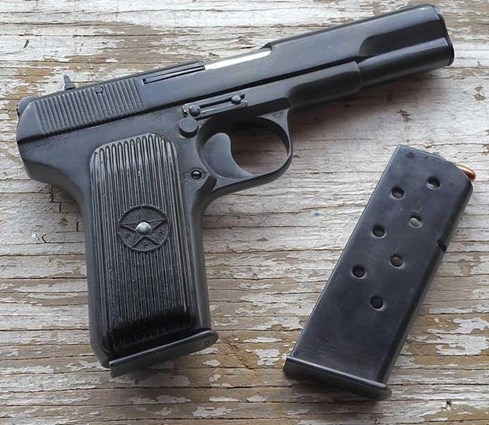 (Please Note: If at any point in the course of cleaning, inspecting or bench checking a firearm you discover mechanical issues that may cause it to malfunction or make it unsafe to use, do not attempt to load or shoot it. Instead, you need to stop reading this how-to and take a look at 5 Steps to Take When Your Gun Is a Lemon.)
6. Testing at the Range
And now for the best part of buying a surplus pistol –  shooting it! Here are a few tips to keep in mind:
Pay close attention to the gun's controls and features throughout the testing process. Watch for malfunctions or components shaking loose (like the rear sight or grip screws).
Make sure you understand how to load the magazines. Rounds that are improperly stacked or stuck will cause failures to feed.              
If the gun is in an unissued or as-new condition, it may need 100-rounds or more to break in and smooth out.
Try a variety of ammunition brands and bullet weights using all of the magazines you have on hand to find which loads run reliably in your particular gun.
Start with the target up close while firing small groups and then move it out to get a feel for the sights. A good, simple target distance progression for pistols is to fire three to five rounds at 3, 7, 15 and 25 yards.
Some pistols run properly from the start while others require a break-in period of 100 to 200 rounds to smooth out the action before they will run reliably.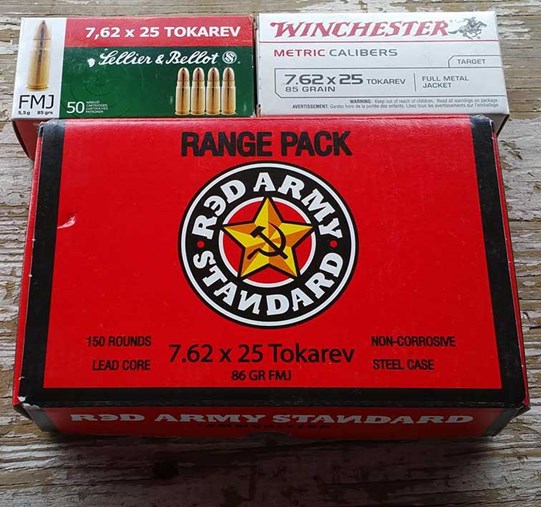 Worrisome malfunctions that might justify stopping the range test include the felt recoil level suddenly spiking (a hot load) or dropping (a possible squib load), components falling off, the gun developing a new internal rattle or the action locking up and refusing to cycle. If at any point the gun begins to get hinky in any way that gives you cause for concern, then pack it up and take it home. Back at the homestead you can determine if the problem will require professional assistance.
Congratulations! If your surplus pistol has passed the vetting process then you know you have a gun that's interesting, affordable and enjoyable to shoot. If you're wondering how the Romanian Tokarev TTC did at the range, it performed nicely without any problems. If you would like to learn more about this pistol, then take a look at the results table and specifications listed below.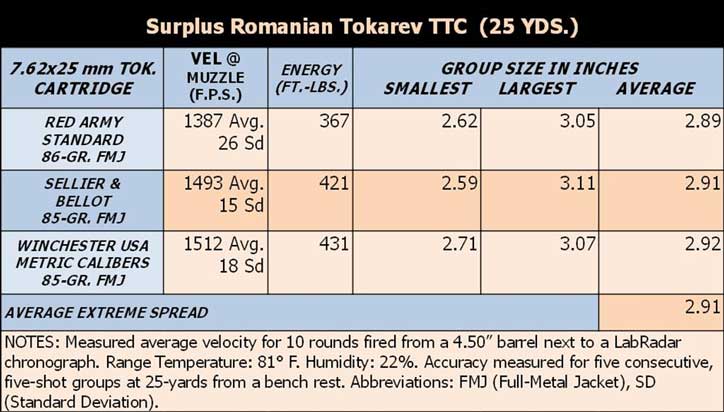 NRA Specifications:
Distributor: J & G Sales
Model:  Surplus Romanian Tokarev TTC Semi-Automatic Pistol (1953)
Action: Short Recoil Actuated Locked Breech Single-action
Caliber: 7.62x25 mm Tok.
Finish: Blued Steel
Grip Panels: Textured Black Plastic with Star Logo
Sights: Fixed
Barrel Length: 4.50"
Overall Length: 7.50"
Height: 5.00"
Weight:  30 oz. with Empty Magazine
Capacity:  8+1 Rounds
Twist: 1:10" RH
Rifle Grooves:  4
Accessories: Two 8-Round Magazines
MSRP: $219.95