by
posted on April 19, 2023
Support NRA American Rifleman
DONATE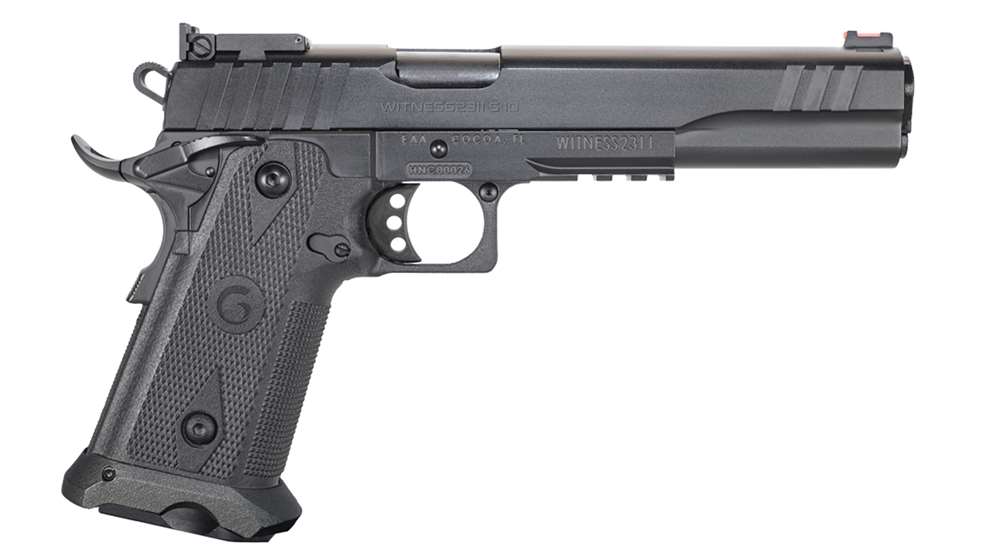 The year 2023 might well end up being "The Year of the 2011." Several manufacturers have recently entered the niche of M1911-style handguns that combines a hybrid metal-and-polymer frame with a double-stack magazine, a style known as a "2011." The latest is European American Armory Corp. with the Witness 2311.
The Witness 2311 uses a 7075 aluminum alloy main frame that has an accessory rail on the dust cover. The polymer grip area of the frame is checkered on the frontstrap, backstrap and side panels and has a removable magazine well. The pistol has "enhanced' M1911 features, like an extended beavertail and an ambidextrous thumb safety.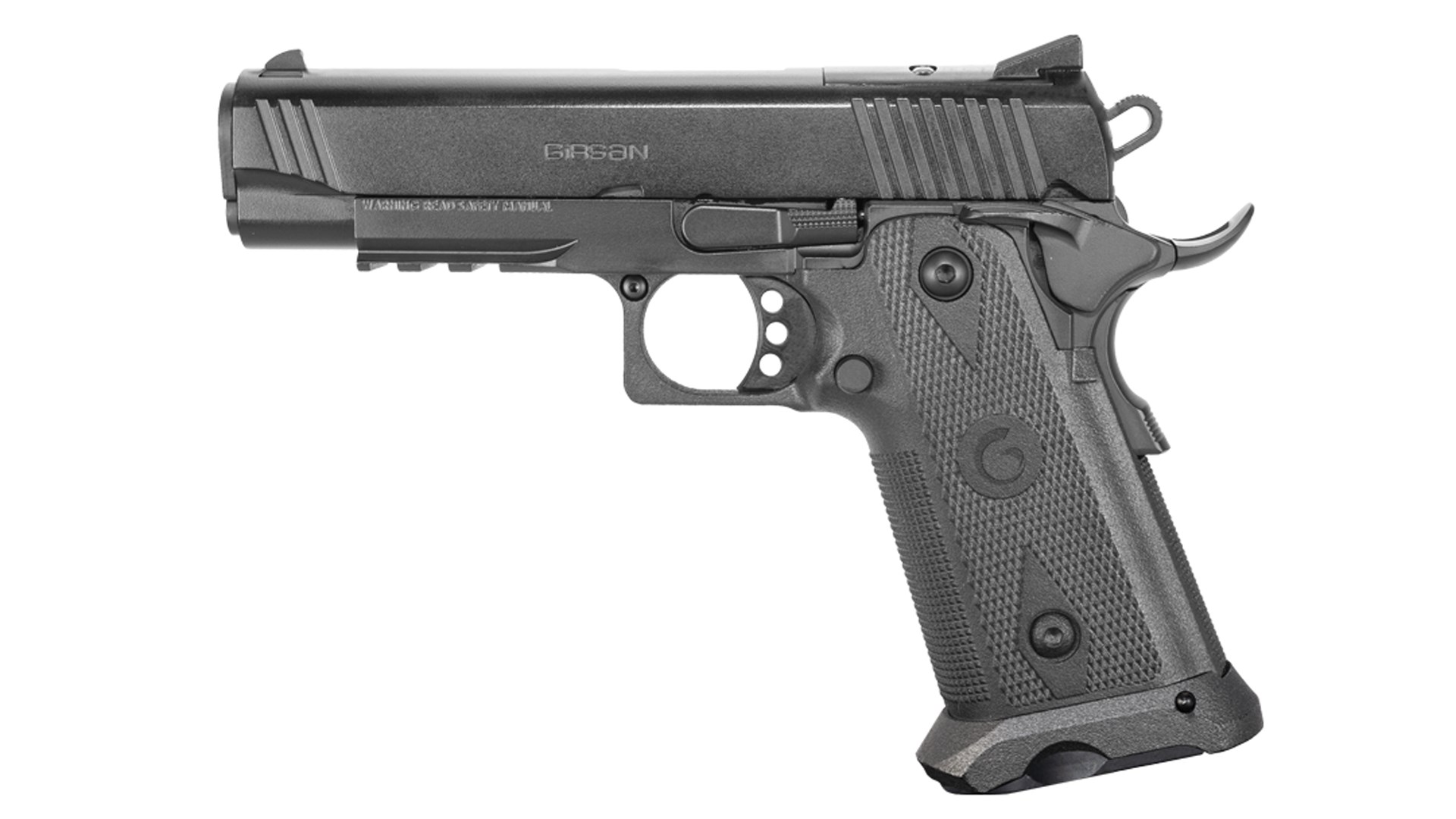 The EAA Witness 2311 will be available in multiple chamberings and configurations. Pictured is the 4.25" barrel model in 9 mm Luger with an optics mounting cut. Image courtesy of European American Armory Corporation.   
The Witness 2311 will be offered in four different barrel lengths (3.5", 4.25", 5" and 6") and three chamberings (9 mm Luger, .45 ACP and 10 mm Auto). Magazine capacity is 17 rounds (9 mm), 15 rounds (10 mm) and 12 rounds (.45 ACP). Magazines are manufactured by Check-Mate Industries and are compatible with Staccato and Springfield Prodigy magazines.
EAA plans for all models to be available with either a fixed rear sight mounted in a dovetail that is removable for optics mounting with a Shield RMSc footprint or a fully adjustable rear "Supersight." The Supersight is currently only being offered on the 6"-barreled 10 mm Hunter model. Barrel lengths currently being offered are 4.25" and 5" (all chamberings) and 6" (10 mm only).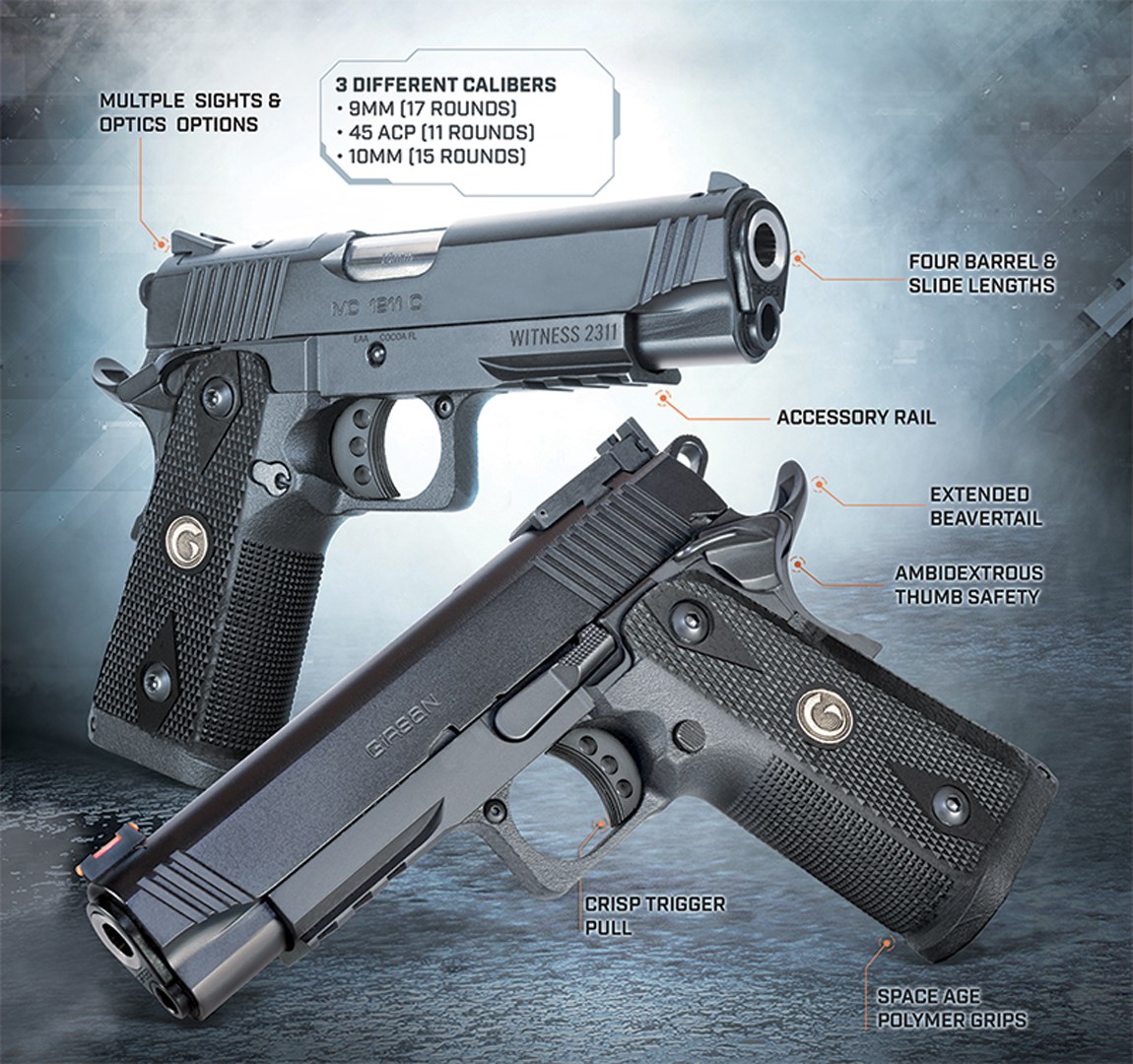 EAA plans to eventually release the Witness 2311 in multiple configurations, with choices in chamberings, slide length and sighting system. Image courtesy of European American Armory Corporation. 
EAA is also taking the 2011 one step further by exploring the possibility of 3D printing grip modules that are custom designed based off of a scan of the owner's hand. For those who want their Witness 2311 further customized and tuned, EAA has partnered with Cosaint Arms. 
The EAA 2311 will have a MSRP of $999 to $1,029, depending on configuration, and is scheduled to start shipping in April 2023. For those hoping for a cheaper 2011 magazine, keep looking. The MSRP for Witness 2311 magazines is $50. For more information, visit eaacorp.com.