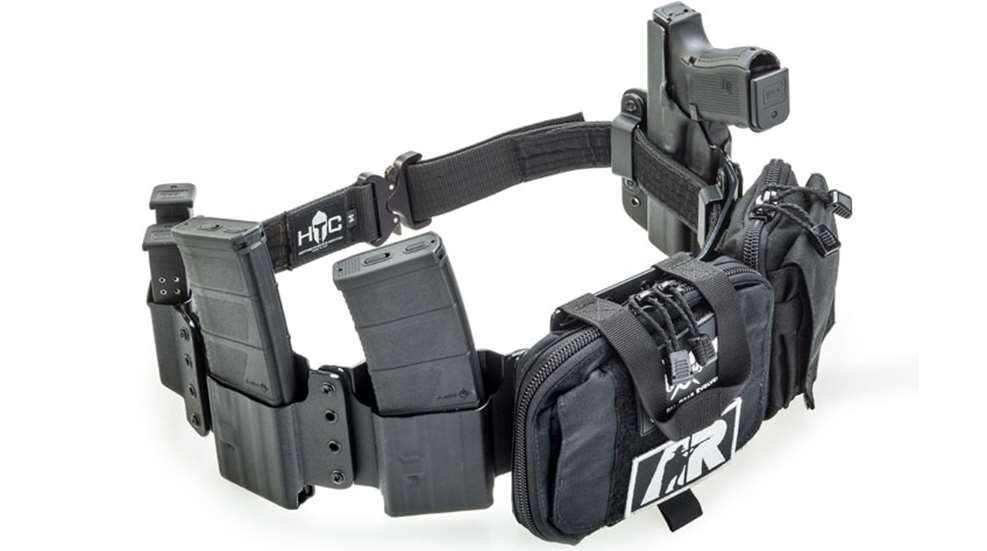 For the November 2016 American Rifleman, I assembled a rig for carrying a gun and gear at the range or in the field. Relying largely on repurposing gear I had on hand, and striving for maximum versatility, the belt proved to be both effective and relatively inexpensive to put together.
I wanted to revisit the topic, however, and introduce a made-to-order product that meets the same criteria for utility and arrives ready for the range. The HTC Low Profile System from High Threat Concealment is a belt system with all the fixings. An assembly of HTC's molded Kydex gear and tactical nylon pouches, the system includes a holster, pistol and rifle magazine pouches—two and two or four and one, respectively—and the choice of two pouches for radios, medical supplies or general storage. Buyers are able to customize their selections based on their specific firearms, needs and preferences. The completed order arrives with all components connected and ready to slide over a belt—HTC also offers several belts that can be added on. Of course, such convenience comes at a price; the Low Profile System starts at $445 and certain upgrades may cost more. But, for those who want a first-class utility rig that is ready for action, the HTC Low Profile System is a great one-stop shop.

The HTC Low Profile System became the subject of a recent NRA Gun Gear of the Week video, and you can see it here.