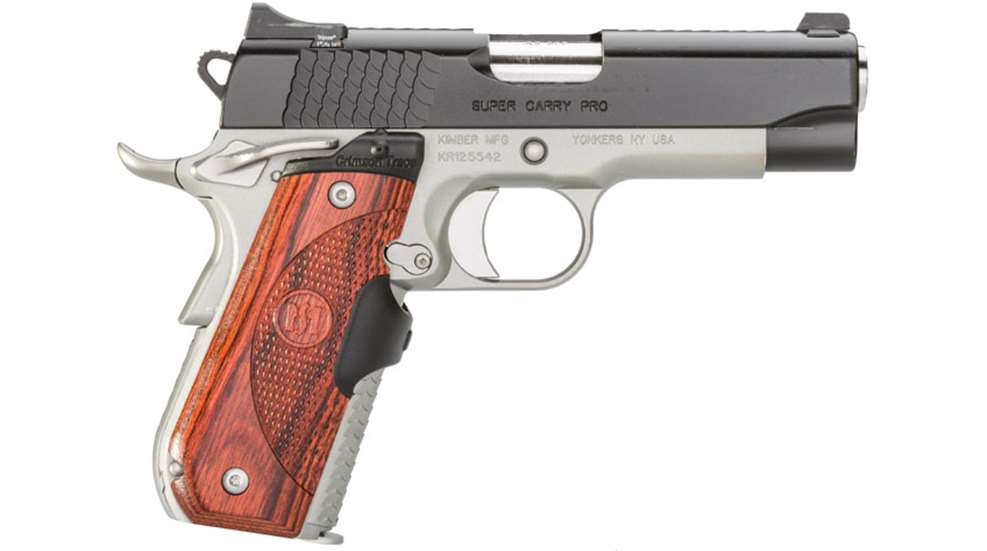 As an editor for the "World's Oldest and Largest Firearm Authority," I have the responsibility of testing a wide variety of firearms and evaluating the myriad features, configurations and options that differentiate makes and models within a given platform or category. In reporting on characteristics that are particularly effective, and those that are not, I, like our readers, form personal preferences, and often tailor my firearms accordingly. For example, during the past few years, I've found that I am not a big fan of three-dot pistol sights. It is a simple and very effective system, but it's just a bit busy to my eye. I've found that I prefer, and shoot better with, simpler sight arrangements—a plain, black, rear notch paired with a bold front post. For defensive handguns, I think some contingency for low-light shooting should be incorporated, and tritium vials seem to be the order of the day. I have found that Heinie's Straight Eight night sights suit my needs with alacrity. The rear sight is largely plain black, excepting the single, small tritium dot, and the front post, also featuring a tritium-powered dot, is easy to pick up. In low-light, rather than balancing three dots, I only have two, and those align vertically.
I own several firearms with Heinie sights, yet I had failed to upgrade an oft-carried personal-defense pistol, my Kimber Super Carry Pro in .45 ACP. It is worth noting the Super Carry Pro comes with some excellent sights—steel housing, tritium inserts, cocking ledge, the works. But for consistency in my carry guns, and based on preference, I wanted to update to the Heinies.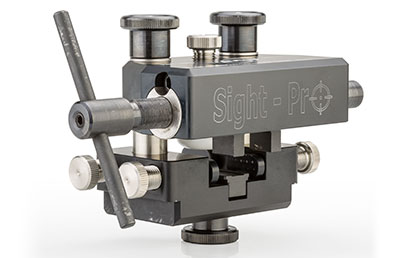 The first step was to acquire the sights, which was exceptionally easy: simply visit heinie.com, select the appropriate sights—I chose the SlantPro Straight Eight Night Sight Set for a Kimber, priced at $139—place the order and voila. Installation was nearly as simple thanks to my trusty MGW Sight-Pro tool. The Sight-Pro uses several clamps and a model-specific, guide-rail-interfacing slide shoe to secure the slide, and a screw-press-mounted pusher to engage the sights. The Sight-Pro tool and slide shoes are available from Brownells (brownells.com) for around $300 and $18/each, respectively. The apparatus is truly armorer-grade—well-made and very effective, undoubtedly the best I've used—but notice, it is not intended, or priced, for one-time use.
Sight removal and installation was straightforward and went off without a hitch. Kimber rear sights have a set screw that needs to be loosened prior to removal; the Heinie replacement rear also has a set screw for security, and I used a drop of blue thread locker in the dovetail for good measure. The sights were aligned by eye, and checked by a micrometer, but I also like to use a laser boresight before heading to the range. Laserlyte's MBS-1 (laserlyte.com; $65) is a good option, and paired with the company's MBS Six Pack accessory kit ($35) it becomes an indispensable tool for the serial sight-changer, compatible with firearms bored from .22 to .75 caliber, including shotguns.


The final step was to take the pistol to the range and turn some .45 cartridges into smoke and spent brass. I was pleased to see that the sights were spot-on. The bore sighting promised as much, but repeatedly center-punching a target's X-ring is far more satisfying. While on the range, I took the opportunity to double-check my Crimson Trace round-heel Lasergrips (crimsontrace.com), because, well, you just never know. But they were on the money as well, as one would expect, and overall the Kimber passed the range testing and reported ready-for-duty. It's a good thing, because a carry gun can become a close companion, and my Kimber and I have miles yet to go.