Support NRA American Rifleman
DONATE
There is a bit of irony in the fact that Mary Garrett and her daughter, Monti Pavatea, who call northern Montana home—an area known for its abundance of wild game, fish and outdoor spaces—gained their first real experience with firearms and the outdoors at the 2018 NRA Women's Wilderness Escape (WWE) in Raton, N.M. The weeklong adventure came recommended by Garrett's husband, an NRA member who read about the event and decided it would be an ideal way for the women in his life to become acquainted with firearms.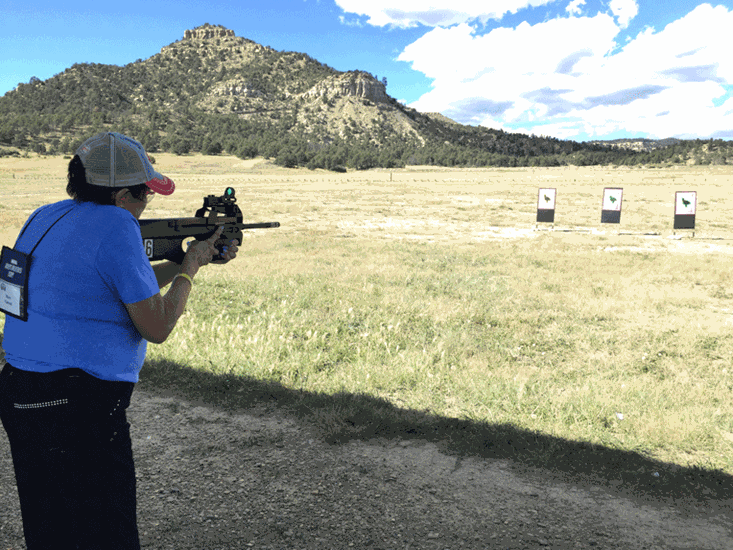 Mary Garrett firing the FN PS90 rifle.
Garrett, almost 70, said she was initially reluctant to attend the weeklong event, as she did not have prior experience with firearms. That changed as the week went on, and each day she gained more confidence with handling and firing each firearm. After participating in the three shooting disciplines—firing and qualifying on a .22 cal. pistol, firing a .22 cal. rifle and 5.7x28 mm rifle and shooting a 20-ga. shotgun—Garrett said she definitely favorited the rifles, specifically the FN PS90, a semi-automatic futuristic bullpup-designed rifle chambered in 5.7x28 mm. "I felt so enlightened that it gave me a different feeling," she said, later equating the entire event to a retreat. Until that point Garret said she'd been protected by ranch hands and her husband, but now realizes that she needs to be prepared for whatever might happen by taking responsibility for her own safety.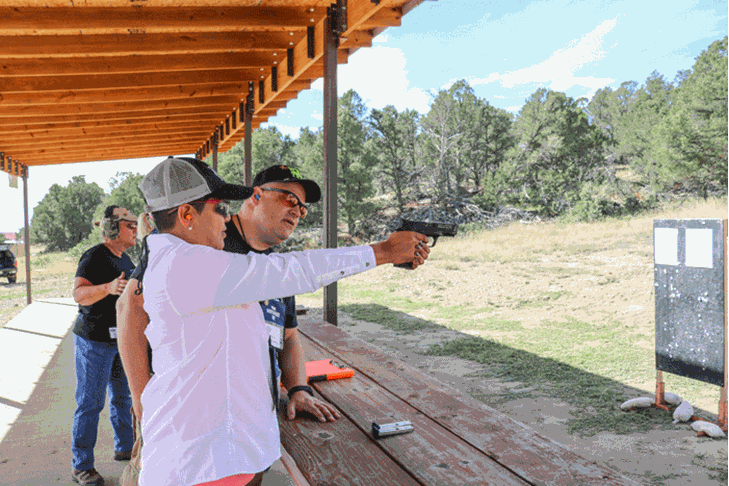 Monti Pavatea shooting the S&W M&P 22 pistol.
Her daughter, Monti Pavatea, said she too, was hesitant to attend the event, as she did not have prior firearms experience either. Like her mother, Pavatea gained confidence with handling and firing each firearm as the week went by. At the end of the week she expressed a liking for the pistols, after shooting the S&W M&P 22 and attending the Concealed Carry Show and Tell, and said she'd already researched Montana's concealed-carry requirements for an eventual CCW permit.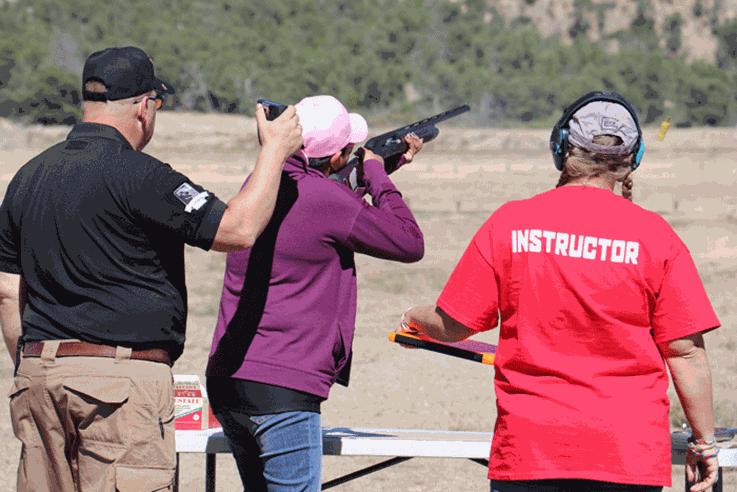 Pavatea shooting the Beretta 391 shotgun during the introduction to 3-gun competition, with instructor Jaime Adams to her right. 
As beginner shooters who made great progress throughout the week, these two ladies seemed to inspire the other women. Pavatea remarked on the camaraderie among the women, which was probably not unlike those of her ancestors, the Blackfeet, who were reliant on each other for day-to-day tasks like fishing or hunting.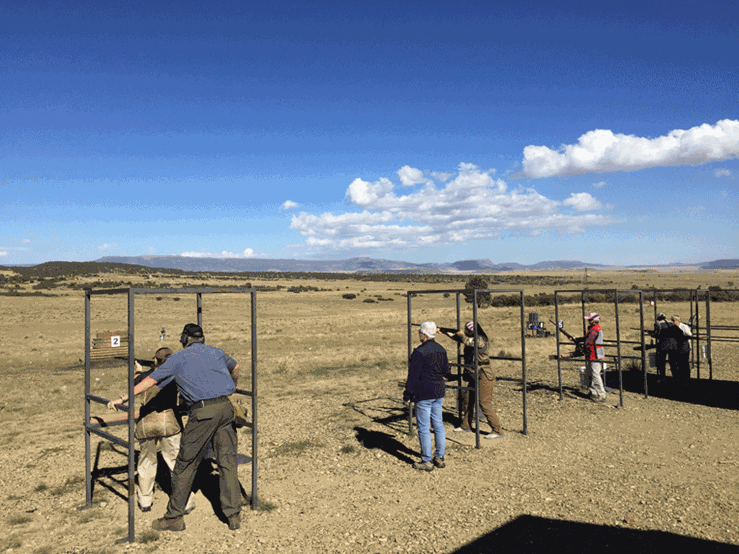 Carly Earhart (second from the left) shooting the Beretta 391 shotgun on the five-stand shotgun course.
And while this mother and daughter were among the least experienced with firearms and the outdoors, others were more advanced. Carly Earhart, 22, was one of the younger attendees who decided to give the event a shot. Originally looking for a firearms instruction course near her home, she came across the WWE on the NRA website and decided to take the plunge, wanting to take time for herself as well as do something that would get her out of her element. And although Earhart had been exposed to firearms while serving in the Army, she said the most challenging discipline for her was shotgun, having the least experience with that discipline. Earhart said she would like to see a level two version of the Women's Wilderness Escape, as she was more experienced than the other women, but said she would be able to use the experience to aid her in her job as an outdoor retail store manager. "It gives you something to strike up a conversation with someone, especially women who come into the store looking for a firearm," she said.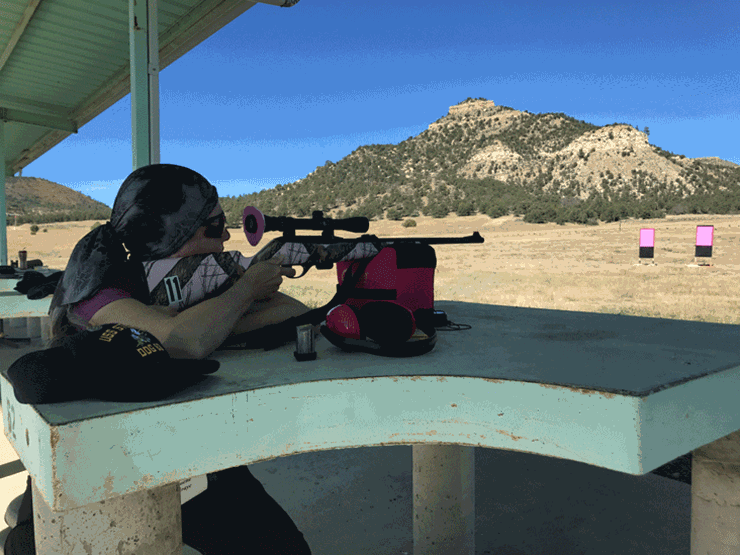 Jaene Graye firing the Remington 597 semi-automatic rifle.
The sentiments relayed by Earhart, Garrett and Pavatea were echoed by most of the other women in attendance, each woman walking away with a bit more confidence and knowledge in her abilities with firearms. One participant, Jaene Graye, was at WWE for a second time, after a successful first event in 2016. Similar to Garrett's story, Graye's husband found an advertisement in American Rifleman and suggested she attend. "I had to do it again because it was so much fun the first time," she said. She also said how the instruction sunk in better this time around and she would definitely attend again. Many of the instructors too have returned for consecutive years all on a voluntary basis—they do it because they are passionate about the shooting sports and have a servant's heart. One instructor, Jaime Adams, had been a participant in 2010, after coming across an ad much like the others. With no prior firearms experience but excited by the "wilderness" aspect to the event, she decided to give it a try. For Adams the event was life changing and three years after attending her first event she became an NRA certified instructor—now teaching the same event that changed her life.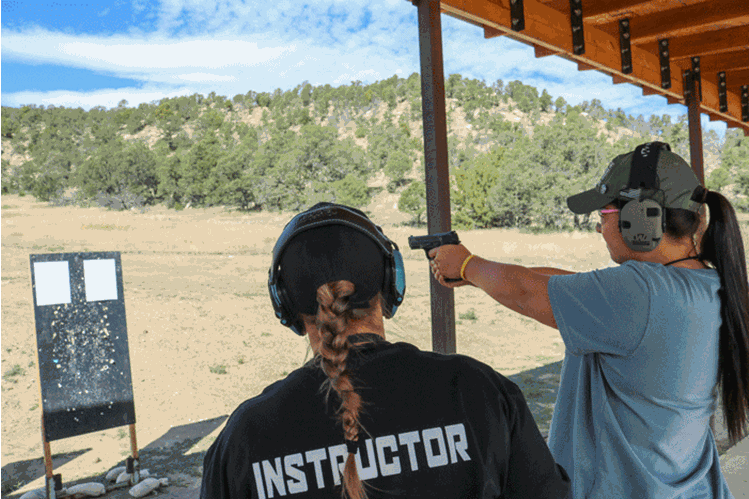 Instructor Jaime Adams with participant Carly Earhart shooting the S&W M&P 22 pistol. 
From participants to instructors, to the individuals who plan the event, there is much thought and planning that goes into hosting the various Women's Wilderness Escapes. Kara Richards, NRA's lead program specialist for the WWE, explained that the program, in existence since 2008, hosted its first "escape" at the NRA Whittington Center, and has now expanded to other events across the United States throughout the year, including a weekend of sporting clays at Seven Springs Resort in Pa., as well as some others such as 2017's Wyoming antelope hunt. Richards said that next year there will be four events for women to choose from and they are already listed on the WWE website, just in time for the holidays. (Hint, hint.)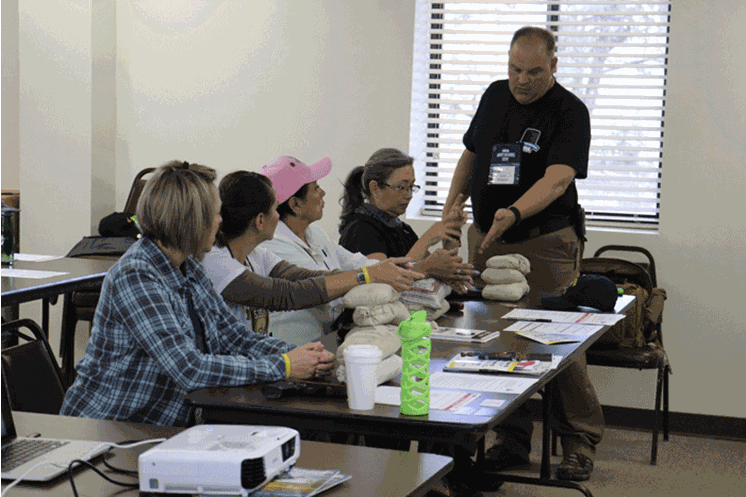 During the classroom portion of the Basics of Pistol Shooting, the women learned how to properly hold a handgun from a supported position.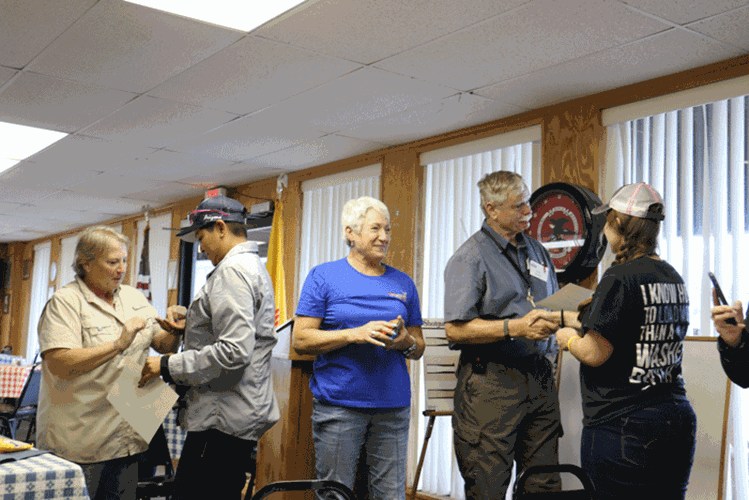 Monti Pavatea and Kristen Voss receiving certificates for completing the Basics of Shotgun Shooting.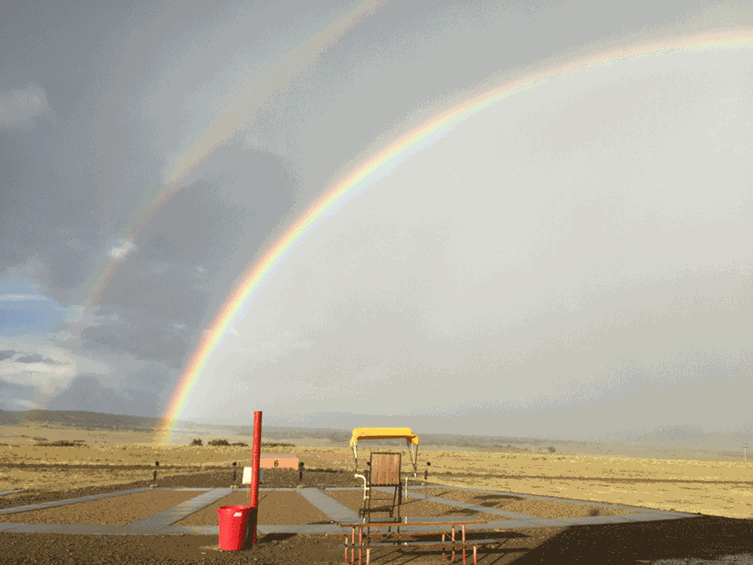 One of the many beautiful scenes nature provided us with during the week.

The NRA Whittington Center Women's Wilderness Escape is an annual event that offers an opportunity for women of all ages and backgrounds to learn the basics of firearms in a comfortable and supportive environment with other like-minded women. The weeklong adventure gives attendees a taste of the various shooting disciplines, with an entire day dedicated to one discipline and the ability to receive a certificate in each, as well as the opportunity to shoot a specific firearm at distances they might not have the chance to do anywhere else, all while enjoying the beauty of nature that surrounds you. The days are filled with learning split between classroom and range time, and the nights are filled with activities including the Refuse to be Victim class, which give women the feeling of empowerment and the ability to walk away with more confidence and pride. I was moved by the stories these women shared, from ones of cancer to domestic abuse—and it was inspiring to see them take charge of their personal safety.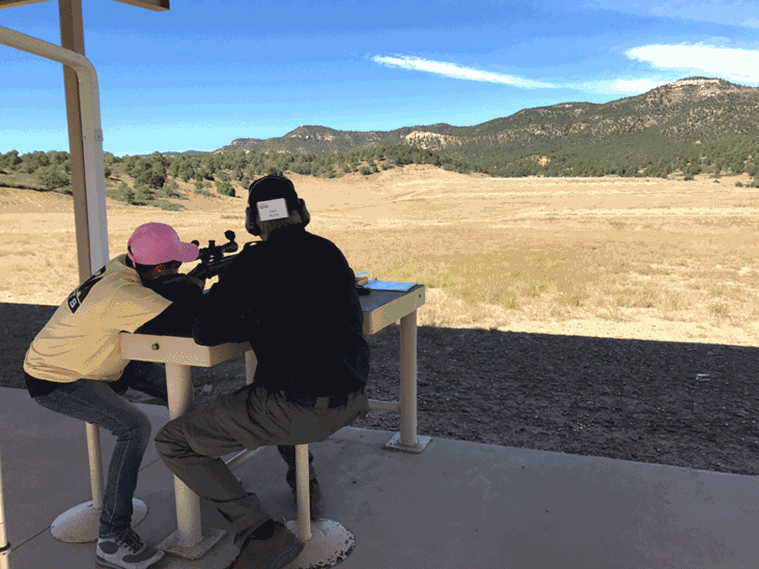 Monti Pavatea firing the FNH Model 70 SPR long-range rifle at the famous White Buffalo in that small circular clearing 1,123 yards away.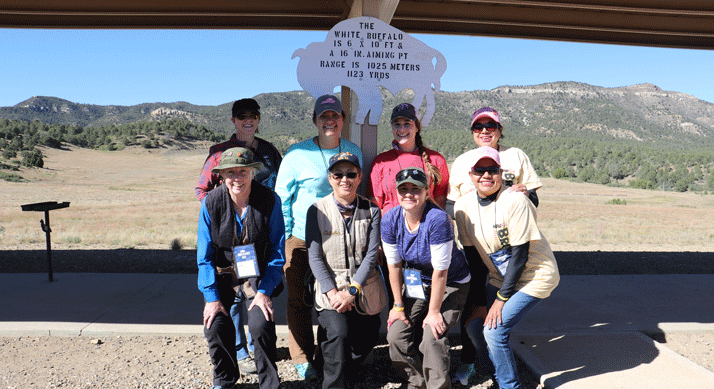 A group of eight women after they each successfully shot the White Buffalo. 
Designed as an introduction into firearms, the 24 women who attended the event during the first week of October were able to participate in activities including the basics of pistol shooting course and qualifying with an S&W M&P 22 pistol, shooting the Remington 597 semi-automatic rifle and FN PS90 rifle, shooting the Beretta 391 shotgun and learning the basics of five-stand shotgun shooting, having the opportunity to shoot at the famous White Buffalo at 1,123 yards with the FNH Model 70 SPR long-range rifle chambered in .308 Win., shooting Silhouette Targets at 50 yards with Henry lever-action rifles, and an introduction into 3-gun which is a timed competition where you shoot pistol, rifle (we shot the S&W M&P 15-22) and shotgun. We even learned and had the opportunity to takedown and clean all of the firearms we shot each day.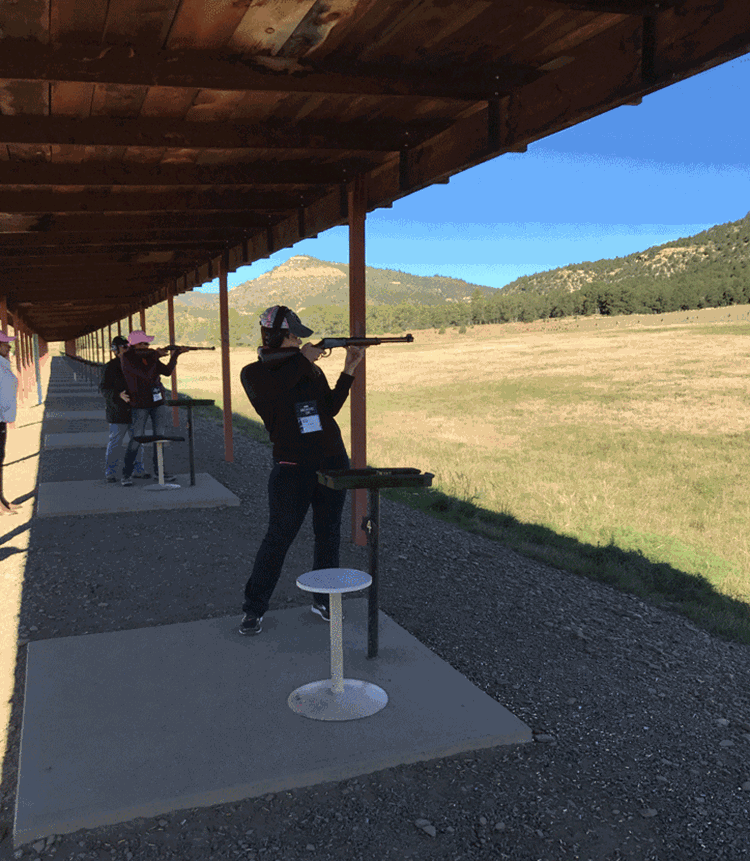 Kristen Voss shooting a Henry lever-action rifle.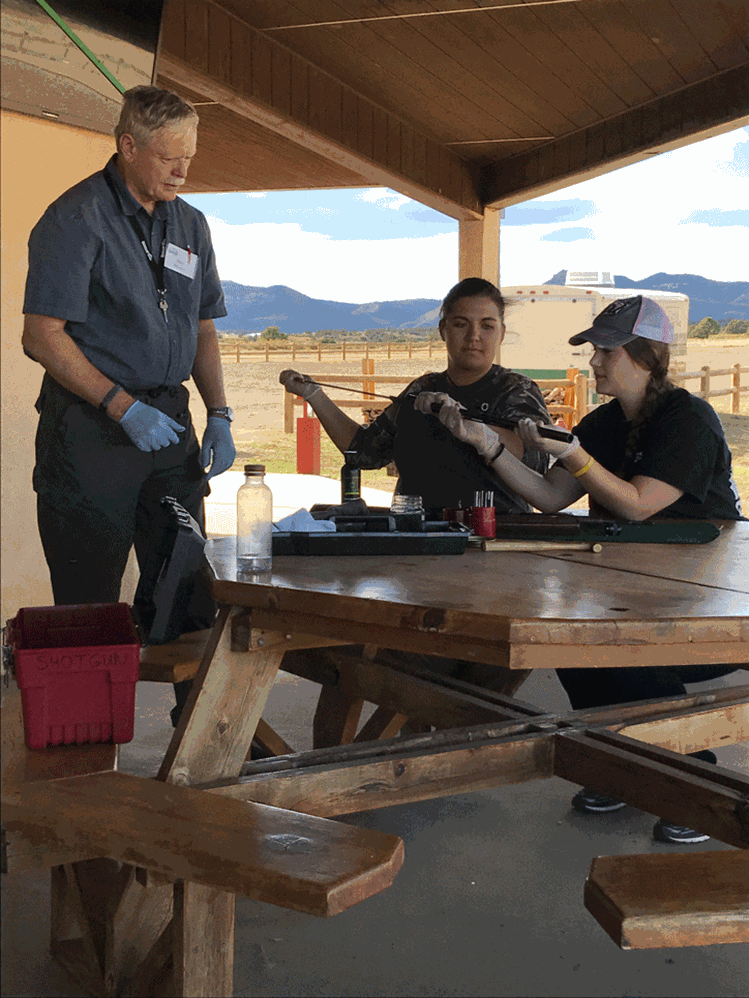 Carly Earhart and Kristen Voss learning how to clean the Beretta 391 shotgun.
For the duration of the event, we were split into groups of eight for each day's activities, which just so happened to be the same women with whom we shared a cabin. Lodging for the week was at the Whittington Center's Founder's Cabins, with each of us assigned a roommate. Though it was an unfamiliar arrangement for some, it was nice to have quality time every evening with cabin mates and talk about the day's events. The end of the week was capped with a wine social on Friday night in order for us to get to know the women in the other groups.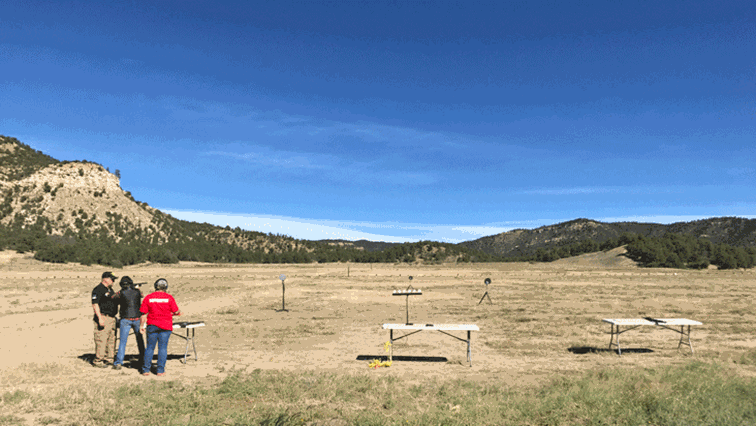 Cheryl Carroll running through the three stages of 3-gun starting with the shotgun stage.
While each WWE is unique, the Whittington Center WWE allows women to confidently step outside their comfort zone into a comfortable community where they are able to share their pasts and take the next step into their futures in a supportive and confident-building environment. I was honored to have shared those moments with the women who attended, and it is my hope that many more women choose to take that step and go on an adventure of her lifetime.