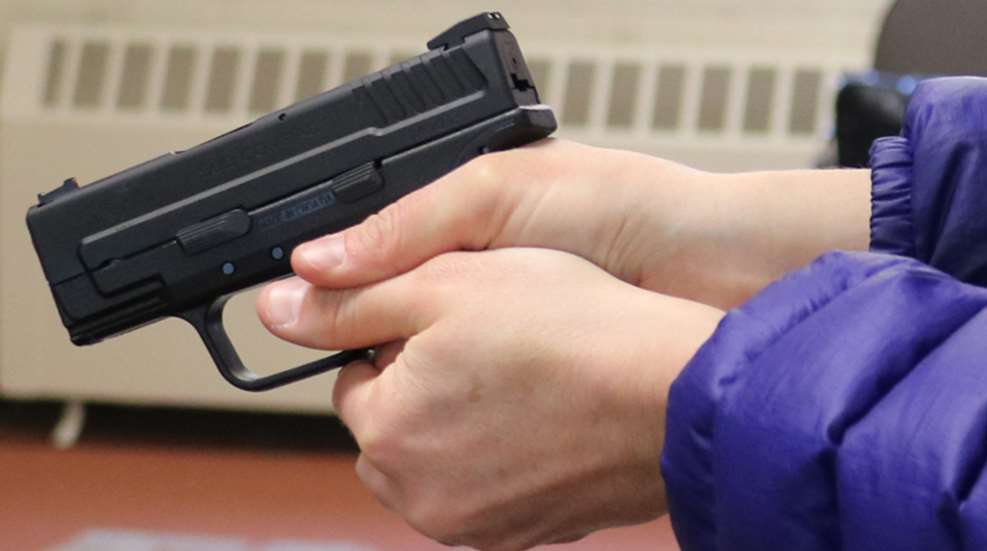 It's a question women have asked every day since ancient times: What should I wear? Today, many women have broadened the scope of the question to ask not only which blouse, skirt or slacks, but which firearm and concealment holster she should don.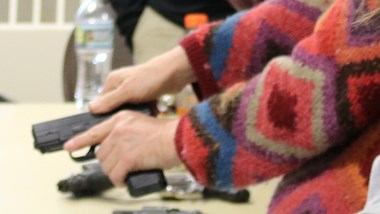 While the answer to that question is ultimately different for each woman who chooses to carry concealed, arriving at the right answer is a critical consideration in this highly responsible decision. So how does a woman determine which handgun or holster is the best fit for her? That subject was the focus of two seminars at the 2018 Great American Outdoor Show hosted by NRA Women's Program Coordinator Diane Danielson.
Although the information in the seminars was geared specifically to women, about half of the attendees at "For Women: Handgun Fit, Function and Making Education Decisions" were men. Danielson said she was not surprised, as it is very typical for men to attend her seminars, which are designed to help women in the often overwhelming handgun and holster selection process. One gentleman, a full-time school principal, part-time police officer and NRA Certified Instructor who said he often is asked by women for advice on what and how to carry, wanted to learn more helpful answers than he had been giving them. 
Danielson opened the seminar by reiterating to attendees that carrying concealed is a huge responsibility. It's deciding that you will not be a victim if ever faced with a life-threatening situation, and you have to be comfortable with the caliber you carry—even if it's a .22. "It's better to carry a .22 than not to carry at all," she said.



To demonstrate the many handgun options available to consumers, Danielson displayed about 20 guns—most from her personal collection—and described the features of each. Among the handguns were concealed-carry models by Ruger, Springfield, Smith & Wesson, Glock, Kimber, SIG Sauer and others. Calibers included everything from .22 to .40 S&W. 
Danielson educated the audience on how to determine a proper fit—essential to proper concealed carry—recalling that she, too, carried the wrong handgun for years before she learned that it did not fit. So how can women avoid this same mistake? Danielson explained that a person should grip the gun in their right hand and place two fingers on the side of the grip where the left palm would go if they were gripping with both hands. "If it feels loose between the two fingers, then that gun does not properly fit," she said. Another method of measuring is to go to the range and shoot a full magazine with the pistol and see if your grip has moved after firing. Applying equal pressure from both hands while handling the firearm is key, she said.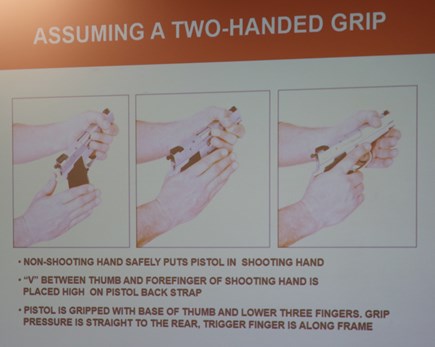 Other factors a woman needs to consider when choosing a handgun for concealed carry are the various functions that will be required to operate a particular gun, and whether she is comfortable performing them. For example, slide manipulation in the various semi-automatic pistols tends to be an area in which women frequently struggle, so how easy is it for her to do so with any given pistol?  Diane says the way she teaches this to students is to show them a simple technique in which she pushes the handgun forward with her grip hand while pulling the slide back with her opposite hand. An additional consideration is whether the magazine release is easy to decompress. Trigger reach, trigger-pull weight, sights, grip width and grip texture also come into play.  When shopping for the perfect handgun, keeping these things in mind will aid in the search.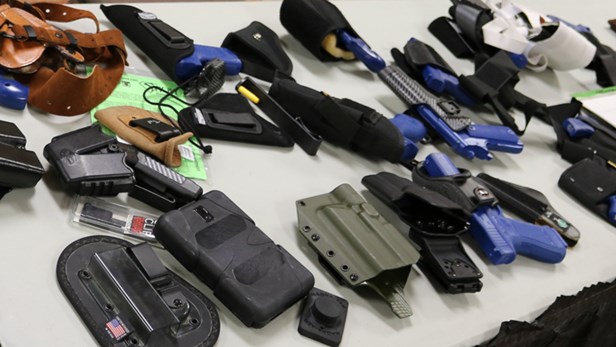 Equally important in the search for the proper carry gun is deciding which carry method works best, as there are almost as many methods of concealed carry as there are handguns.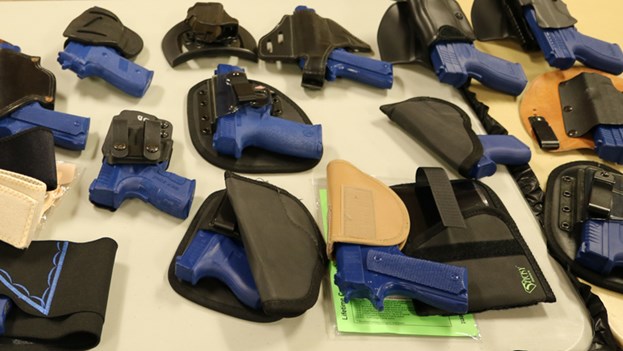 In "Methods of Concealed Carry for Women," Danielson again shared her personal collection of all types of holsters—cell phone case, shoulder, belt, snap, inside-the-waistband, outside-the-waistband, snap guard over the trigger, molded, push button, pocket, ankle, thigh, belly band, paddle, and several others—and using blue guns of some of the most popular models of concealed carry guns for women, explained how each are used. And although Danielson advocates on-body carry whenever feasible, she included concealed-carry bag examples—purse, binder, fanny pack, shoulder bag and concealment clothing. She cautioned the audience, however, that most attacks occur at a distance between 3 and 7 yards, thus it is easier to reach a defensive carry gun from on body rather than trying to retrieve it from a purse or bag. Additionally, it is far easier for a thief to snatch a purse than a pistol off a person, she said.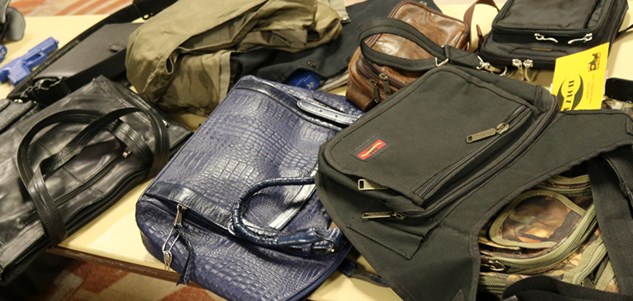 Ultimately the decision of what to carry takes much longer than what can be determined in a one-hour seminar, so Danielson emphasized that a woman needs to take the time to try many options before she decides which handgun and which method of carry works for her. Whatever option she chooses, said Danielson, practice is essential to perfecting concealed carry. You need to be comfortable "and build muscle memory" so you can be confident when you carry, she said. 
After all, confidence is the most beautiful thing a woman can wear. 
For information on NRA's Women on Target instructional clinics, please visit wot.nra.org.