NRA Carry Guard Image

Something as simple as being aware of one's surroundings, or even body positioning, can make the difference in surviving a life-or-death situation. For example, Director of NRA Competitive Shooting Cole McCulloch says that when he is in a bank, he angles his body in a way that he has a visual on the exit even while talking to the teller. The reason: One never knows when a robbery might occur. 
At a recent seminar during the Great American Outdoor Show, New to Concealed Carry? A Real Life Look at Carrying Concealed, McCulloch told the audience that on one occasion his bank was indeed robbed—only an hour after he had been there. However, had it occurred while he was there, he said he would have been prepared. 
As the seminar was geared toward those brand-new to carry or are considering carrying, McCulloch told the audience that preparation is one of the three stages a person must consider when he or she accepts such a responsibility. Preparation includes assessing equipment, training and the mentality required to handle what may happen, he said. "Are you ready to carry, and why do we carry?" he asked the audience members, explaining that the difference between a gun owner and a shooter is this: "Even though a person may own a gun doesn't mean he is confident and comfortable with it. A person has to practice and train in order to become a shooter." 
To properly prepare, McCulloch said that a person must choose a handgun, sights, ammunition, and a method of concealment that's right for them, and then practice. Equipment selection is extremely important—a fact that becomes even more important if he or she ends up in a dangerous situation.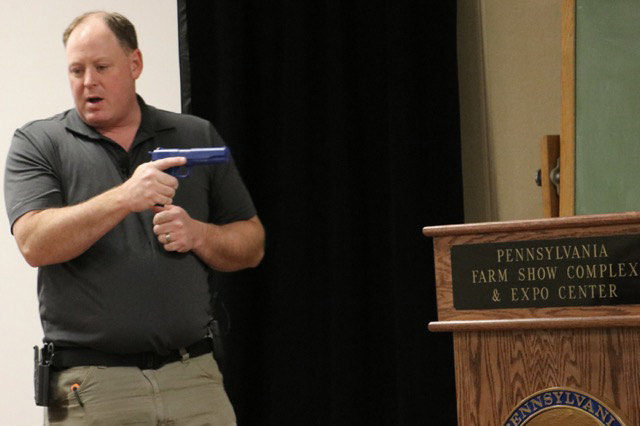 He told the audience to also have reasonable training endeavors. Most attacks occur between 3 and 7 yards, he said, so draw time is a critical component to practice. McCulloch said that not everyone is a champion shooter with the fastest draw time, but everyone can practice in order to have a realistic draw time. 
The second stage is awareness, just as McCulloch was aware of his environment in the bank. "Being aware of one's surroundings is key to safety," he said. It's simply "using common sense" in order to avoid unwanted situations. Even though a person may be prepared for a situation in which he might need to present his pistol, doesn't mean he actually wants to be in one. "It's anticipating the worst-case scenario in hopes that it would never happen," he said. 
Lastly, but just as critical, is having a survival mentality. As humans, we have a mindset that revolves around surviving, he said. We want to live as long as we can, as well as protect those who are closest to us. In order to do this, we must have the mentality of winning, to be ready for whatever comes our way, he said. "If one has a losing mentality, then they will most likely lose," he added. 
In the end, carrying concealed is about wanting to protect oneself and those closest to him or her. It isn't about wanting to be in dangerous circumstances or harming another human being. It's a responsibility worth pursuing not only for oneself but for one's loved ones. And in today's day and age, being prepared is always prudent. 
For more information on NRA Firearm Training, please visit firearmtraining.nra.org.