Support NRA American Rifleman
DONATE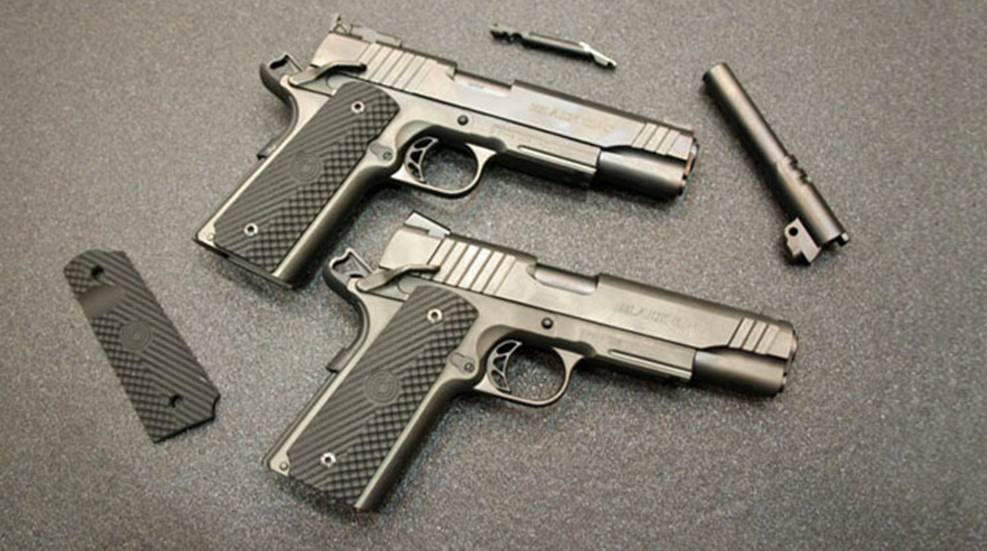 Gallery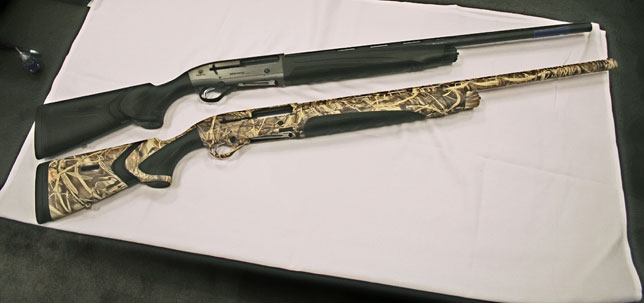 Beretta A400 Extreme Shotguns
These new semi-auto shotguns from Beretta are built for use in harsh weather conditions. Available in both black and camouflage finishes, the A400s will chamber and fire 2 ¾-inch, 3-inch and 3 ½-inch 12-gauge shells. They also feature the new Kick-Off recoil reduction system. Designed to reduce recoil by up to 70 percent, the joint that allows movement in the stock is set behind the grip instead of in the recoil pad. This keeps the cheek piece from moving in order to improve shooting comfort.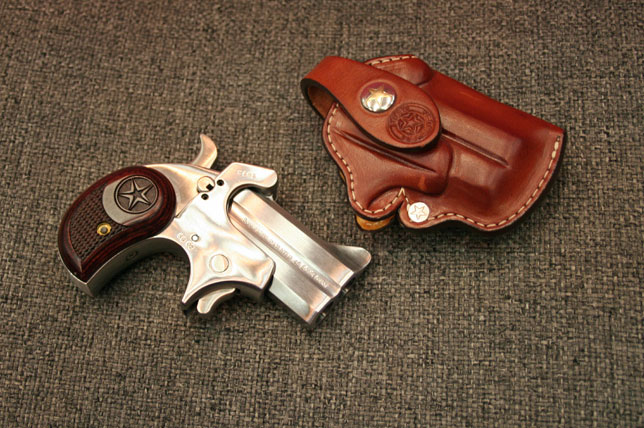 Bond Arms Mini
Bond Arms has reduced and redecorated its sturdy double-barrel pistols for better concealed carry. The first two offerings in this series will be the .45 Colt-Only Mini with a 2.5-inch barrel and a rosewood grip. For the ladies, the new Bond Girls Mini will feature a 2.5-inch .357/.38 Spl. barrel, pink pearlite grips and a new selection of purse-friendly holsters in a variety of designs.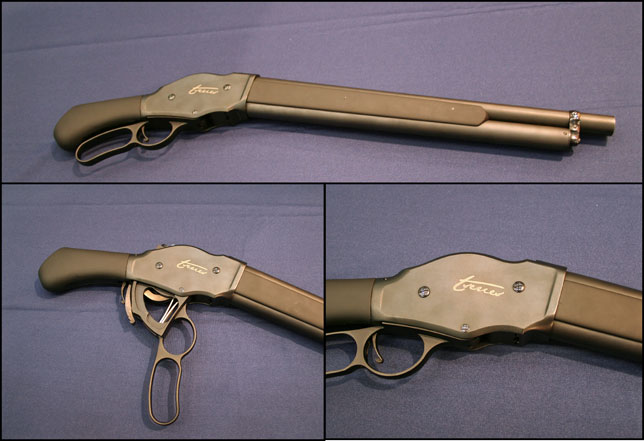 Chiappa 1887 TSeries 12-Gauge Shotgun
Are you jealous because only cyborgs in big screen science fiction movies get to shoot super cool lever-action shotguns? If you've had a hankering to fire a 12-gauge like the one used in "Terminator 2: Judgment Day," then Chiappa will be happy to grant your wish with the new 1887 TSeries 12-gauge Shotgun. This 5+1 capacity defensive lever gun features an 18.5-inch barrel with an overall length of 26 inches. The TSeries shotguns will be available in a modern configuration, with black synthetic furniture (shown), or in the Bootlegger configuration featuring a period finish and wooden fixtures.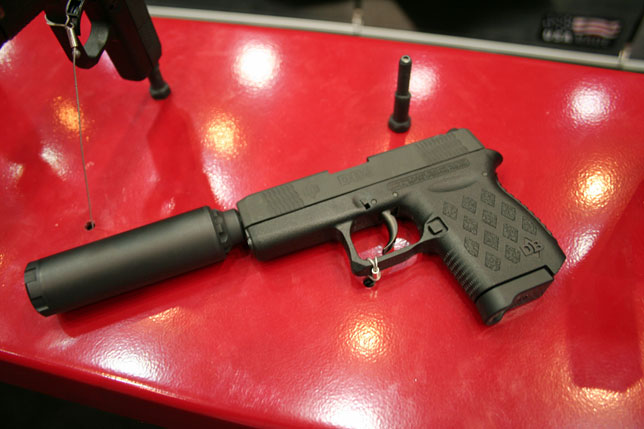 Diamondback Firearms DB9 & DB380 Suppressed Pistols
Diamondback's striker-fired polymer-framed pocket pistols are some of the smallest and lightest handguns available in .380 ACP and 9 mm. This year, the company will be expanding its line with sound-suppressed models. By filling out the proper forms and paying the required fees, shooters will be able to buy complete pistols fitted with a threaded barrel and Taylor sound suppressor, or purchase barrel/suppressor upgrades for existing pistols.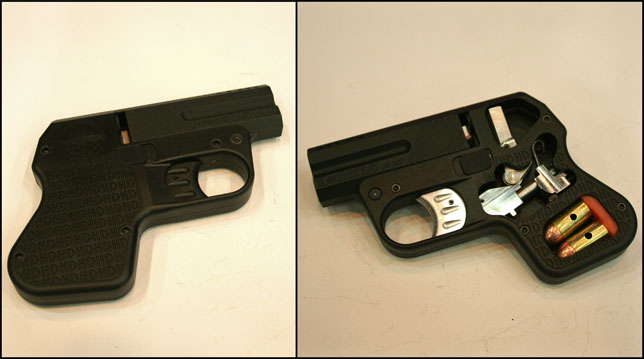 Heizer Double Tap Pistols
Heizer Aerospace Technology Firearms is a new company with a modern take on an old idea. The new Double Tap pistol is an over-under double-barrel pistol for concealed carry. These unusual pistols, with exceptionally smooth triggers, will be available with an aluminum or titanium frame, with ported or unported barrels, chambered in 9 mm or .45 ACP. The barrels will be interchangeable for quick caliber conversions, and a compartment in the grip will hold two extra rounds of ammunition.
Kahr PM9 External Safety
Kahr's PM9 has been a long time favorite with some folks looking for reliable stopping power in a pocket-sized pistol; however, others dislike its lack of an external safety. This year the company is introducing a new PM9 featuring an external safety. Not only is this a boon to those who prefer this kind of safety mechanism, the presence of this little lever allows the traditionally heavy double-action-only trigger of the PM9 to be lightened to a pull of just 3 pounds. This pistol also features a loaded chamber indicator.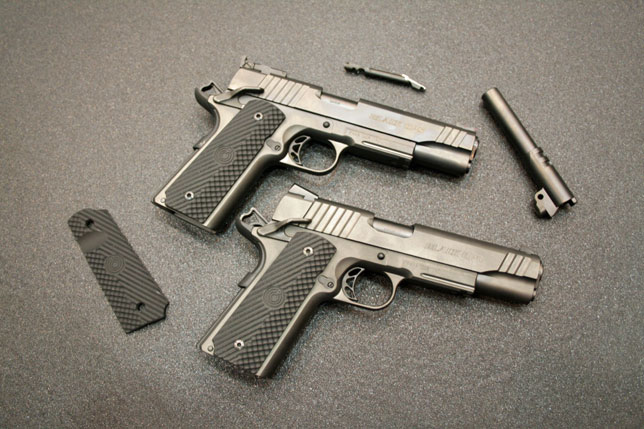 PARA USA Black Ops 1911 Pistols
PARA USA has announced a new series of 1911 pistols specially designed for tactical operatives. The Black Ops feature the non-reflective PK2 finish, which is even applied to the barrel, an integral accessory rail and aggressively textured G10 grips. The single-stack versions (shown) will be available with a choice of night sights or an adjustable target rear sight with a fiber-optic front sight. A double-stack P14 configuration will also be available.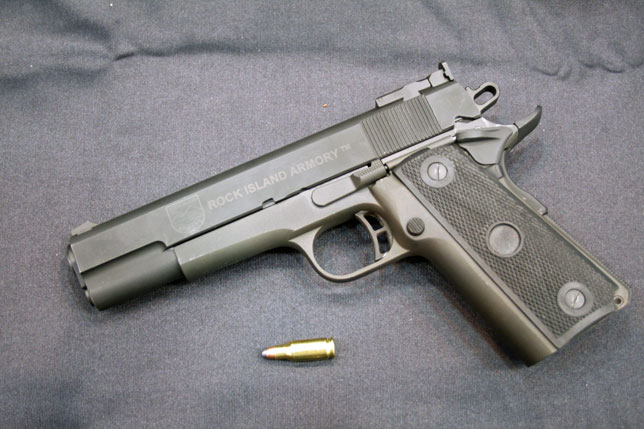 Rock Island Armory .22 TCM 1911 Pistol
Samples of this pistol and ammunition combination have been kicking around since this summer, but now Rock Island Armory is ready to put this pistol into shooters' hands. The Armscor .22 TCM cartridge is based on the 9 mm Luger, necked down to accept .223 caliber bullets. Loaded with a 40-grain jacketed hollow point, this round can achieve velocities of 2,100 fps from Rock Island's full-size 1911 platform. The pistol is designed to accept double-stack magazines, and 9 mm conversion barrels will be available.

Savage M11/111hoghunter
If you are ready to get down and dirty in pursuit of the perfect pig, then Savage has a new rifle with you in mind. The new M11/111 Hog Hunter features the Savage AccuTrigger, lightweight synthetic stock, adjustable iron sights, matte finish and a 20-inch threaded barrel. This rifle will be available in the popular hog-stopping calibers of .223 and .308.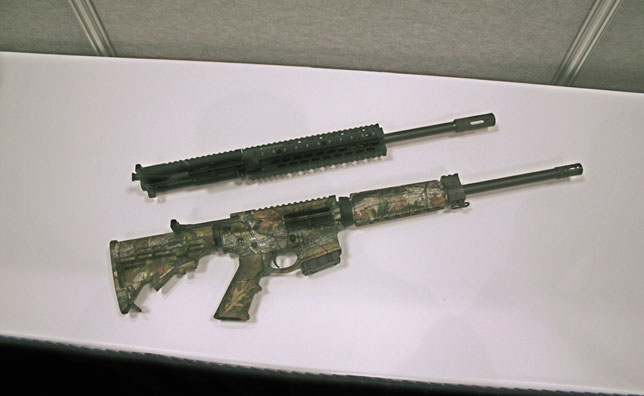 S&W M&P 300 Whisper
The 300 Whisper cartridge was designed to fire heavy, accurate, ballistically efficient bullets at sub-sonic speeds. Smith & Wesson is taking advantage of its growing popularity by offering two new M&P 15 rifle configurations chambered for this round. This rifle will be available in a camouflaged hunting model with a smooth forearm, adjustable stock, 10-round magazine and a top rail for optics. A black tactical upper will also be available, featuring iron sights and a quad rail forearm. Both models feature a threaded barrel ready for the attachment of a sound suppressor.