by
posted on August 3, 2020
Support NRA American Rifleman
DONATE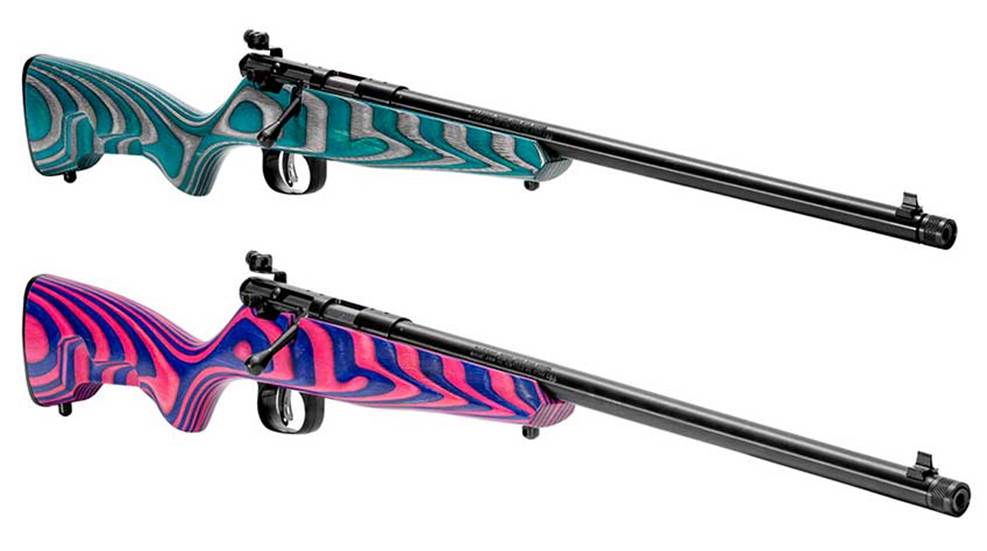 Savage Arms
announced the addition of a new rifle design to its rimfire lineup in the form of the
Minimalist
early in 2020, and the response prompted the company to expand even further. New for summer 2020 is the Savage Rascal Minimalist, blending the features of both the Rascal and Minimalist rimfire rifles into one perfect package for today's new shooter.
"The laminate stock and bright color combinations of Rascal Minimalist make this a stylish rifle," said Beth Shimanski, director of marketing for Savage. "And it demonstrates, again, Savage's commitment to providing the very best tools to every shooter—even those who are just learning to shoot."
The unique coloring and finish on the Savage Arms Rascal Minimalist is created by the company's trademarked ChevCore laminate process, and the guns can be had in either a pink/purple or teal/gray two-tone finish. The shape of the Minimalist-style stock is designed to provide a comfortable, ergonomic, lightweight platform that makes shooting easy and fun for newcomers.
Savage's Rascal rifle action is designed to provide new and young shooters with a safe, simple mechanism that provides a no-frills platform for firearm training. The rifle is a single-shot design that has no built-in magazine. To fire the gun, shooters must lift the bolt to insert a single cartridge and cock the action. The gun comes apart without requiring a trigger pull, enhancing the safety of cleaning and disassembly.
Despite its simple, affordable design, there are still several added extras that make this Savage more than just a basic single-shot .22. These guns are outfitted with Savage's AccuTrigger system, which can be adjusted by the user for pull weight. The 16.125" barrel is topped by a threaded muzzle that accepts all 1/2"-28 t.p.i. muzzle accessories. A textured thread protector is included for use without a muzzle device, and the barrel features an 11-degree target crown.
Each Savage Arms Rascal Minimalist is capable of firing .22 Short, .22 Long and .22 Long Rifle cartridges. The barrel is formed from carbon steel and features a 1:16" rate of twist. Length-of-pull measures 11.25", and the gun comes in at 30.625" in overall length. Total weight, unloaded, is 3.5 lbs. The guns ship with a firearm lock and a pair of earplugs, and the suggested retail price on the Rascal Minimalist is $279. For more information, visit
savagearms.com
.