Support NRA American Rifleman
DONATE
I believe that every family needs a cool cousin who lives life to the fullest. In our family, it's Cousin Steve. He's built a monster truck, hand-stitched his own mountain man buckskin clothing and is currently cobbling together a black-powder 4-Bore rifle (it will fire a 1.05" diameter lead ball that weighs a quarter pound, just in case you were wondering). In his youth, he set out to own the most powerful handgun he could find, which ended up being a bolt-action Remington 700 pistol chambered in .458 Win. Mag.  Needless to say, I look forward to our conversations.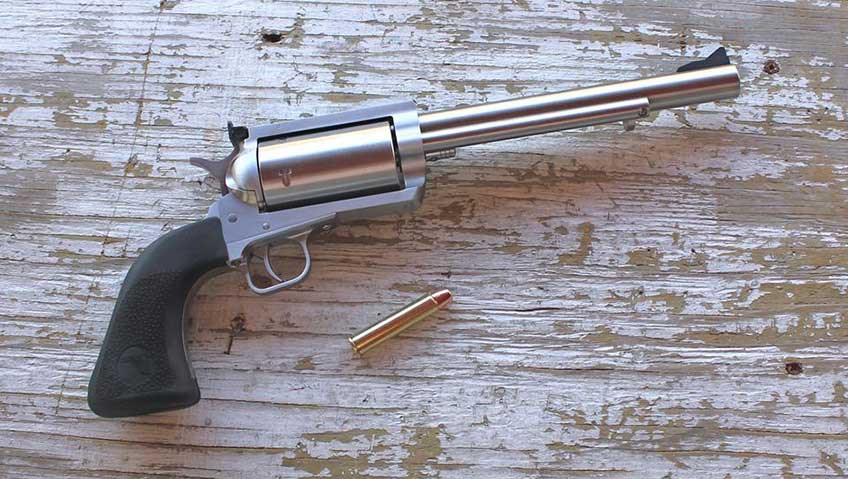 A few months ago, Steve and I were enjoying plates of barbecue at a family dinner when the subject of discussion turned to the venerable .45-70 Gov't. cartridge. He mentioned that a friend of his had an American Derringer M-4 Alaskan Survival model chambered in .45-70 Gov't. that produces a level of felt recoil which takes one's breath away. I said I hadn't shot anything that small, but I did like shooting the 7.5" barrel Magnum Research .45-70 Gov't. BFR. It can be a handful, but it's certainly much more pleasant to work with than a derringer.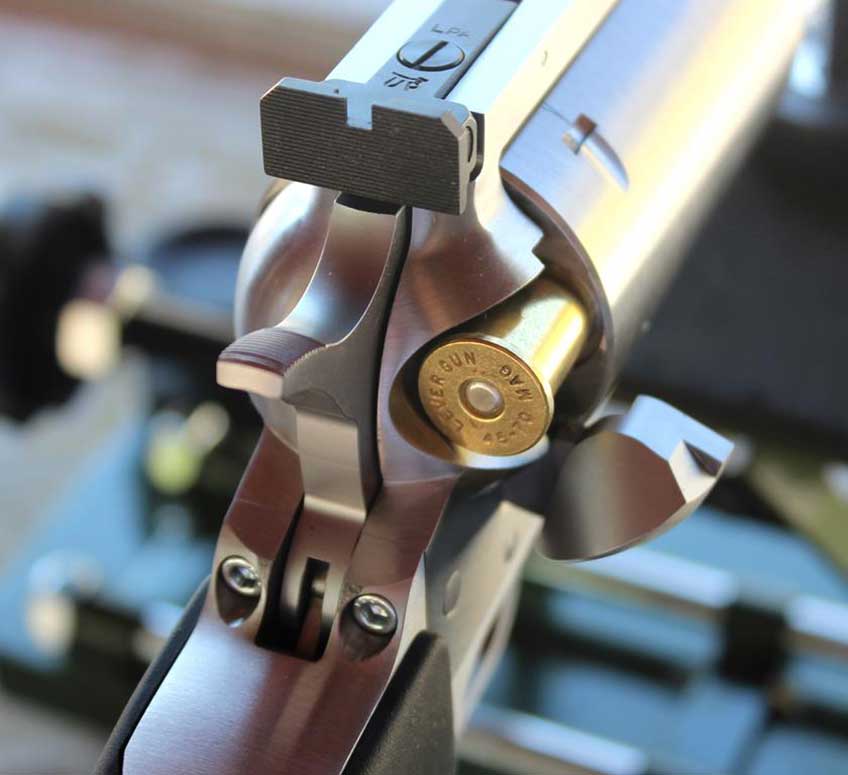 Then came that magical phrase (I can't remember who said it for sure) from which so many great ideas have been born: "Wouldn't it be cool ..." which was followed by, "if you could try firing .45-70 Gov't. out of a snub-nose revolver to see how it performs?" We instantly warmed to the idea, since both of us like big-bore handguns, and neither of us had ever seen a short-barrel revolver in this caliber before.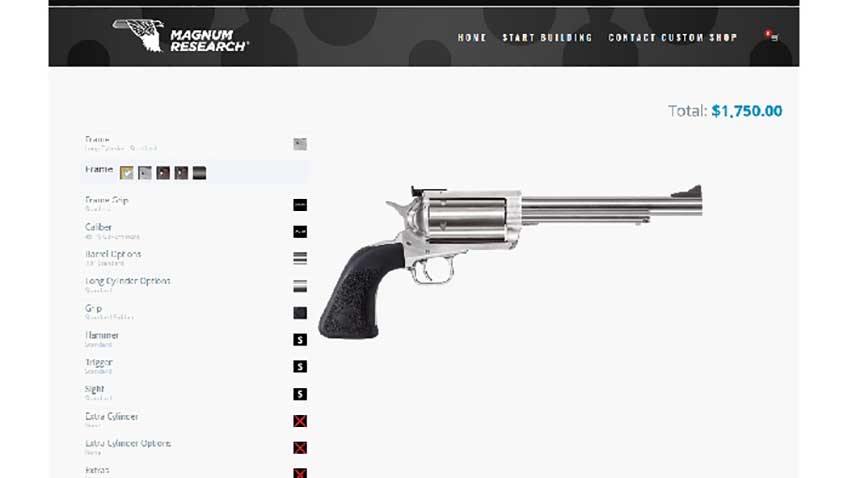 Soon after this conversation, I gave Jim Tertin at Magnum Research a call. About 20 years ago, the company purchased the rights to the D-Max revolver, which the BFR (Big-Frame Revolver) is based on. Jim was the one who redesigned it for production. I learned two things from the phone call. First, they will trim a 10.5" or 7.5" BFR barrel down to just 3" if you're willing to sacrifice the ejector assembly (which is 5.5" long). They had done it before for other customers and a 3" barrel is the same length as the cylinder, so the proportions work out nicely.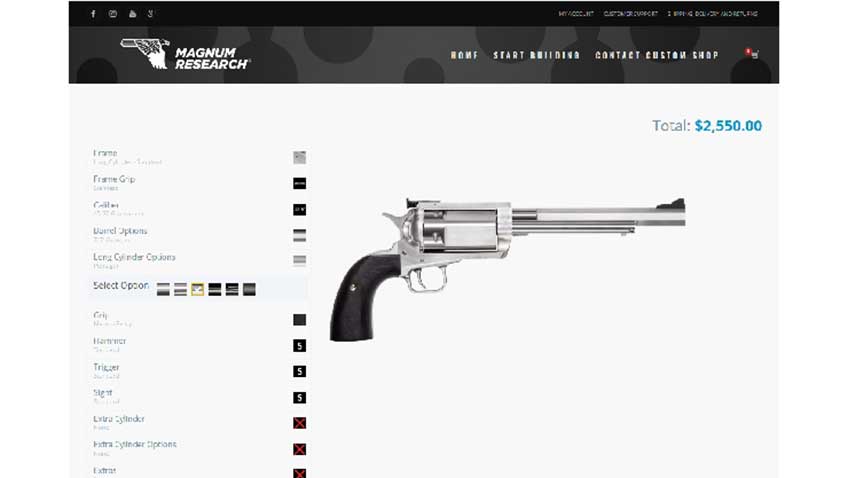 The second thing Jim told me is that we didn't have to hash through all of the various custom features over the phone like we used to. Instead, Magnum Research now has the custombfrrevolver.com website. It provides a menu of features for both the short- and long-cylinder models and starts you off with a basic model, like this one: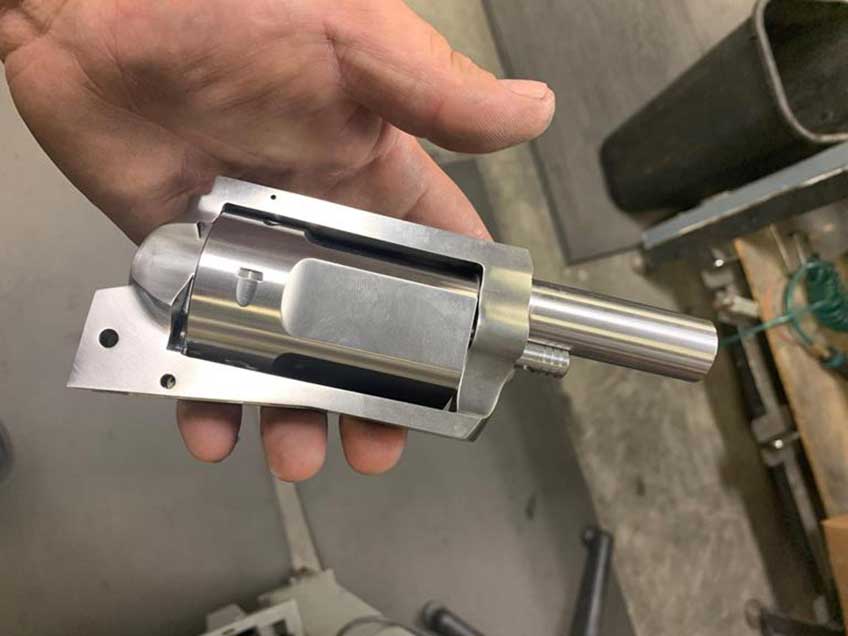 As you pick the features you want, the site modifies the image to show you what the gun will look like when it's finished. What some folks don't know is that every BFR revolver that leaves the factory is a product of the company's custom shop. Although you can order 'stock' models with a set of predetermined features, any model, new or used, can be modified with a variety of finishes and features. The website just makes it easier to explore them. A few options are not listed on the website and have to be ordered 'off the menu' (more on that later).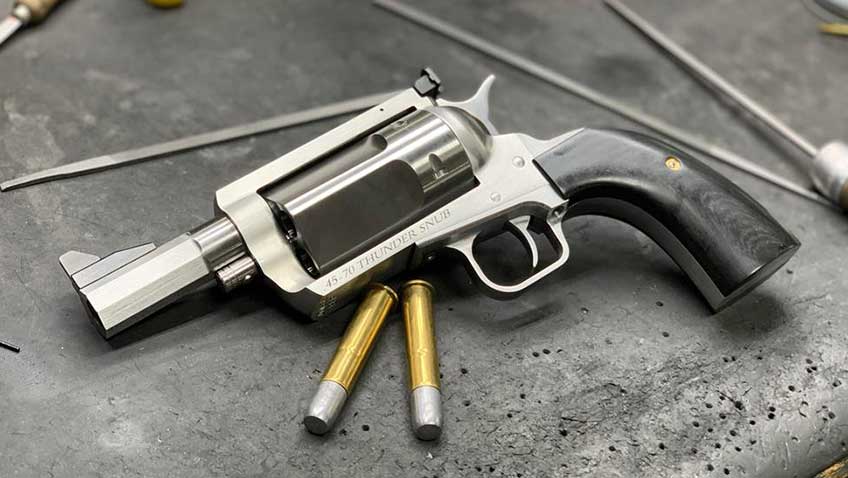 Just to show you how different a custom BFR can be, here's a standard, off-the-rack 7.5" barrel long cylinder BFR (TOP) next to the 3" 'Thunder Snub' ordered for this review.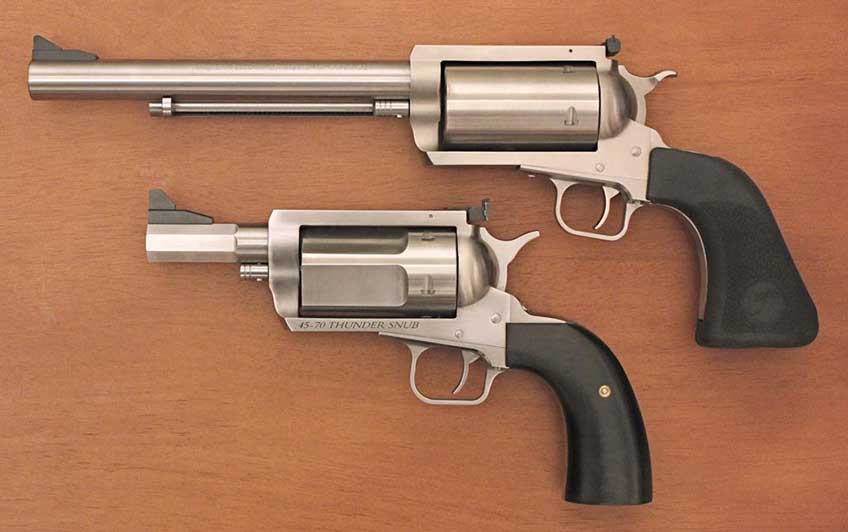 The BFR is a 5-shot, single-action revolver with a transfer bar safety and a frame-mounted firing pin. This allows it to be carried with all of the chambers loaded. Opening the loading gate allows the cylinder to turn freely in either direction for easy loading and unloading. In this case, the extractor rod is not mounted to the gun, but the port for it has been left on the frame to act as a guide hole. The top strap is drilled and tapped for a scope mount.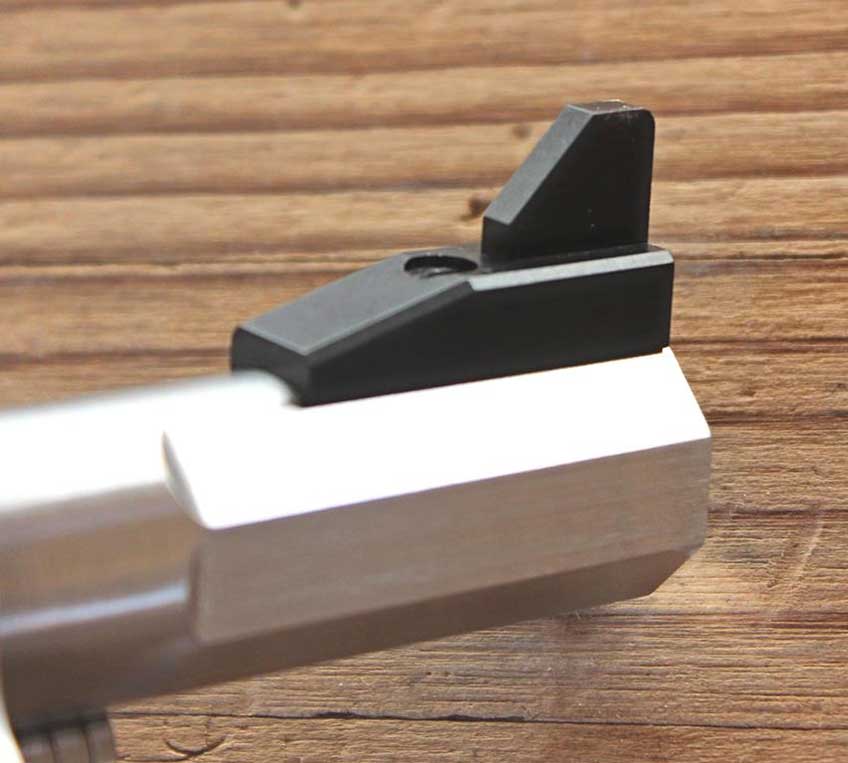 The custom BFR site menu starts you off with your choice of a short frame or long frame. The .45-70 Gov't. version is a long-frame model. Although BFRs have only been available in a brushed stainless-steel finish in the past, the company now also offers black-nitride and color case-hardened finishes for the cylinder and grip frames to spice things up. I opted to stick with the all-stainless appearance.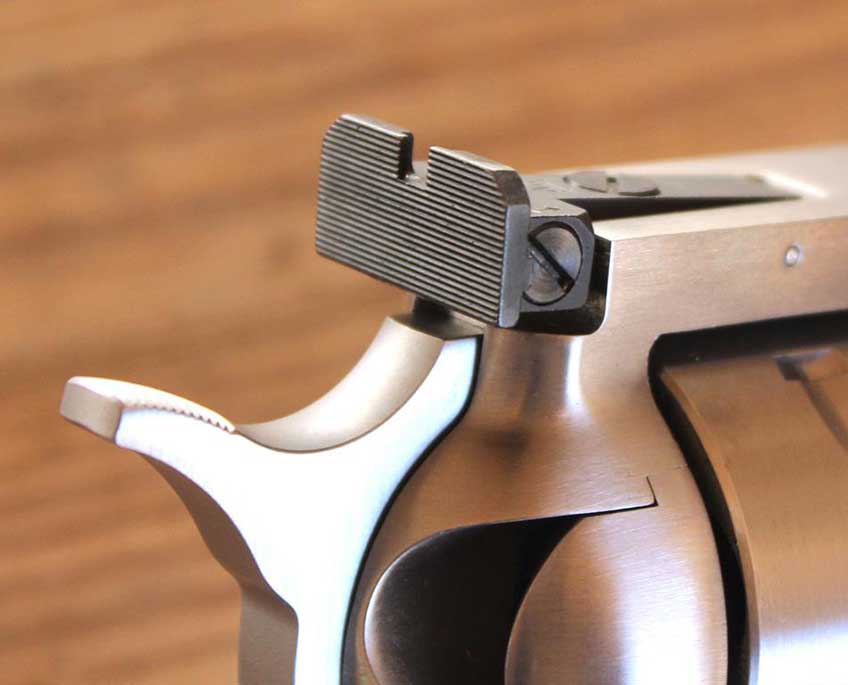 Barrels in various lengths are available in round, fluted and octagonal profiles. I thought the octagonal looked sharp and would look particularly good at a short length. The cylinder can be unfluted, fluted or pentagonal (five flats), with a choice of silver, black and black-nitride finishes. This revolver has the pentagonal cylinder.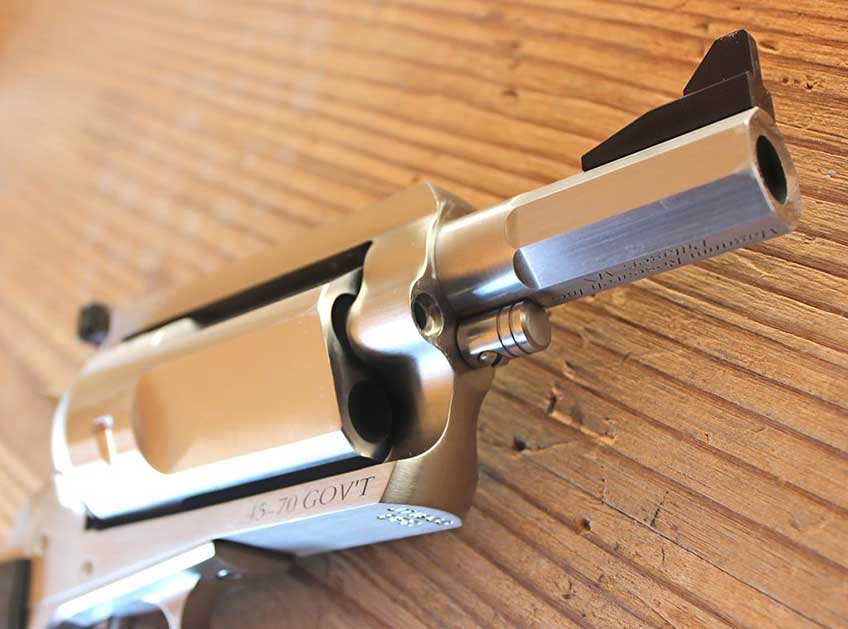 The grip frame for this gun is the Bisley grip with smooth, black micarta grip panels instead of the rubber plowshare grip frame. With hard-kicking handguns, a lot of folks think the rubber grip will cushion the recoil better. I prefer rubber grips for many applications, but not this one. When a handgun kicks this hard, the smooth, hard grips and the curved shape of the Bisley frame allow the gun roll up and back in your hands. Thus the recoil moves in an arc instead of being driven straight back into the tender wrist joint.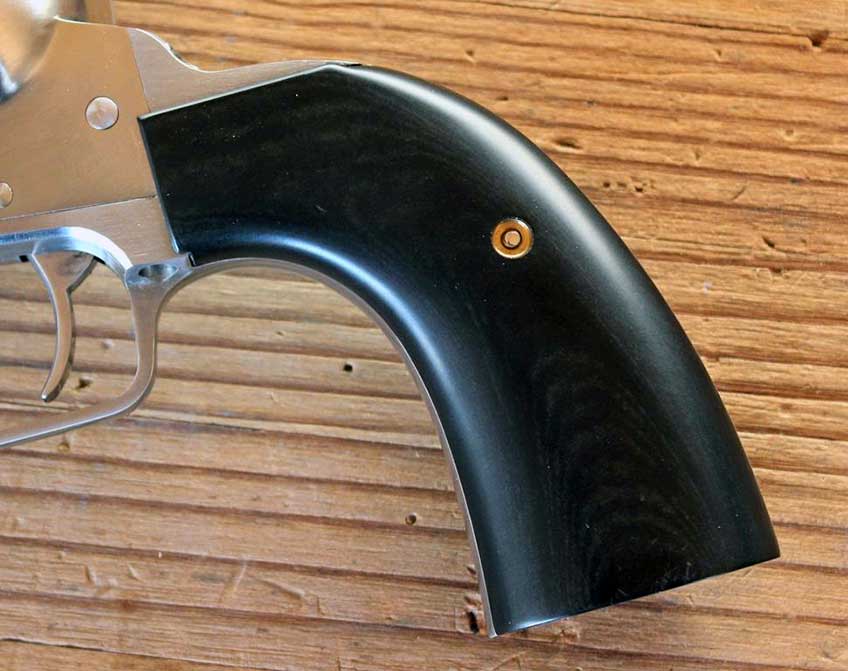 You'll notice that there's no trigger job or trigger upgrade on the menu. That's because every BFR is shipped with a tuned trigger. This BFR trigger was smooth and clean with a 3-lbs., 1-oz. trigger pull. The fully adjustable rear sight and the fixed-blade front sight are standard features, although the front sight can be replaced with a fiber-optic tube if you so choose. The hammer was shipped with a 28-lb. spring to ensure proper ignition with a variety of cartridges.
Depending on which caliber you choose, an extra cylinder in another caliber can be added. For the .45-70 Gov't, cylinders are available chambered in 450 Marlin, .458 SOCOM and .45-90 Win. I did order a second unfluted cylinder, but that's a story for another day. I also checked in with the good folks at Simply Rugged Holsters to request a custom Sourdough Pancake leather holster and a 5-round cartridge slide for the company's comfortable Chesty Puller rig. It's one of the most practical ways to carry a handgun this size and weight.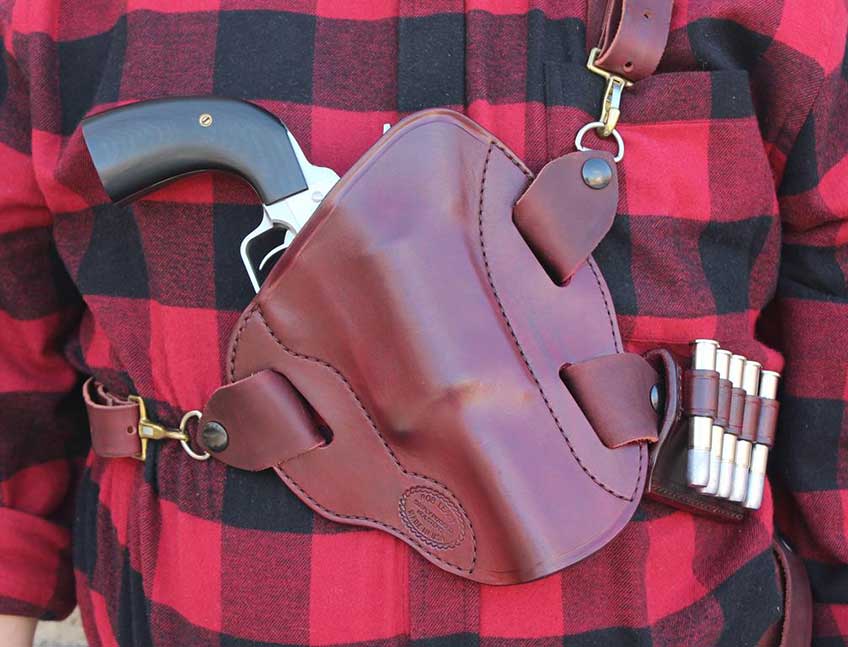 What features had to be ordered off the menu? The most noticeable change is the 3" barrel. Shortening the barrel beyond a standard length adds $50 to the cost of the project. I also wanted some custom engraving on the frame with '.45-70 Gov't.' on the right side and '.45-70 Thunder Snub' on the left. The cost of engraving is worked out on a case-by case basis, depending on the number of characters and location on the gun.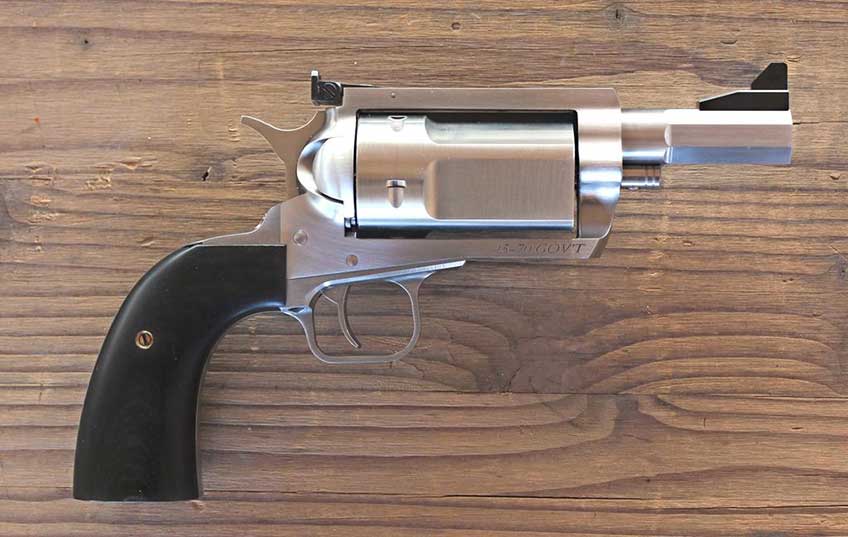 I had a good idea of what to expect from what I saw on the BFR website, but the finished gun is even better than I hoped for. The octagonal barrel and 5-side cylinder look great together and the Bisley grip adds to the unique profile. The fit and finish throughout are top notch and the frame engraving provides the tasteful final touch I was looking for. The nips and tucks to the barrel and cylinder give the Thunder Snub a svelte unloaded weight of just 3-lbs. 6.7-oz. The loaded weight goes up by another 7- to 9-oz., depending on bullet weight of the cartridges it's stoked with. It ran flawlessly at the range with no mechanical issues.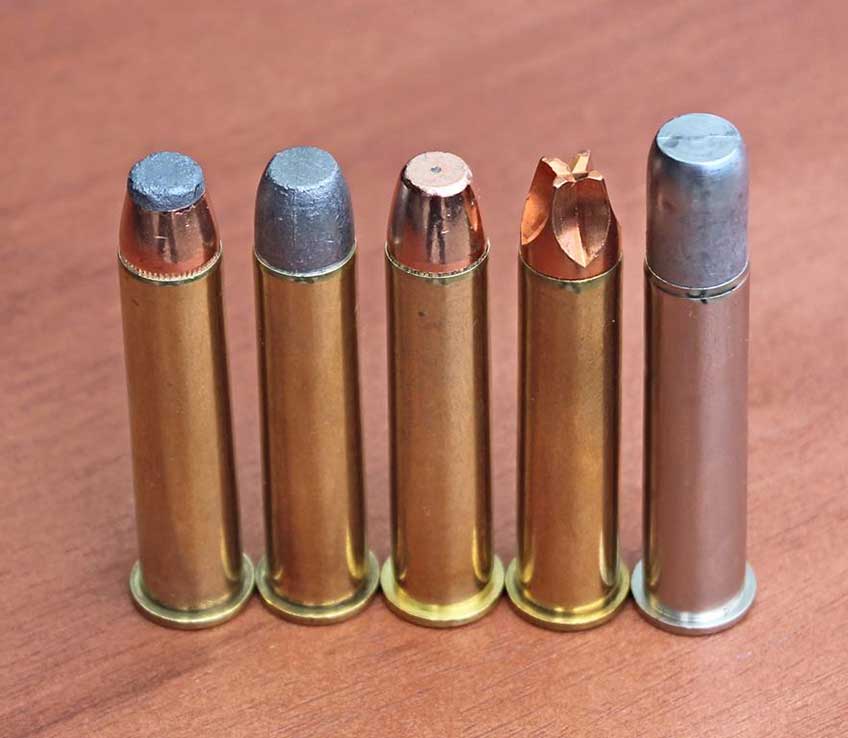 Selecting big-bore rifle ammunition to test from a short-barrel revolver like this one was a bit tricky, since there's next to no performance data to work with. I met with various ammunition manufacturers to find out what they thought would be a good fit. A wide variety of options was whittled down to five loads that span the spectrum of bullet weights and power levels currently available.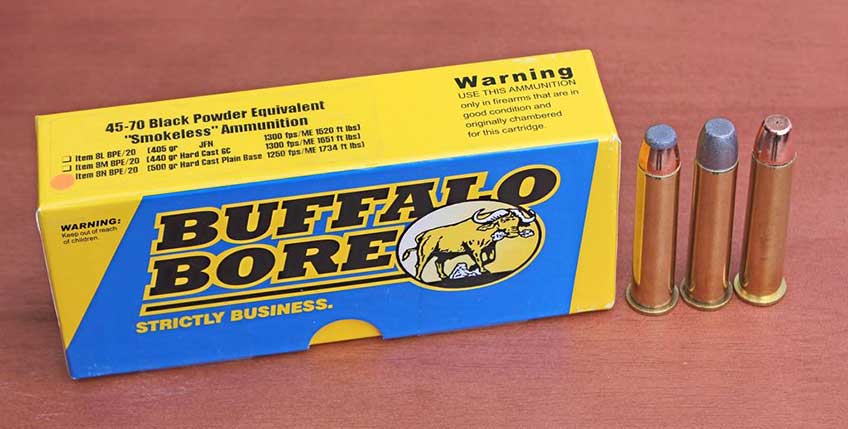 Buffalo Bore Ammunition provided three loads. The first two are from the company's Black Powder Equivalent series, including a 405-gr. jacketed soft point and a 500-gr. hard-cast load. These rounds are loaded to pressure levels which are safe for traditional .45-70 Gov't. rifles, and they produced the most manageable levels of felt recoil from the pistol.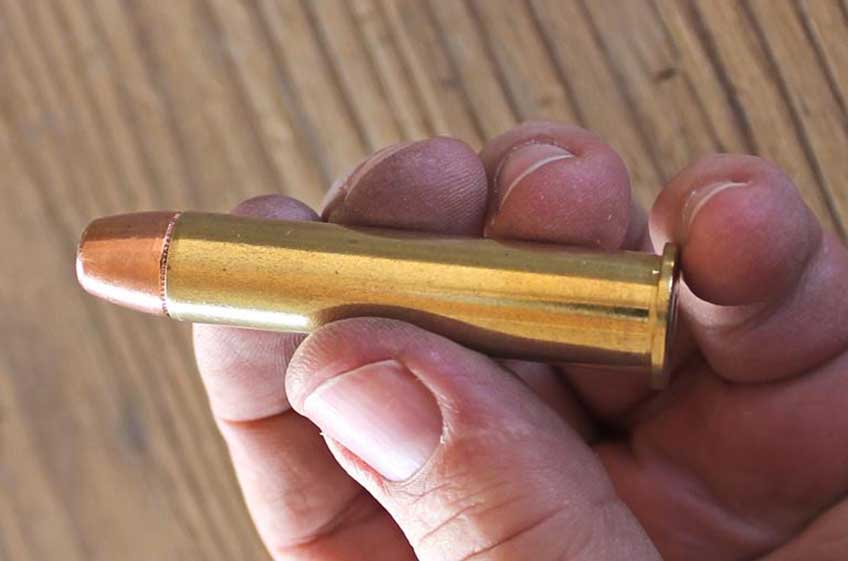 The third Buffalo Bore cartridge is among the most potent on the market, one of the company's Magnum loads topped with a 500-gr. Barnes full-metal jacket with a listed rifle muzzle energy of 2,931-ft.-lbs. I had to agree with Tim Sundles, proprietor of Buffalo Bore, there's not much point in building a custom hotrod if you're not willing to see what it can really do. The felt recoil was intense, some of the most intense I've worked with, but it's worth it! Now I know just how much the gun and I can handle.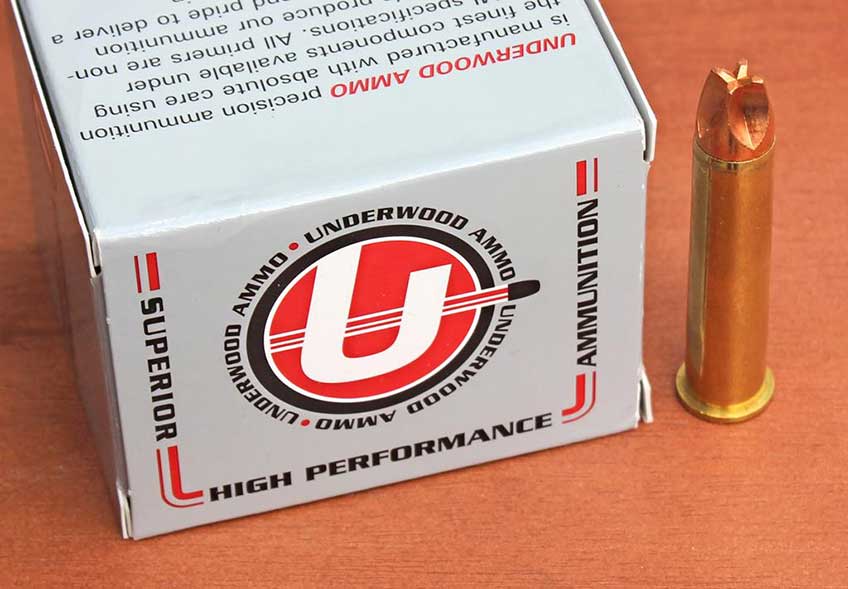 The round with the lightest and fastest bullet of the test was one of Underwood Ammo's Xtreme Hunting loads topped with a 225-gr. Lehigh Defense fluted solid-copper bullet. Although it was going faster than the rest, the bullet weighed about half as much, so the felt recoil fell to the middle of the road.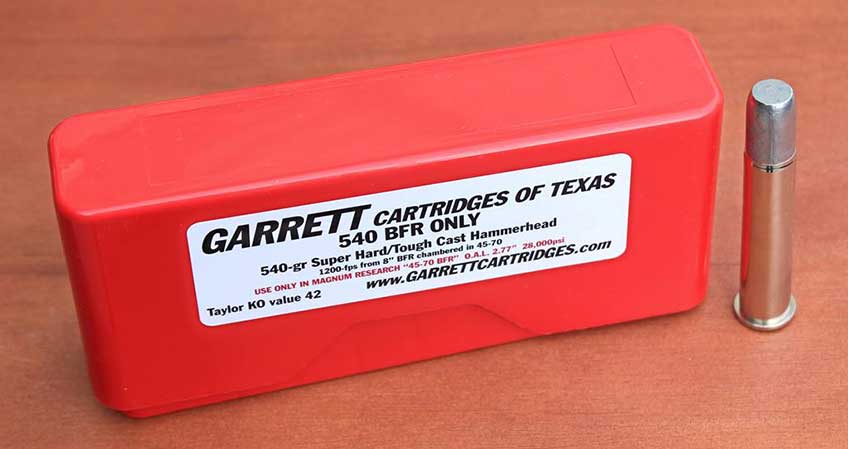 Garrett Cartridges Inc. offers the one and only commercially loaded BFR Only .45-70 Gov't. round and it launched the heaviest bullet of the test set. The extended 540-gr. Hammer Head extra-hard cast flat nose is long enough to engage the barrel's forcing cone before the projectile has completely exited the cartridge case for improved accuracy. In regards to recoil, this load was right up there with the Buffalo Bore Magnum round.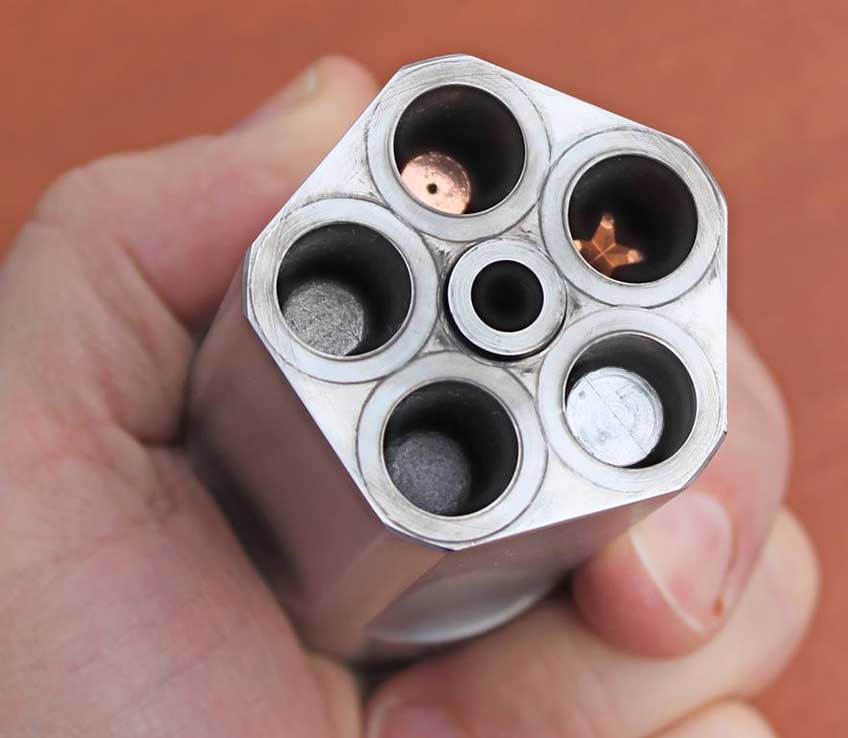 Here are the range results: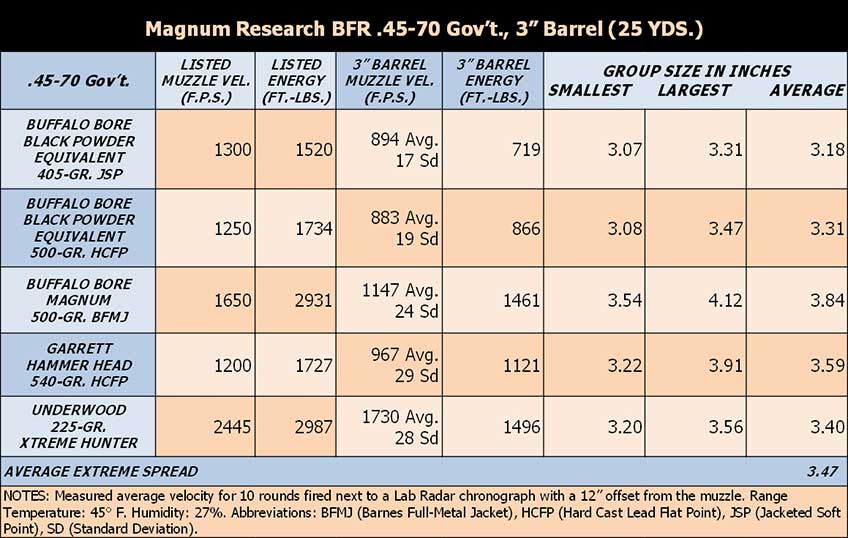 When I set out build a Magnum Research 3" barrel version of the .45-70 Gov't. BFR for testing, I didn't know what to expect in regards to down-range performance. I already trusted the BFR itself to be a solid, reliable revolver since I've worked with other models in the past. And I went into this knowing that the levels of recoil with heavy loads would be memorable, if not downright 'educational.' My wife says BFR actually means "Built For Recoil," and in this case, she's right.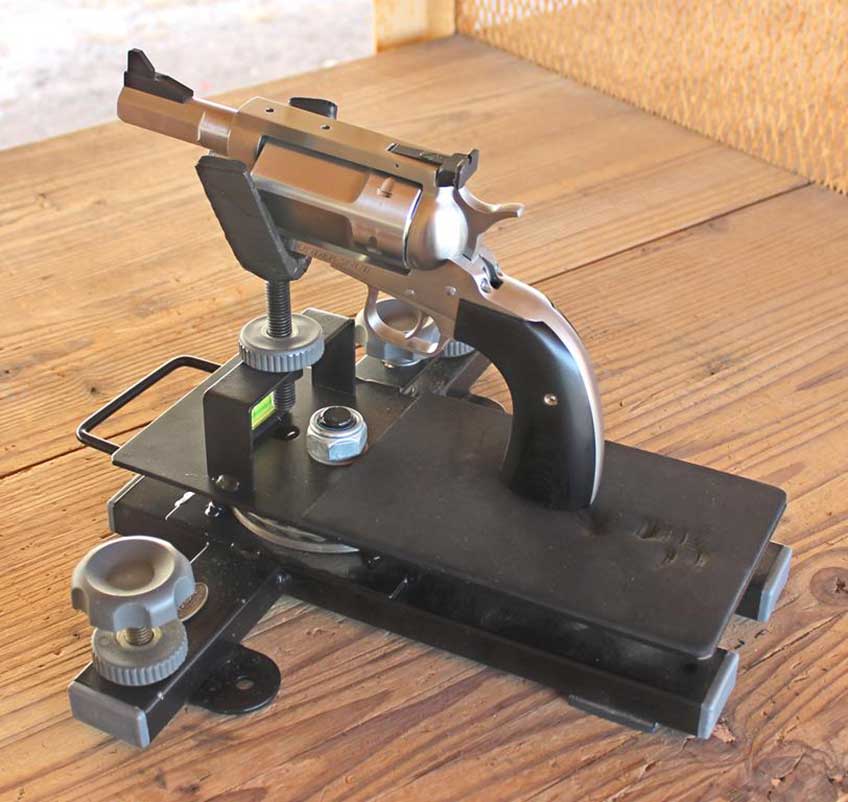 The 3.5" group accuracy averages were certainly acceptable in my books for a 3" barrel iron-sighted handgun fired at 25-yards, but not award-winning. I have associates who say they can shoot 1.5" groups at 50-yards with the long barrel BFR in this caliber, and I have no reason to doubt them. Are the groups sizes due to the revolver's short barrel or the author's flinching a bit from the momentous recoil? If I'm honest, I think that additional practice using less intense loads will tighten up the groups.

What about the ballistics results? Obviously a rifle or a long-barrel BFR will outperform this 3" revolver. There's no question of that. But what is the Thunder Snub's performance comparable to? That's hard to say. It would need to be shot side-by-side with similarly sized, short-barrel revolvers chambered for cartridges with comparable bullet weights like the Smith & Wesson X-Frame 3.5" or 4" barrel models chambered for .500 S&W. But gel-testing is what's really needed to tell us what the velocity and energy numbers do not.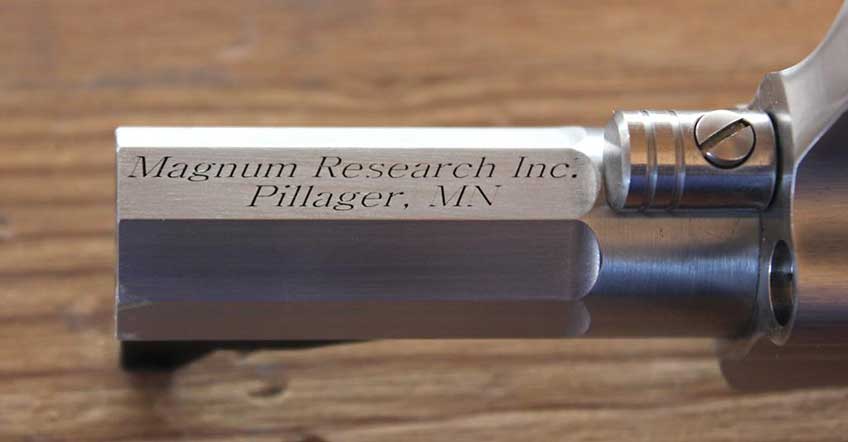 So at the end of the day, I can say again that the Magnum Research BFR chambered in .45-70 Gov't is a viable combination for handgun hunting and defense against dangerous game. If your primary goal is hunting, then the 7.5" or 10.5" is the better option. However, if you decide to take the plunge and get a thunderous snubby like I did, know that the gun you're getting is more than just a range toy.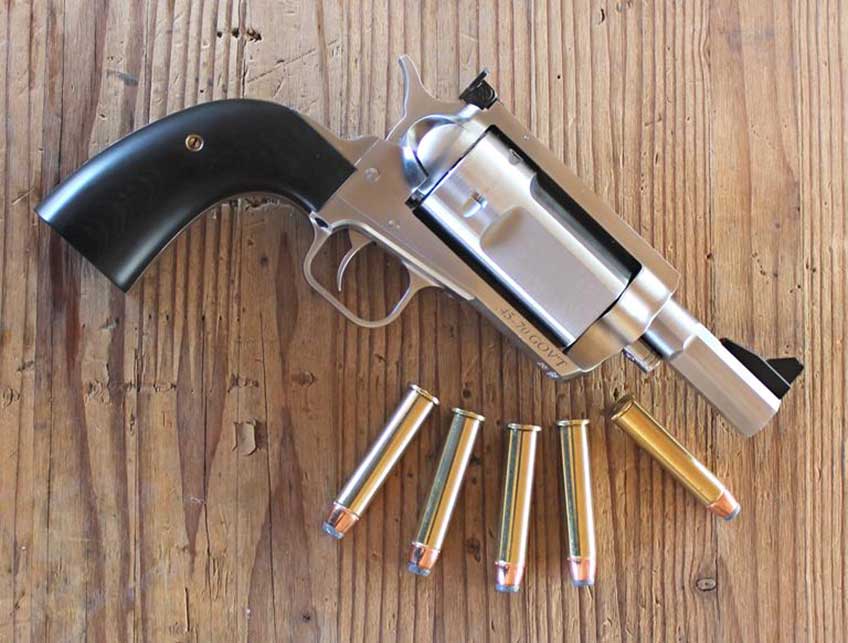 Magnum Research "Thunder Snub" BFR in .45-70 Gov't Specifications

Manufacturer: Magnum Research, Inc.
Model: Custom Long Cylinder BFR; custombfrrevolver.com
Action: Single-Action, Center-Fire Revolver
Caliber: .45-70 Gov't.
Finish: All Stainless Steel, Brushed Finish
Barrel: 3.00" Octagonal with Competition Crown
Cylinder Length: 3.00"
Cylinder Width: 1.785"
Grip Frame: Bisley with Square Trigger Guard
Grips: Smooth Black Micarta
Front Sight: Fixed Blade
Rear Sight: Fully Adjustable Target, Square Notch
Overall Length: 10.00"
Height: 6.25"
Weight:  3-lbs. 6.7-oz. Unloaded
Trigger Pull: 3-lbs. 1-oz. (As Tested)
Capacity: 5 Rounds
Twist: 1:14 RH
Rifle Grooves:  6
Accessories: Hard Case, Owner's Manual
Suggested Retail: $2,650 (as configured)