by
posted on December 9, 2015
Support NRA American Rifleman
DONATE
America Remembers
has announced a 500-run limited edition
Mort Künstler Vietnam War Tribute Pistol
. Künstler is a
renowned American artist
known primarily for his paintings depicting the Civil War, but also include dramatic interpretations of other American historical events.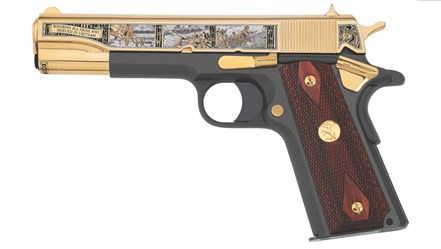 This historic Tribute is issued on a working Colt Government Model .45 cal. pistol, featuring artwork based on six of Künstler's Vietnam paintings. The Colt .45 was a trusted firearm for those who served in Vietnam, especially with the unpredictable terrain in an unknown country divided by decades of bitter history.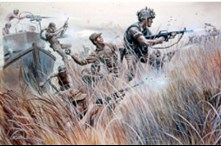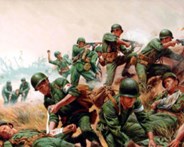 Each pistol is decorated by craftsmen commissioned specifically for this edition by America Remembers. Both sides of the slide are polished and decorated in 24-karat gold and nickel with blackened patina highlights. The hammer, slide stop, thumb safety, barrel bushing, grip screws, and magazine release are all also decorated in 24-karat gold.

The right side of the pistol features three paintings from Mort Kunstler. To the right, a firefight takes place behind a marshy bank of high grass, where medics attend to wounded men. Those who served as medics heroically risked their lives to care for those who were injured in combat. The center image features Americans in a patrol boat. The men on the boat guard and defend against an attack from the shore. Danger was ever-present on the Mekong Delta, especially with the dense cover provided by the grasslands and swamps on the riverbanks. To the far right, the words LEST WE FORGET, NONE COULD HAVE DONE IT BETTER are scrolled inside a banner. Behind this background is the bamboo and elephant grass that were so much a part of the everyday landscape for soldiers.
To the left of the center image is the painting Indiana Rangers, which represents members of the Company D, 151st Infantry division, one of the Guard units deployed to Vietnam, on duty in the jungle. Mort Künstler's signature symbolizes his approval of this honorable Tribute to our veterans.
Featured as the center image on the left side of the slide, American ground forces fire into the chaotic blaze of battle, causing enemy forces to flee. The scene to the right features a combat scene depicting a battle in the thick elephant grass, which can grow as tall as seven feet in Vietnam. This grass covers hundreds of meters of jungle terrain and grows in clumps under the trees along riverbanks, with edges that can cut like razors.

To the far left, three Americans fire from— and jump from— a helicopter flying close to a swampy marsh, with a field of grass and long tree line in the distance, capturing a tense moment as the warriors aboard the helicopter fire at the Viet Cong amid the grassy swampland. At the muzzle end, you'll find the banner, HONORING ALL THOSE WHO SERVED IN VIETNAM. In front of the hammer is a map of Vietnam with bamboo in the background.
For more information, visit
americaremembers.com