America Remembers
has announced the John Wayne Tribute Schofield Revolver. This Tribute gun is issued on a firearm rooted in the Old West days of the legendary U.S. Cavalry troopers: the top-break Schofield revolver, based on the original Schofield designed by Major George Schofield with Smith & Wesson.
A working revolver in caliber .44-40, the John Wayne Tribute Schofield Revolver takes its name from Major George W. Schofield of the 10th Cavalry. Around 1870 he wrote to
Smith & Wesson
requesting one of the manufacturer's then-new
"Model No. 3" revolvers
, in the hopes it would prove useful in battle. Schofield made his own modifications to the Model No. 2 to meet the Cavalry's needs, including moving the release latch from the barrel to the frame. In 1875, Smith & Wesson incorporated these refinements into a design they named after the Major.
Each working revolver in this edition is produced the master craftsmen of Uberti. Craftsmen commissioned specifically for this project by America Remembers decorate each revolver in 24-karat gold and nickel, and the entire project has been carried out with the authorization and approval of John Wayne Enterprises. The revolver is issued in a limited run of 1,500. Each museum-quality Tribute is accompanied by a Certificate of Authenticity, numbered to that specific revolver. Delivery will be arranged through the licensed firearms dealer of the buyer's choice. 

On the left side of the revolver are two classic portraits of John Wayne. On the cylinder is a classic close-up of John Wayne, featured in nickel with a gold background inside of a gold-plated oval frame. The huge sky and the long clouds belong unmistakably to the American Western landscape. A gold banner beneath the portrait features a faithful recreation of John Wayne's signature. The frame features John Wayne on horseback, in the streets of an Old West town. The barrel includes John Wayne's famous saying: A Man Oughta Do What He Thinks Is Right.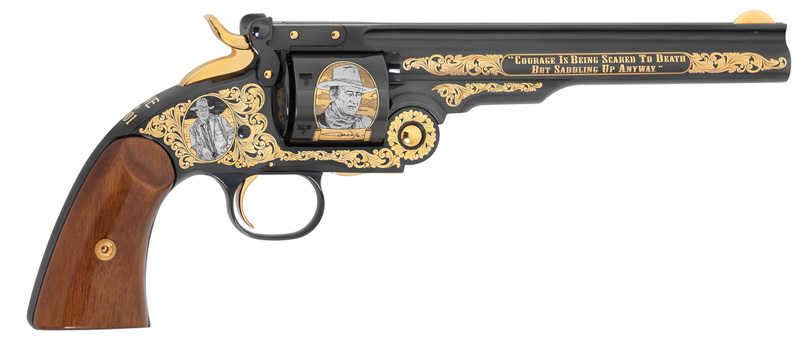 The right side features two portraits of John Wayne as well. On the cylinder is a close-up of John Wayne gazing into the Western landscape, wearing his hat and bandana with clouds in the background. On the frame is a classic portrait of Duke relaxing on a fence. In the background are the mesas and buttes that recall the wild beauty of his Western film locations. The balance of the revolver features an overall blued mirror finish, and the grips are highly polished walnut. Along the barrel is another of John Wayne's classic sayings: Courage Is Being Scared To Death, But Saddling Up Anyway.
For more information, please visit
AmericaRemembers.com.