by
posted on September 16, 2011
Support NRA American Rifleman
DONATE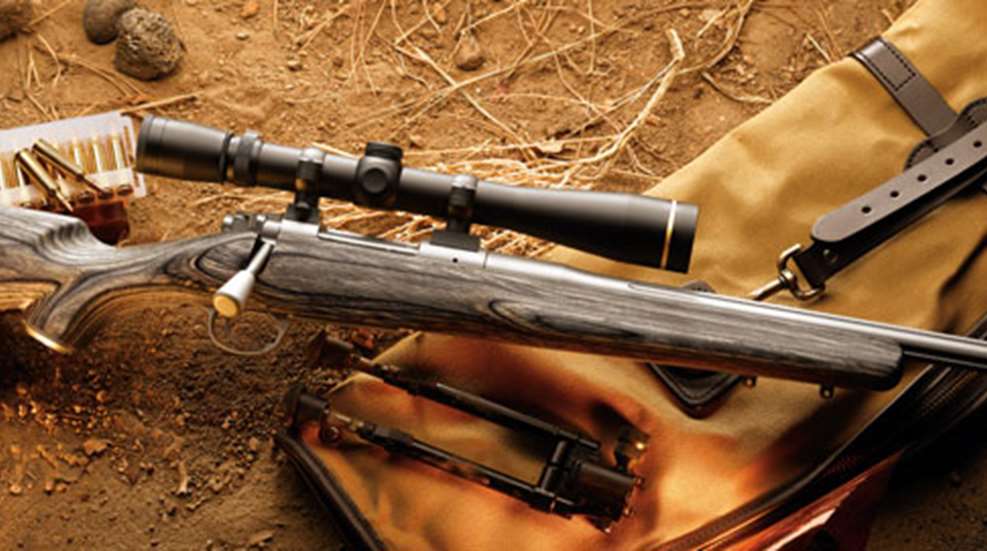 When the task is to hit a 4x10-inch target at long range, the rifle you choose must have superb accuracy—1/2 m.o.a. or better. It should go without saying that a crisp, light trigger is necessary in order for the shooter to extract all the accuracy in the rifle. The stock should be more substantial than a big-game rifle, often with a flat-bottomed fore-end to make it easier to stabilize over a rest. That is a pretty good, generic description of the modern varmint rifle.
For a lot of varmint shooters, that's all they want—an accurate, repeatable shooting tool with features to make it easier to hit their targets. Aesthetics mean little to them. A gun is nothing more than a tool to achieve an end. However, some of us appreciate aesthetics. We value beauty as well as function. The two must be there together in order to satisfy our penchant for functional elegance. Kimber, the Yonkers, N.Y., gun company has been putting together elegant and functional guns for years. And for the dedicated pest shooter who values tradition and sophistication, Kimber has brought out the Pro Varminter.
The first thing a rifle aficionado will notice about the Pro Varminter is that it is a true Mauser-style, controlled-round feed action on a .223 Rem. platform. Even the so-called Mini Mausers eschew the iconic, sidesaddle claw extractor. The controlled-round-feed system designed by Mauser is often considered sacrosanct by rifle sophisticates, despite the fact that modern push-fed—a.k.a.: "bump-and-run" rifles—have been shown to be equally reliable. I confess that I am one of those snobs who likes the controlled-round-feed system. While it's doubtful a .223 Rem. would be used as stopper rifle, that big ol' ostentatious claw astride the bolt is just…well…sexy.
Kimber is known for its superior quality and well-figured walnut, but the Pro Varmint is bedded into a gray laminate stock. I would describe the stock as a light varmint—heavier than a walk-about sporter, but not unduly bulky. The fore-end is slightly flattened to keep it steady on a rest, but not so spread out that you could not use shooting sticks. It is sans checkering, since on a varmint rifle checkering is unnecessary. The grip is capped in bead-blasted stainless steel, matching the finish of the rest of the metal work. A substantial recoil pad terminates the butt. One might think that with varmint calibers like the .204 Ruger, .223 Rem. and .22-250 Rem. a recoil pad would not be necessary, but when you are shooting several hundred rounds in a day a pad helps more than you'd think.
The action is the typical 84M with a few refinements. Most noticeable is its oversized bolt knob, often referred to as a "tactical bolt." It is sized according to its chambering and is made of bead-blasted stainless steel. The follower is composite, powered by a carbon-steel leaf spring. Screwed to this receiver is a 24-inch, fluted stainless-steel barrel. Measuring an inch at the breech, it maintains that diameter for a couple of inches over the chamber, then gently tapers to .850 inch over the next 1 1/2 inches, carrying that measurement to the muzzle. The muzzle has a recessed, target-style crown.
For this test, I chose a Trijicon Accupoint 5-20x50 mm scope to take care of the aiming chores. It features the TR23-1 reticle, a duplex-style with the trademark fiber-optic dot. This scope also has a side focus for parallax adjustment on its 30 mm tube. After using several Accupoint scopes on a variety of varmint hunts, I must say that the fiber-optic dot concept is growing on me. That little orange dot really draws your attention and helps focus on the point-of-aim.
At the range, groups were what I have come to expect from a Kimber rifle—between 1/2 and 5/8 inch. Best results came from a relatively new Winchester E-Tip lead-free ammo. In .223 Rem. the load has a 37-grain, lead-free hollowpoint coming out of the muzzle at a sizzling 3,763 fps, making it a .223 that shoots more like a .22-250 over the first 400 yards or so. This setup begged to be taken to the field.
The unfortunate news was that prairie dog populations have been rather skimpy for the past couple of years, so a several-hundred round day of shooting wasn't in the offing. However, a friend shared with me a hidey hole in the Big Horn Mountains that held a decent number of rockchucks. Shots were from 40 yards out to way past 400. It required some walking to get to the whistle pigs, so a shooting bench was out of the question. Instead, I took my shooting sticks. I had to constantly remember to hold as if I was shooting a .22-250. When I didn't, the bullet would sail right over the critter's head.
With an MSRP of $1,391, the Pro Varmint won't be bouncing in the gun racks of a lot of country pickups, but it was never intended to. The Pro Varmint is marketed toward those who revere the true Mauser-style action, superbly executed, where beauty goes hand in hand with function.
Manufacturer: Kimber
Model: 84M Pro Varmint; (800) 880-2418; kimberamerica.com
Type: Bolt-action repeating rifle
Caliber: .204 Ruger, .223 Rem. (tested) and .22-250 Rem.
Barrel: 24" ; six-grove, 1:9" RH
Trigger: 3lbs., 5 oz.
Magazine: integral box, five-round capacity
Sights: None
Safety: Three-position, Model 70 type
Stock: Gray laminated; drop at comb: 0.43"; drop at heel: 0.53"; length of pull: 13.75"
Overall Length: 43.25"
Weight: 8 lbs.
Metal Finish: Bead-blasted stainless steel
Suggested Retail Price: $1,391