posted on August 18, 2009
Support NRA American Rifleman
DONATE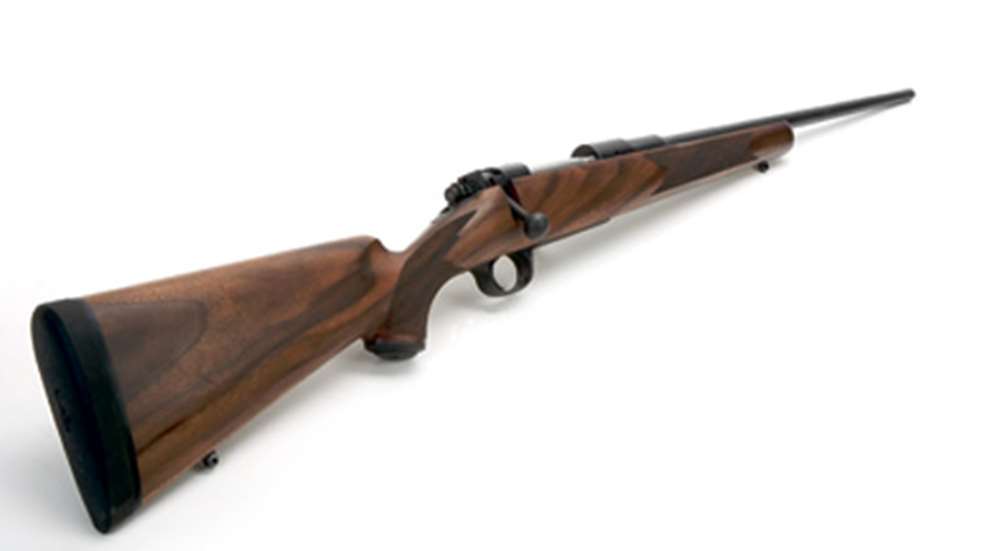 American architect Louis Henri Sullivan lived by the maxim "form ever follows function." Kimber engineers may or may not have heard of Sullivan, but there is little doubt they let function dictate form when they designed the 8400 bolt-action rifle; everything follows performance, beauty is inherent in its design.
Sullivan is the designer of the Wainwright Building – our first skyscraper – in St. Louis, and he is considered America's first truly modern architect. He believed the exterior of a building should reflect its interior structure and functions; ornamentation should be kept to a minimum, and when used it should reflect the efficiency of nature.
Functionality is also appreciated in hunting rifles, a fact that has been proven over time. The bolt-action design of Mausers and Springfields of the late 19th and early 20th centuries still dominates the market. Those rifles gave us the Winchester Model 70, which led Kimber engineers to design its models 84 and 8400. They have features Americans have admired for generations like dual locking lugs, controlled-round feed and a three-position safety. A 21st-century Kimber bolt-action is the best of the old married to a touch of the new. But with a 2.8-inch-long action, an 84 (short-action) or 8400 (short-magnum) was available only in .308 Win.-length chamberings, until now.
This year Kimber unveiled a long-action 8400 that it calls the Standard model. Pick one up, feel the balance, inspect the finish, then pull the bolt and notice those two massive lugs and you'll know this isn't a pretty boy dressed up for the prom.
The Kimber's cylindrical action, made of 4340 steel, has a 3.515-inch-long ejection port (long enough, I'm told, to eke out .375 H&H-length chamberings). Raceways along the action's interior support the two bolt lugs throughout their length of travel; there is no binding or wobble when cycling. A recoil lug lies between the barrel and the front of the receiver. The front of the action is glass-bedded to the stock. The matte-finished barrel tapers to .55 inch at the muzzle, which has a recessed crown. It is not free-floated.
Depressing a bolt stop on the receiver's left-rear removes the bolt. Camming surfaces on its two locking lugs have slight radiuses to deliver smooth operation. The claw extractor is beveled on its engagement surface so it depresses along its body. Folks who like to load one round at a time on the range will appreciate this, as it means the extractor rides over the rim of a cartridge dropped atop the magazine follower (as opposed to being fed from the magazine). A fixed-blade ejector is fitted along the left side, inside the receiver.
The magazine handily holds five rounds (four in magnum chamberings). A drop floorplate opens by depressing a button inside the front of the trigger guard. The trigger guard is metal-injection-molded, and placed as it is, it's not only handsome but functional. (Sullivan would be proud.)
In the rearmost position of the three-position safety, the firing pin is blocked and the bolt is locked in place; in the middle position the firing pin is blocked but the bolt can be opened to unload; the forward position is "fire." The safety lever on the bolt sleeve is grooved for purchase and spring tension is sufficient enough to inspire confidence but not so stiff as to wonder whether it will quietly slide two clicks forward between thumb and forefinger when the need arises.
The handsome claro walnut stock on the Classic version has 20-line-per-inch checkering on either side of the pistol grip and fore-end, a matte steel grip cap and a Pachmayr Decelerator recoil pad behind a black-line spacer. A straight comb positions your eye behind a scope just right (no iron sights are provided) and sends recoil straight back. Sling swivel studs are standard.
We've had an 8400 Standard-action Classic in .270 Win. in the NRA Publications inventory since January of this year. That's long enough for us to ogle it, but unfortunately not a time period that coincided with hunting season, so we satisfied ourselves with range work. (I aim to hunt with one this fall.)
Paired with a Leupold VX-L 4.5X-14X-50mm scope and rested atop sandbags, the Kimber delivered one-inch groups at 100 yards, the same as my son's 84M Classic .243 Win. No doubt Kimber's attention to detail helped-the company routinely delivers some of the best factory triggers in the business, and this one broke at 2 3/4 pounds, with crispness and no creep or overtravel.
The 8400 Standard is chambered in .25-06 Rem., .270 Win., .30-06, .300 Win. Mag. and .338 Win. Mag. (Magnum model) in a walnut-and-blued Classic, high-grade Super America and stainless-and-synthetic Montana. If that's not enough to trip your trigger, remember the ejection port is just about long enough to handle the 3.6-inch-long .375 H&H Magnum and other dangerous-game cartridges. If you're thinking "Kimber African" or "Kimber Alaskan" you're not alone: At this year's SHOT Show I learned they're on the drawing board.
Manufacturer: Kimber; 800-880-2418 kimberamerica.com
Type: bolt-action repeater
Caliber: .26-06 Rem., .270 Win. (tested), .30-06, .300 Win. Mag., .338 Win. Mag.
Barrel: 24"; sporter contour; button-rifled; 1:12" RH twist
Trigger: single-stage, adjustable
Magazine: drop floorplate; five-round capacity (four in magnum)

Safety: three-position swing-type
Stock: straight comb; claro walnut; length of pull-13.75"; drop at heel-.54"; drop at comb-.43"

Overall Length: 44.5"
Weight: 7 lbs.
Metal Finish: matte-black (Classic)
Accessories: Kimber scope bases/rings

Suggested Retail Price: $1,087 Classic; $1,228 Montana; $2,036 Super America