by
posted on July 24, 2009
Support NRA American Rifleman
DONATE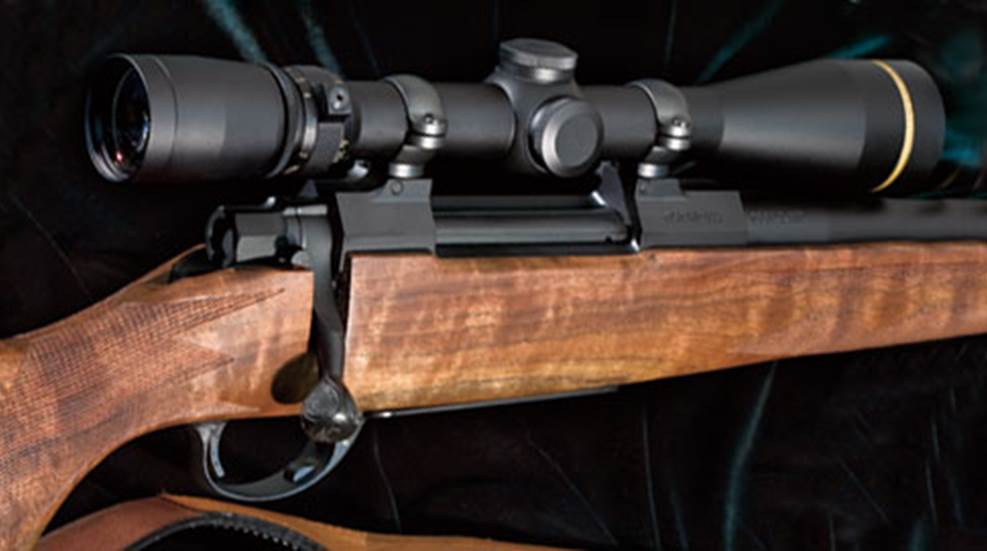 In his introduction to The Rifle Book, Jack O'Connor wrote: "I like the handgun. I hold the shotgun in high regard, but rifles—well, I love the darned things. To me they stand for wilderness, mystery, romance... ." I bought that book on November 22, 1974, and I cannot begin to estimate the number of times I have read it, nor can I accurately measure the impact those few simple words within that introduction have had on my life. Like O'Connor—and many others—I developed an early fixation on the rifle. Somewhere along the line, someone coined the term "rifle nuts" for guys like me. It is a term of endearment to me, and I wholly embrace it. But maybe it would be best to call us "riflemen." So when the assignment came to wring out the NoslerCustom Rifle, I couldn't say "yes" fast enough.
The NoslerCustom Rifle was born in 2005 with the goal of producing a limited run of 500 rifles per issue in a single caliber ready to take afield and guaranteed at 1/2-m.o.a. accuracy for three-shot groups with NoslerCustom loaded ammunition. Launching the project, the company chose .300 WSM as the initial offering. This year Nosler continues its eclectic mix of classical styling and modern technology in producing the second edition in .280 Ackley Improved.
The receiver, made from an investment casting, is tastefully executed in an octagonal cross section and features a massive, integral recoil lug at the front of its flat underside. It is drilled and tapped, as is the tang at the receiver's rear, for one of the two Torx-head action screws. Matching square bridges fore and aft incorporate round sockets that accept the posts found on Leupold QR detachable scope rings. Throwlevers lie on the left side of each bridge and are attached to locking bars pinned in place in the receiver. A divot in the locking bar allows the rings' post to seat fully into the receiver's sockets and, after being rotated about a quarter turn, the locking bars then rotate to their full diameter to engage a divot in the rings' posts. A pivoting bolt-release lever, its rear surface serrated for better purchase, is integrated into the receiver's left rear wall.
Like the Mauser, the bolt retains the time-proven twin opposed front locking lugs. It features an M-16-style pivoting extractor and a plunger ejector in its recessed face. The wear pattern on the locking lugs' finish indicates that they were hand-lapped to the receiver to ensure a square and secure lockup. The bolt body measures 0.682" in diameter but steps down 0.010" in the locking lug area. The lugs are 0.422-" wide and 0.100-" deep, providing ample surface to restrain any bolt thrust. Three large holes in the bottom of the bolt body safely vent any escaping gases into the magazine in the event of a blown primer or ruptured case head.
The bolt handle is 3/8" to 1/2" longer than the other sporting rifle bolt handles in my safe, reflecting a bit of modern tactical rifle influence. Its knob is a rounded tetrahedron with teardrop panels of checkering on each facet and the stylized "NC" on its bottom. According to my Lyman Digital Trigger Pull Gauge, the Timney fire-control system came to me factory set at 3 lbs., 3 ozs. A stainless-steel magazine box, again utilizing the classic Mauser staggered-feed design, completes the metal work within the stock.
The 24-inch stainless-steel sporter-contour barrel is hand-lapped and held to match tolerances with a breech diameter of 1.150" for the first 1 1/2", then gently tapering to 0.675" at the muzzle, bucking the more recent trend of lighter-weight barrels. This is no doubt tied to the 1/2-m.o.a. accuracy guarantee. The barrel is ceramic-coated with a matte-black finish, as is all the metal work except the magazine box. A one-piece steel Ted Blackburn bottom-metal unit features an Oberndorf-style, in-the-bow floorplate release. The floorplate itself also carries the same stylized "NC" logo. The rifle is stocked in a fancy grade of Turkish walnut. My sample was well-figured and substantial in weight, with a slight right-hand Wundhammer swell in the pistol grip. The cheekpiece is American in style with a shadow line. Twenty-two-line-per-inch checkering in a classic point pattern provides ample purchase to the stock, and it is topped off with an ebony fore-end tip and grip cap. For the more practical or economy minded, Nosler offers a synthetic stocked version for $2,595.
A pair of twin-screw, inletted swivel bases serve as anchors to the sling swivels. To ease what little shove is left from a .280 Ackley Improved in a 9-lb., 10-oz. rifle, the buttstock is finished with a Pachmayr Decelerator recoil pad. The barreled action and bottom metal are epoxy-bedded front and rear at their stress points, and the recoil lug seats against a 1/8"-thick aluminum plate imbedded in the compound.
Inletting appears to have been roughed in by machine and finished by hand—very well done, I might add. The barrel is free-floated along its entire length. As has become the custom, this rifle wears no iron sights. Rather it comes with a Leupold VX-III 3.5-10X 40 mm riflescope sighted in for NoslerCustom ammunition with the 140-gr. AccuBond bullet. Each rifle comes with two boxes of this load. The scope is matched to each rifle and features Leupold's Boone & Crockett reticle with stadia lines corresponding to bullet drop from 100 to 500 yds. with this load. I confess I did not put it to my normal paper test at the longer ranges. Instead, after I verified the sighting and grouping capabilities of the rifle, I went to work on some of the iron critters we have on our range. Putting the crosswire on the successive turkeys, pigs and rams from 300 to 500 yds. resulted in a satisfying clang and a tipped over target every time. Range conditions probably prevented me from fully achieving or even exceeding the Nosler accuracy guarantee. At 94 degrees with a 15-m.p.h. wind the targets appeared as if viewed underwater without the benefit of a facemask because of the mirage. The Nosler guarantee is for three shots into 1/2" at 100 yds., and three of the five groups did that easily.
NoslerCustom Trophy Grade Ammunition is, of course, the other half of this evaluation. In essence it's like having handloaded ammo for your gun. The loading procedures at the factory call for a few more steps to ensure the utmost consistency and accuracy. Brass is trimmed and deburred, and each round is hand-inspected. AccuBond bullets are used exclusively to give the best combination of accuracy and terminal performance.
In choosing the .280 Rem. Ackley Improved, Nosler may have raised some eyebrows. The cartridge is still considered a wildcat, so unless you shoot nothing but NoslerCustom Trophy Grade Ammunition you'll be rolling your own. Based on the .280 Rem. introduced in 1957, the Ackley Improved version simply straightens and lengthens the case wall and blows out the shoulder from its original 17 degrees to 40 degrees. Case capacity is increased by about 5 percent, and sensible handloads yield roughly a 200 f.p.s. increase in velocity, putting it within spitting distance of the 7 mm Rem. Mag. Ackley Improved cartridges are enjoying a small resurgence for custom gunmakers as shooters, and hunters continue to clamor for something more interesting to shoot than standard factory cartridges.
Shooting across my chronograph, I showed an average of 3120 f.p.s.—just a little shy of the 3150 f.p.s. claimed by Nosler—with a standard deviation of 11.7. That is remarkably consistent performance and certainly is a major factor in Nosler achieving its accuracy guarantee.
The NoslerCustom Rifle is clearly intended for the rifle nut who has arrived. At a suggested retail price of $3,995, you won't see it at the big box discount store. Buyers of this rifle will be those who appreciate fine walnut in a classic form combined with modern innovations that enhance accuracy with every aspect of its construction superbly executed. By the time you fill the magazine and hang a sling on this rifle it will weigh more than 10 lbs., so it's not a rifle for a backpacking sheep hunter. But for the knowledgeable rifle shooter who wants a comprehensive package—rifle, scope, ammunition and a Kalispel aluminum case—sighted in and ready to hunt, it's a heck of a deal.
Manufacturer: Nosler; (800) 285-3701; Nosler.com
Caliber: .280 Ackley Improved
Action Type: bolt-action, center-fire repeating rifle
Receiver: ceramic-coated chome-moly steel
Barrel: 24", ceramic-coated stainless steel
Rifling: four-groove, 1:9 1⁄2" RH twist
Magazine: Mauser-style staggered box; five-round capacity
Sights: Leupold VX-III, 3.5-10X 40 mm
Trigger Pull: single-stage, 3 lbs., 3 ozs.
Stock: Turkish walnut: Length of pull, 13 ½"; drop at heel, 1"; drop at comb, 3/4"
Overall Length: 44"
Weight: 9 lbs., 10 ozs.
Accessories: Leupold scope with B&C reticle calibrated to NoslerCustom ammunition, two boxes of .280 Ackley Improved ammunition and a Kalispel aluminum rifle case
Suggested Retail Price: $3,995