by
posted on March 20, 2023
Support NRA American Rifleman
DONATE
The American Civil War was the first major conflict that saw the significant use of arms employing self-contained metallic cartridges. Two that immediately come to mind are the Spencer and Henry repeaters, however, as hostilities progressed, many other single- and multiple-shot firearms that could handle existing or proprietary ammunition were developed. Most of these arrived too late to have any consequential impact—or really any effect whatsoever.
In January 1863, Leonard Geiger patented a clever breechloader that employed an action involving a rotating breechblock backed by a centrally mounted hammer. Some 11 months later, coincidentally, Remington Arms designer Joseph Rider also registered a mechanism so similar to the earlier patent that the firm decided it would be commercially prudent to purchase the rights to Geiger's invention.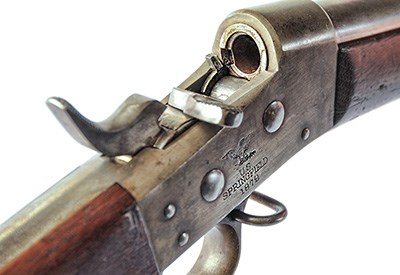 Remington duly arranged with a contractor to produce an arm integrating Geiger's and Rider's ideas. In March 1864, this .46-cal. "Split Breech" rimfire carbine was ordered by the U.S. military, followed by a larger order for the same arm in .50 rimfire. Its sobriquet was derived from the gun's rolling breechblock, which incorporated a vertical central space to allow the hammer's nose to pass through it and strike the cartridge case rim.
Produced by Remington Arms, it would be that company's first metallic-cartridge longarm. Clever though it may have been, the Split Breech never saw actual service, with those purchased eventually being disposed of as surplus. Still, the design was sound enough that Remington realized it really had something and, thus, continued to improve it.
By war's end, it had become apparent that the self-contained metallic cartridge was the wave of the future. The U.S. government, now in possession of hundreds of thousands of .58-cal. percussion rifle-muskets, began searching for a system whereby it could convert existing muzzleloaders into metallic-cartridge breechloaders. As early as 1865, muskets began being altered to the "Trapdoor" system of Springfield Armory master armorer Erskine S. Allin. Initially in .58 rimfire, it was soon determined that .50 centerfire would be ballistically more agreeable for this modified arm, so, in 1866, the decision was made to sleeve the .58 rifle-muskets' barrels and re-chamber the rifles to .50-70 Gov't.
These guns proved to be reliable and accurate. Still, some officials taken with the strength and efficiency of the Remington Rolling Block succumbed to the arm's siren call and, using barrels recovered from U.S. Model 1861 and 1863 rifle-muskets, mated them to Remington actions. The results were so promising that a series of further modifications and combinations were attempted, eventually resulting in the Model 1870 Navy .50-70 Rolling Block—by then wholly manufactured at Springfield Armory.
This worked so well that it was also decided to produce a run for the U.S. Army, resulting in the 1871 Army Model. These superbly built pieces sported 36" barrels that, like most other parts, were finished in "National Army Bright." The actions and hammers were casehardened. Some 10,000 were manufactured from 1871 to 1872.
As good as the '71 was, the Trapdoor ultimately prevailed—primarily because of cost considerations—and, in several variations, continued to be the principal U.S. military longarm until superseded by the Krag-Jorgensen bolt-action in 1893.
Rolling Blocks, on the other hand, went from strength to strength, eventually becoming the chosen military rifles and carbines of dozens of nations around the globe, as well as a civilian favorite of hunters and target shooters. To this day, it remains the most widely dispersed single-shot martial arm ever.
Though the design saw only limited official use, the Model 1871 Army rifle is a wonderful example of its type and is a favorite of collectors and shooters. The one shown here is in NRA Fine-Excellent (Antique Gun Standards) condition and, as such, is worth a respectable $1,650.
Gun: Remington Army Rifle Model 1871
Manufacturer: Springfield Armory
Chambering: .50-70 Gov't.
Manufactured: 1872
Condition: NRA Fine-Excellent (Antique Gun Standards)
Value: $1,650