Gallery

Purses
Due to wardrobe and situational restrictions, off-the-body carry in a purse is sometimes the most sensible option for a woman. When choosing a purse for concealed carry, it's best to select one specifically designed for the purpose. While more concealed-carry purses become available each year, not all of them are easy on the eyes. Some concealment purses have been described as looking like something devised by a group of well-intentioned men for use by their Great Aunt Hildegard. 
Kate Woolstenhulme, of Designer Concealed Carry, understands there is a real need for concealed-carry purses that exhibit both function and fashion. Working closely with women in the law enforcement community, Kate has created a line of purses with interiors that suit defensive needs and exteriors women will enjoy having on their arms. Shown here are examples of the Dakota (Left), the Santa Fe (Center) and the Palisade (Right) purses. One of the unique features of these bags is a lockable zipper on the pistol pocket. This is a helpful feature for keeping the little fingers of curious children at bay.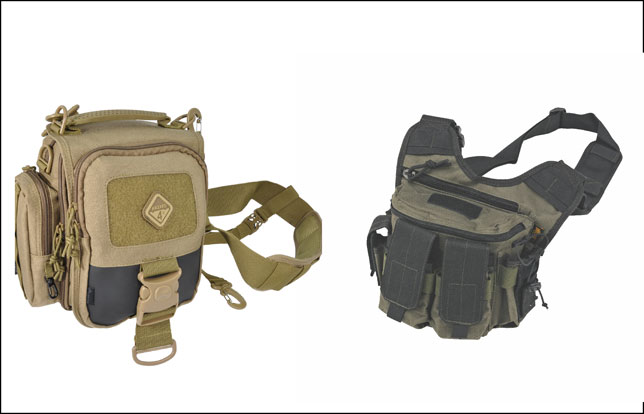 Sports Bags
Carrying a handgun in a bag or a purse is one of the most effective ways to conceal a defensive firearm. Few carry methods can hide the presence of a gun so completely. It also frees the carrier to wear any style of clothing he or she prefers. However, this method has two important drawbacks. First, guns in bags are slow to access. That access time is greatly increased if the bag is set somewhere out of easy reach. Secondly, folks tend to be careless with how they handle their bags. Sometimes bags get locked up in a drawer, left in a vehicle or stolen from the person carrying it. Whether through carelessness or deliberate choice, guns in bags and their owners are more easily separated from each other than guns carried on the body. When choosing to use an off-the-body carry system, the user must adopt a set of habits and behaviors that keep the bag (and by extension, the loaded gun) secure and accessible. 
A number of companies are now manufacturing sports and messenger-style bags designed to tote daily necessities while concealing handguns. The US Peacekeepers Rapid Deployment Pack (Right) was designed with fast access in mind. The dedicated pistol pocket contains a universal loop-and-hook holster to fit most service-size autos. The exterior pouches are designed to house spare pistol or AR-15 magazines. The RDP can be ordered with the roomy main pocket pre-filled with a tactical first aid kit, and are available in black, tan or OD green. 
Hazard 4 offers a variety of bags, but one model that's especially useful for the rigors of life in the urban jungle is the modular Tonto Concealed Carry Mini-Messenger (Left). While this bag may be compact, it has a variety of organizational features, a rugged construction and modular expandability. It's just the right size to house needful items like cell phones and tablet computers as well as a defensive handgun. Multiple pockets can be adapted for concealed carry using the Stick-Up universal hook-fastener-backed holster. The Tonto is available in black, coyote tan or camouflage.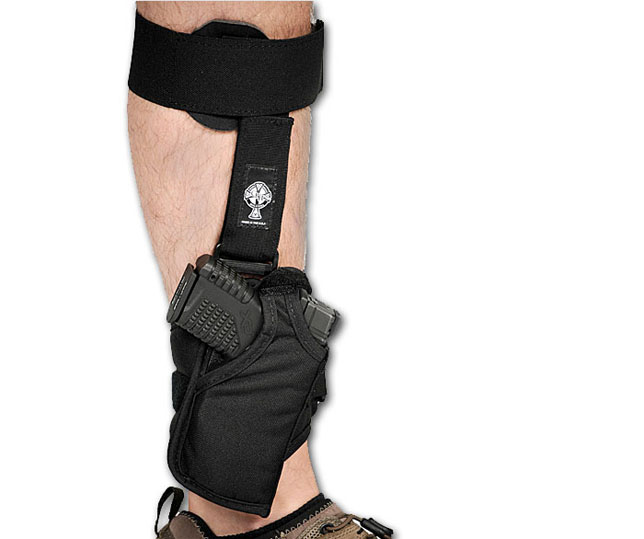 Ankle Holsters
The name of this carry system leaves little to the imagination. This is one of the most popular ways to carry a back-up gun, or even a primary gun, when a belt-line holster is not convenient. Most ankle holsters consist of a handgun pouch connected to strong elastic band that wraps around the leg just above the foot. They can be quite comfortable when fitted properly with small, lightweight handguns. While ankle holsters are easy to access from a seated or kneeling position, they are more difficult to access when standing. Guns carried low on the leg tend to get dirty much faster than guns carried at or above the waist line. Ankle holsters are available from just about every major holster manufacturer, so finding one to fit your particular gun should not be difficult. The holster shown is made by CrossBreed.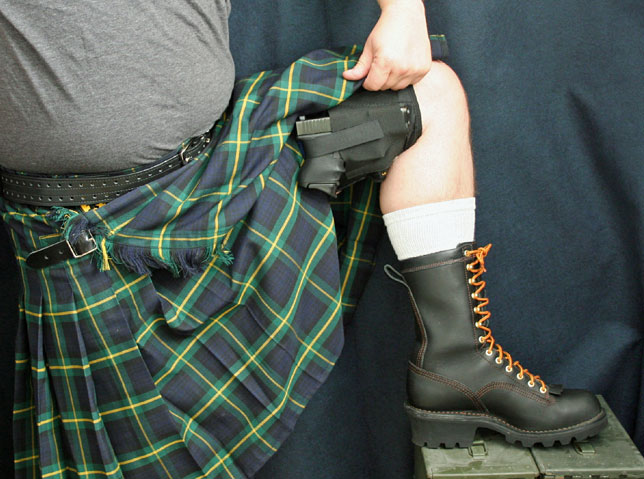 Thigh Holsters
Another solution for moving defensive handguns off of the belt line is the thigh holster. Some of these holsters are simply a heavy elastic band, with a pistol pocket, that wraps around the upper thigh. Others use an additional garter belt and straps to support the handgun. Traditionally adopted by women to conceal a handgun while wearing skirts, concealed-carry thigh rigs are very effective at disguising the presence of a handgun. However, they can be uncomfortable to move around in if they are not adjusted properly.
Although thigh holsters have a past history of being used with small-caliber pocket pistols, J & W Specialists Inc. recognizes that modern gun owners, both men and women, want to carry defensive pistols in larger calibers. To accommodate this need, they now offer beefed-up thigh rigs in three sizes for defensive pistols ranging from tiny .22s up to sub-compact pistols like the Glock G26. This holster can be adjusted for use by right- or left-handed shooters with the gun resting on the inner or outer thigh. 
So, how exactly does a male gun writer go about testing an inner thigh holster generally intended for use by women wearing skirts? I just took a page from Iain Harrison's playbook and went kilted. Donning the J & W thigh holster, along with a Sports Kilt and a pair of amazingly comfortable Danner Quarry Logger boots, proved to be one of the most comfortable holster tests of this series.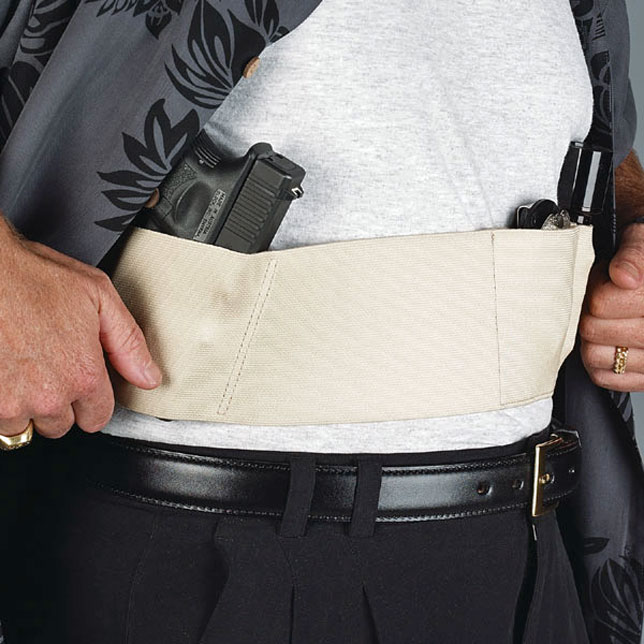 Belly Band Holsters
Belly bands are under-the-clothing carry systems consisting of a wide elastic belt with a holster sewn into it. Typically they are worn wrapped around the torso so that the gun rests just under the belt line, or just above it. Belly Bands allow for gun placement in just about any hip-high orientation a person may want, including strong-side, crossdraw and small-of-the-back positions. The belly band is especially useful for clothing options that don't use belts for support. The disadvantage of a belly band is it must be cinched on tightly in order to keep the handgun in place. Some gun owners find this to be uncomfortable. 
One of the most flexible belly bands on the market is the Galco Underwraps. Unlike belly bands that only provide a single pocket, the Underwraps arrives with two leather handgun pockets and two utility pockets for spare magazines, wallets or other small items. It can be worn like a traditional bellyband, low on the waistline resting partially under the beltline, or it can be placed up around mid-section to position the handgun much as a shoulder holster would. The UnderWraps is available in four sizes to fit a variety of defensive handguns.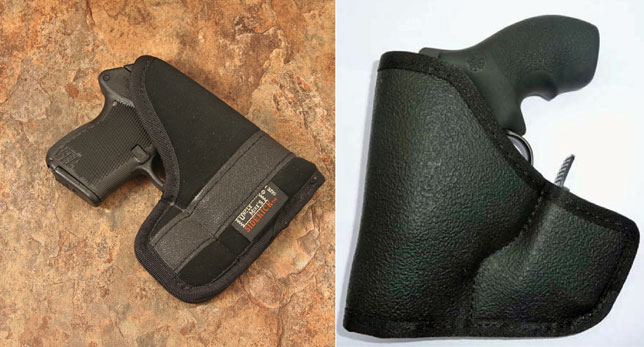 Pocket Holsters
Pocket carry is a popular self-defense choice since it is one of the most inconspicuous ways to go armed. However, just dropping a small semi-auto or revolver into a pants pocket or a purse is a bad idea. The gun is likely to become scratched and dirty, and small objects like keys or coins could become entangled with the trigger. A good pocket holster will protect the gun and keep the grip properly oriented. Most pocket holsters are simple and affordable. Good examples of the breed include the Uncle Mike's Sidekick (Left) for small semi-autos, and the Tuff Products Pocket Roo (Right) for J-Frame revolvers.

Shoulder Holsters
Shoulder rigs are another holster style that has received plenty of time in the Hollywood spotlight. This carry system uses harness straps placed over one or both shoulders to suspend the holster under the weak-side arm, up and away from the belt line. Vertical shoulder holsters hold handguns with the muzzle pointed toward the ground and the grip near the arm pit. Horizontal rigs hold the pistol with the muzzle pointed to the rear of the user's body and the grip pointed forward. 
The advantage of this kind of system is it frees up the belt line, and distributes the weight of the pistol across the upper body instead of the hips. The disadvantage is a wide arch of travel, with horizontal rigs pointing the muzzle directly behind the user. A word of caution, cheap or poorly constructed shoulder holsters are just plain miserable to wear. 
Shown here are two shoulder holsters that have withstood the test of time. The Original Dirty Harry Shoulder Holster (Right), from Lawman Leathergoods, has been providing gun owners with a comfortable and durable vertical system for over 35 years. Originally designed for big-bore revolvers, the Dirty Harry is now available for all handguns. If you are looking for a horizontal rig, the DeSantis New York Undercover (Left) has been in use since the early 1970s. It is available to fit a variety of defensive handguns.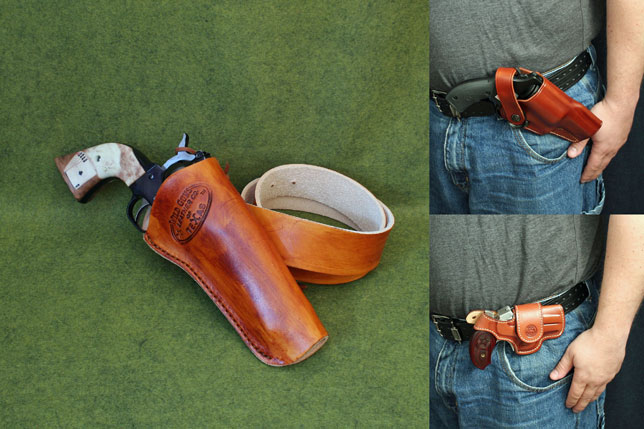 Cross Draw Holsters
This style of holster places a handgun on the weak-side of the body with the grip facing forward of the body so that the handgun can be drawn by the strong-side hand. The shooter reaches across the torso to grip and draw the pistol, thus the name crossdraw. This approach may seem counter intuitive by today's standards, but it made perfect sense back when the system was first invented. It provided a way for individuals riding horses to comfortably wear and draw long-barreled revolvers, since the revolver was essentially resting in their laps when sitting in the saddle. 
Today, cowboy-action shooters can still find replicas of the original crossdraw holsters, like the Texas Throw-Down (Left) from Wild Guns Leather Co. of Texas. Modern crossdraw holster designs include the DeSantis Dual-Angle Hunter (Upper Right), and the Bond Arms Driving (BAD) Holster (Lower Right). The advantages of the updated crossdraw holster include a high level of comfort for extended periods of time spent in a seated position, and ease of access for a weak-hand draw in an emergency. The disadvantages of this holster style include an extended arch of travel that can sweep objects to the shooter's side, and a longer reach with the dominant shooting hand to retrieve the gun. Like the small-of-the back holsters, the crossdraw requires practice to become familiar with and to use properly.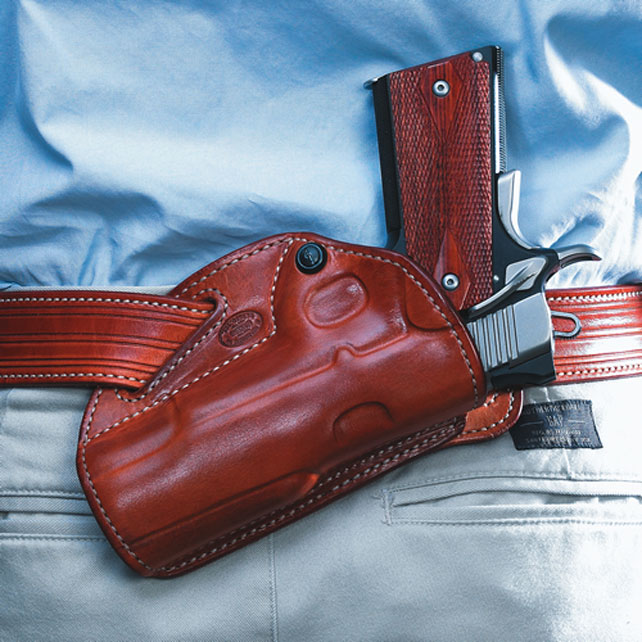 Small-of-the-Back Holsters
This holster moves a pistol from the strong-side hip around to the back of the body near the spine. It's a holster style often seen in police and detective TV shows and movies. Shown here is the comfortable El Paso Saddlery Back Slide, featuring an adjustable tension screw and reinforced back flap. 
The primary advantage of small-of-the back carry is the elimination of the strong-side bump produced by hip holsters. And, like the strong-side holster, it works well with a variety of pistol sizes. The disadvantage of these holsters is the increased arch of motion required to draw a handgun and align it with a target. This extended arch may result in the pistol "muzzling" the shooters body as it travels around. It's important to practice with this style of holster to ensure that the muzzle does not cover anything you don't want to shoot.

Strong Side Inside-The-Waistband (IWB) Holsters
This style of holster offers the same advantages of a strong-side belt holster but with much better concealment for legal carry. The holster still uses an individual's belt for support, but it rests inside of the waistband (IWB). This allows the pants or skirt to act as a partial concealment garment, with the grip of the pistol riding above the belt line. 
To completely conceal the handgun, an additional cover garment (jacket, vest or sweater) must be worn. An exception to this are the IWB holsters designed to allow a shirt or blouse to be tucked into the waistband over the pistol grip to conceal it. The holsters shown here are all tuckable IWB designs. The  Supertuck Deluxe (Left) features a wide, weight-distributing leather backing with a molded kydex sheath to lock the pistol in place. The Looper Betty (Center) is a lightweight kydex shell designed for use with sub-compact and compact semi-autos. Nate Squared Tactical's Professional series (Right) is designed for comfort with a soft suede backing to allow the skin against it to breath. All three of these systems are American made.

Strong-Side Belt Holsters
The strong-side hip holster is the most popular, and easily recognized, carry system for handguns in the world. It's the most common holster used by military and law enforcement personnel. The advantages of this method of carry are well documented. This kind of holster is comfortable for all-day wear, and placing the gun directly next to the dominant shooting hand (or strong-side hand) makes for fast and easy drawing and re-holstering. 
Having the gun in this position provides a short arch of travel, meaning, the muzzle of the handgun only has a little ways to go from the holster to the intended target. When drawn properly, the muzzle will not cover (be pointed at) any part of the shooter's body or any objects to the side of or behind the shooter. This means it is not only fast and easy to draw a pistol from a strong-side hip holster, it is one of the safest draw strokes as well.
The very few disadvantages of the strong-side hip holster relate primarily to legal concealed carry. This is one of the more difficult systems to keep out of sight. However, many shooters choose to adapt their wardrobes and add effective covering garments (jackets, coats, vests) in order to use this style of holster. 
Since they are so popular, hip holsters are available in a wide variety of configurations and material types. Some use retention straps to secure the handgun while others are molded to help keep it in place. For use in the field, and more casual shooting situations, the Uncle Mike's SideKick Hip Holsters (Left) are simple, rugged and affordable. Adapted for concealed carry, the DeSantis Speed Scabbard hugs the handgun close to the body for better concealment. Galco's Jak Slide carries the pistol between the belt and pants and can be used with a variety of semi-auto pistols.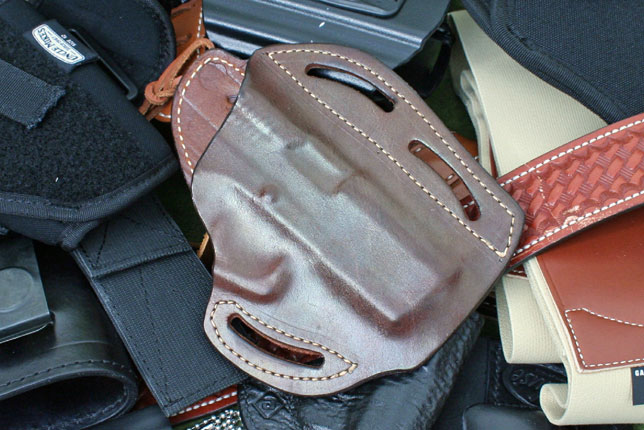 A Good Holster
Identifying the "right" holster for your particular needs requires an evaluation of the features and factors that change with each individual's circumstances. However, good holsters and carry systems tend to share certain characteristics. A good holster will:
Hold the handgun in place until it is intentionally drawn by the shooter.
Allow a proper shooting grip to be obtained before the pistol is drawn.
Cover or protect the trigger to reduce the chances of an unintentional discharge.
Provide the shooter with the physical access necessary to draw and re-holster the handgun quickly.
A laundry list of additional positive qualities for a holster could be added here, but the listed points cover the basics of good holster design. Here are a few more tips to keep in mind:
Break-In Period: No carry system is instantaneously comfortable. Just like a new pair of shoes, all holsters require a break in period. If bruises, blisters or blood loss occur in the course of test driving a carry method, then obviously it's not a good fit. But using a holster for six hours and then declaring it uncomfortable does not provide enough time for a realistic test. Give it at least a few days before giving up.
More Than One: While it would be nice to have the first holster tested be a perfect fit for the job, most people usually end up trying different styles until they find the best balance of features for their needs. Don't get frustrated, it's just part of the learning curve. Many gun owners find that they need more than one holster in order to accommodate changes in wardrobe. If you choose to use multiple holster systems, don't forget to practice drawing and re-holstering with each of them.
Invest in Quality: A holster essentially acts as a shock absorber between a shooter's body and the handgun. Ever ride in a car with cheap or worn out shocks? As a rule of thumb, gun owners should plan to spend about 10 to 15 percent of what they paid for the handgun for a carry system they plan to use on a daily basis. This provides the level of quality needed for comfortable and reliable carry.