Support NRA American Rifleman
DONATE
Gallery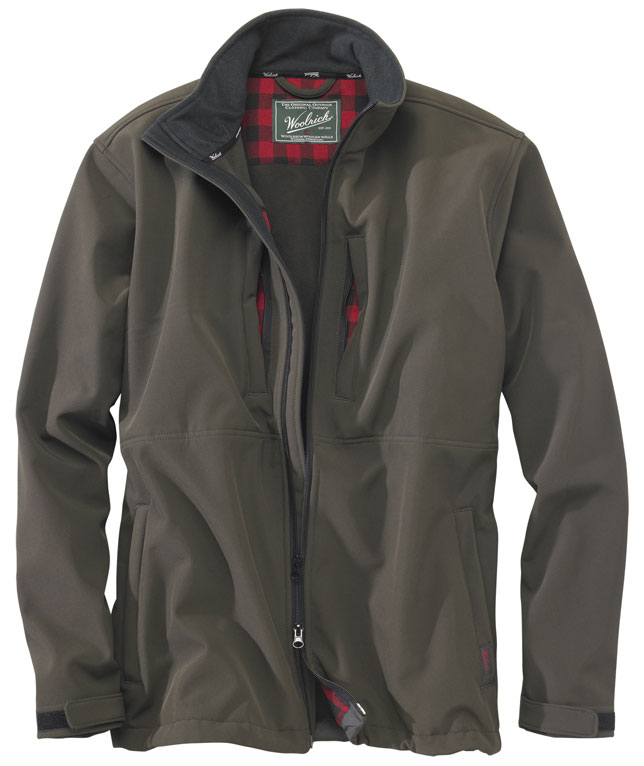 Woolrich Elite Carry Jackets
Dropping a handgun into a coat pocket is as old of a method of concealed carry as, well, handguns and pockets. Using a coat to cover up a holster is a tried and true strategy as well. But what about a coat that is a holster, in fact, an ingenious complete carry system in and of itself? That's something to talk about. The Woolrich Clothing Company has released a complete line of men's clothing, including pants, vests and shirts especially designed for individuals carrying defensive handguns. Included in this series is the Elite line of discreet-carry jackets. The Soft-Shell model, pictured here, features four external vertical zipper security pockets. The upper pockets contain a single elastic utility loop and wire ports for headphones. These pockets are large enough to hold compact or sub-compact handguns in a position similar to a shoulder holster. Each of the roomy lower pockets contains two elastic accessory loops to retain items like tactical folding knives or spare pistol magazines. The interior is fitted with four spacious internal open-top pockets and a soft, warm, Microfleece lining. Not only is this jacket comfortable to wear, it does a terrific job of distributing the weight of a concealed handgun and other accessories.
Versacarry
The Versacarry system is an original approach to a minimalist carry system. In short, it's a polymer strap with a belt hook at one end and an angled, delrin-coated barrel-retention rod at the other. An optional trigger guard can be added and positioned for use by left- or right-handed shooters. For those who carry a defensive handgun inside-the-waistband, this low bulk ambidextrous design is a positive choice. Be aware that Versacarry recommends that its product be used with pistols that feature an external safety switch or with handguns that are being carried with the chamber unloaded.
The Versacarry is available in several configurations to accommodate most of the calibers and models of semi-auto folks choose to use for concealed carry. This holster is easy to attach and remove, and stays positioned on the belt until intentionally repositioned by the operator. It does a terrific job of retaining the pistol, even during vigorous movement. The barrel-retention rod is shaped and coated to prevent any kind of damage to the pistol's bore. The Versacarry is compatible with compact and slim-form tactical rail accessories like the Laserlyte V3 and Crimson Trace Light and Laser Guard products.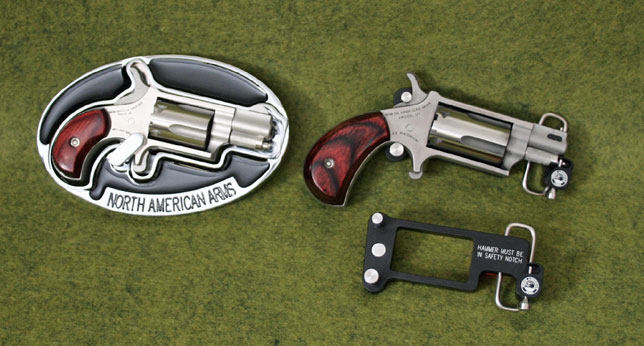 North American Arms Belt Buckles
North American Arms (NAA) provides holsters and concealment devices that are just as unique as the Mini revolvers they're designed to carry. Some of its most popular, and unusual, accessories are the open-carry belt buckles. Placing a Mini revolver in one of these buckles allows the user to literally wear a gun.
The latest version of the Western Belt Buckle (BBE-L) for the NAA .22 Long Rifle Mini (Left) features a powerful magnet and a sweep-up retention clip to quietly hold the revolver in place. Unlike previous versions of this buckle, which required a special set of grip panels, the BBE-L has been re-designed to work with any of the NAA birds head style grips. North American Arms is also re-releasing an updated version of its skeletal belt buckles (Right). Two sizes will be available to fit both the .22 Long Rifle and .22 Magnum frames. This new version of a NAA classic features an anodized aluminum frame, stainless-steel fittings and a rubber-wrapped retention peg to help protect the finish of the revolver. 
Don't forget that if you choose to don a NAA belt buckle and revolver you will be practicing open carry. If you're sporting a spare tire that spills over your belt buckle, you may be switching from the legal definition of open carry to that of concealed carry as you change physical positions. Yes, it is a tiny gun, but law enforcement officials will still see it as a handgun. Before heading out the door, be sure you understand and are acting in accordance with your local regulations regarding legal carry of an openly displayed (or partially hidden) firearm.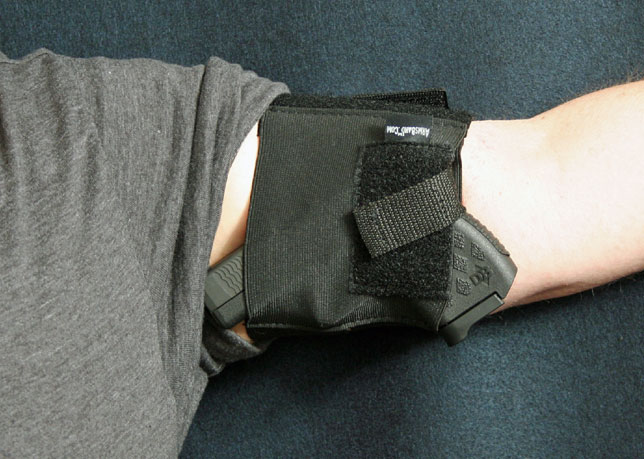 Arms Band Holster
This is a brand new product that certainly qualifies as an unusual or exotic method of carry. The Armsband positions small pistols much like a horizontal shoulder holster would. The pistol rides near the arm pit with the grip facing forward. But instead of draping a harness around the upper body to support the pistol, the Armsband wraps around the bicep of the weak-side arm. The pistol is accessed through the short sleeve of a shirt or blouse.
Will the Armsband prove to be a successful design? Only time will tell for sure, but the initial reception of this new holster has been positive. It's far less bulky than a traditional shoulder rig, and it's a good fit for use with light, warm-weather clothing. Although it seems a bit ambitious to use the Armsband with a double-stack pistol like the Glock G26, it proved to be comfortable to wear with small pocket pistols like the Diamondback DB380 and Kel-Tec P32.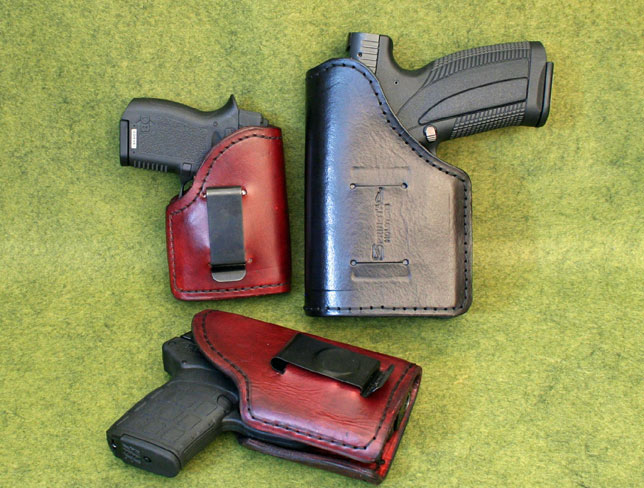 Springtac Holsters
Springtac's innovative holsters for defensive handguns arrived on the shooting scene during the 2012 SHOT Show. This product answers the need for a carry system that can successfully accommodate pistols fitted with tactical rail or trigger guard mounted lights or laser modules. Most holsters that accept a light or laser are model specific, meaning if the pistol or the accessory is swapped out for another, the holster becomes obsolete. 
Springtac uses an adjustable, internal spring-supported clam-shell design to wrap around the pistol and the accessory. It provides the space needed for the accessory to fit, while snuggly clamping the pistol in place for secure concealed carry. Worn inside the waist band, the curved shell of the holster hides the outline of the pistol and protects the body. The Springtac Holster is currently available in three sizes for use with light- and laser-fitted pocket, compact and duty-size pistols.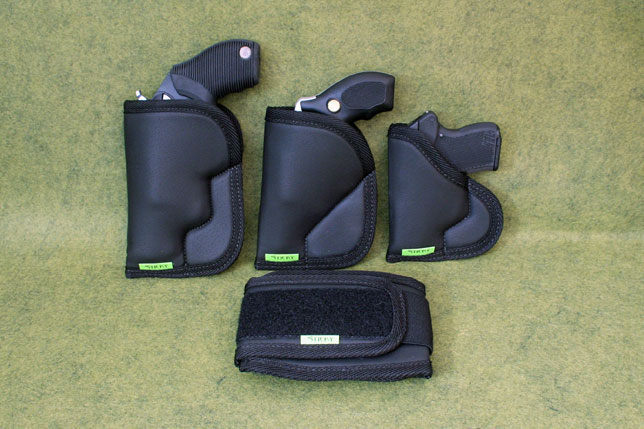 Sticky Holster System
At first glance, Sticky Holsters appear to be quality pocket rigs. Although pocket carry is one role these holsters can fill with ease, it's not the only one. Each holster features an interesting self-securing surface that allows it to operate as a clip-less IWB holster. Just set the holster where you want and it will stay put until it is intentionally adjusted. Adding the modular Sticky Holster Ankle Biter rig quickly converts the holster for all-day ankle carry. If you would like to stow a back-up gun in the strapping of a tactical or armored vest, the Sticky B.U.G. Pad allows you to do so. With 17 holster sizes to choose from, this modular holster system can be adapted to meet a wide variety of concealed-carry needs.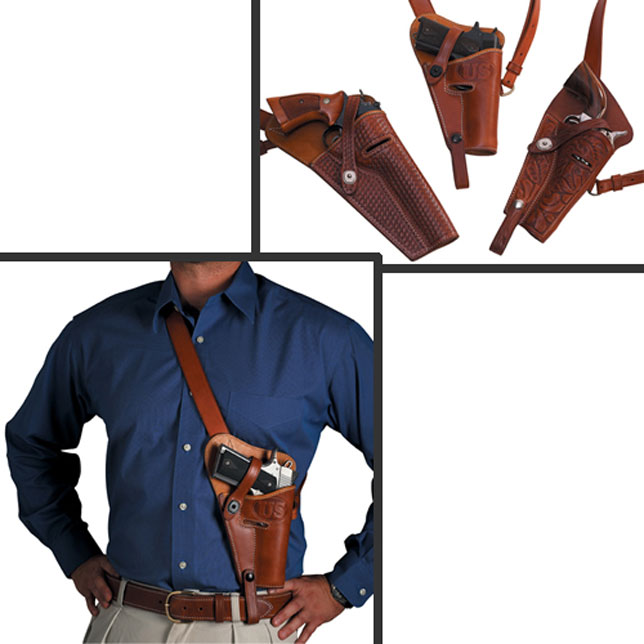 El Paso Saddlery Tanker Holsters
During World War II, British and American air crews, truck drivers and tank operators needed a way to carry sidearm while wriggling in and out of tight spaces. This led to the adoption of what have come to be known as tanker holsters. This bandoleer-supported holster holds a pistol midway between the hip and center of the chest, just above the belt. Not only does it provide the benefit of freeing up the waist line, but it doesn't interfere with shouldering a rifle.
Today, El Paso Saddlery provides a series of high-quality Tanker holsters, including WW II replicas, modified to fit modern semi-autos and revolvers. Tanker holsters are quick and easy to put on or take off, comfortable for sitting and driving, and can be ordered to accommodate large handguns. Although the El Paso Tanker is not designed with concealed carry in mind, it can successfully hide a handgun under a fully zipped snow parka or heavy jacket.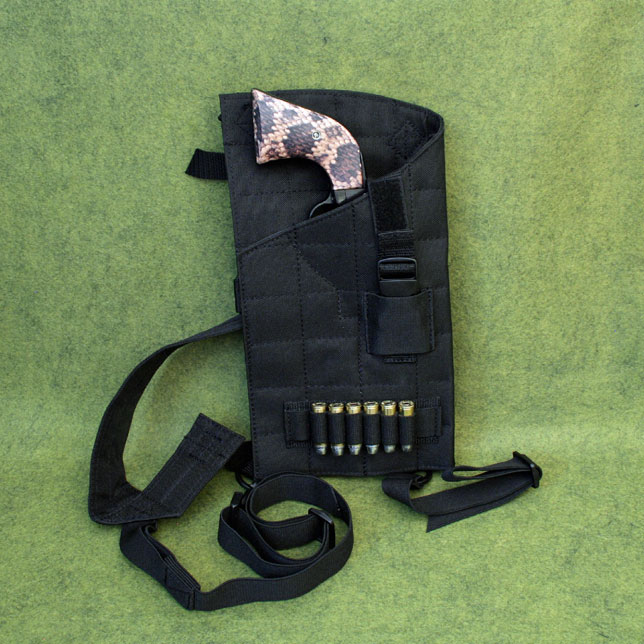 Gunmate Guide Chest Holster
For hunters, hikers and ATV enthusiast, concealment of a handgun is not as important as comfort and accessibility. A center-of-the-chest rig, like the Gunmate Guide Holster, provides freedom of movement while keeping big-bore revolvers handy. Shown here with a  Blackhawk sporting, the Guide arrives with a shoulder, chest and belt strap to secure it to the operator's torso. The seven retention loops sewn around the edges of the holster allow the user to position the harness straps to suit any need, or to attach the holster to the carry straps of a backpack.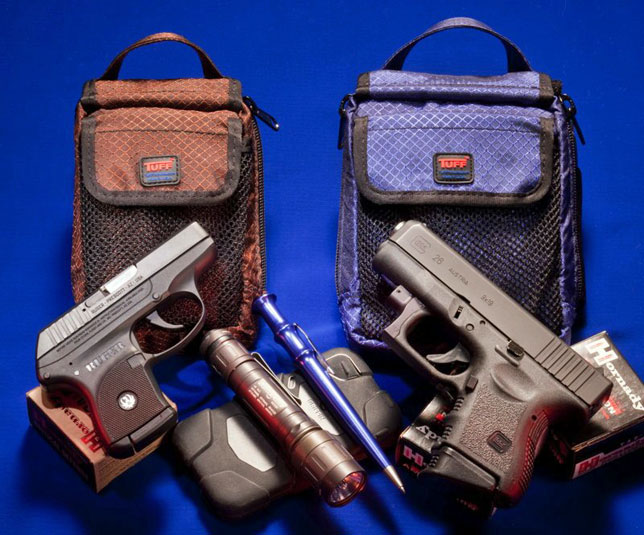 The Tuff Products Tacllett Jr.
Thanks to all of the electronic gismos and gadgets folks are now carrying on a daily basis, our belts and hips have become festooned with all kinds of pouches and small, zippered bags. Holster makers have taken advantage of this accessory trend by creating concealed-carry devices to hide small handguns in plain sight. One example of this type of carry is the Tuff Products Tacllett Jr.
Designed by Ichiro Nagata, this belt pouch has a front-side mesh pocket to carry a digital camera, wallet or cell phone. The gun pocket features a removable elastic holster and magazine retention loops attached with hook-and-loop fasteners. The back side of the pouch features a steel belt clip, connection loops for an optional shoulder strap, an elastic loop for a pen and a larger elastic loop for either a flashlight or folding knife. 
With the holster in place, just pull the quick-draw handle to expose the concealed pistol. The small Tacllett Jr. fits pocket-size pistols like the Ruger LCP. The medium sized pouch is large enough to accommodate compact pistols like J-Frame revolvers and the Glock G26. Available in bright and muted colors, the Tacllett Jr. pouches provide a flexible carry solution for both men and women to use.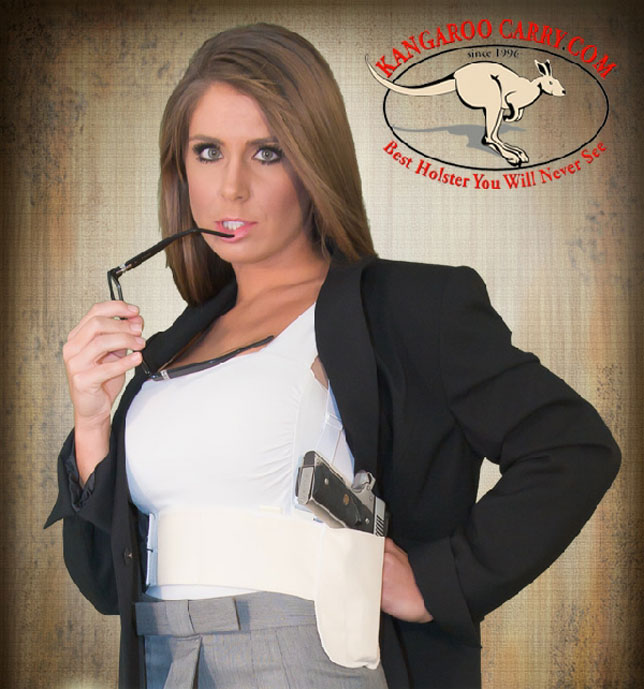 Kangaroo Carry
A method of concealed carry that's gaining in popularity is the use of holster systems that allow handguns to be positioned on the upper body underneath ordinary shirts and blouses.
Kangaroo Carry offers a series of under-the-shirt shoulder holsters designed to fill this niche nicely. While belly band holsters ride along the belt line, the Kangaroo Carry is worn just under the pectoral muscles. The holster portion of the system rides under the weak-side arm, much like a traditional shoulder holster. A shoulder strap prevents the chest band from slipping down over the course of the day. 
The Kangaroo Carry holsters do have elastic in them at key points to allow for proper fit adjustments, but the primary material of the system is cotton fabric. Unlike all-elastic systems, which can feel overly tight or hot to wear, the Kangaroo's natural cotton allows the skin to breath. It is also washable. 
One of its more specialized offerings is the Luminator, which allows an operator to conceal, carry and quickly draw a duty-size semi-auto with a tactical rail mounted light or laser attached. As a small-framed shooter, I was surprised at just how much gun disappeared under a shirt with this holster. The fully adjustable Kangaroo Carry systems are available in four sizes to accommodate most defensive handguns.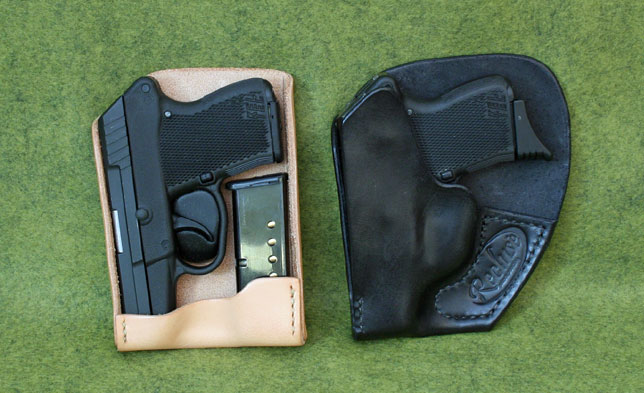 Recluse Pocket Holsters
Pocketable pistols are all the rage these days. Although a variety of pocket holsters are currently available for small automatics, none of them are quite like the. The signature Recluse holster design (Left) features an outer shell of premium leather shaped to effectively disguise the pistol with a square outline resembling a wallet or a smart phone. 
The pistol is held in place by a semi-soft polymer trigger block. The block fills the trigger guard and locks the trigger in place so it cannot move until the pistol is drawn. To retrieve the pistol, the operator slides a hand between the pistol grip and the Recluse. The pistol pops free of the trigger block for a quick and easy draw. For those gun owners who want a layer of leather between the inner side of the pocket and the pistol, the company offers its Recluse TS holsters (Right). Both holster styles are comfortable to carry, easy to draw from and effectively designed for masking a pocket pistol's outline.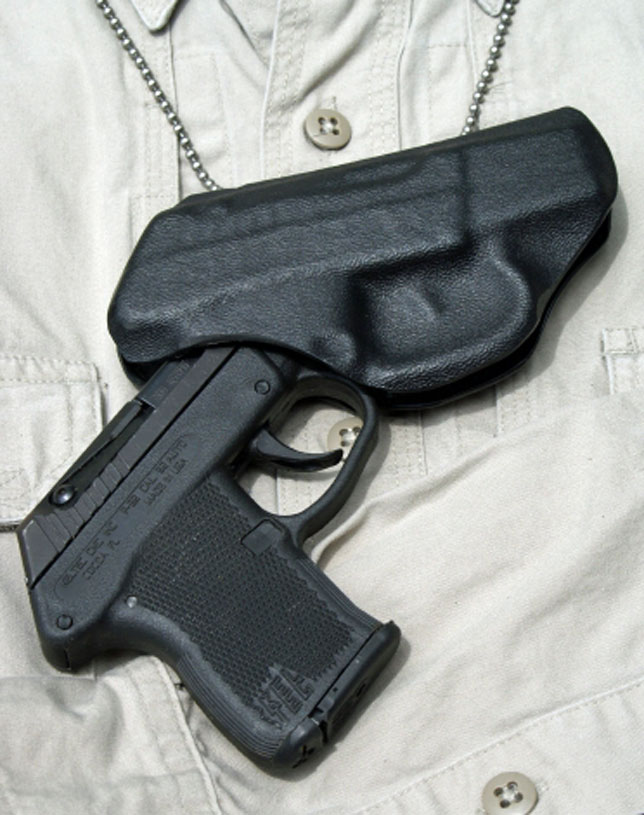 Stellar Rigs' Neck Holsters
The Stellar Rigs holster company was born out of Edward Kaye's (owner and designer) desire for concealed-carry options that were simply not available anywhere else. Working in Kydex, he developed a variety of products to serve niche markets, like those customers looking to carry large knives or pocket pistols. When law enforcement officers were looking for a way to carry a small, back-up gun under their tactical and bullet resistant vests, Stellar Rigs developed a series of neck lanyard holsters.
This carry system consists of a precision molded Kydex sheath supported by a ball-chain necklace. The holster clamps the gun in place without the need for straps or snaps. Grasping the pistol's grip, the user pulls down to remove the gun from the holster. To re-holster, simply snap the gun back into place. This ambidextrous carry system is available for use with small, light weight carry guns like the North American Arms Mini revolvers and the Kel-Tec P32.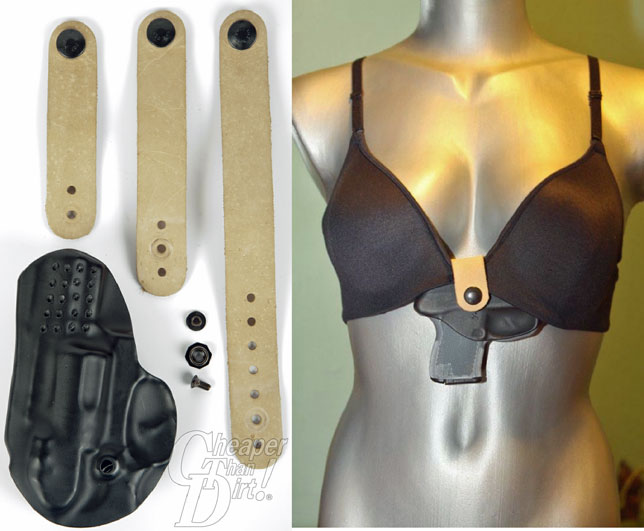 Looper Flashbang Bra Holster
Women face a variety of unique considerations when selecting a concealed-carry holster: clothing styles, a varying routine, and handling small children to name a few. These challenges may make strong side or purse carry less than ideal. 
The bra holster was developed by Lisa Looper, of Looper Law Enforcement LLC. Her family has been building holsters for over 70 years, and Lisa was looking for a way to dress like she wanted while carrying a concealed handgun. This bra-mounted thermo-plastic holster arrives with three straps sized to fit a variety of bra styles. The Flashbang holds the handgun horizontally, just below the bust line, and is accessed by reaching up under the shirt. This method of carry is ideal for use with any type of shirt or blouse and a traditional (non-sports) bra.