posted on December 17, 2019
Support NRA American Rifleman
DONATE
The .223 Rem. cartridge paired with 50-gr. bullets offers a lot of utility across a wide range of shooting pursuits, from targets to varmints as large as coyotes. 
If you sight-in a .223 to shoot Sierra 50-gr. BlitzKing bullets, with a muzzle velocity of 3440 f.p.s., to impact 1" above point of aim at 100 yds., they hit right on the money at 200 yds. and drop a touch less than 6" at 300 yds. That's a suitable sight setting for ground squirrels because of a tendency to aim high due to overestimating distance. Who has time to fiddle with a rangefinder when a farm field is brimful of the little rodents? A higher sight adjustment of 2" above aim at 100 yds. works for coyote hunting. With that aim, BlitzKings are dead-on at 255 yds., and crosshairs leveled at the top of a coyote's back take advantage of its fatal mistake—stopping for a last look at 350 yds.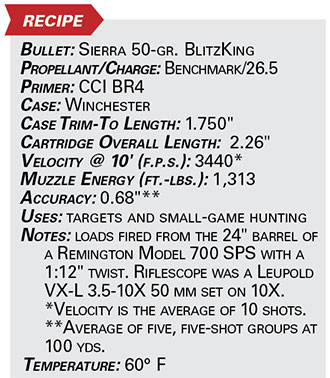 Hodgdon Extreme Extruded Benchmark produces uniform velocities during both the sweat of summer and winter's bitter weather. Benchmark's short grains metered fairly well from a powder measure, producing an extreme spread of velocity of 24 f.p.s. for 10 shots. That reasonably narrow velocity spread can also be attributed to CCI BR4 small rifle primers. With the same 26.5 grs. of Benchmark, CCI 450 Mag primers fired BlitzKing bullets slightly faster at 3459 f.p.s. The extreme spread was 49 f.p.s., and five-shot groups were nearly twice as large at 100 yds. compared to BR4 primers that shot groups from 0.45" to 0.92" using a bargain-priced Remington Model 700 SPS rifle with a sporter-weight barrel. 
Small wonder the .223 Rem. is the king of versatile small-bore cartridges.