Support NRA American Rifleman
DONATE
You'd think a cartridge introduced when Grover Cleveland was president would be nothing but an artifact by now, but the .30-30 Win. is doing quite well as it celebrates its 125th birthday this year.
The original load was a 160-gr. soft-point bullet with a muzzle velocity of 1970 f.p.s., but it has improved through the decades with better bullets and increased velocities. Single-metal bullets include the Cutting Edge Lever Gun Raptor and Barnes Triple Shock Flat Nose, which are both constructed with wide-open tips to initiate expansion. Dual-core bullets include the Swift A-Frame Lever Action and Nosler Partition. Ordinary bullets with an exposed lead tip, such as the Sierra 170-gr. Flat Nose or Hornady 150-gr. Round Nose Interlock, still reliably expand and hold together at the .30-30's relatively sedate velocities. Hornady 160-gr. Flex-Tip eXpanding (FTX) bullets, with a pointed elastic tip, do marginally flatten the .30-30's trajectory and carry nearly 20 percent more energy than the flat-nose bullet at 200 yds.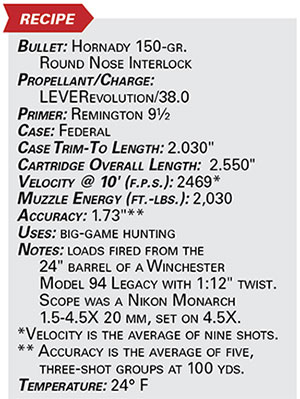 When I started handloading the .30-30 Win. more than 40 years ago, my hunting load was Sierra 150-gr. FN bullets fired by IMR 4320 at approximately 2100 f.p.s. from the 20" barrel of a Winchester Model 94. Today, propellants such as IMR 8208 XBR, CFE 223, TAC and Varget significantly increase that velocity. LEVERevolution, though, is the leader, firing Hornady 150-gr. Round Nose Interlock bullets at 2469 f.p.s. from the 24" barrel of a Model 94 Legacy. The same load delivered 2357 f.p.s. from the 20" barrel of my standard Model 94. That velocity boost makes the .30-30 Win. an excellent cartridge in a lightweight lever-action rifle for hunting deer, black bear and even larger game at short-range—just as originally intended.