Gallery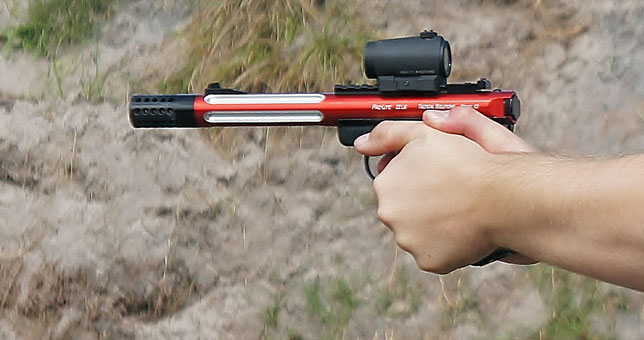 Tactical Solutions .22 LR
We'll close out with a look at the lone rimfire gun in the batch. Steel Master champion BJ Norris shot this borrowed .22 LR after his primary gun went down in the middle of the match.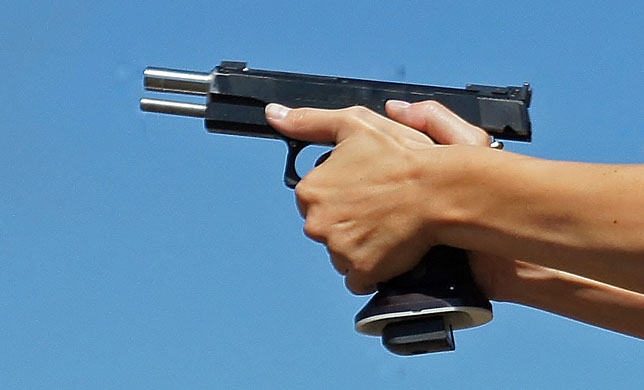 1911s
1911s also dominate the Iron Sight category at Steel Challenge; and most of them look pretty similar to this one. Here's Brooke Sevigny's gun in mid cycle as she transitions from one target to the next.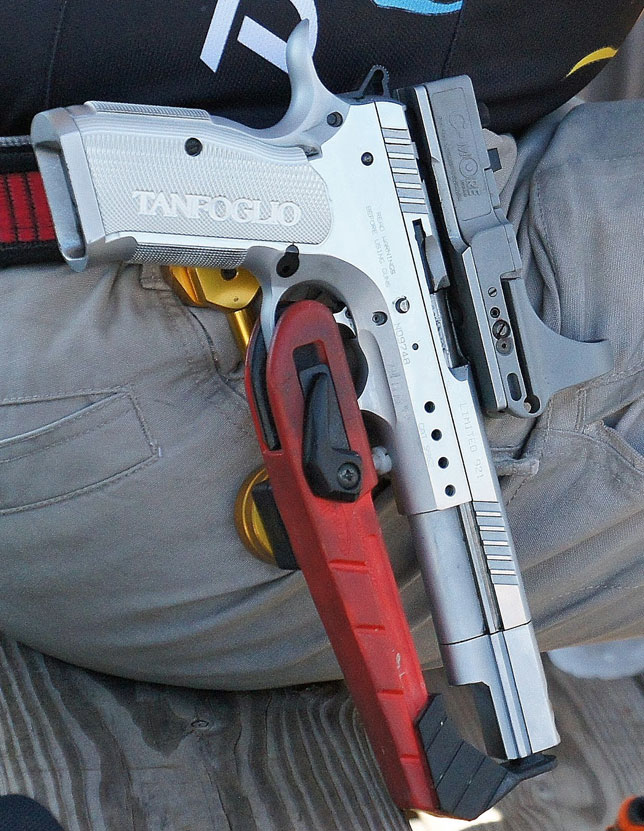 Tanfoglio .38 Super
In one of the most impressive performances, 3rd place Open finisher Eric Grauffel used a borrowed .38 Super to shoot the match. This gun, like many others at the match is designed for USPSA, which didn't seem to be a hindrance to Eric. While he finished off the pace for a win, shooting a borrowed gun in an unfamiliar sport makes a 3rd place finish that much more impressive.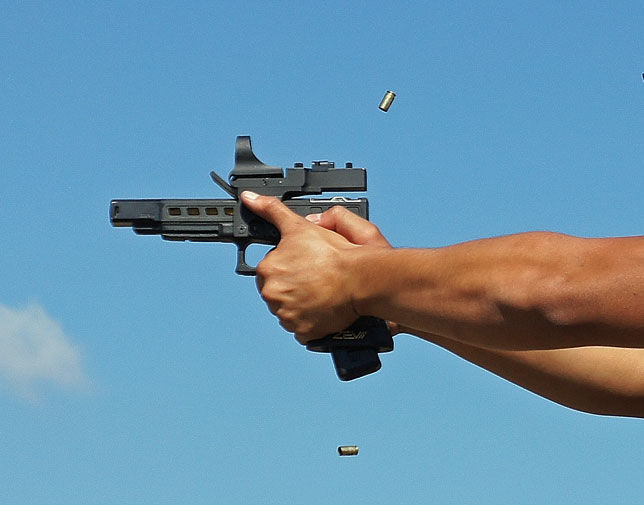 Glockworx Glock
In a break from tradition, the winner's gun was a Glock. This marks the first time that Steel Challenge has been won in the overall with a polymer-frame pistol, and KC Eusebio shot his custom Glock to a 1st place finish this year. This particular Glock features custom touches by the team at Glockworx.
2011 Platform
JJ Racaza also runs a 2011 platform in Steel Challenge. This is a purpose built Steel Challenge gun, designed to run with the light recoiling ammo used in the match. With a couple of additional style touches, JJ's gun definitely looks good while shooting.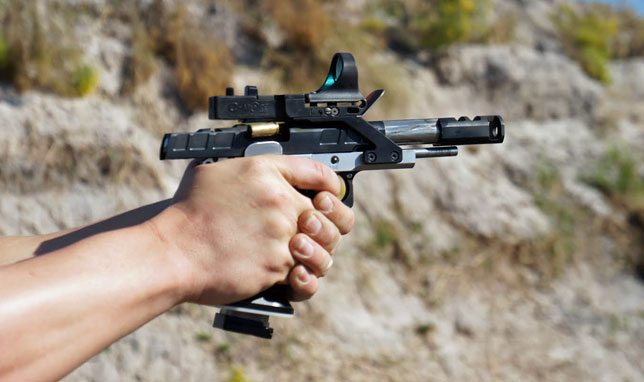 USPAS Open Gun
Here we have Blake Miguez's USPSA open gun as it cycles. Blake's gun, which is set up for the major power factor rounds required by USPSA was having a little trouble coping with the light loads shot in Steel Challenge.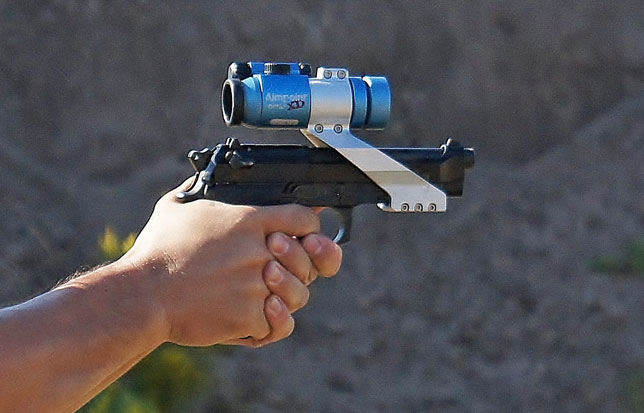 Beretta 92
But a Glock can't hold a candle to the most unusual Open gun at the match, which was this Beretta 92, fitted with an optics mount and an Aimpoint. It's certainly not the most competitive option, but if there was a style points award this Japanese shooter would get it. In an interesting note, the Japanese team is forced to practice with only airsoft when on their home soil, due to national restrictions on the possession of firearms.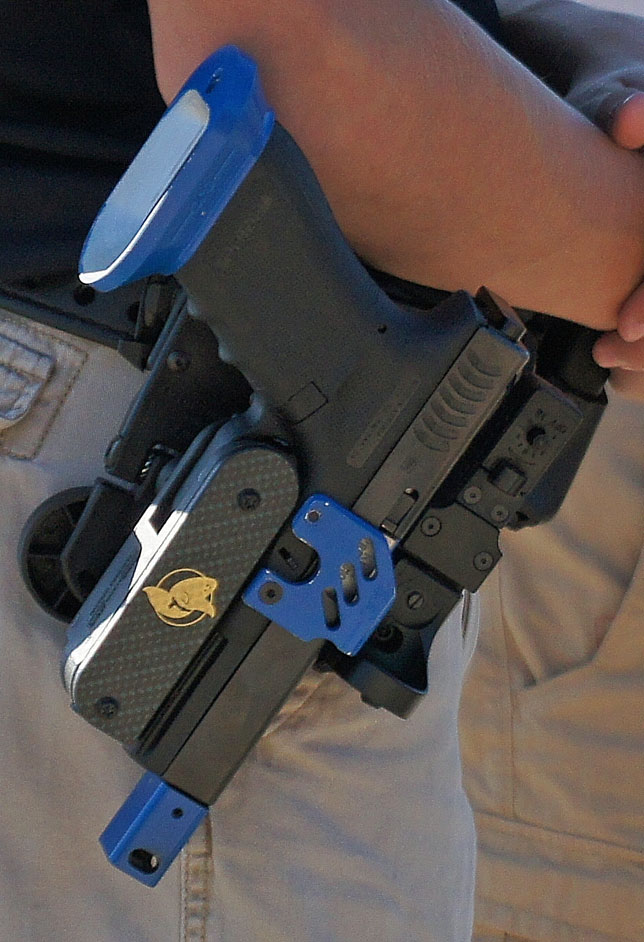 Glock Gen 3 RTF
Glock has penetrated the competition shooting world to the point of almost 1911-esque ubiquity, and this shooter's unusual Open division Glock shows that. This is an unusual gun because it's a Gen 3 RTF. Before releasing the Gen 4, Glock briefly offered the Gen 3 in the "Rich Textured Frame" variation, featuring the fishgill slide serrations and an aggressively textured frame.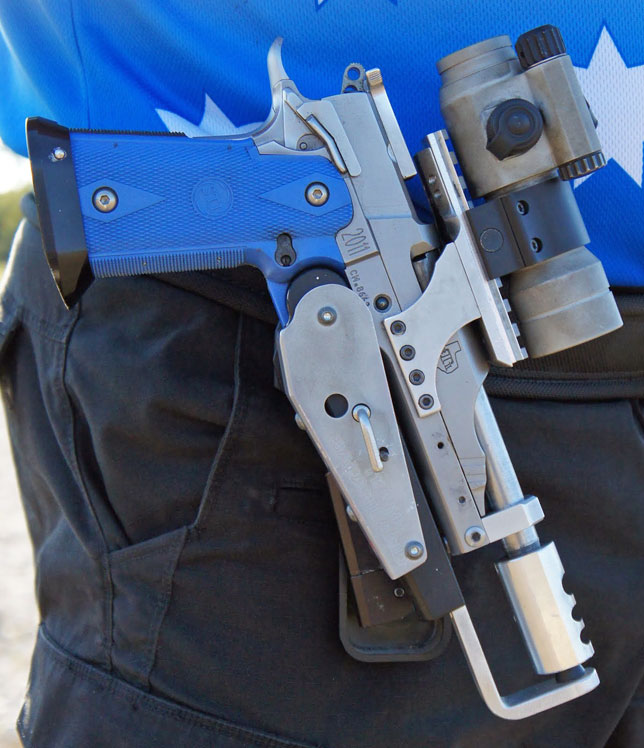 Bianchi Cup Gun
One of the neatest guns adapted from another sport was Australian shooter Craig Ginger's Open gun. Craig is well known as a Bianchi Cup shooter, and for this match took his Bianchi Cup open gun, removed the shroud and barricade wings, resulting in a really cool looking Steel Challenge gun. With the front half of the slide just gone, Craig's gun still ran fine, and looked awesome doing it.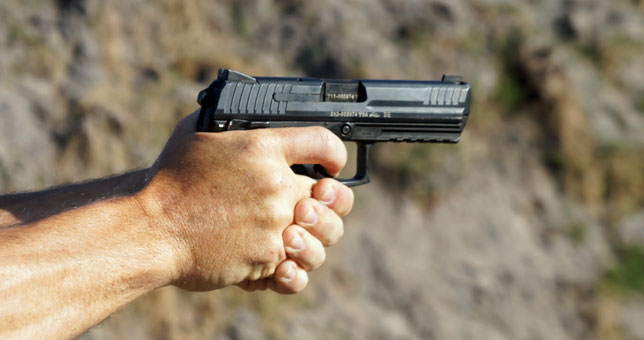 HK P20L
Jason Koon's Production gun is an HK P30L chambered in 9 mm. Jason normally uses his P30L in USPSA Production division. In Steel Challenge, the gun's light weight is good, but the comparatively heavy for weight trigger pull can reduce its effectiveness at Steel Challenge.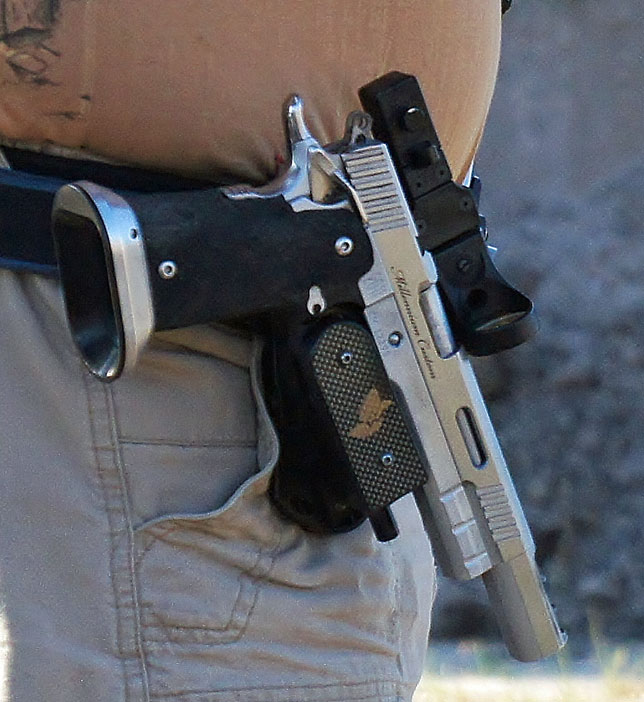 Millennium Custom
Another example of the 2011 platform is this Millennium Custom. This is another USPSA Open gun being pressed into service in Steel Challenge, and doing pretty well for itself. While the top pros have special guns built just for Steel Challenge, most of the shooting population simply takes a gun set up for a different sport such as USPSA or IDPA to Steel Challenge.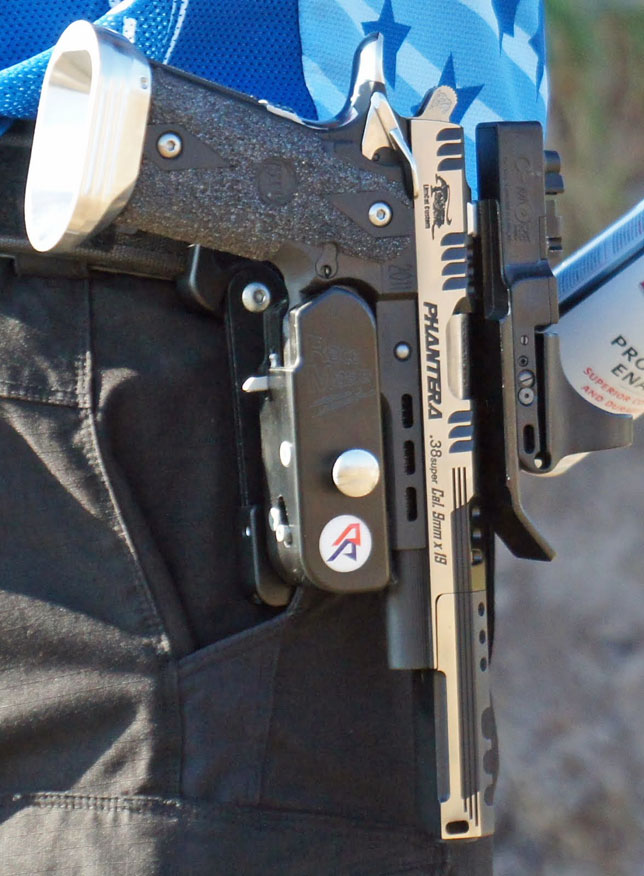 Limcat Phantera
Back to 1911-style platforms, is the Phantera. This is a custom gun built by and designed for USPSA Open division. The 1911/2011 style of pistols rule the roost at Steel Challenge. An"ideal" Steel Challenge gun has a trigger pull less than the total weight of the gun, a feat easier to achieve on a 1911 than most other platforms.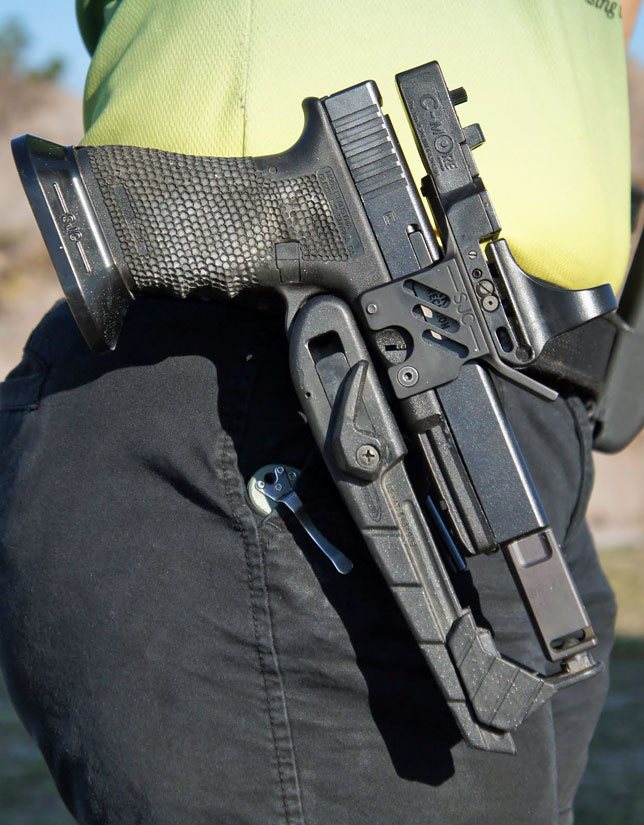 SJC Glock
On the more vanilla end of the spectrum, is Randi Rogers' custom. Built by SJC, this Glock takes the best technology available for open guns and applies it to the tested Glock platform.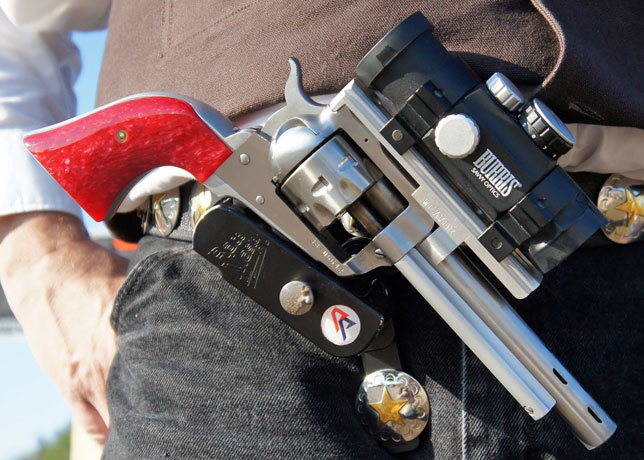 Ruger Blackhawk in .38 Super
A great example is this: a single action Ruger Blackhawk converted to .38 Super. This gun competes in Open Revolver, because it's ported and using a Burris optic. It is also a truly one of a kind custom gun specifically built to fit the owner's desire for a single-action eight shooter.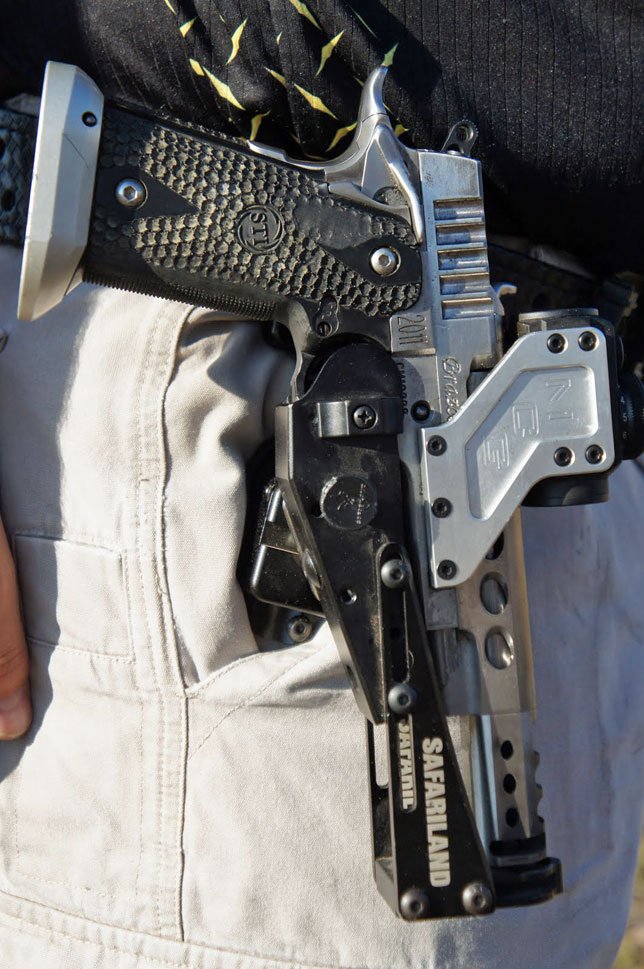 STI 2011
Steel Challenge is the fastest of the action shooting sports, and while guns like BJ Norris' double-stack STI 2011 may reign supreme, they're far from the only guns in attendance. With fewer rules governing equipment, shooters are free to build guns to best suit their shooting needs.