The Sheraton Harrisburg Hershey Hotel was the setting on Feb. 6, 2015 for the ribbon-cutting festivities that kicked off the world's largest consumer outdoor show. More than 1,100 exhibitors and manufacturers have erected booths at the Pennsylvania Farm Show Complex for everything from shooting sports equipment and supplies to hunting gear, archery, fishing, ATVs, cabins, trucks, RVs, boats and virtually anything else related to America's love of the outdoors. 
Present at the opening ceremony were 120 industry leaders, media and guests including (from left) Mary Smith, President Hershey-Harrisburg Visitor's Bureau; Jeff Haste, Dauphin County Commissioner; NRA General Operations Executive Director Kyle Weaver; NRA Second Vice President Pete Brownell; NRA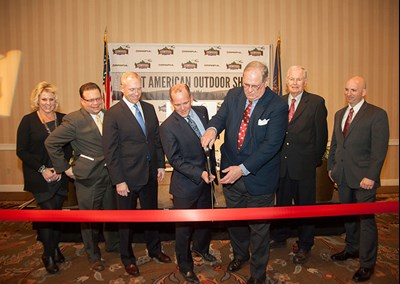 President Jim Porter; NRA First Vice President Allan Cors; and Duane Liptak, Magpul Director of Product Management and Marketing (event sponsor).
2014 was NRA's first year as the sponsor and organizer of the 65-year-old event, which attracted 170,000 enthusiasts from 36 states. This year, an even greater number of attendees were reported to have been pre-registered before this year's extravaganza even opened, forecasting an economic impact of $70 million and 7,900 jobs on the Harrisburg region. 
The show is open to the public from Feb. 7 to 15. For more information, visit greatamericanoutdoorshow.org.  
For daily updates, bookmark americanrifleman.org/news.