by
posted on January 19, 2022
Support NRA American Rifleman
DONATE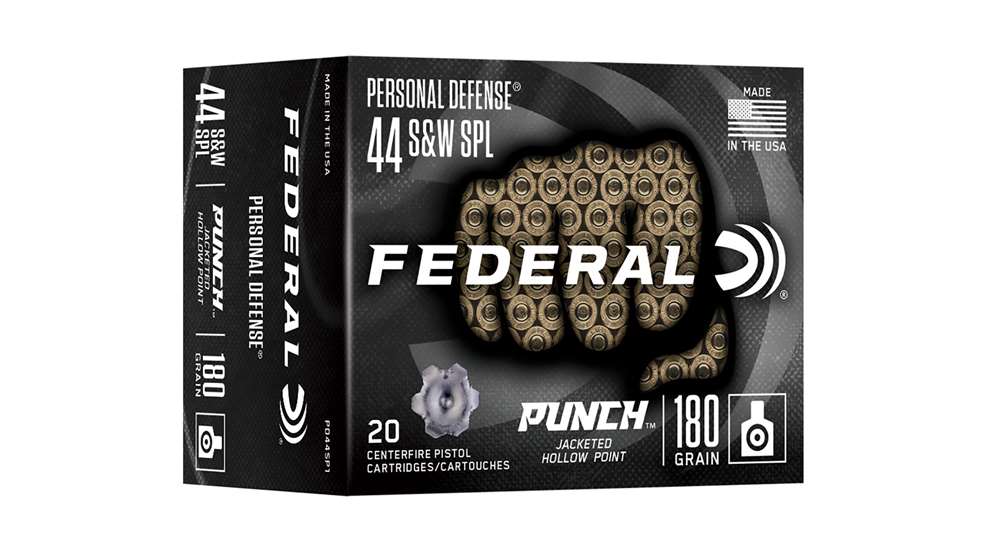 Federal Premium developed its Punch line of defensive ammunition as an affordable alternative to many of the premium-priced defensive loads on the market, and the latest offering in the Punch lineup for 2022 is an all-new .44 Spl. cartridge.
Punch is designed to outperform comparably priced self-defense rounds in its category, and its affordable price means that shooters can put more of their dedicated defensive rounds through their personal handgun of choice, ensuring that the guns perform reliably when called upon and that shooters are confident with the shots they make. The .44 Spl. offering in the Punch lineup provides a 180-grain projectile with a skived jacketed hollow point design that offers a blend of penetration and expansion to stop a threat. The rounds are loaded in brass cases with sealed primers, ensuring they're protected from weather, sweat, oils and other environmental hazards encountered during daily carry.
As a .44 Spl. load, this latest Federal Premium Punch offering offers a low-recoil alternative to owners of .44 Mag.-chambered handguns, giving them effective stopping power without the associated recoil of a magnum load. The Punch .44 Spl. load is sold in boxes of 20 cartridges, and each box retails at a manufacturer's suggested price of $35.99. For more information, visit federalpremium.com.