by
posted on July 5, 2018
Support NRA American Rifleman
DONATE
If you've been following my firearm reviews on this site over the last few years, you've seen Hyskore benchrests tucked under various handguns and rifles along the way. They are hard to miss with their all steel construction and distinctive OD green frames. I've been impressed with these rests for their durability, stability and precise adjustments. When I found out that the company also offers a variety of handgun storage racks, I wanted to learn more. Once again I was impressed with the variety and flexibility of the storage options this company has to offer.
The 6-Gun Modular Pistol Rack (#30277 ) consists of supports and dividers made of a lightweight, non-reactive closed cell foam that will not absorb moisture or react with lubricants or solvents. The foam is soft along contact surfaces to protect gun finishes while being ridged enough to provide plenty of support. The rest is factory configured to hold six single-stack or double-stack semi-automatic pistols as well as small-frame revolvers. However, it can be broken down and reconfigured using 3/16" threaded rods, washers, and hex nuts (readily available at your local home improvement store). Split it into single, double or triple racks that fit into smaller storage spaces or increase the space between the slots for larger handguns.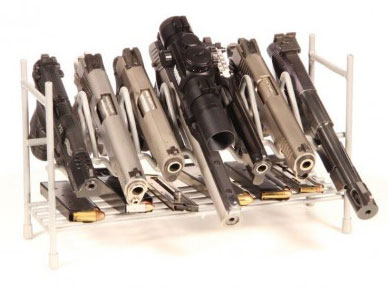 One of the most popular options Hyskore offers is the 7-Gun Wire Pistol Rack (#30058) featuring a welded steel construction, which is treated with a durable, gun-friendly vinyl coating. The slots are set close together to maximize the use of space inside the safe. A storage shelf below the pistols can be used to store spare magazines or small, pocket-sized pistols. Each rack arrives with a set of couplings so that a second rack can be stacked on top of it. The Mega Stack Rack (#30184) follows the same design concept as the Wire rack while providing eight pistol slots with a taller tube steel frame and stabilizing rubber feet.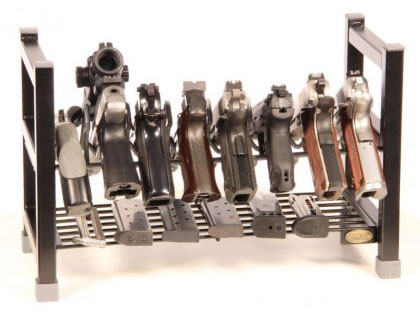 One of the most flexible pistol storage systems on the market is the 6-Gun Speed Rack (#30251) which was designed to fit in locations that typically would be unusable for handgun storage. The powder-coated, wedge-shaped sheet steel chassis is punched with a series of ports that allow six delrin plastic support rods to be shifted vertically or horizontally as needed.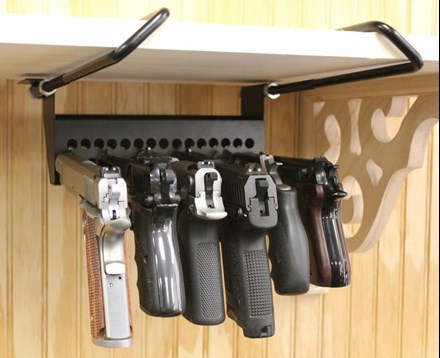 Use the two M-10 steel shelf hooks provided with the rack to clamp it to the top of a shelf or to hang it below the shelf. Pre-drilled holes allow the chassis to be mounted directly to a shelf or wall. This rack can support 15 lbs. worth of gun metal as long as the shelf or wall it's mounted to is strong enough to support that much weight.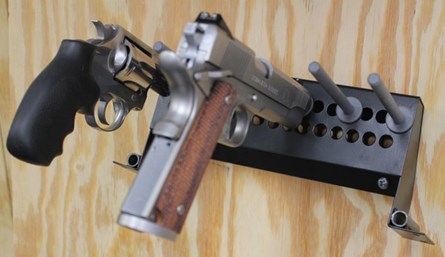 For more, visit
hyskore.com