Support NRA American Rifleman
DONATE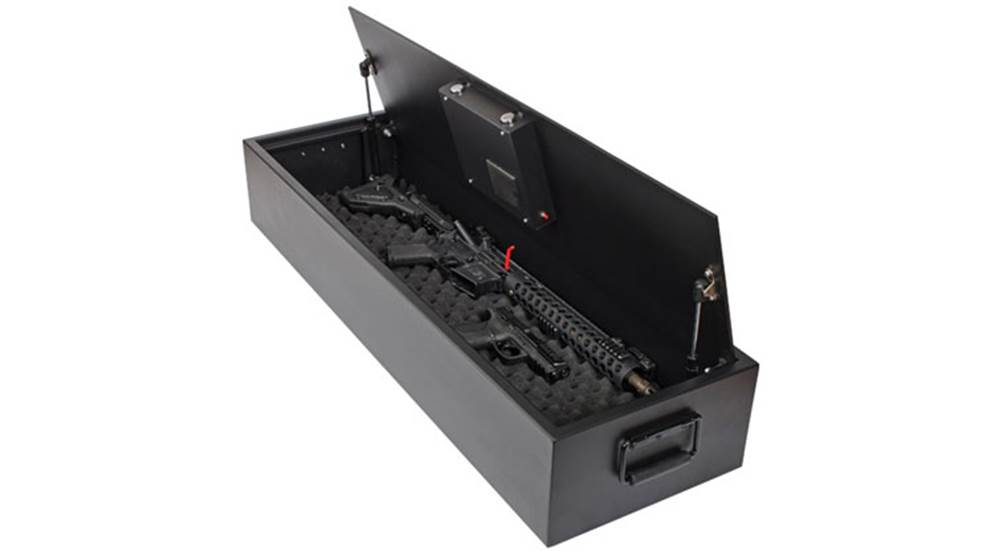 A few years back, I posted a walkthrough of the primary categories of secure gun storage devices available on the market. Like any other technology, these products continue to evolve to fit shooting enthusiasts' needs. One company that offers innovative storage solutions is SnapSafe, which is a division of Hornady. 
The company's Titan series of gun safes, which are assembled on site, can be moved by smaller teams (even a team of one in some cases) and set up in locations where welded safes cannot go. But even with this degree of portability, the company recognizes that traditional upright gun safes are not an all-purpose fit. So the company has developed a series of specialized storage units built of thicker steel with stronger locking mechanisms than the typical gun cabinets while filling a particular niche, literally. Here is a closer look at SnapSafe's top-opening Trunk and pull-out drawer Under Bed safes.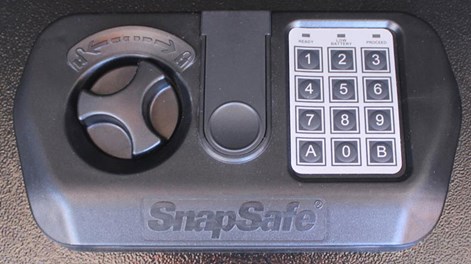 These two systems share some important features in common. The recessed opening panels are pry resistant to help prevent unauthorized access. Each is fitted with an electronic-keypad-controlled locking mechanism. The keypad can be programmed with two different 3- to 8-digit access codes. If the wrong code is entered three times in a row, the keypad is deactivated for 20 seconds. Entering three wrong codes again will lock out the system for five minutes.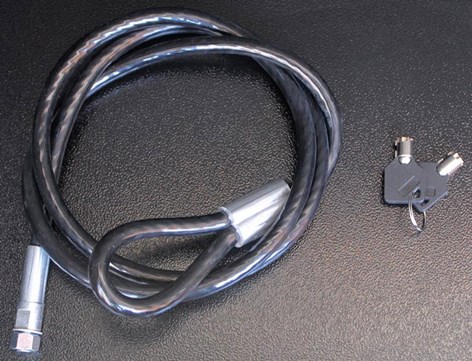 Should the four AA batteries run out of power, or the owner forgets the code, the provided mechanical keys can be used to access the safe. Security cables are provided to tether the safes to either the interior of a vehicle or a bed frame. Both units are pre-drilled so that they can be permanently mounted to the interior of a trunk or the floor (mounting hardware is not provided).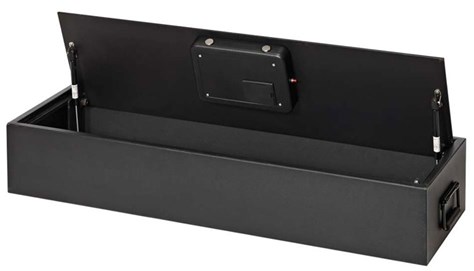 The exterior of the SnapSafe Trunk Safe is 42" wide, 7" high and 13" deep with a black finish. Weighing in at 89 lbs., the body is constructed of welded 13-ga. steel and fitted with a 6-ga. steel door. A set of internal hinges and a pair of premium gas shocks allow the top-opening door to safely swing open with ease. The locking mechanism drives two 0.85"-diameter chrome steel bolts forward into the frame to secure the safe.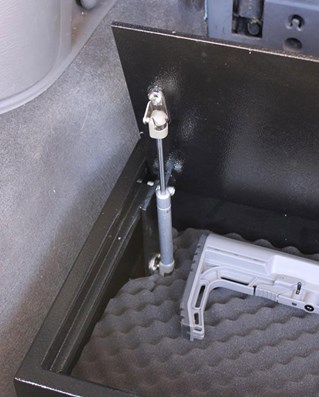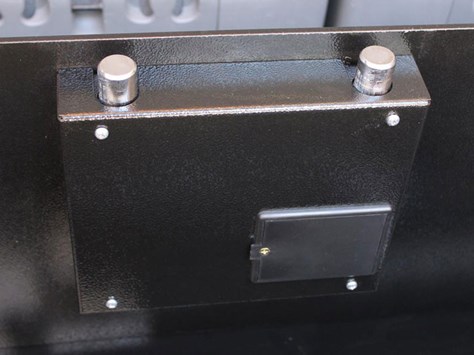 The interior is 41" wide, 6.15" high and 12.85" deep in order to accommodate a variety of handguns and long guns, including scoped rifles. The bottom panel is lined with egg-crate-pattern foam padding to protect firearm finishes, but there is no padding along the walls or door. To assist in moving or installing this safe, either end is fitted with hinged, padded carry handles.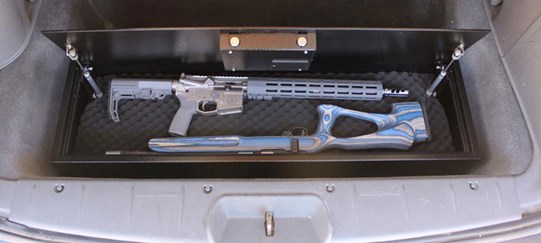 New for 2018, the welded Under Bed L safe (the L stands for Large) is designed to operate as a pull-out drawer much like those found in nightstands and dressers.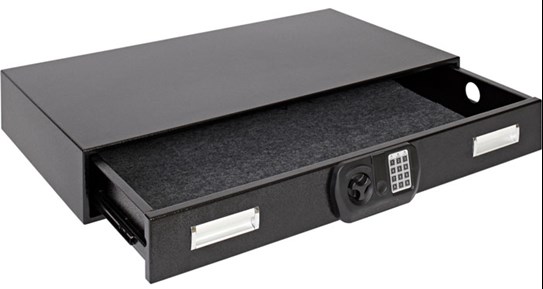 As the name implies, this unit is designed to make use of that often useless space under a bed. However, it can also be used in a vehicle with a flat storage area that is level with the tailgate.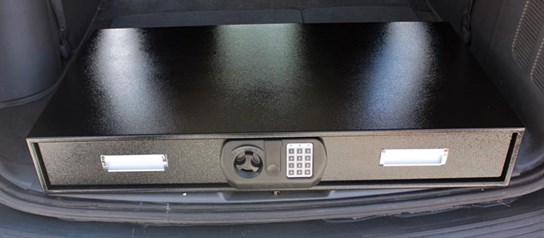 Constructed of 14-ga. steel throughout with a black finish, the exterior is 40" wide, 6" high and 22" deep for an unloaded weight of 105 lbs. The interior of the drawer is 37" wide, 4.5" high and 20" deep. A layer of felt on the bottom of the drawer provides enough padding to protect firearms from dings and scratches without sacrificing as much storage space. The chrome locking bolts move sideways, one at each end, to secure the drawer when locked.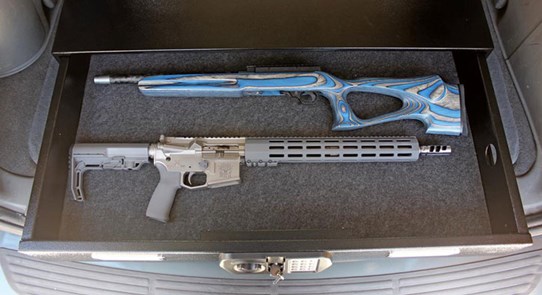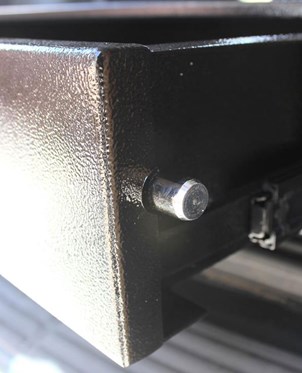 The photographs of these safes don't successfully convey how much usable interior space each of them provides. A bit of creative organization will allow more guns to fit into each unit than the two rifles shown here. If you only have a couple of guns to secure in your home, then use the rest of the Under Bed safe's space to store other valuables including important documents, jewelry and electronics. The Trunk safe is ideal for preventing expensive work tools from "getting lost" at a worksite or keeping valuables safe while on vacation.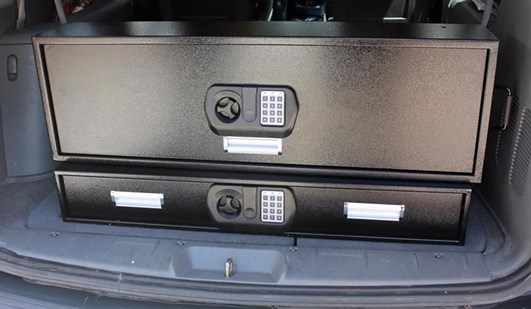 SnapSafe products ship with the company's no-risk lifetime warranty and may qualify, depending on the model, for free shipping within the continental U.S. 
Specifications:
Manufacturer: SnapSafe
Model: Trunk Safe (No. 75405)
Exterior Dimensions: 43"W x 7.70"H x 13"D
Interior Dimensions: 41"W x 6.15"H x 12.85"D
Lock: Programmable digital keypad with override backup key
Access: Hydraulic-supported top-opening door
Construction: 6-ga. steel door, 13-ga. steel body
Locking Bolts: Two, chrome steel
Liner: Egg-crate-type foam pad (bottom panel only)
Weight: 89 lbs.
Fire Rating: N/A
Power Supply: 4 AA batteries (sold separately)
Accessories: Attached carry handles, 3-ft. security cable, two override keys, owner's manual
MSRP: $350
Model: Under Bed Safe L (No. 75401)
Exterior Dimensions: 40"W x 6"H x 22"D
Interior Dimensions: 37"W x 4.50"H x 20"D
Lock: Programmable digital keypad with override backup key
Access: Pull-out drawer
Construction: 14-ga. steel
Locking Bolts: Two, chrome steel
Liner: Felt (bottom panel only)
Weight: 105 lbs.
Fire Rating: N/A
Power Supply: 4 AA Batteries (sold separately)
Accessories: 5-ft. security cable, two override keys, owner's manual
MSRP: $399