by
posted on July 26, 2017
Support NRA American Rifleman
DONATE
U.S. Army photo by Capt. Charles Emmons

The Army News Service is reporting the 101st Airborne Division, based in Fort Campbell, Ky., will receive the first shipments of the new Modular Handgun System in November. The pistol is based on the commercially available SIG Sauer P320 and is chambered in 9 mm.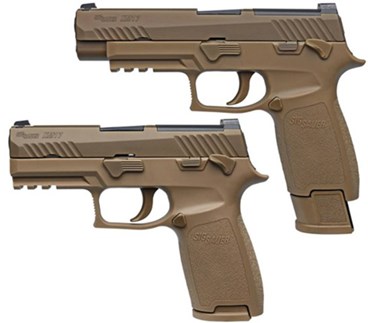 Two thousand of the firearms will go to the Screaming Eagles in the first shipment, and roughly once every month another base will receive its new handguns. Transitioning fully from the Beretta M9, which went into service back in 1986, could take up to 10 years.
The same article includes some interesting XM17 observations from Product Manager of Soldier Systems Lt. Col. Steven Power. He told the reporter every soldier who has used the handgun—as in 100 percent—thinks it's an improvement over the M9. "That's an uncommonly positive thing," he said. "Typically, even in our own households, when you're buying a new car, there's things that people like about the old car better than the new one." Confidence and comfort were most often cited by soldiers after range sessions.
There's more, though. "The specific performance improvements from MHS over the M9 are in the area of accuracy, dispersion (and) ergonomics. And ergonomics isn't just about the comfort of the shooter," Power explained. "The shooter will have a handgrip that fits their hand properly, which does a lot to improve accuracy—not only on the first shot but also on subsequent shots."
SIG Sauer landed the $580 million Modular Handgun System contract in January, although the deal wasn't necessarily sealed until the Government Accountability Office denied Glock's subsequent protest. 
Winchester is the subcontractor  providing four different flavors of 9 mm ammunition. Power claimed the military didn't give the chambering preference during testing. "The goal was to pick a system that best met our requirements," he said.