by
posted on June 20, 2018
Support NRA American Rifleman
DONATE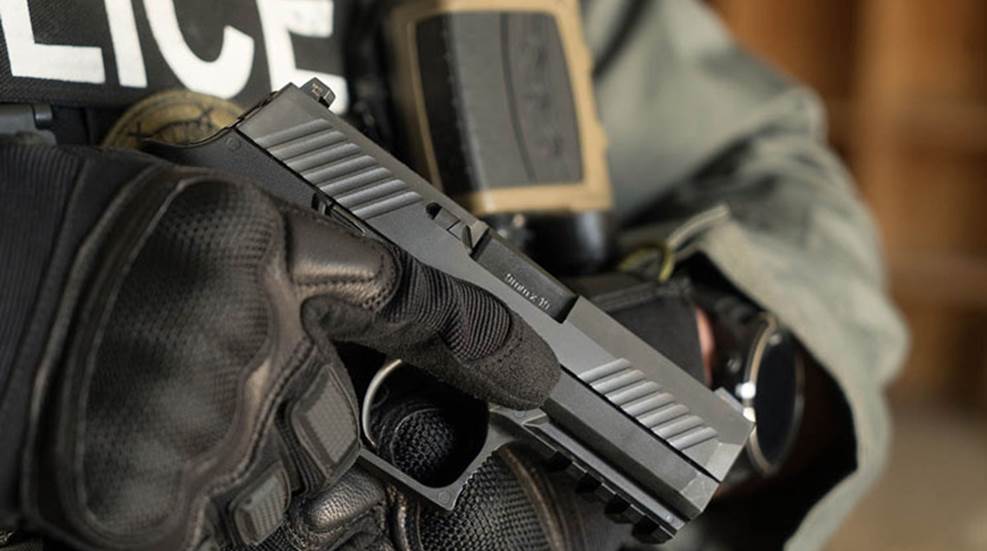 Earlier this month the Chicago Police Department added several versions of the SIG Sauer P320 to its officially authorized duty pistol list. With more than 13,000 sworn officers covering 22 districts inside the city limits, it's the nation's second-largest police department. Last week, SIG Sauer announced the Tampa, Fla., Police Department has purchased 1,375 P320s and is making it the department's duty handgun.
The trend isn't exclusive to large departments, either. The Jacksonville, Ark., Police Department's 59 officers are now carrying a P320 as they protect and serve nearly 30,00 residents. Lt. Brett Hibbs, from the agency's Support Services Division, claims the change has made a big difference. "All of our officers have completed the training and instruction process with the new pistol and we've found, overwhelmingly, that the P320 has made them more proficient shooters due to the ability for the officers to choose their preferred grip size, the smooth trigger and ambidextrous controls," he said.
The Bismarck, N.D., Police Department purchased 140 P320s earlier this year. "The SIG Sauer, in the majority of opinions, outperformed the Glock," said Bismarck Police Chief Dan Donlin. "It provided a lot more overall comfort and handling in the varying hand sizes of our officers."
In January 2017, the military-version of the handgun was announced as the winner of the U.S. Military's Modular Handgun System competition—securing SIG Sauer a $580 million contract as it supplied the guns to slowly phase out the aging fleet of Beretta M9s. The Screaming Eagles of the 101st Airborne were the first to receive the sidearms in December, and positive reviews by soldiers handling the gun for the first time may be helping fuel some law enforcement purchases.
"SIG Sauer's commitment to the entire law enforcement community is to provide them with superior firearms to protect and serve their communities," said Tom Jankiewicz, executive vice president of Law Enforcement Sales at SIG Sauer, after the Tampa announcement, "and the superiority of the P320 exemplifies this commitment."