by
posted on June 20, 2019
Support NRA American Rifleman
DONATE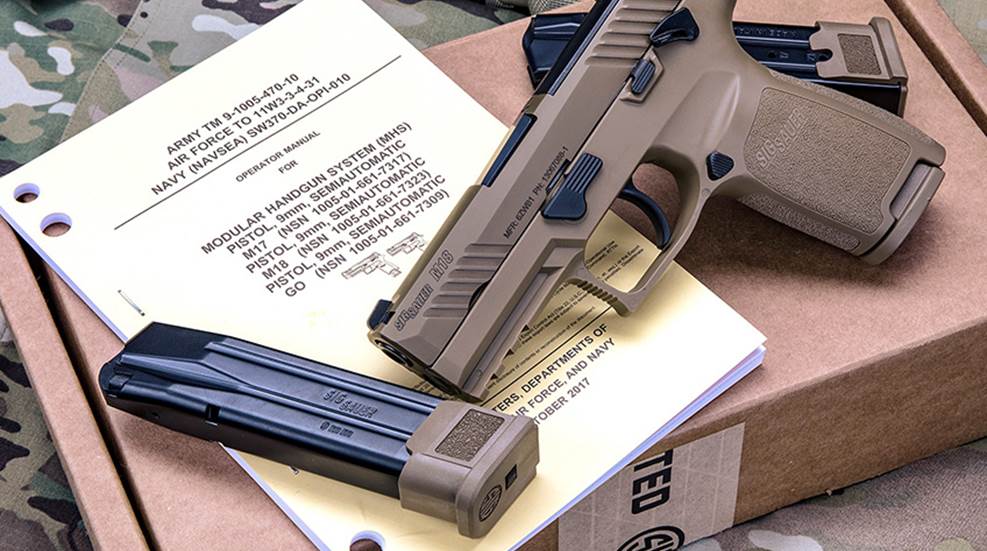 The Marine Corps' recently announced it was adopting the M18, the shorter, more concealable variant—3.9" barrel, versus the 4.7" version on the M17—of the SIG Sauer-produced Modular Handgun System (MHS) being issued to the Army and all other U.S. Armed Forces. When this branch fully phases in the pistol, however, it's not just the long-serving Beretta-made M9s destined for retirement.
Some Glocks and Colts are also scheduled for replacement, according to the Navy's 2019 and 2020 budget-estimate report. "The Modular Handgun System will be purchased to replace the legacy M9, M9A1, M45A1, and M007 pistols with a more affordable and efficient pistol for maintenance," the 2019 version [PDF] published in February 2018 explains. "The MHS also provides modularity and greater shooter ergonomics over the current models which will allow for more accurate fire for military personnel of different sizes."
M9s were in widespread use in 1985, but the 1911-based, .45 ACP-chambered .M45A1 was standard for some of the most elite combat forces in the branch. By 2016 it was already being replaced by Glock 19s in some units, though.  The M007, Glock 19M, is a relatively recent purchase and was issued to Marine Corps members assigned to presidential helicopter duties and criminal investigation officers, where concealed handguns are better suited to their respective assignments.
The decision by the marksmanship-emphasizing Marine Corps to go with a shorter barrel may be partly based on the results from military testing on the M18 earlier this year, in which three of the handguns digested 36,000 rounds without a single stoppage. Protocol calls for only 5,000 cartridges per firearm, and a dozen stoppages is considered within the acceptable range.
The Marines are scheduled to receive 35,000 M18s this year at a cost of $6 million, with more expected to arrive in 2020. Units will begin issuing the sidearm early next year if everything goes as planned.

Additional Reading:
U.S. Marine Corps to Adopt M18 as Official Duty Pistol