by
posted on July 21, 2016
Support NRA American Rifleman
DONATE
When the Army decided not to include the Beretta M9A3 in its search for a new official sidearm, the company made it available for civilian enthusiasts and Gabrielle de Plano, Beretta vice president of Defense Marketing and Operations, provided some interesting tidbits on the handgun recently.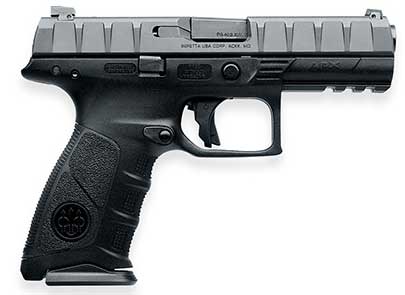 I was calling about the Army's current search for a new official sidearm, and Beretta's still-in the running APX. In reality, the company's submission is a variation of that handgun to fit the requirements mandated in the military's search for a new Modular Handgun System. He very politely begged off on specifics, but filled in some interesting tidbits about the M9A3 now available to civilians.
Beretta Defense Technologies harnessed one fact no other manufacturer could when it offered the M9A3—the U.S. Military has a lot of M9s, M9 parts, accessories and staff trained in shooting and maintaining the handgun. Admittedly, a lot of it is worn and war torn (the parts, not the servicemen), but there's some serious coin invested.
Rather than forcing a complete refitting, the M9A3 is wisely designed similar enough to its predecessor that it fits many current-issue holsters. That would have been a significant cost savings for the military. Now recreational shooters can reap the benefits. At the field strip level, 100 percent of the parts are interchangeable with the current M9—76 percent at the armorer's level. "My barrel's bad!" "Toss in that old one from Desert Storm, it'll run fine." It's not quite Lego versatility, but probably as close as you're going to get in handgun.
Beretta estimates the new version meets 86 percent of the new Modular Handgun System's requirements, although de Plano emphasizes that number didn't come from the military. Going for government contracts is a very gentlemanly, it seems, and tight lipped, because he wouldn't even divulge chamberings in which the APX was submitted.
One of the more interesting controversies over the current search is the fact that contenders can submit different-sized cartridges and harness the stopping power of modern bullet design—hollow point, polymer, etc. The military decision is based on some post-deployment comments that the M9 failed to stop threats, but they were using 9 mm M82 ball. Anyone familiar with self-defense loads wouldn't carry full-metal-jacketed bullets because of their poor terminal performance—so don't let those lack-of-stopping-power rumors keep you from taking a serious look at the M9A3. I know after my conversation with de Plano, I will be.