by
posted on April 20, 2010
Support NRA American Rifleman
DONATE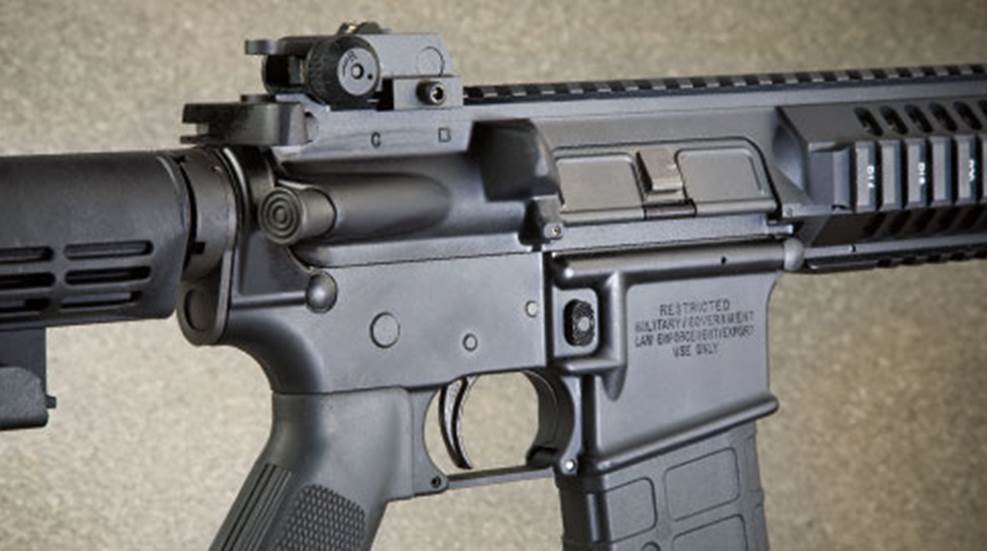 Introduced in 2009, the Colt LE6940 Advanced Law Enforcement Carbine is best thought of as a semi-automatic-only version of the M4 modified with Colt's proprietary monolithic one-piece upper receiver and handguard.
This upper receiver traces its origins back some six years to guns Colt produced for the SCAR (Special Operations Forces Combat Assault Rifle) program of the U.S. Special Operations Command (SOCOM). It is designed to obviate the need for a separate multiple-rail handguard for mounting accessories, affording perfect alignment of accessories mounted in-line with the primary optical device, providing extreme rigidity, and allowing the removal and reinstallation of optics without loss of zero. Additionally, the handguard section provides sufficient ventilation to prevent heat buildup around the barrel. And the monolithic upper weighs less than a standard upper receiver with separate quad-rail handguard attached.
The upper, made from a CNC-machined 7075-T6 aluminum forging, features integral top and side Picatinny rails extending forward just to the rear of the gas block. Recesses for quick-detachable sling swivels are located on both side rails. The bottom rail is a separate piece that can be detached for cleaning or installation of under-barrel accessories. All rail sections have numbered slots for repeatable installation of devices.
The LE6940 has extensive parts commonality with the M4, sharing the barrel's chrome-lining, four-position collapsible stock, and birdcage-style flash hider. Also present are the familiar shell deflector, ejection port cover and forward assist. The LE6940's bolt, carrier and trigger mechanism also follow the proven AR-15 pattern, as do the controls on the lower receiver: magazine release, reversible safety and bolt release. Like all current Colt-produced rifles, the LE6940 uses 0.154-inch-diameter hammer and trigger pins.
The 1:7-inch twist of the barrel and 5.56x45 mm NATO chamber allow the use of 55-grain, 62-grain and 77-grain ammunition. The M4-style barrel measures 0.750 inches at the gas block, but decreases to 0.640 inches under the handguard, and incorporates the M4-style step. Barrel attachment is by way of an improved barrel nut that reportedly offers greater strength.
Although the LE6940 will most likely be equipped with a red-dot or optical sight, the gun is fitted with front and rear Back-Up Iron Sights (BUIS). In front is a protected post sight integral with the gas block and bayonet lug. It is designed to work with the supplied MaTech rear sight, which has a flip-up aperture adjustable for windage and elevation. Elevation adjustments are made by way of a drum calibrated for M855 ammunition at ranges of 200 to 600 meters. The rear sight is low enough not to interfere with most scopes, but may also be removed.
Our initial impression of the Colt LE6940 received for testing was that of a lightweight, robust patrol rifle that felt handy and well balanced with the stock fully extended or collapsed. The monolithic upper receiver, though extensively skeletonized in the handguard area, seemed to offer the rigidity the design promises.
We mounted a Leupold VX-3 8.5-25X 50 mm scope on the rifle and tested it for accuracy at 100 yards using .223 Rem. loads from Cor-Bon, Hornady and Winchester. Firing support was given by a Harris bipod that attached directly to the bottom Picatinny rail section, and a Redman Tactical poly-filled bag in the rear. Firing conditions were far from ideal with the target area partially obscured by moderately heavy falling snow. Moreover, the shape of the M4 collapsible buttstock did not lend itself to a stable and repeatable position on the rear bag. In spite of these challenges, we achieved excellent accuracy with all three loads producing sub-m.o.a. averages.
We also tried an EOTech scope on the LE6940 and tested the gun on tactical silhouette targets at ranges from 25 to 100 yards. Even when shooting quickly offhand, the gun/sight combination kept its shots in the target's center of mass at these distances.
Reliability through more than 250 rounds, fired out of G.I. and Colt 20-round units, as well as Brownells 30-round magazines, was flawless, with strong ejection and no malfunctions of any kind.
While we found little to dislike about the Colt LE6940, we'd have preferred a trigger pull lighter than the rifle's measured 7 pounds for more precise shooting. Also, we would have liked less wobble in the buttstock, though few collapsible stocks exhibit complete rigidity. Finally, an extended charging handle latch would have been welcome.
For shooters who want the benefits of the monolithic upper, but who are prohibited from owning the LE6940 in their jurisdictions, Colt offers the MT6400R. This rifle, essentially an LE6940 without a bayonet lug and a muzzle brake instead of a flash hider, retails for about $1,615.
The Colt Model LE6940 is a well-conceived and well-executed modification of the original design, with exemplary accuracy and reliability as well as a variety of features real-world operators would find useful.
Manufacturer: Colt Defense LLC; (800) 962-2658, ext. 1450; Colt.com
Caliber: 5.56x45 mm NATO (.223 Rem.)
Action Type: Gas-operated, semi-automatic center-fire rifle
Receiver: Upper and lower, forged 7075-T6 aluminum
Barrel: 16.1", chrome-moly, button rifled, chrome lined
Rifling: Six-groove, 1:7" right-hand twist
Magazine: 20- or 30-round box
Sights: Height-adjustable flip-up front post; rear sight adjustable for windage and elevation, with 0.069" flip-up aperture; top, side and bottom Picatinny rails
Trigger: Single-stage, 7-lb., 4-oz. pull
Stock: Collapsible polymer: length of pull, 10" to 13¼"; drop at heel, 1/2"; drop at comb, 1/2"
Overall Length: 351⁄4" (buttstock extended), 32" (buttstock folded)
Weight: 7 lbs., 1 oz.
Accessories: Two 20-round magazines, quick-detachable front sling swivel, nylon sling, cleaning kit, owner's manual
Suggested Retail Price: $1,700