Support NRA American Rifleman
DONATE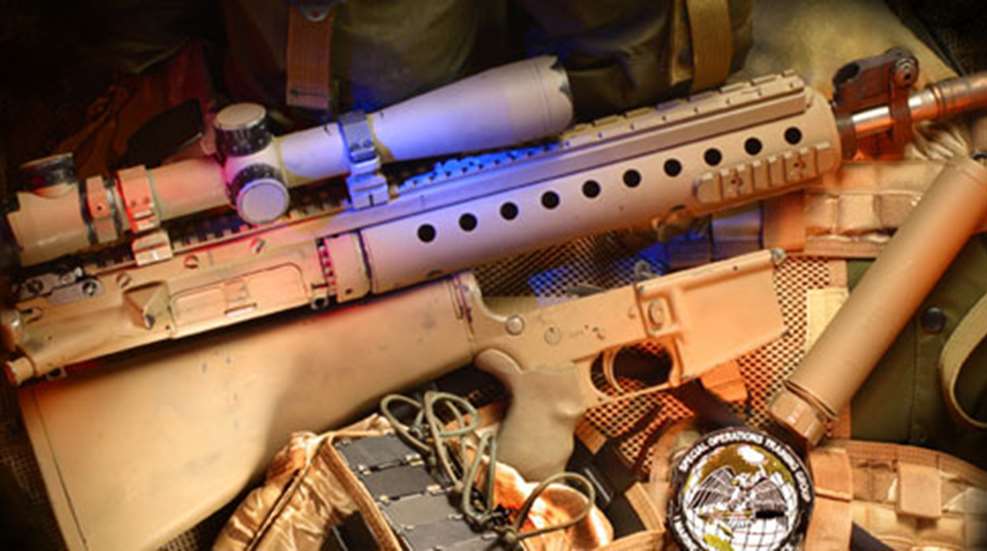 No other gun, not even the much-modified 1911, comes close to matching the customization possibilities of an AR rifle. An AR can be shortened, lengthened, tuned for competition or modified for tactical use, combat, augmented, enhanced, accurized, souped-up, cut-down, tricked-out or hot-rodded. It's the short-block Chevy of the gun world.


When we talk about custom ARs, however, we have to be careful with our terminology. Bolting on aftermarket parts, is accessorizing, not customizing. How does accessorizing differ from customizing? The dividing line is the tools. Accessorizing stops and customizing begins when you need armorer blocks, snap ring pliers, punches or other specialized gunsmithing tools.
To begin a "build," any brand of AR can be used, and while some AR-platforms are better than others, brand is not so important when it come to upper and lower receivers. The components that are important are the bolt carrier group, fire control mechanism and barrel.

Available Modifications
An AR is a two-part gun consisting of the lower receiver and the upper barrel assembly. Of the two, the upper barrel assembly is where all the money goes on a custom build. The lower, which has the serial number, is really just a sled on which to mount an upper. The only things you can do with the lower are replace the trigger and receiver extension (buffer tube).
First, on the lower receiver, verify that the pivot pin holes are standard. While the majority are standard in size and location, some companies have broken from the standard, which makes fitting the upper and lower receivers together quite difficult.

This brings us to the upper barrel assembly. The first thing you'll want on your build is a high-quality bolt carrier group with an M16 bolt―no, this doesn't make your AR into a machinegun―that's been magnetic-particle inspected and shot peened.

A custom AR barrel is something of a niche product. The "usual suspects" in custom barrels, such as Douglas and Shilen, don't make pre-chambered and turned AR barrels. One brand widely acknowledged is Noveske. John Noveske used to work at Pac-Nor Barrels (which still does custom work for him) and so he knows the ins and outs of lands and grooves. His barrels are made of the same stainless material as M249 barrels.

If you opt for a custom barrel, you'll almost certainly want to replace the entire upper barrel assembly. It's better to order an upper as a complete unit with a custom barrel. Fitting the upper receiver to a custom barrel, checking the headspace and making sure the gas port and tube are all properly set-up requires gunsmithing skills. I've put an upper barrel assembly together myself, but even with a drawer full of specialty tools from Brownells, it was stretching my abilities.

In my experience, one of the best crews to put together a complete upper barrel assembly is at Mid-South Tactical Network (MSTN). They work with Noveske barrels and Vltor VIS receivers and fore-ends, although you can specify your choice of brands. MSTN offers upper barrel assemblies packages that have all the upgrades you need, from MIP tested bolt carrier groups to properly cut M4 feedramps to precision alignment and headspacing.

Another good source for a complete custom upper is John Noveske. He offers a wide selection of barrels in various lengths and contours on Vltor VIS uppers with properly fit and tested bolt carrier groups included.

The upper barrel assembly is really an all-or-nothing proposition. A custom barrel and an integral fore-end is where you gain the most on an upper build.

What To Expect
Perhaps I should start with what not to expect. While an AR is capable of shooting extremely well with a full-length 20-inch bull barrel and match ammunition, as evidenced by the match rifles shot in NRA matches at Camp Perry and elsewhere, a tactical AR shooting ball ammunition―even a best-quality build—can only be expected to shoot two-inch five-shot groups at 100 yardson average.

You see, we're talking about tactical rifles here. By the time you festoon the gun with vertical grips, lights, lasers, muzzle brakes and Picatinny rails, you've compromised the platform's inherent accuracy. I'm also couching my comment in the context of shooting tactical ammunition. The military load, M855, is notoriously inaccurate; SS109 is even worse.

If you shoot high-grade match ammo such as Sierra Match Kings by Black Hills Ammunition, then that's a different story. You can expect MOA or better. But with military ball, a tactical build is not a tack driver.

I've shot a number of Noveske builds made by the maker himself and also custom builds from MSTN. Three shots into an inch—on a good day. But three-shot groups are not a valid test. Try five shots. I've never shot an inch for five-shots with a tactical AR, ever. Oh, I've had a few 1.5-inch groups, but by and large don't expect more than 2-inches from a tactical build with ball ammo. With that in mind, you may be pleasantly suprised by your accuracy, but youlikely won't be disappointed.


What about reliability?
I hate to burst a balloon, but a custom build is not what determines reliability. The number one cause of malfunctions in an AR is the magazine. A top-dollar rifle with gun show GI magazines is not going to be reliable. The second main cause is improper cleaning. Run the gun wet with lots of lube in the bolt carrier with good quality magazines and any AR, custom or not, will purr like a very loud kitten.

The main benefit to a custom build is—and I'm being dead honest here—the cool factor. When you unveil a decked-out custom build, embellished with a Schmidt & Bender "Flash Dot" scope, a SureFire WeaponLight vertical grip and all the other "tacti-cool" accessories, you're going to turn heads. That's the one thing I can guarantee with a tactical build.

The Bill, Please
How much does a custom build cost? The answer varies depending on how extensive you want to go. Assuming you want all the bells and whistles, you're looking at $2,000 for a new trigger and upper barrel assembly with a top-grade barrel. If you don't already have a high-speed stock like a MagPul, SOPMOD or Vltor, add two bills.

If you want to use your factory barrel and go for a new bolt carrier group and the same Vltor VIS upper assembly that would come on a full-house build, the tab drops to a little over $1,000.

Here are some sample prices, picked from brands I trust, as a ballpark for pricing.

Vltor VIS upper assembly $660 (with fore-end, less barrel)
Vltor MUR upper receiver $230
LaRue Stealth upper receiver $250
Noveske Recon upper barrel assembly $1,295 (includes BCG)
MSTN SAM upper barrel assembly$1,795 (includes BCG)
Noveske 16" Recon barrel $580 (with low-profile gas block)
BCM bolt carrier group: $150
Geissele trigger $170
Wilson trigger $270
JP trigger $140
Timney trigger $195

Another way to go is to buy a "custom" rifle from one of the better builders. Of course, stay leery of any that claim to be Mil-Spec. If you look at "high-dollar" ARs with the idea you're getting a quality, custom out-of-the-box AR, make sure the company isn't hyping something that's impossible to produce. I repeat, there is no such thing as a Mil-Spec rifle, component or part—not even a screw—available for commercial sale.