by
posted on December 15, 2021
Support NRA American Rifleman
DONATE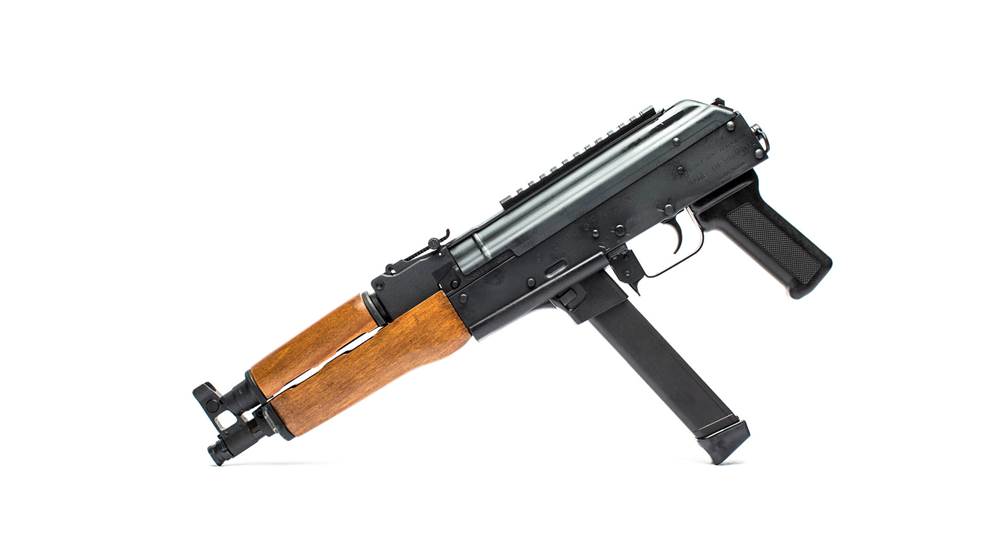 The Century Arms Draco pistol is an unusual option in today's sea of large-format semi-automatic pistols. Unlike its contemporaries, it's not a Eugene Stoner offspring. Instead, it is based on the AK-47, using that full-length firearm's tried-and-true system of operation and maintaining the manual of arms.
It's been popular for years, but finding a Draco for sale stateside was historically a hit-and-miss affair. Whenever available, however, they sold fast.
In the summer of 2017 Century Arms addressed the situation. Jason Karvois—the company's director of sales—announced that June, "The Romanian Draco Pistol imports have been infrequent due to Military and Government contracts at the Cugir factory. Due to the popularity of the Draco pistol, and overwhelming demand, Century Arms has started to manufacture the Draco pistols at our Vermont factory to be able to consistently offer them to the U.S. market."
The decision was a sound one, with response positive enough that in 2018, Century Arms expanded the line by offering a 9 mm NATO-chambered version (seen above). The blowback-operated semi-auto continues to be a popular choice today. It wears an 11.14" threaded barrel, has an overall length of 19.1", comes with one 33-round magazine and can accept Glock G17 and G19 magazines. The Draco NAK9 weighs 6.38 lbs. and MSRP is $700.
The original, standard Draco comes in at $1,000. It's chambered in the more AK-familiar 7.62x39 mm, has a 12.25" threaded barrel— twist rate of rifling is 1:10"—and measures 21.5" long. The receiver is stamped and the pistol tips the scales at 5.5 lbs. Magazine capacity is 30 rounds.
Century Arms has also expanded the line to include Micro and Mini Draco variants. They come in at $1,100 or $1,000, respectively.
Both run 7.62x39 mm ammunition and come with a a 30-round magazine. The Micro wears a 6.25" barrel, while Mini's measures 7.75". Overall lengths are 14.5" and 17.5", and the guns weighing 4.85 or 5.65 lbs.