Support NRA American Rifleman
DONATE
Gallery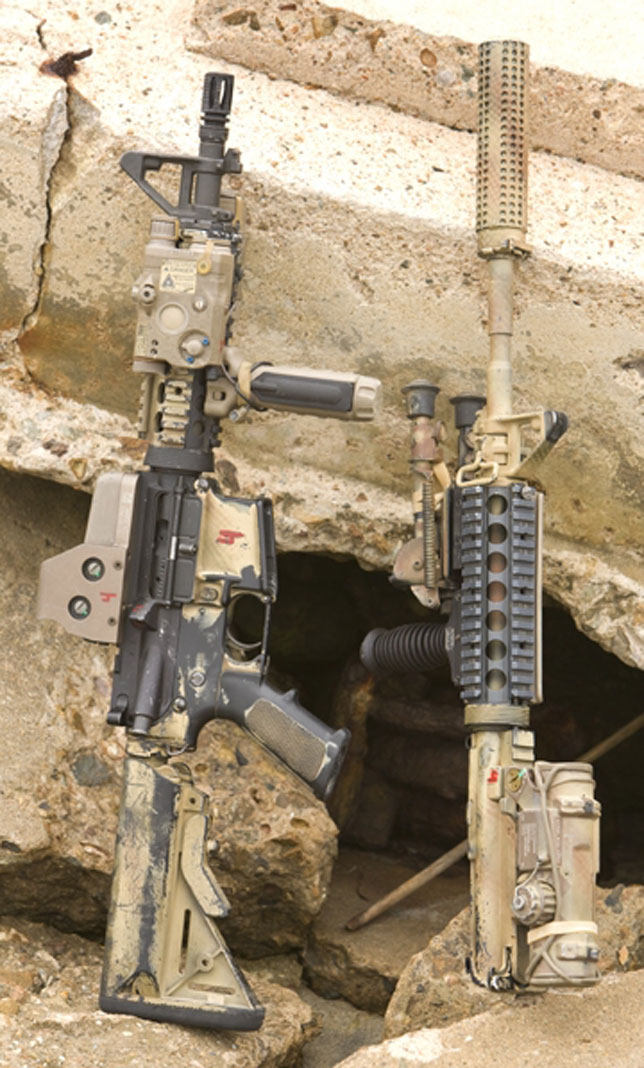 Painted SEAL Kit
The long and the short of a Navy SEAL's M4: Mk 18 short-barreled upper (10.5-inch barrel) and a standard M4 upper (14.5-inch barrel). The kit is part of the SOPMOD upgrade that all Tier 1 assets (Special Forces) are issued.

Finished Product
Here's the finished product, a G.A. Precision rifle with red-brown, tan and hints of dark brown over the black scope and green stock. Note how I left sections of the stock and scope in their original colors.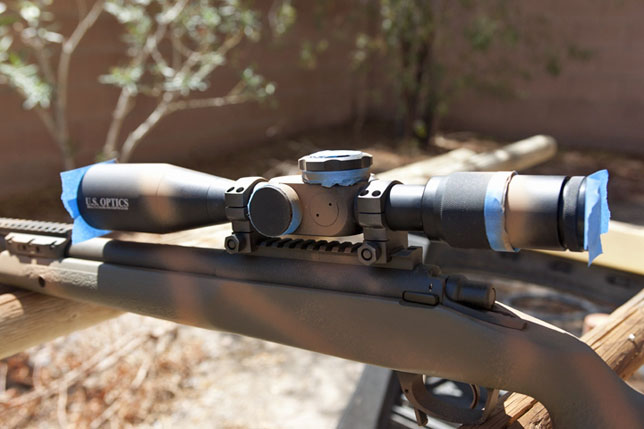 Non-Parallel Lines
Notice that I "stripe" the red-brown in lines that are not parallel. The idea is to break up the shape of the rifle.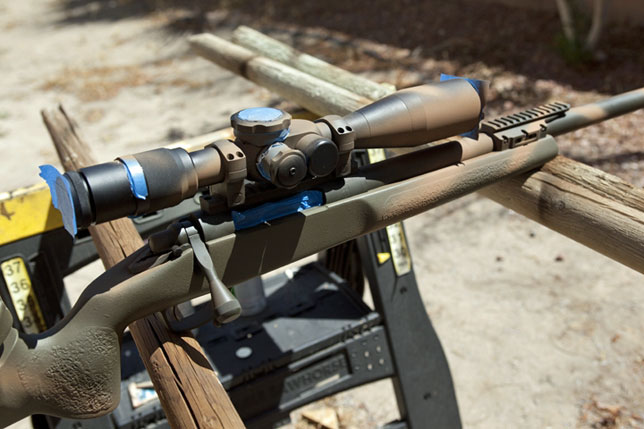 Brown Base Coat
Rather than spray a base color on this GA Precision .300 Win. Mag., I simply sprayed it with colors, one after another, since the stock was green to start with. Here it is after the first color, a red-brown, had been applied.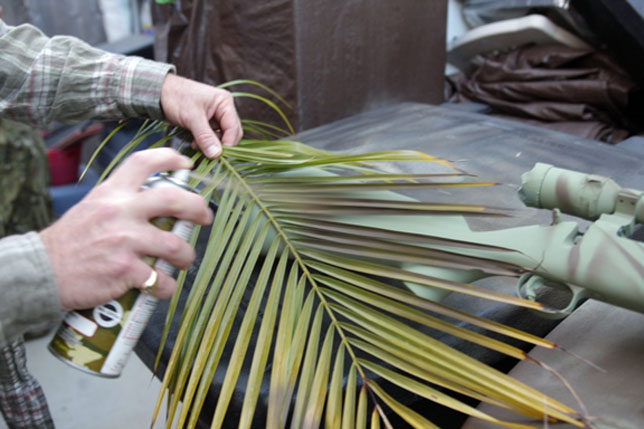 Reverse Overlay
I'm using a palm leaf here as an overlay, but any vegetation works. I happen to live in Nevada, so there are plenty of palm trees about. Again, the paint goes in the open spots, making a "reverse" of the overlay.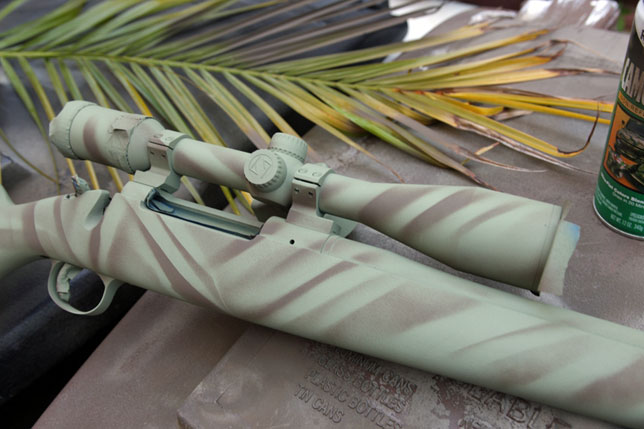 Finished with Leaf Spray
The finished product: My Ed Brown Denali rifle is no longer a plain black rifle. The leaf pattern emerges as a sort of tiger stripe pattern, which is not really intentional, but looks fine. The main thing is that the outline of the rifle is broken up.

SEAL Deployment Case
Here's what a Navy SEAL's gun case looks like when ready to deploy to Afghanistan. The gear includes: PVS 15 night vision goggles, M4 upper with Elcan sight and PEQ 2 IR laser, Colt M4 with Mk 18 short-barreled upper with Knight's suppressor, EoTech sight, ATPIAL IR laser and SIG P-226 pistol.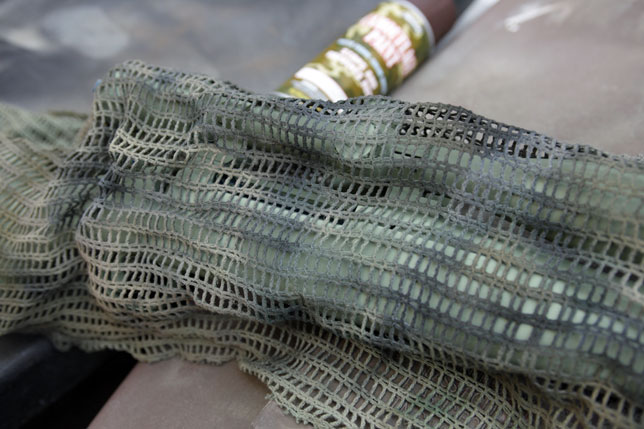 Netting Overlay
After you have a base coat, come back to accent the camo job with some sort of overlay. Two of the best overlays are vegetation (leaves) or a netting material. The overlay is a "reverse" pattern in that you paint the gaps or holes in the overlay.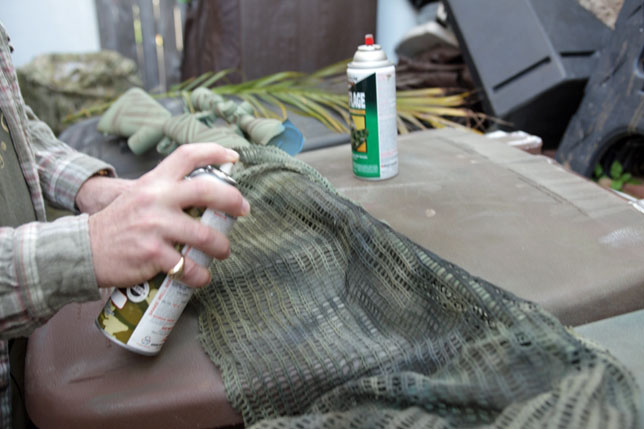 Vary Direction
When I spray through a net overlay, I make sure to vary the direction—diagonal one way, then another, then vertical—to vary the pattern. The goal in camo painting is to make everything non-linear and non-symmetrical.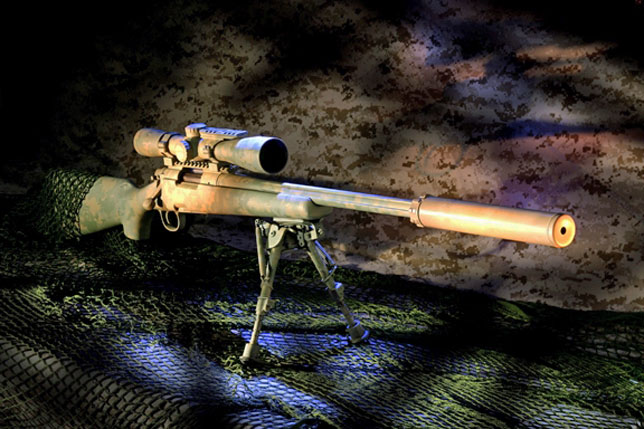 If Not Yourself
For professional results, you can send your rifle to a specialist who can apply an ACU pattern with special paints that are baked on to increase their durability. This one was done by Jesse Gorham of Three Wolves Tactical.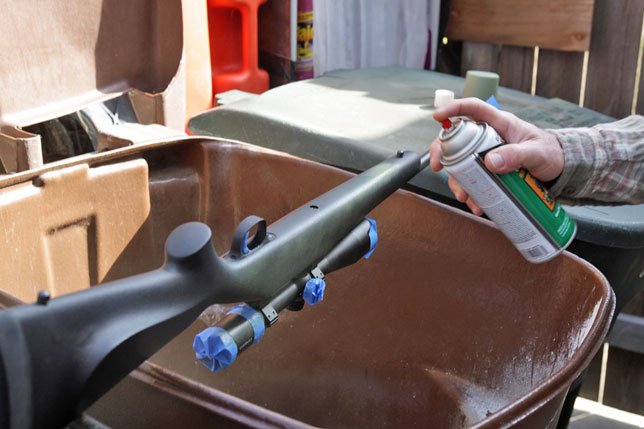 Getting Started
Find a good place to spray that won't cause any problems. I use the trash cans most frequently. The rifle rests nicely and I can turn it by the barrel to spray the other side.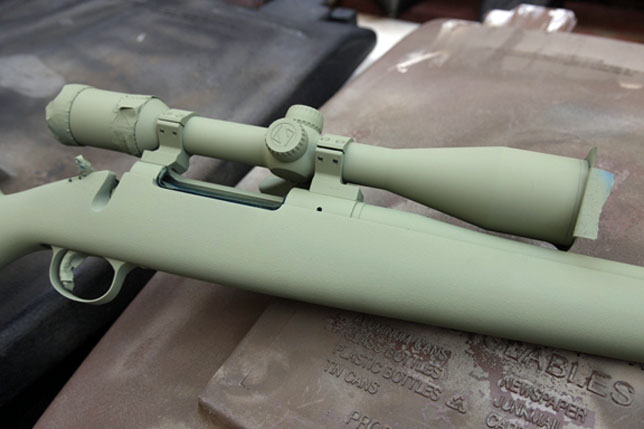 Base Coat
Because this rifle started out entirely black, I painted it with a base color of forest green. I could have just highlighted the black with green and then come back with brown, but in this case I wanted to mute the black entirely. Camo painting is purely a matter of whimsy, as there's no right or wrong way.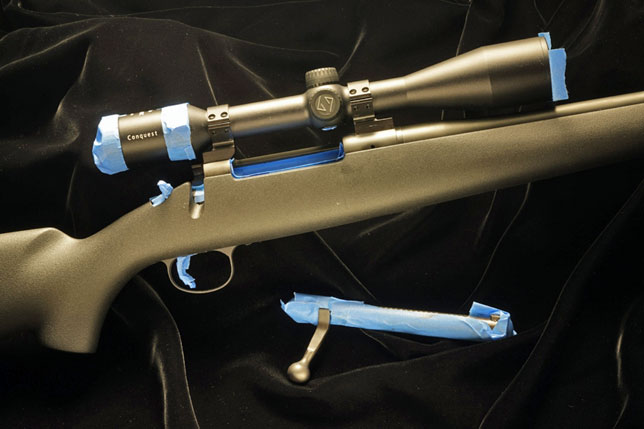 Protected Sections
I masked off the parts I didn't want to paint with "blue tape" from Home Depot. Obviously you don't want to paint the lenses of your scope and you want to keep paint out of the rifle's raceway. I masked the power ring on this Zeiss scope as well so I could read it. A fixed power wouldn't matter.

Waiting for Paint
Here's the rifle before I started in with the spray paint.