Support NRA American Rifleman
DONATE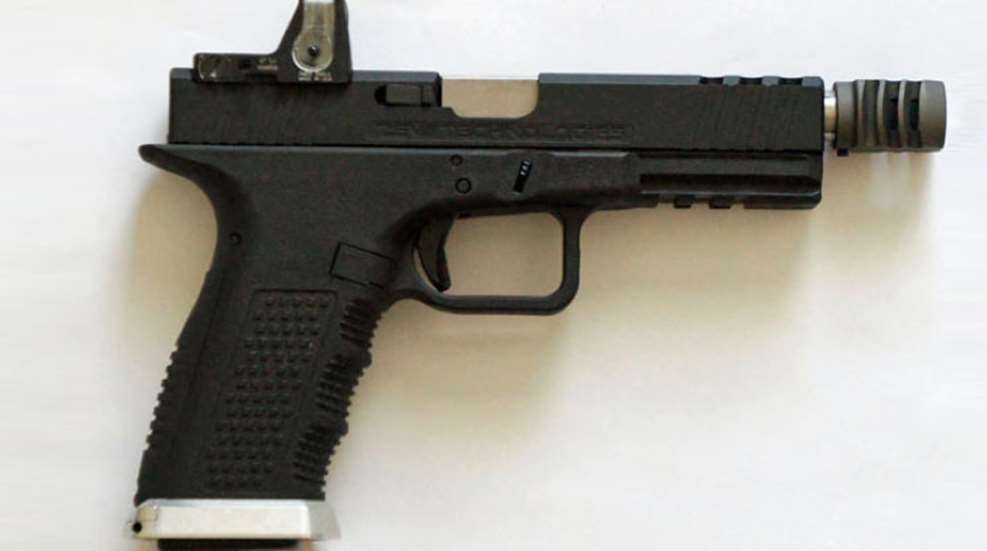 Gallery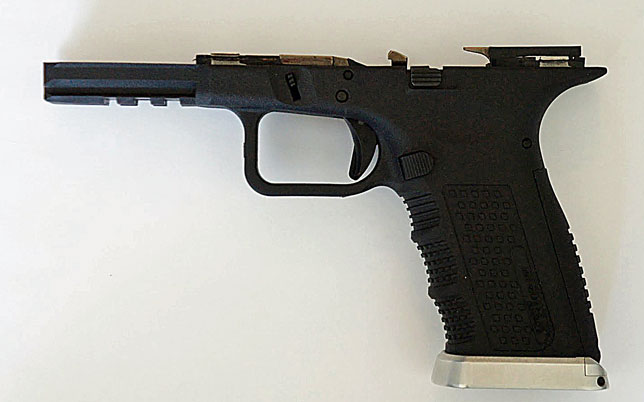 Start with a Frame
Start with a Timberwolf Frame from Lone Wolf Distributors. Available as a stripped or fully built frame, you can customize it by dropping in parts directly from your existing Glock 17/34 or 22/35. This gun is for the USPSA Steel Challenge Open division, so the frame is for a 9 mm model.

Simpler Choice
Our choice is a bit simpler, and while not as fast in competition as the C-More mount, it is a bit more reliable and rugged. Using one of the pre-cut slides from Brownells, we simply mount a dual-illuminated battery free Trijicon RMR directly to the slide. While this will allow the optic to move during recoil more than the C-More, since we're running light Steel Challenge loads through a compensated gun it won't be significant.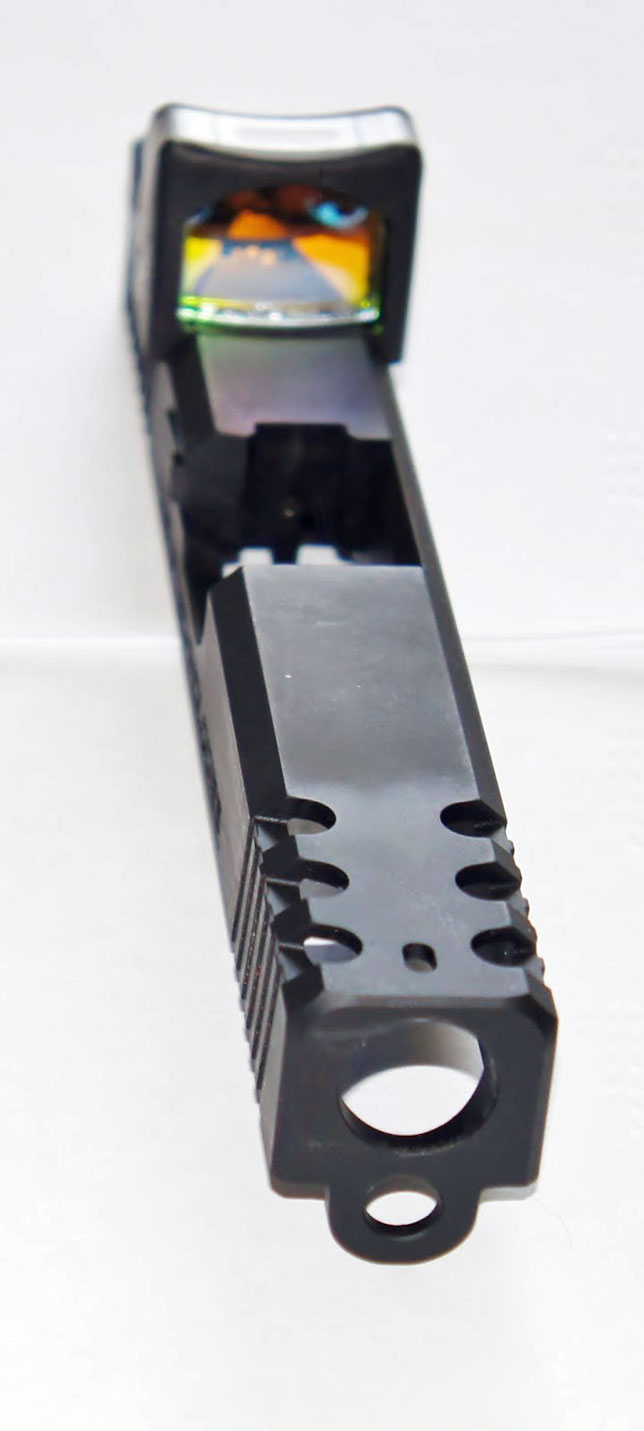 Trijicon RMR
The business end of the Trijicon mount again shows the slide lightening cuts of the Brownells slide, as well as how deeply the optic is recessed into the slide. One of the reasons some prefer this design is that it keeps height over bore to an absolute minimum.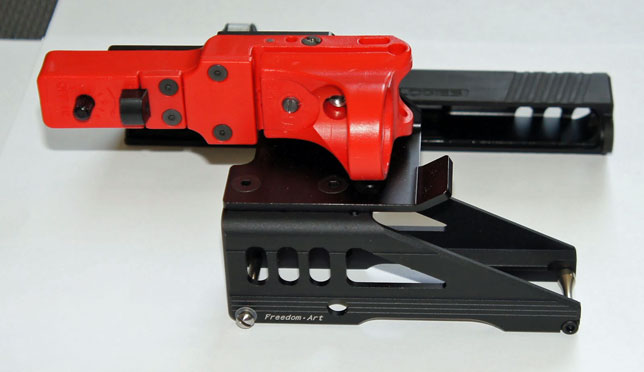 C-More Slide Ride
The C-More offers some advantages over the slide mounted design, because it doesn't reciprocate with the slide or move as much during recoil. This particular optic is mounted on a custom "90 Degree" mount, which turns the optic 90 degrees to keep the sight line even closer to the bore. Designs like this suffer from issues with vibration, so care must be taken to make sure it's mounted correctly.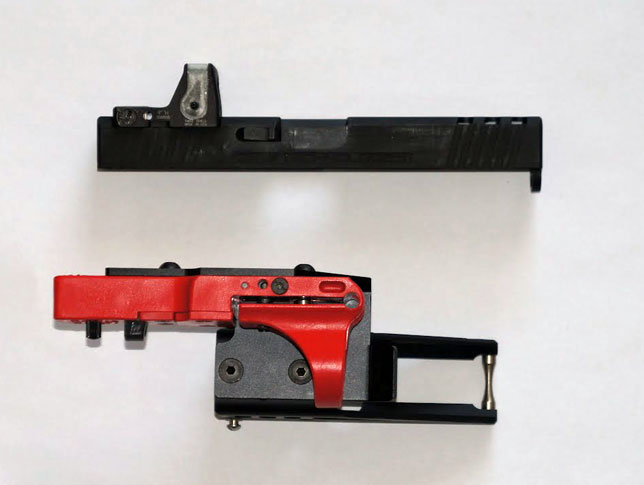 Optics
Now it's time to mount the optic. Here are the two most popular choices: a C-More Slide Ride on a mount that inserts into the frame's pin holes, and a Trijicon RMR.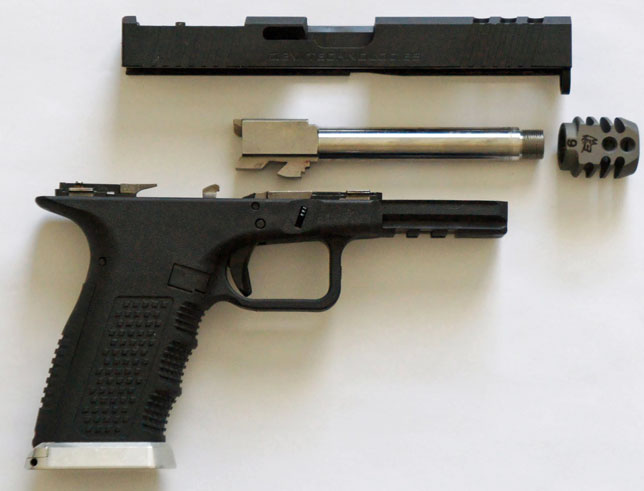 Barrel & Compensator
Up next are the barrel and compensator. When buying a barrel and compensator from different manufacturers, make sure that the threads are cut to the same pitch. Otherwise you'll have a compensator you can't mount. This barrel is a match barrel from Storm Lake, threaded the same as the Lone Wolf 2 port compensator pictured. The LW Comp is designed for maximum recoil reduction while maintaining that all important reliability.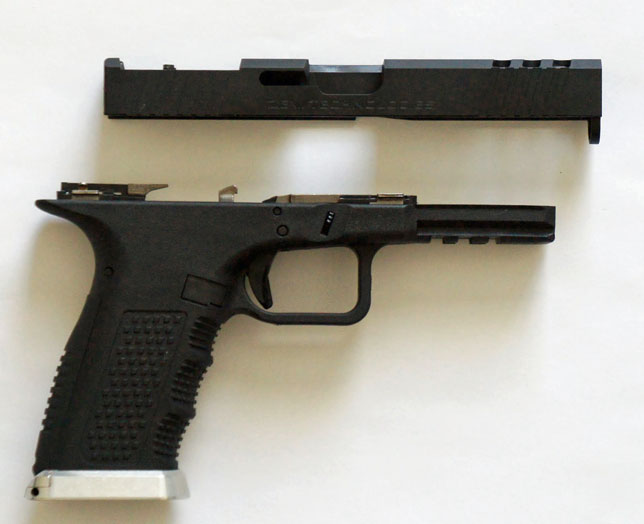 Lightening Cuts
Despite the attractiveness of the slide's lightening cuts, they aren't just cosmetic. By removing weight from the slide, reliability with lightweight competition loads isn't compromised as slide velocity remains constant. This can be further enhanced with light recoil springs.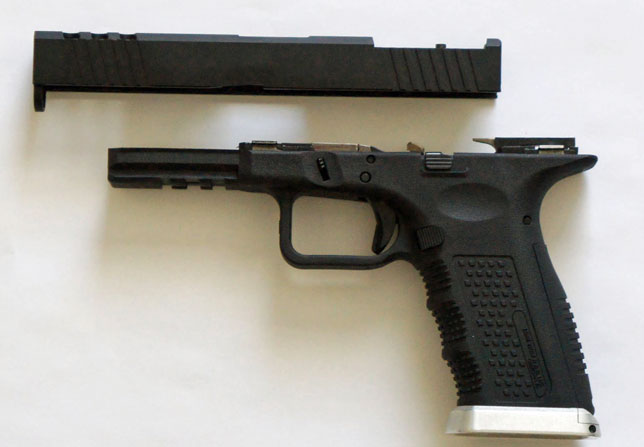 Slides
Slides are available from a variety of companies. Here are pre-cut slides from Brownells. These slides have cuts machined into them that allow a slide-ride optic to be mounted directly onto the slide, no muss no fuss. These slides allow use of a multitude of optics, including the Trijicon RMR.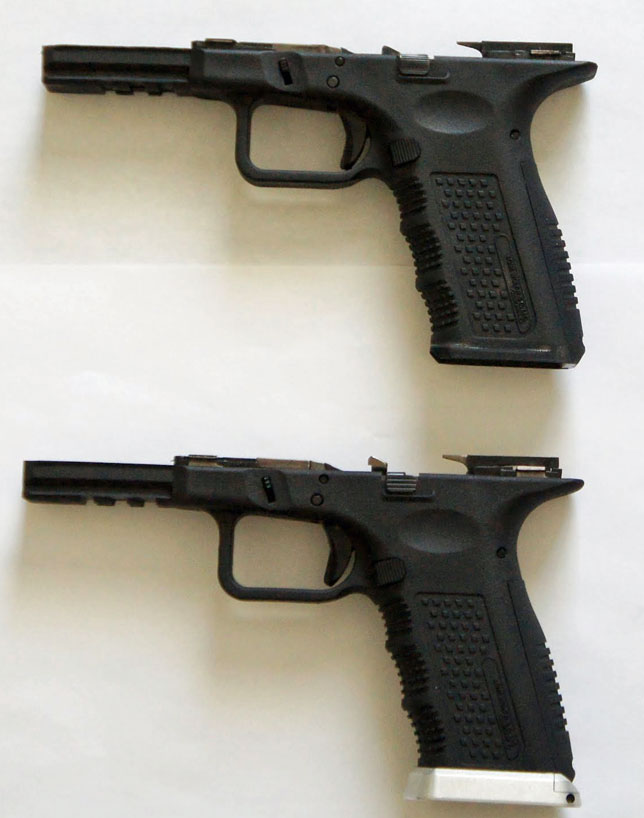 Lone Wolf Frames
Pictured are two Timberwolf frames from Lone Wolf. The top frame is using a Vickers slide stop and does not have a magwell. Built to replace a frame on a carry gun, the top frame needs nothing more than a Glock upper dropped on to be ready. The bottom frame is a competition frame, with a magwell for faster reloads.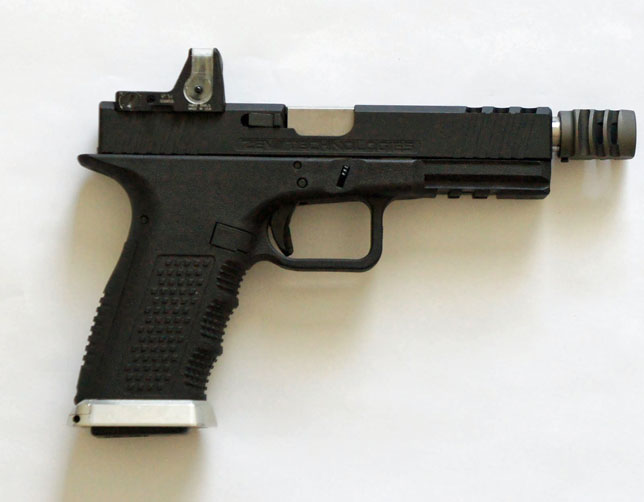 Finished Race Gun
The final product, ready to go. From frame to slide, every part in this gun is sourced from somewhere other than Glock, making it possible to build a complete "Glock" without using a single part from Glock itself.