posted on November 28, 2019
Support NRA American Rifleman
DONATE
If you've ever wondered if big trophy whitetails roamed the U.S. before today's approach to game management, we can confirm that they did. From the 1892 "Christmas Number" of
Shooting & Fishing,
one of the pre-cursors to what we now call
American Rifleman
, comes the unique story of a man fascinated with antler growth, and his impressive collection of "Abnormal Antlers." It appears some of these specimens could rival North America's largest whitetail bucks ever documented. Where these antlers are today and whether they were ever officially recorded remains a mystery. 
Abnormal Antlers
Mounted heads of deer or antlers have a fascination of the average sportsman, and any abnormal development of horns make them unusually interesting. Probably the finest collection of heads and antlers on the American continent is that of Mr. Ernst Dosch of San Antonio, Texas.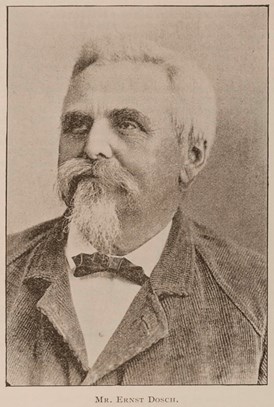 He is president of the Taxanischer Schuetzenbund, and is esteemed by a host of the great army of rifle shooters of his own nationality as well as those of American Birth.

Mr. Dosch is one of the most genial and enthsiastic sportsmen to be found in the country, and a great lover of the rifle and hunting with that arm. It is our priviledge to present to the readers of Shooting And Fishing in the Christmas number, illustrations of some of Mr. Dosch's curious and abnormal growths of antlers, accompanied with his portrait and a brief sketch of his life.

Mr. Dosch was born in Erbach, Germany, in 1822, where, in the forests of the Obenwald, at the time, large game was to be found in abundance. As a boy it was his good fortune to participate in many a hunt in these forests, in company with his father, who had acquired the hunting privileges from the Count of Erbach, the owner. The castle of Erbach, belonging to the Court of Erbach. Erback, where he was a daily visitor, had for him, amongst others, one especial attraction, in the celebrated collection of antlers, gather for centuries on the European continent, and many a day did he spend in viewing the magnificent specimens. In 1848, he landed in Texas, on whose prairies were to be found great herds of deer and antelope. Being so fond of hunting, he spent a good deal of his time in the favorite pursuit, and commenced gathering specimens of abnormal and curious antlers.

Changing his abode at different times, and living in Mexico during the war, he found, upon his return to Texas, in 1869, that his trophies had disappeared. After establishing his home, he at once started his collection for the second time.

At the present time his collection consists of more than six hundred specimens, mostly abnormal growths, and other remarkable for their size, which, in the course of twenty-three years, he has selected from thousands of antlers, some being trophies of his own hunts, others being presented by friends and some few acquired by purchase.

The Dosch collection is concede to be the finest on the American continent, such being the opinion of Judge John Dean Caton. L. L. D.. authority of Anti-locupra and Cervidae.

Owing to inefficient game laws in Texas, and to their poor enforcement, the large game has become very scarce, so that it would be difficult, if not impossible, to duplicate such a collection. There is, in this collection, among the others, various specimens of elk, moose, buffalo and sheep (mountain), but we confine our illustrations to deer antlers.

Sportsmen visiting San Antonio should inspect Mr. Dosch's wonderful collection, for it is not only one of the sights of that city, but its equal cannot be found in this country.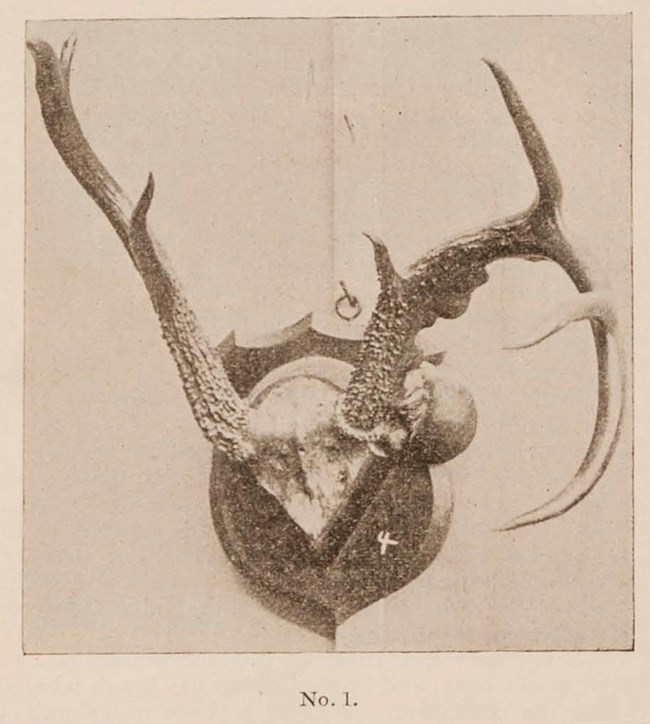 Antlers large and irregular, large knob on base extending along beam, thereby curtailing the growth of the other beam.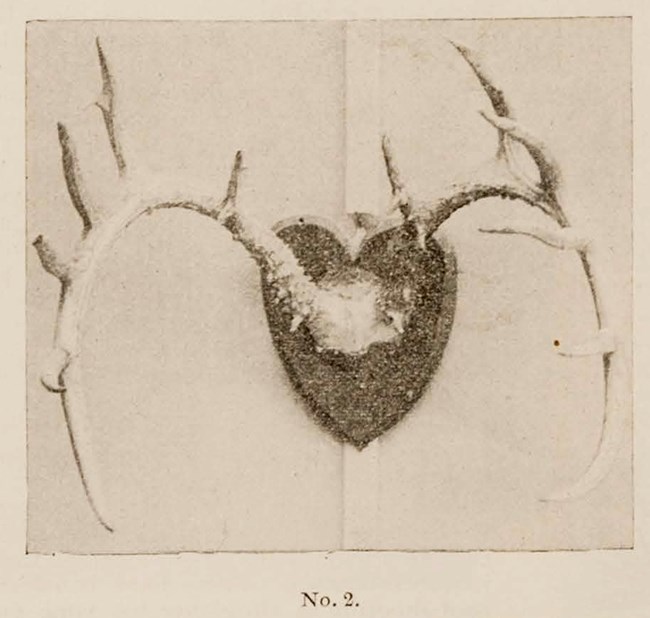 Antlers very large and heavy, extra strong, nearly three feet long.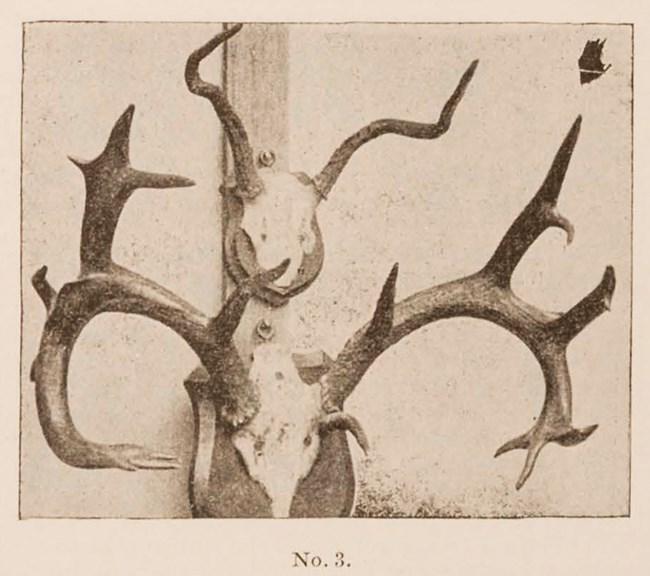 Two curious specimens. Upper antler from a spike buck, one spike measuring 11", the other 9"; the lower one is abnormally heavy and may be called a triplet antler, having an extra beam coming from a special pedicel.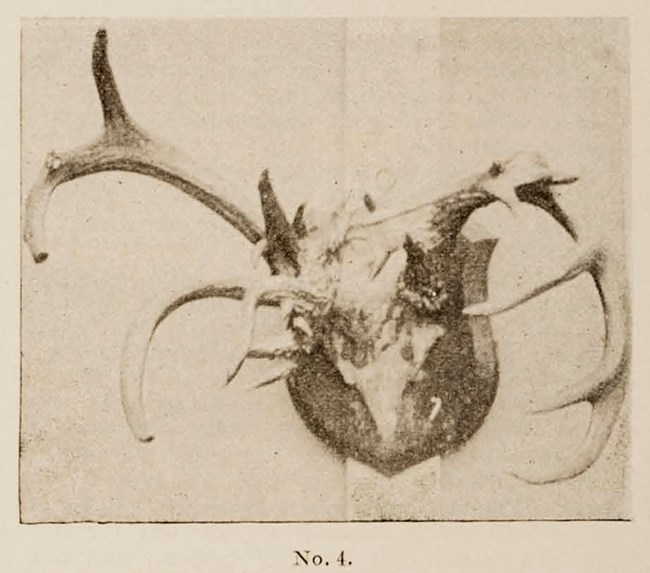 Curious development of antlers.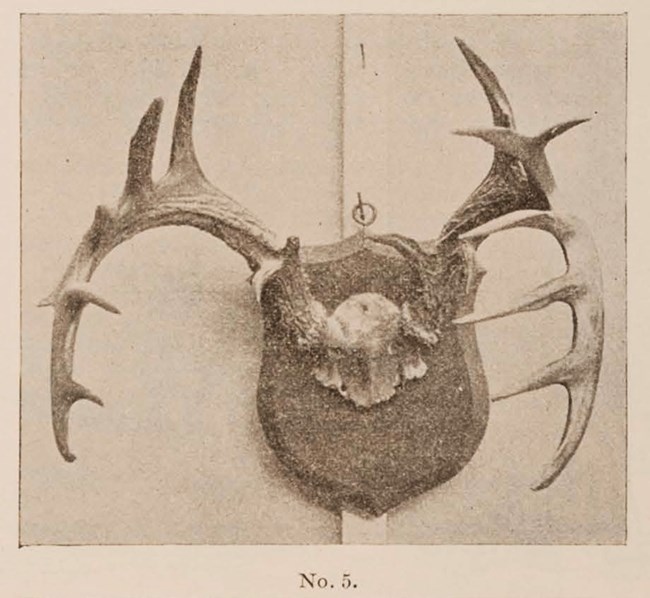 Antlers remarkable for size and having five prongs springing from main beam.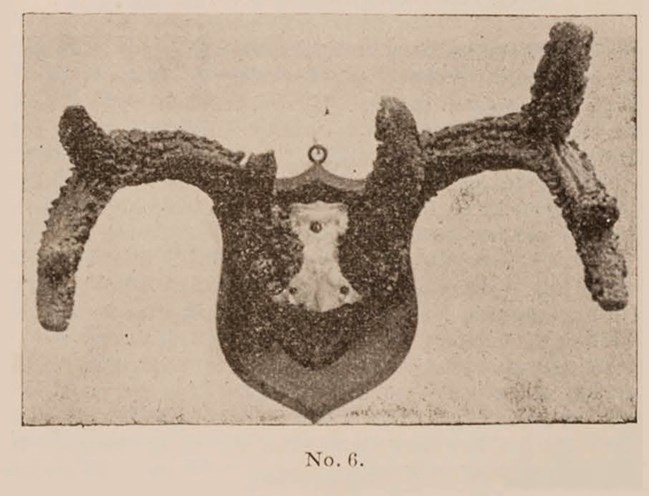 Antlers supposed to result from emasculation of the buck.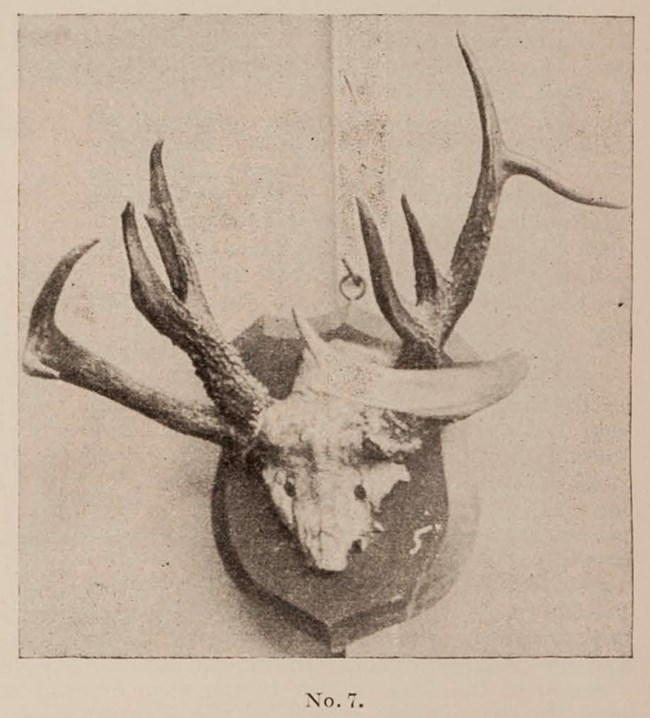 Remarkable for its abnormality; two extra beams growing from pedicel on each side.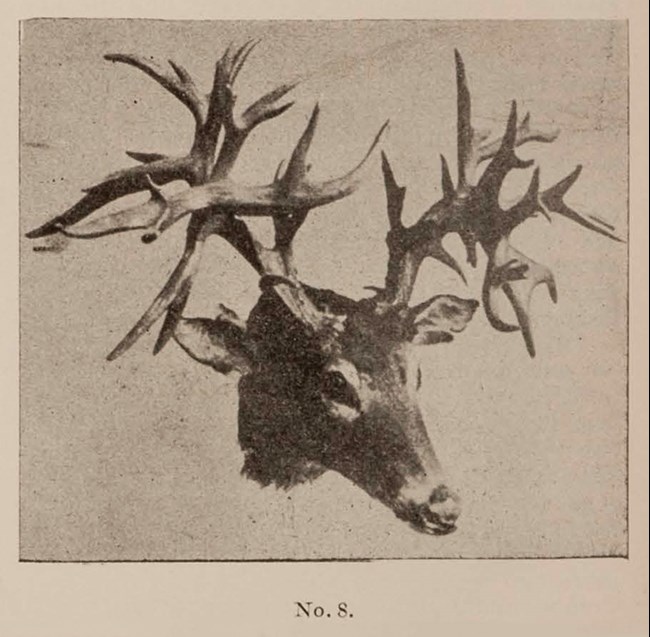 A great curiosity—not in the Dosch collection.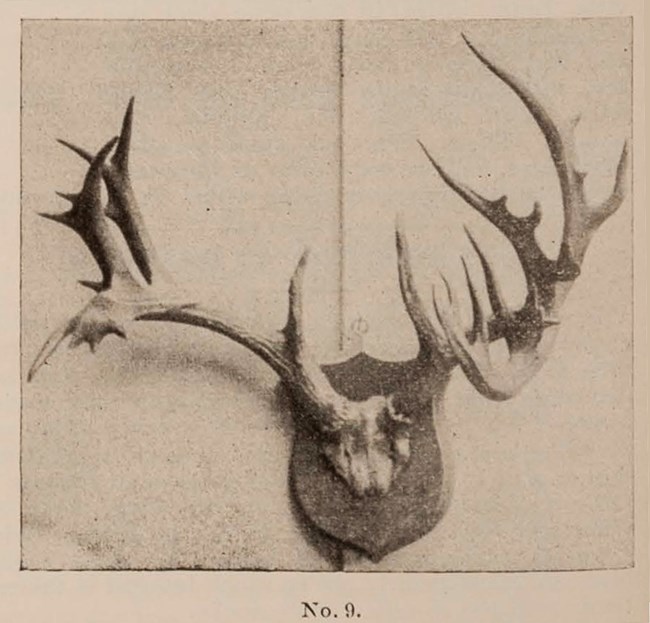 A curious development, presented to Mr. Dosch by Mr. C.W. Gosling.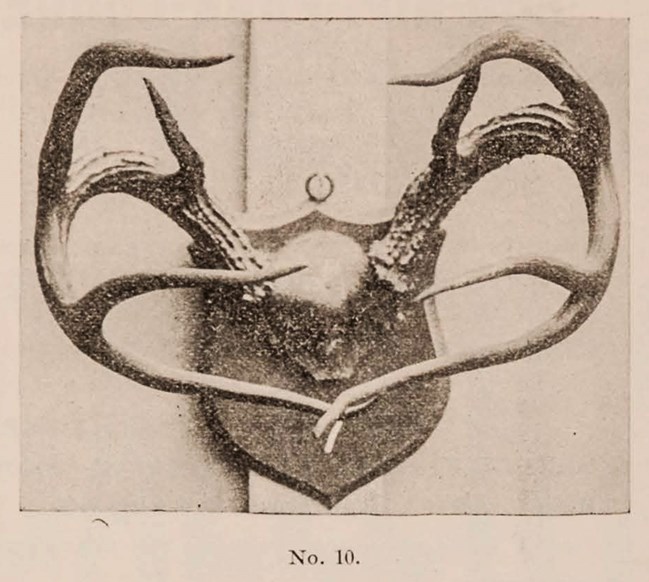 Unusual development of horns, crossing in the center and overlapping.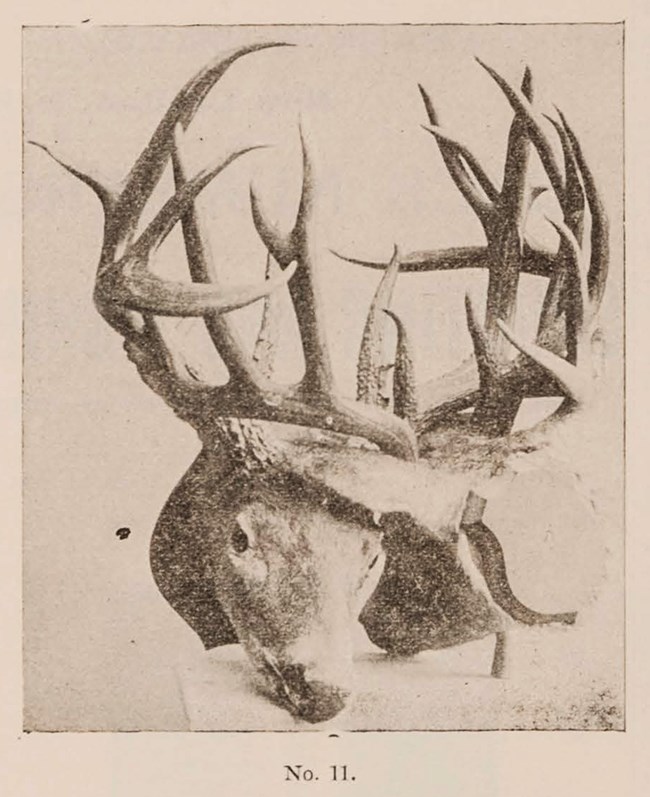 An unusually fine pair of locked antlers. Found about 40 miles south of San Antonio, Texas.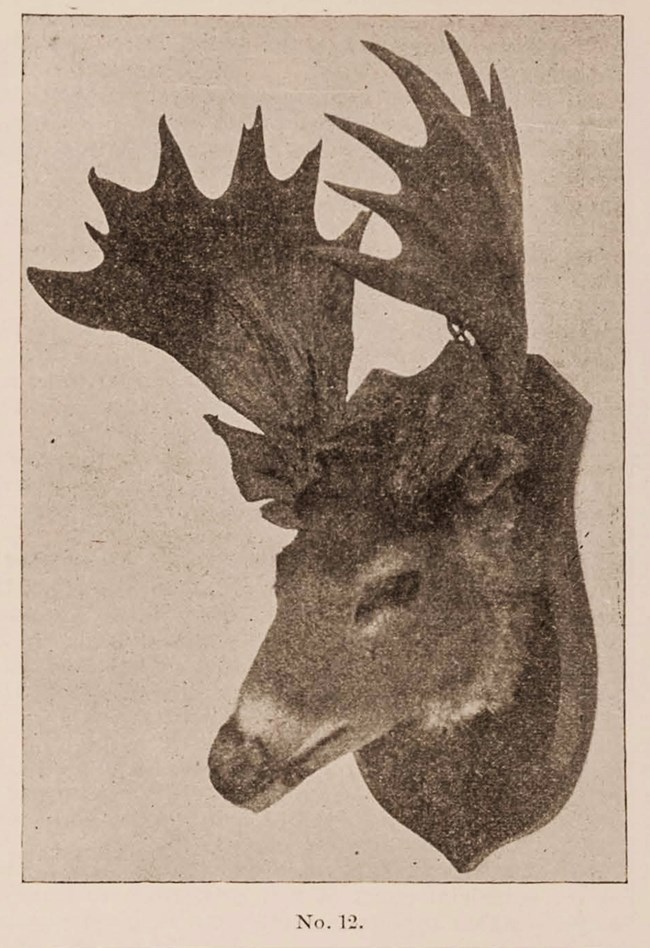 Palmated antlers.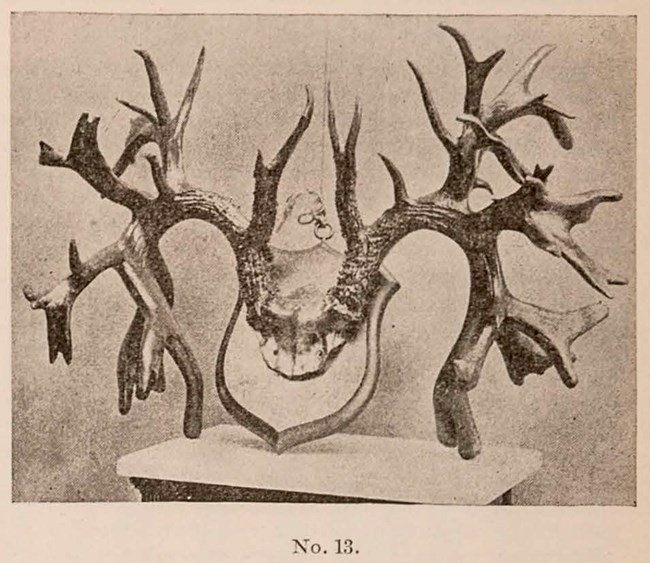 Antlers with 71 well-developed points.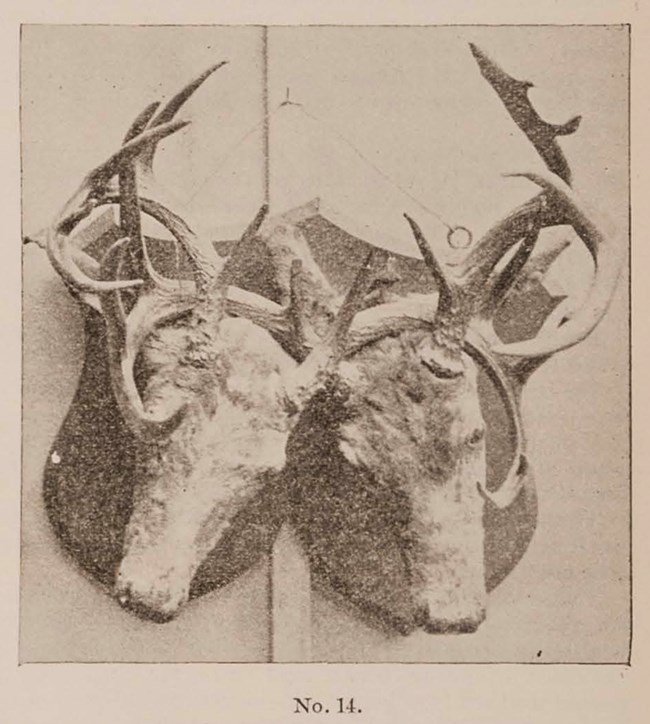 These deer were killed by Col. Bliss, U.S.A., while scouting near his post, Eagle Pass, Texas, about the year 1866. He came upon the deer while they were fighting with antlers locked. They were presented to Majoy H. B. Adams, of San Antonio, Texas, who added them to Mr. Dosch's collection.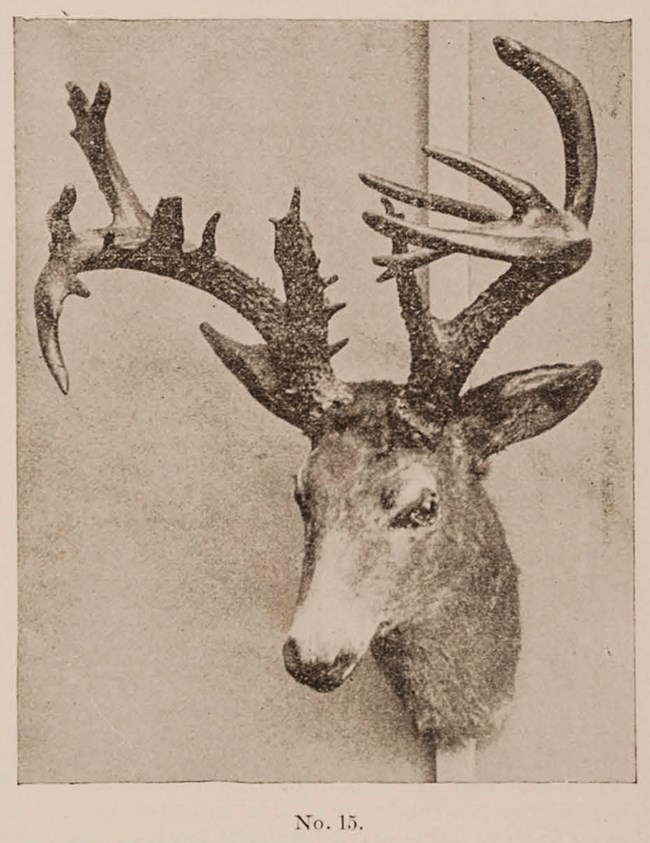 A pair of heavy antlers, having 33 points, some of which are obscured in the picture.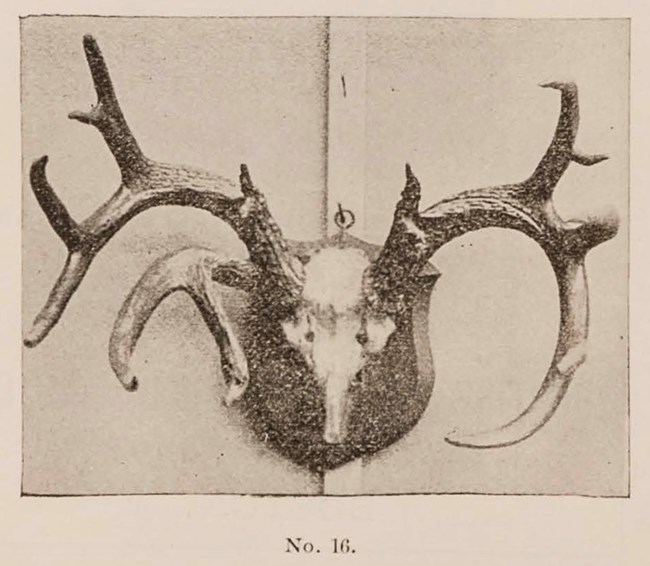 Large and heavy antlers, extra prong in right beam, weighing 6 lbs.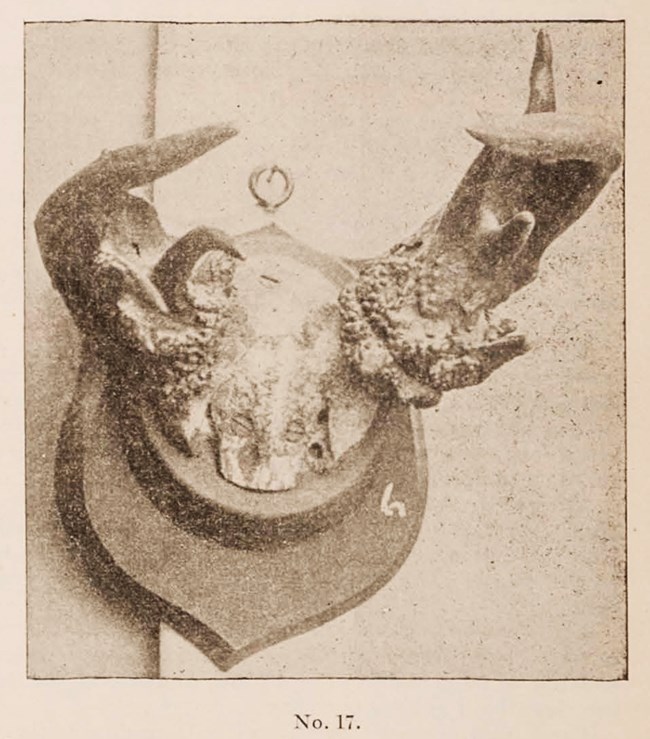 A pair of odd antlers.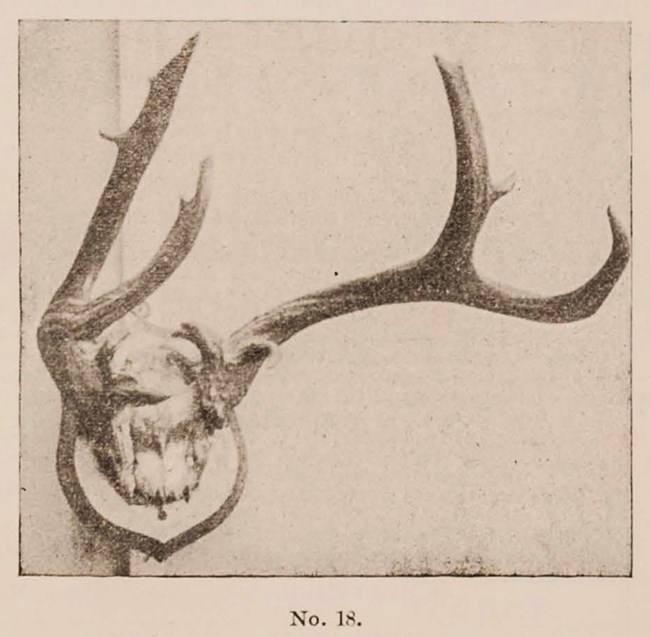 Odd antlers of black-tailed deer. Killed near Fort Davis, Texas.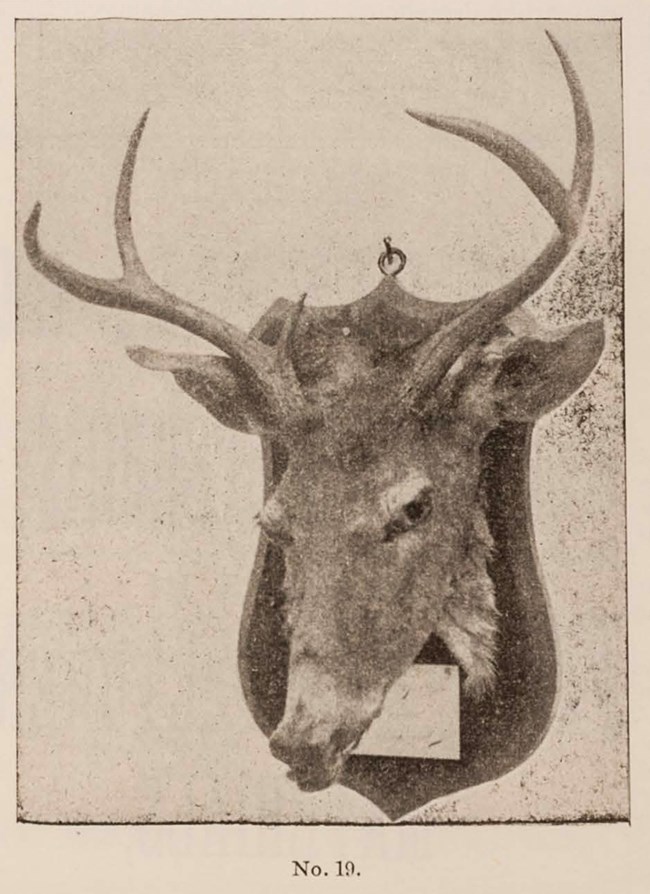 A horned doe.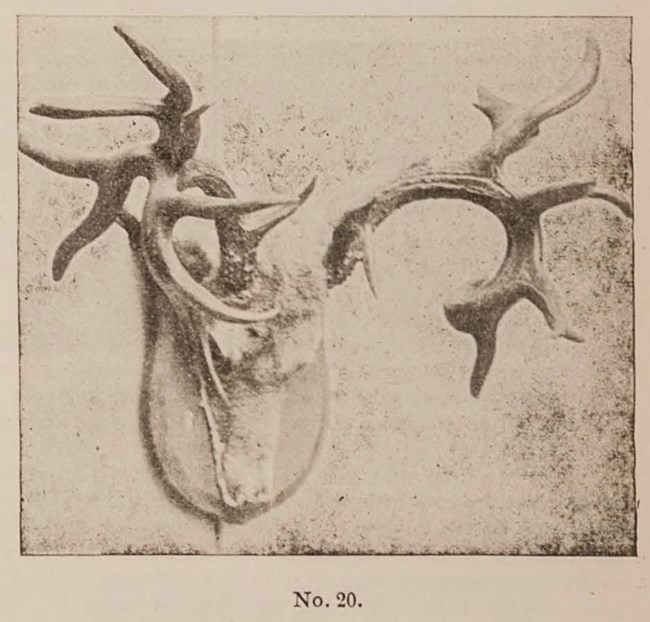 Odd development of antlers.

Additional images from 1892: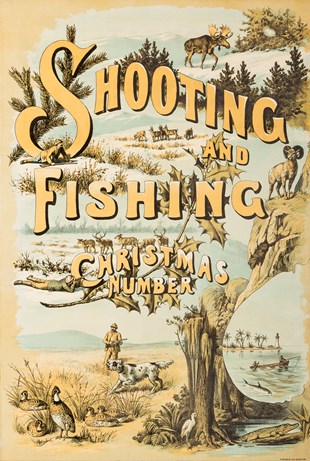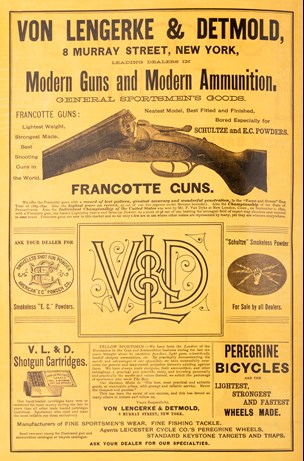 Christmas Number front and back cover wrap—note the color print.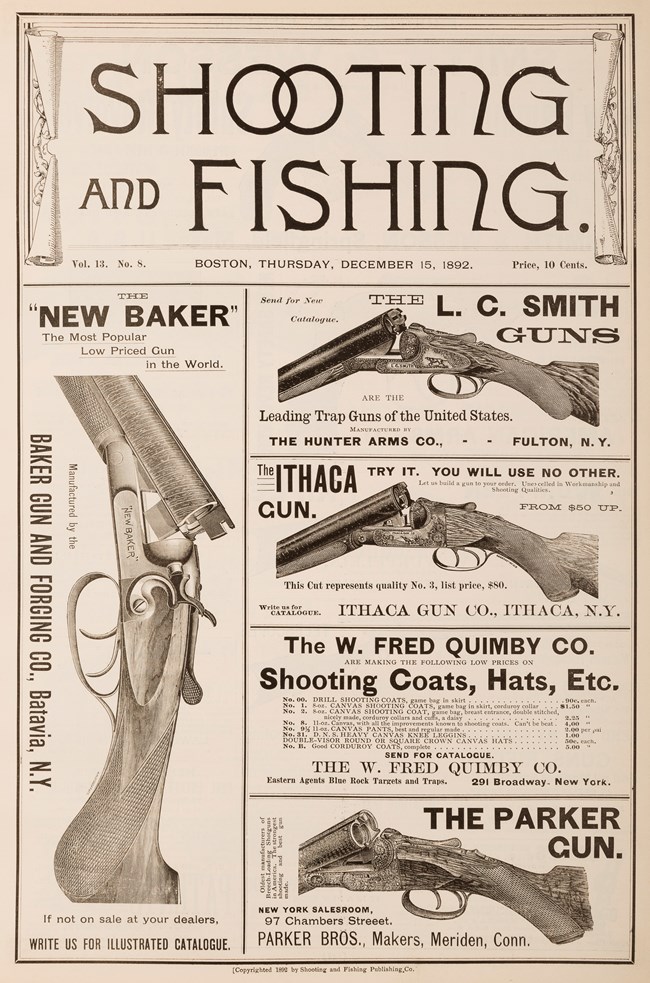 December 15, 1892 Shooting & Fishing cover