by
posted on October 18, 2020
Support NRA American Rifleman
DONATE
Although Glock launched its Gen 5 series of semi-automatic handguns in 2017, the supply of aftermarket parts and upgrades for Gen 3 pattern pistols is still going strong. In fact, the selection of Gen 3 compatible components for 9 mm builds is still so robust that it's possible to assemble a complete custom pistol at home with few, if any, parts manufactured by Glock.
As I perused the booths at SHOT Show in Las Vegas earlier this year, I found a tantalizing selection of Gen 3 options from Rival Arms for compact G19 pistols. This company describes itself as a "coalition of machinists, designers, coaters, and other professionals united under one brand to bring the very best to a world saturated with standard equipment." Rival offerings include many of the tricked out parts needed to build a sleek custom pistol at home including stripped slides, barrels, sights and parts kits.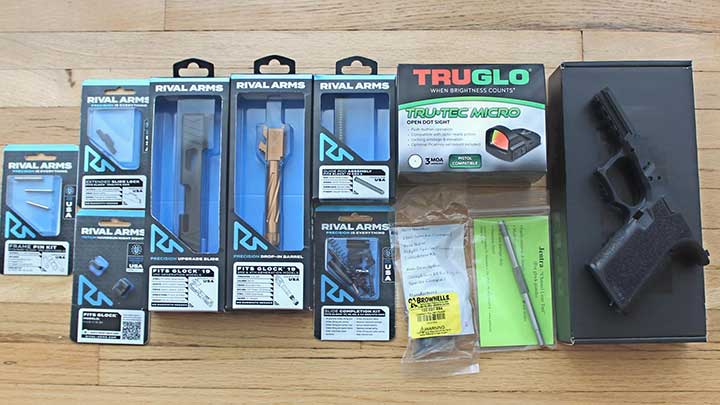 To round out the build, an optic, frame kit and frame from TruGlo, Lone Wolf Distributors and Polymer80 would need to be brought on board. As it turned out, all of the components under consideration for this build (except the optic) were available from Brownells, making the ordering process about as easy as it gets. Here's how this slick multi-purpose custom 9 mm turned out. 
Rival's match grade drop-in Precision Upgrade Slides are CNC machined from billets of 17-4PH stainless steel. They're treated to a QPQ thermo-chemical case hardening for added wear and corrosion resistance along with increased lubricity. These slides feature front and rear canted cocking serrations and three weight reduction cutouts that also work to cool the barrel.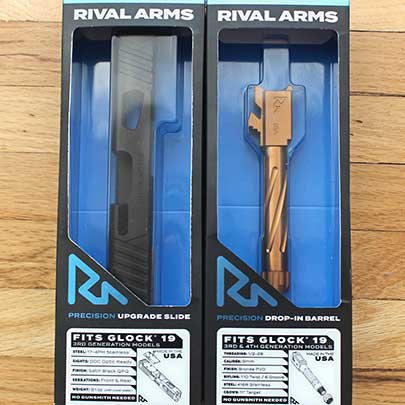 Customers can choose from RMR or DOC type recessed cutouts depending on the model of micro red-dot optic they prefer. In this case, I went with the Gen 3 Glock 19 slide with a black finish and a DOC optic cutout to accommodate a TruGlo Tru-Tec micro sub-compact open sight with a green laser dot.
These slides ship stripped so Rival offers high quality slide completion kits. The drop-in component sets are manufactured to tighter tolerances than typical factory parts and inspected by hand. Select parts are CNC-machined from solid stainless steel billets and treated to a low-temperature vacuum PVD coating for increased durability.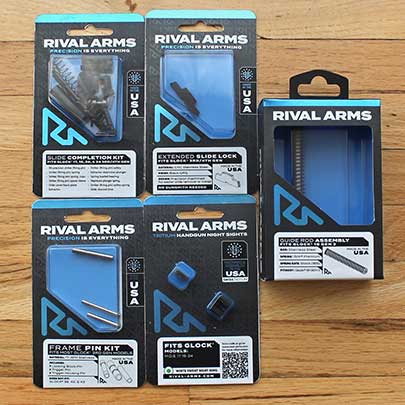 You'll see upgrades throughout the kit including a milled-aluminum back plate, a spiral-fluted firing pin and a machined safety plunger. A handy tool to have on hand for a build like this one is the Jentra Channel Liner Tool, available from Brownells, to ensure that the channel liner slips into place undamaged. The slide assembly was topped off with a set of Rival Arms Glock 17/19 MOS Height Tritium Night Sights which are tall enough to be co-witnessed with the green-dot optic.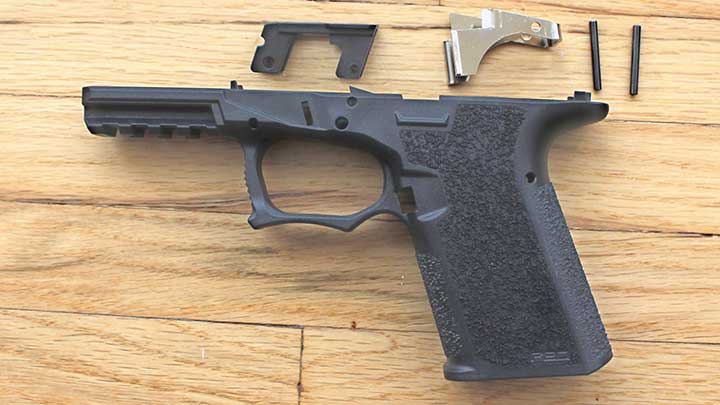 Rival's match grade Glock-compatible barrels are CNC-machined from 416R stainless steel billets and treated with the customer's choice of a Black, Graphite or Bronze (shown) PVD finish. These spiral fluted barrels are available in standard lengths or in 0.5"extended lengths with 1/2 X 28 TPI threaded muzzles (matching thread protectors are provided). The bore features 1:10 right-hand twist 6-groove rifling and the BORSLICK boron nitride DCD metal treatment which works to reduce heat and carbon buildup.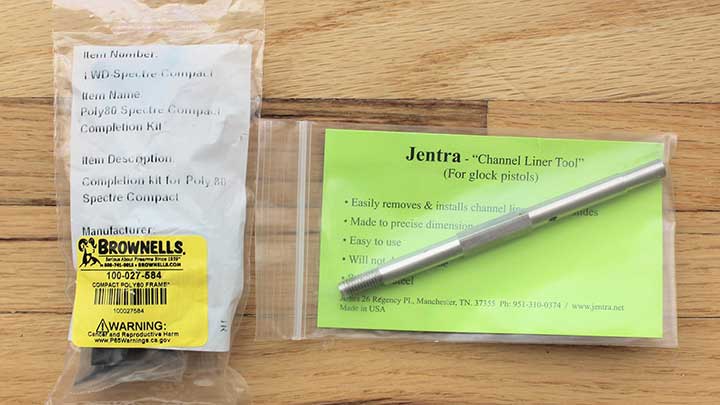 The Rival Glock 19 threaded barrel used for this build is supported by the company's in-house recoil assembly which features a CNC machined stainless steel guide rod and a captured flat wire spring. Rival also offers stainless steel frame pins and an extended slide lock lever, both of which were installed in this pistol.
The stripped polymer frame incorporated into this build is the Brownells Polymer80 PFC9 Compact for Gen 3 19/23 which is available in eight different colors. Although Polymer80 made a name for itself with 80-percent frame kits, this particular frame is fully completed and serial numbered at the factory. Features include a 4-slot Picatinny accessory rail, finger rest trigger guard, an extended grip beaver tail and aggressive wrap-around texturing on the grip frame.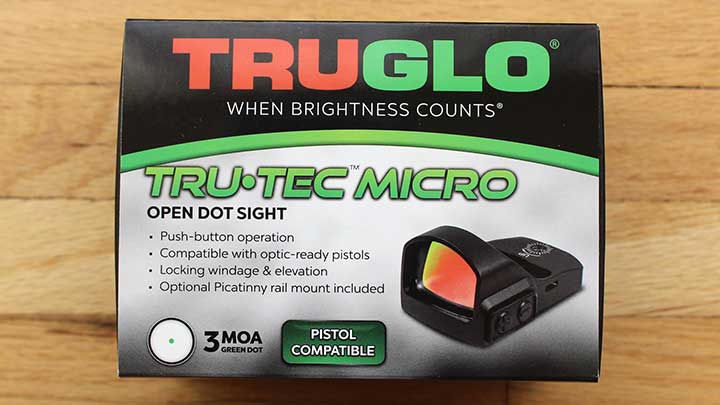 The front strap is free of any finger grooves, the trigger guard is deeply undercut where it meets the grip frame for added comfort and the back strap is straight instead of curved like the Glock Gen 3 frames. Overall, it's a comfortable grip shape with plenty of purchase for competition or self defense.
The Lone Wolf Distributor's Poly80 Spectre Compact Completion Kit from Brownells provided all of the parts needed to get this frame up and running, including the trigger group, extended magazine release and various small parts. This kit includes a 9 mm ejector and a .40 ejector suitable for either .40 S&W or .357 Sig caliber conversions. I've worked with Lone Wolf for some time now and have yet to be disappointed by their products.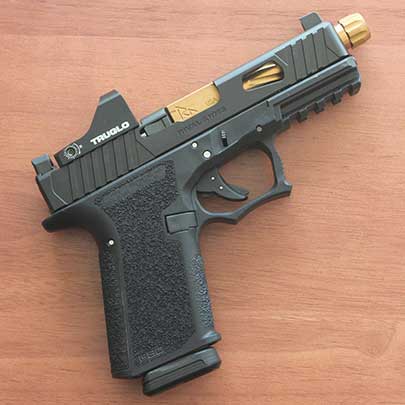 Finding holsters to fit a Glock pattern pistol with tall MOS sights and a micro red-dot optic takes a bit more research than a standard fit. CrossBreed Holsters offers a variety of comfortable fits compatible with tall sights and optics including the SuperTuck inside-the-waistband model and the SnapSlide belt holster.

However, the extended competition-style magazine release presses into the taller leather backing of the SuperTuck causing the magazine to be released when this pistol is holstered. This means I have a choice to make. Either I can replace the Rival's magazine release with a standard length Gen3 release so as to make it compatible with the SuperTuck, or I can keep the extended release and switch to a low back holster.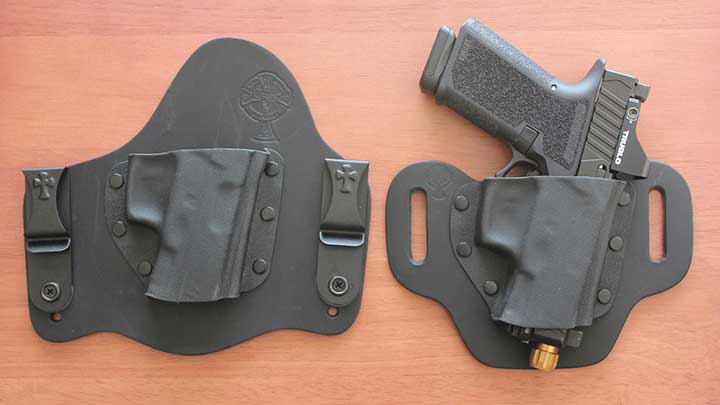 The assembly of this Rival 19 G3 pistol went smoothly without any mechanical issues or part swaps required. The steps, tools and instructions to complete the gun right in line with other optics-ready Glock pattern builds I've worked on before. The high quality of the components was evident in their fit and finish throughout.

The trigger feels just like a Glock trigger but it exhibits a lighter than standard trigger pull of 4 lbs. 10 oz. thanks to the components provided in the Lone Wolf completion kit. The pistol passed preliminary bench checks with ease and went on to be utterly reliable with all of the ammunition and magazines tested at the shooting range, including Glock factory G19 and Magpul PMAG 15 G9 magazines. The slide to frame fit felt a bit rough at first but it smoothed out nicely within the first 50 rounds fired.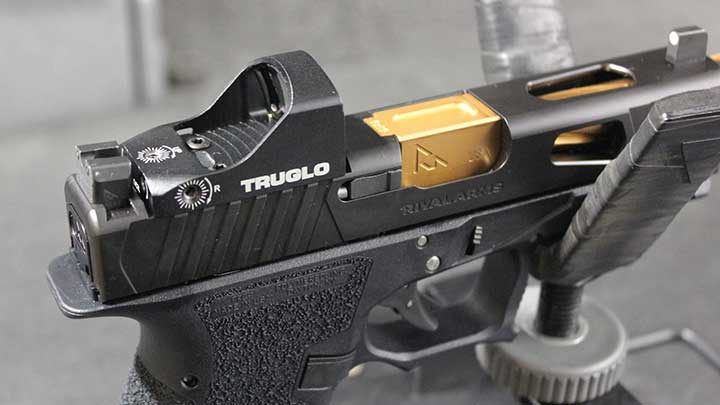 Formal bench rested accuracy testing was conducted for five 5-shot groups fired at 25 yds. using the TruGlo optic. Winchester's USA Ready 115 gr. flat nose full-metal jacket is an affordably priced competition grade load which demonstrated this custom pistol's accuracy potential with a best group of 2.53" with a five group average of 2.64". Sig Sauer's Elite Performance V-Crown 115 gr. jacketed hollow points printed a best group of 2.87" with an average of 3.02".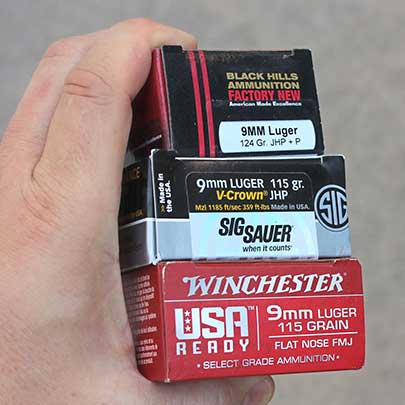 Black Hills power boosted 124 gr. +P jacketed hollow points for concealed carry yielded a best group of 2.99" and an average of 3.07". The Rival Arms 19 G3 at-home build turned out to be a terrific compact optics-ready 9 mm pistol that's an ideal option for competition, concealed carry and home defense. Although this is not an inexpensive build, it did cost hundreds less than similar tricked out factory models thanks to a bit of sweat equity.

I've worked with Brownells and Lone Wolf distributors in the past with the same positive results. But this was my first opportunity to test drive components from Rival Arms and Polymer80. Considering the high levels of quality and reliability they demonstrated, I'm looking forward to working with them again in the future.
Specifications:
Component Provider: Brownells
Model: Rival Arms G3 19 At-Home Build
Action: Glock Safe Action Semi-Auto
Caliber: 9 mm
Slide: 17-4PH Stainless Steel, Satin Black QPQ Finish, 9.1 oz. with Cover Plate
Slide Width: 1.05" with Weight Reduction Cutouts, Front and Rear Cocking Serrations
Striker: RA Precision
Barrel: 4.5" Threaded 416-R Stainless Steel, Bronze PVD Finish
Barrel Crown: 11 Degree Target
Rifling: 1:10" Right-Hand Twist, 6 Grooves
Muzzle Threading: 1/2 X 28 TPI with Thread Protector
Recoil Assembly:  Stainless Steel with Captured Flat Wire Recoil Spring
Frame: Textured Black Polymer
Grip Frame Width: 1.15"
Accessory Rail: 1.75" 4-Slot Picatinny
Back Strap: Fixed
Trigger: Polymer, Non-Adjustable
Trigger Spring: 6 lbs.
Connector: 3.5 lbs.
Trigger Pull: 4 lbs. 10 oz. (As Tested)
Slide Stop Lever: Extended
Slide Lock: Extended
Magazine Release: Gen 3 Extended
Frame Pins: Stainless Steel
Overall Length: 7.65"
Height:  5.25"
Weight: 23 oz. With Empty 15 Round Magazine and Optic
Capacity: 15+1 Rounds with G19 Pattern Magazines
Build Price with Optic: $1444.90 (Taxes and Shipping Not Included)
Components, Kits and Accessories
Optic: TruGlo Tru-Tec Micro Sub-Compact Open Sight (TG8100G) $218.99
Night Sights: Rival Arms Glock 17/19 Tritium Night Sight MOS Height  $105.99
Slide: Rival Arms Gen 3 Glock 19, Black, DOC Optic Cut (RA10G205A ) $470.99
Slide Parts: Rival Arms Glock Slide Completion Kit (RA42G001A) $141.99
Barrel:  Rival Arms Bronze Glock 19 Gen 3/4, Threaded, Fluted (RA20G202C) $235.99
Recoil Assembly: Rival Arms Glock Gen 3 19 Stainless Steel (RA50G201S) $35.99
Frame: Polymer80 PFC9 Serialized Gen 3 19/23, Black, Textured Grip (P80PFC9BLK) $137.99
Frame Parts: Lone Wolf Distributors Poly80 Spectre Compact Completion Kit (LWDSPECTRECOMPA) $58.99
Frame Pin Kit: Rival Arms Glock Stainless Steel (RA60G101S) $19.99
Slide Lock: Rival Arms Extended (RA80G001A) $17.99
Holsters: Crossbreed SuperTuck IWB Holster $82.78, SnapSlide OWB Holster $54.95 (As Configured)
Jentra Channel Liner Tool (463-000-009WB) $31.99