by
Brian C. Sheetz, Editor In Chief
posted on September 27, 2021
Support NRA American Rifleman
DONATE
When getting outside to hike, hunt or patrol property, it's advisable to carry enough gear to make it through an unexpected night in the field, or a confrontation, without being unnecessarily overburdened. Most guys use only a small daypack for such work, and there's nothing wrong with that; but having "all your eggs in one basket" means that becoming separated from the pack could put you in real danger. A better solution is to distribute the load in a more "modular" manner so that at least some essential gear remains on your person regardless of the activity. Even if a particular mission doesn't require all of your kit, the modular approach will still enhance carrying comfort and allow quicker, more efficient access to individual items.
Colorado-based Hill People Gear is a pioneer in concept of multi-level, modular gear carriage, and two of its signature pieces, the Original Kit Bag (V2) ($125) and the Prairie Belt ($110) work quite well with its newer Junction Pack ($165), to handle a full load of survival gear easily and effectively. The first is an "admin" pouch held to the chest by a lightweight back harness and side straps that keeps a variety of smaller items within the user's natural "work space." It can even handle a full-size handgun such as a 4" .357 Mag. revolver in a hidden compartment. (See One Take On A General-Purpose Handgun). The second is a padded waistbelt that features MOLLE- and PALS-compatible webbing designed to accept optional pouches. Its generous width and light padding allow it to handle remarkably heavy loads, such as multiple rifle magazines, with ease. I added a military surplus pouch to the belt's backside to serve as a buttpack. The third piece of HPG gear is a 1,350 cu.-in. top-loader, which is large enough for the bulkier essentials such as water, food and extra clothing. It relies on the company's proprietary Shoulder Harness to comfortably distribute its load across the upper back, and wand pockets at the bottom of each side are ideal for rigid canteens.
The whole outfit is more worn than carried, with the Kit Bag going on first since it contains the most essential items and because its harness lies nearest the outer clothing layer. Next, the Prairie Belt snaps into place and, finally, the Junction Pack is thrown on the shoulders. Once all three pieces are in their respective positions, I can still sling and mount a rifle with ease. And thanks to the weight being well-distributed, I'm less likely to be thrown off balance when scrambling across uneven terrain. An advantage to the buttpack that I hadn't foreseen is that it helps transfer the weight of the backpack directly to the waistbelt when I'm upright, which makes the setup ride like a comfortable full-size pack. When I stop to get into a stand, or if I have to stay out overnight, the pack and waistbelt come off first, allowing the handgun to stay with me as I ready the rifle or set up shelter.
When it comes to packing such a setup, I organize the gear according to access and efficiency, but I choose pieces that address three general categories of survival, in the following order of priority: Security, Shelter and Sustenance. Since everyone has different experiences—mine include hunting and search and rescue, but not military or law enforcement—the items listed below, and the usage notes that accompany them, are intended only as suggestions but may help inform your own specific choices.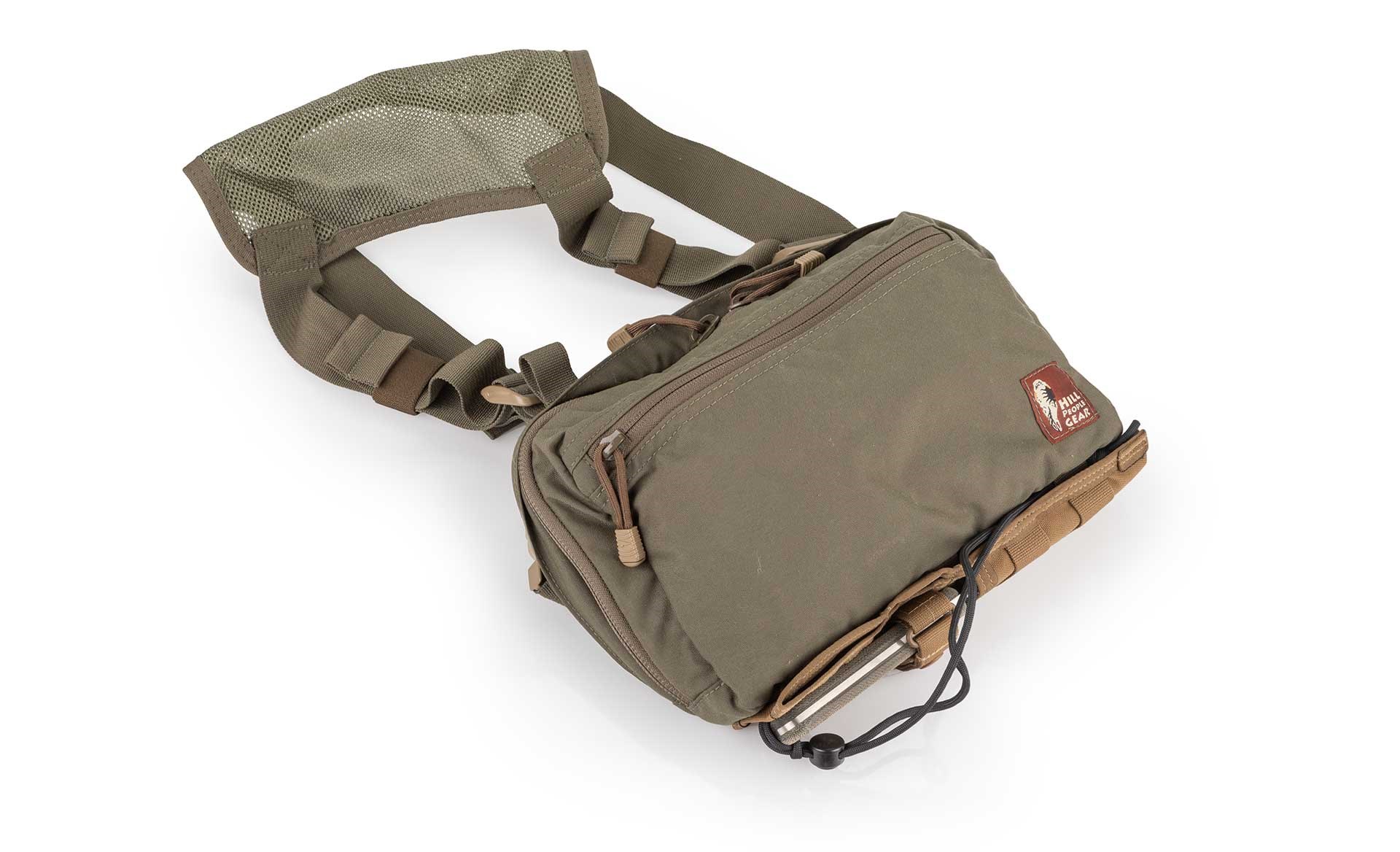 Original Kit Bag (V2)
Handgun and ammunition (Includes personal defense, hunting, shot and hardcast loads for use in their respective roles.)
Fixed-blade knife (Ontario's Blackbird SK-5 attaches perfectly to the Kit Bag's underside.)
Phone or radio
Signal mirror (A quality G.I. sighting type is invaluable during air searches.)
Whistle (Audible farther than many realize.)
Waterproof paper/pen/pencil (Rite In The Rain's pads works particularly well as do Sharpie Twin Tip markers.
Rifle data notebook
Gideon Pocket New Testament (Inspiration and reassurance provide enormous psychological advantage in adverse situations.)
Laser Rangefinder
Headlamp/flashlight/candle lantern (Redundancy here is sensible.)
Compass
Compact Binocular
Bandana (The military triangular bandage works well also.)
Disposable lighter/ferrocerium rod/magnesium block/tinder (Redundancy here is critical.)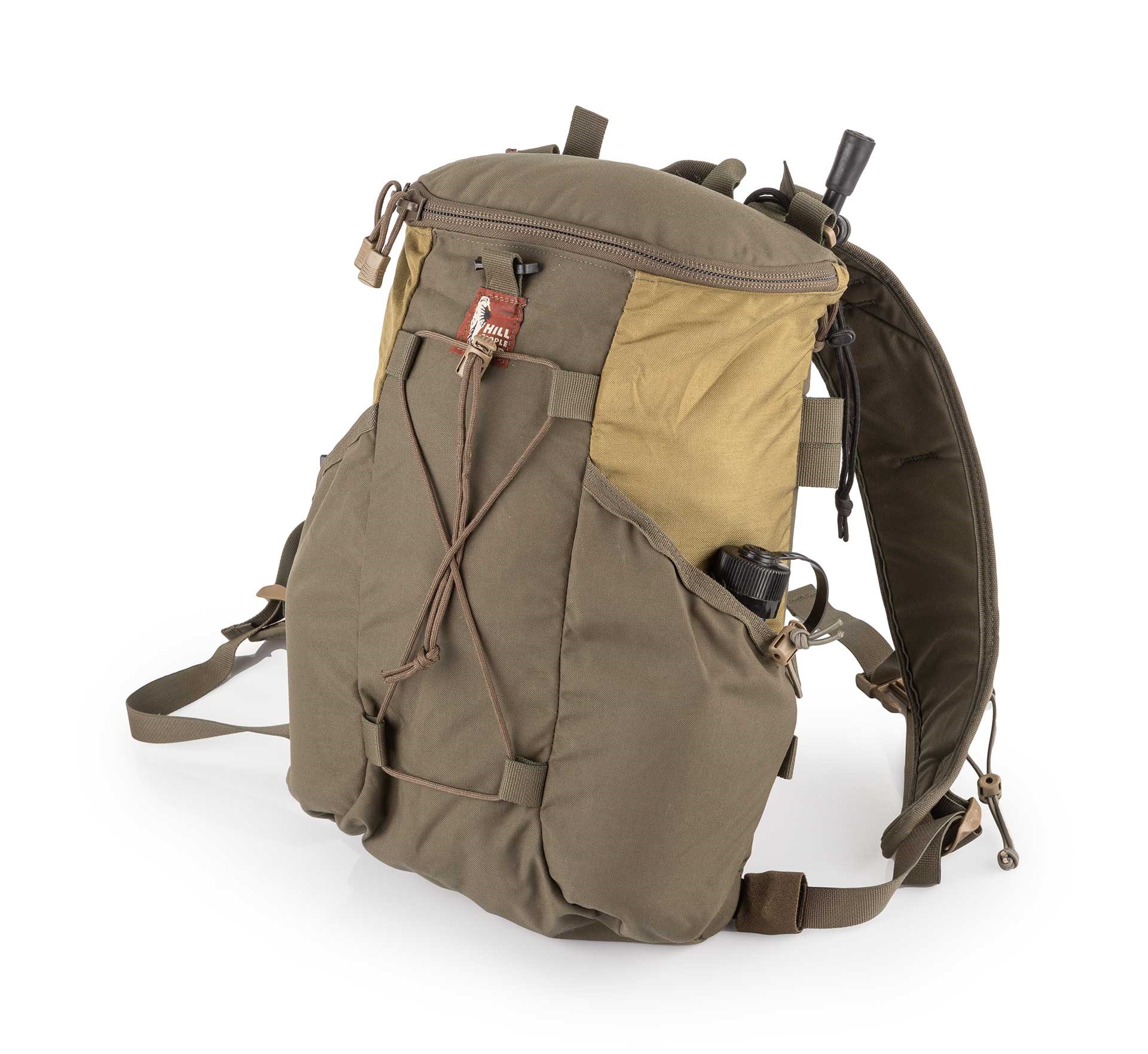 Junction Pack
Two Nalgene Oasis U.S.G.I.-style quart canteens             
Energy bars/tea bags/honey
Metal cup/lid/stove/fuel
Wool or synthetic stocking cap
Gloves (Wool for warmth and leather for work.)
Insulated vest or jacket
Spare wool socks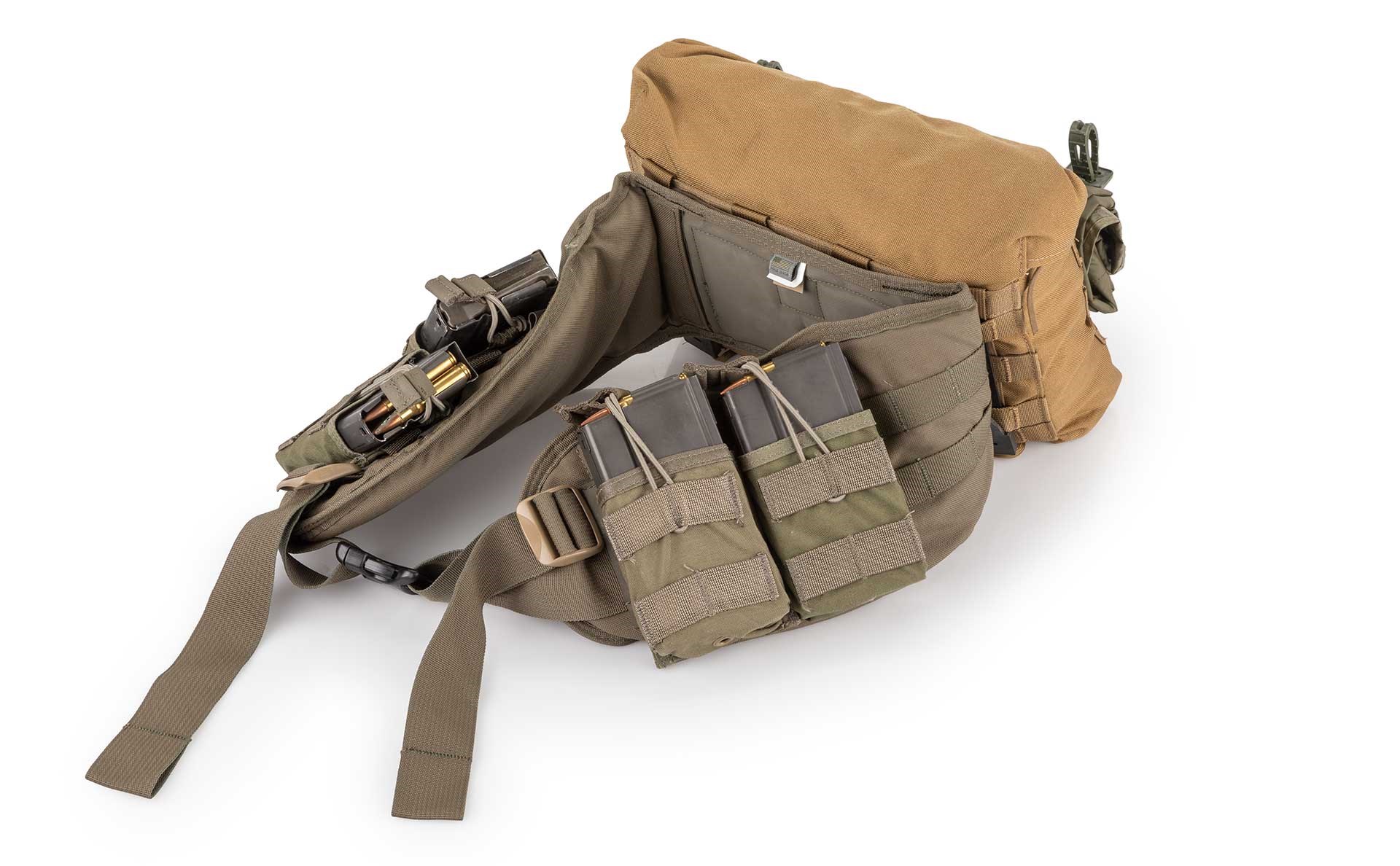 Prairie Belt
Rifle magazines (My four First Speer pouches carry either M14 magazines or Magpul 10 rounders for the Ruger Gunsite Scout rifle.)
(My shelter kit resides in or strapped to the surplus pouch.)
Kelty Fieldcraft Poncho (Lightweight and remarkably versatile item useful as a rain shell, shelter, hammock or litter.)
Poncho liner (The revered "woobie" works well with the poncho to form an expedient sleeping bag.)
Ground cloth (An original Space brand All Weather blanket makes a good waterproof shelter floor and complements the poncho and woobie.)
Stakes and 550 paracord lines for rigging shelter