by
Brian C. Sheetz, Editor In Chief
posted on January 15, 2021
Support NRA American Rifleman
DONATE
The name Magpul has become synonymous with polymer magazines, grips and stocks for everything from ARs to CZs, but some may also remember that, in the not-too-distant past, the company created two firearms.

The service-size Masada rifle of 2006 featured quick-change barrels and caliber-specific lowers but was rather corporately stillborn before being resurrected first as the Bushmaster ACR and then the Remington ACR.

The Folding Machine Gun, or FMG9 of 2008, was an even more unique 9 mm Luger Glock pistol-based platform that instantly unfolded from book size into a full-auto personal-defense weapon. It eventually morphed into, of all things, the company's Professional Training and Simulation Divisions' Folding Pocket Gun (FPG), which wasn't a gun at all but instead fired 6 mm airsoft pellets.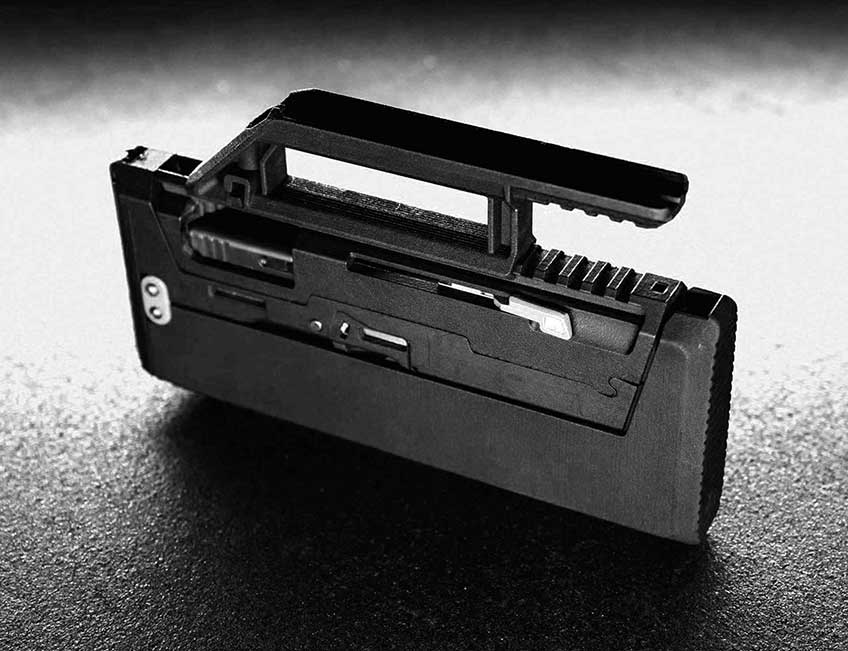 Well, now it appears that Magpul, in collaboration with manufacturing partner ZEV Technologies, intends to reprise the latter design as the FDP-9, or Folding Defensive Pistol-9, chambered in 9 mm Luger. At the heart of the FDP is the unique receiver block that forms the heart of the ZEV OZ9 pistol, which is designed to accept Glock components and magazines. Magpul and ZEV worked together to incorporate the receiver block of the OZ9 into a Magpul-designed chassis reminiscent of its original FMG9.

Set to be released in 2022 as a large-format pistol, the new version is designed as a discreet PDW that, while not intended for on-body carry per se, would nonetheless occupy a diminutive form factor. The design will also possibly be incorporated into an NFA-regulated short-barreled rifle termed the Folding Defensive Carbine-9 (FDC-9). Both the large-format pistol and carbine will be sold through ZEV Technologies.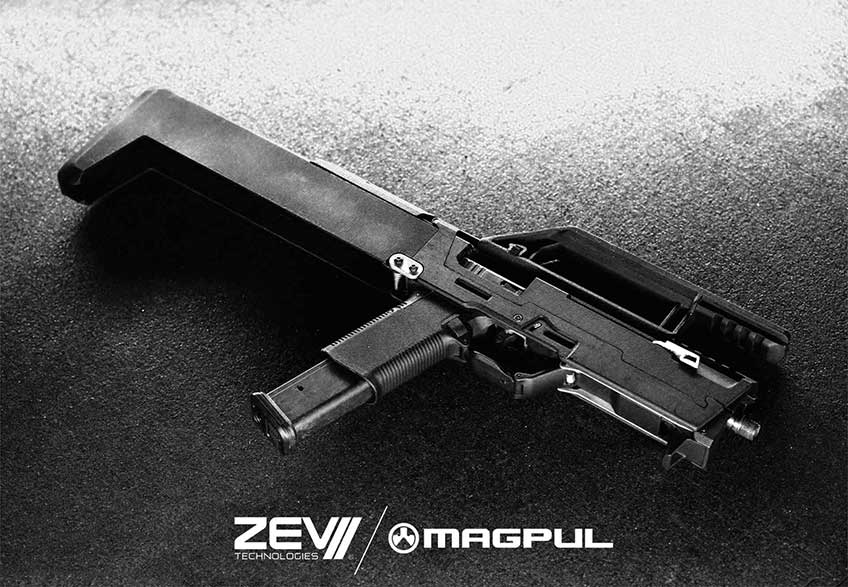 Not many details of the new project have been forthcoming as of yet. ZEV Technologies will produce the serialized component. Magpul will focus its expertise in the manufacture of those portions of the firearm that interface directly with the shooter. ZEV has become well-known in its own right for wildly contoured and anodized Glock and SIG pistol upgrades and now offers complete pistols and AR-style rifles.

No pricing information has been released, and we won't know those details until later in 2021. Stay tuned to American Rifleman for future updates as we learn more.